Abstract
Background
Paradoxical hypertrichosis (PH) is an uncommon, poorly understood adverse effect associated with laser or intense pulsed light treatment for hair removal.
Objective
The objective of this study was to conduct a systematic review and meta-analysis to determine PH prevalence and associated risk factors.
Methods
We conducted a systematic review and meta-analysis of studies evaluating hair removal with lasers or intense pulsed light. Primary outcome was PH prevalence. Meta-regression and subgroup analysis were used to investigate associations among treatment modality, patients' characteristics, and PH.
Results
Included were 9733 patients in two randomized controlled trials and 20 cohort studies (three prospective and 17 retrospective). Pooled PH prevalence was 3% (95% confidence interval 1–6; I2 = 97%). Paradoxical hypertrichosis was associated with a face or neck anatomic location, and occurred in only 0.08% of non-facial/neck cases. Treatment modality and interval between treatments had no effect on the PH rate. There were insufficient data to determine the association between sex and skin type to PH. In three out of four studies, PH gradually improved with continued therapy.
Conclusions
Based primarily on cohort studies, PH occurs in 3% of patients undergoing hair removal with lasers or intense pulsed light, yet rarely outside the facial/neck areas. Treatment modality does not seem to be a contributing factor. Continuation of treatment in areas with PH may be the most appropriate treatment.
This is a preview of subscription content,
to check access.
Access this article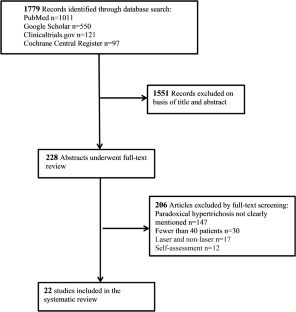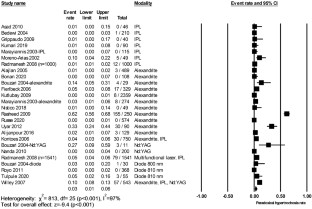 Similar content being viewed by others
References
Maziar A, Farsi N, Mandegarfard M, Babakoohi S, Gorouhi F, Dowlati Y, et al. Unwanted facial hair removal with laser treatment improves quality of life of patients. J Cosmet Laser Ther. 2010;12:7–9.

Gan SD, Graber EM. Laser hair removal: a review. Dermatol Surg. 2013;39:823–38.

Lehavit A, Eran G, Moshe L, Assi L. A combined triple-wavelength (755 nm, 810 nm, and 1064 nm) laser device for hair removal: efficacy and safety study. J Drugs Dermatol. 2020;19:515–8.

Thomas MM, Houreld NN. The "in's and outs" of laser hair removal: a mini review. J Cosmet Laser Ther. 2019;21:316–22.

Moreno-Arias G, Castelo-Branco C, Ferrando J. Paradoxical effect after IPL photoepilation. Dermatol Surg. 2002;28:1013–6 ((discussion 1016)).

Alajlan A, Shapiro J, Rivers JK, MacDonald N, Wiggin J, Lui H. Paradoxical hypertrichosis after laser epilation. J Am Acad Dermatol. 2005;53:85–8.

Tulpule MS, Bhide DS, Bharatia P, Rathod NU. 810 nm diode laser for hair reduction with Chill-tip technology: prospective observational analysis of 55 patients of Fitzpatrick skin types III, IV, V. J Cosmet Laser Ther. 2020;22:65–9.

Alijanpour R, Aliakbarpour F. A randomized clinical trial on the comparison between hair shaving and snipping prior to laser hair removal sessions in women suffering from hirsutism. J Cosmet Dermatol. 2017;16:70–5.

Kutlubay Z. Alexandrite laser hair removal results in 2359 patients: a Turkish experience. J Cosmet Laser Ther. 2009;11:85–93.

Radmanesh M, Azar-Beig M, Abtahian A, Naderi AH. Burning, paradoxical hypertrichosis, leukotrichia and folliculitis are four major complications of intense pulsed light hair removal therapy. J Dermatol Treat. 2008;19:360–3.

Uyar B, Saklamaz A. Effects of the 755-nm Alexandrite laser on fine dark facial hair: review of 90 cases. J Dermatol. 2012;39:430–2.

Asad F, Hameed S, Khurshid K, Bashir B, Rani Z, Pal SS. Efficacy and safety of intense pulse light in idiopathic hirsutism. Ann KING Edw Med Univ. 2010;1:24–26.

Kumari R, Shaikh IA, Abbasi R, Tarbani K, Kumari M. Efficacy and safety of intense pulse light in idiopathic hirsutism. J Pak Assoc Dermatol. 2019;29(1):78–82.

Marayiannis KB, Vlachos SP, Savva MP, Kontoes PP. Efficacy of long- and short pulse alexandrite lasers compared with an intense pulsed light source for epilation: a study on 532 sites in 389 patients. J Cosmet Laser Ther. 2003;5:140–5.

Russe E, Purschke M, Herold M, Sakamoto FH, Wechselberger G, Russe-Wilflingseder K. Evaluation of safety and efficacy of laser hair removal with the long-pulsed 755 nm wavelength laser: a two-center study with 948 patients. Lasers Surg Med. 2020;52:77–83.

Kontoes P, Vlachos S, Konstantinos M, Anastasia L, Myrto S. Hair induction after laser-assisted hair removal and its treatment. J Am Acad Dermatol. 2006;54:64–7.

El Bedewi AF. Hair removal with intense pulsed light. Lasers Med Sci. 2004;19:48–51.

Willey A, Torrontegui J, Azpiazu J, Landa N. Hair stimulation following laser and intense pulsed light photo-epilation: review of 543 cases and ways to manage it. Lasers Surg Med. 2007;39:297–301.

Grippaudo FR, Angelini M, Chiossi MR, Toscano V. Intense pulsed light photoepilation in hirsute women: the role of obesity. Lasers Med Sci. 2009;24:415–8.

Bouzari N, Tabatabai H, Abbasi Z, Firooz A, Dowlati Y. Laser hair removal: comparison of long-pulsed Nd:YAG, long-pulsed alexandrite, and long-pulsed diode lasers. Dermatol Surg. 2004;30:498–502.

Nanda S, Bansal S. Long pulsed Nd:YAG laser with inbuilt cool sapphire tip for long term hair reduction on type-IV and V skin: a prospective analysis of 200 patients. Indian J Dermatol Venereol Leprol. 2010;76:677–81.

Nistico SP, Del Duca E, Farnetani F, Guida S, Pellacani G, Rajabi-Estarabadi A, et al. Removal of unwanted hair: efficacy, tolerability, and safety of long-pulsed 755-nm alexandrite laser equipped with a sapphire handpiece. Lasers Med Sci. 2018;33:1479–83.

Bonan P, Troiano M, Verdelli A. Safety and efficacy of single pass vs multipass emission with 755 alexandrite laser for all-skin-type hair removal: a pilot study. Dermatol Ther. 2020;33:e14001.

Royo J, Urdiales F, Moreno J, Al-Zarouni M, Cornejo P, Trelles MA. Six-month follow-up multicenter prospective study of 368 patients, phototypes III to V, on epilation efficacy using an 810-nm diode laser at low fluence. Lasers Med Sci. 2011;26:247–55.

Rasheed AI. Uncommonly reported side effects of hair removal by long pulsed-alexandrite laser. J Cosmet Dermatol. 2009;8:267–74.

Fierlbeck G, Dawoud N, El Saied M, Ismail M. Paradoxical hypertrichosis after laser-assisted hair removal. Pan Arab J Dermatol. 2006;17:119–23.

Ye JN, Prasad A, Trivedi P, Knapp DP, Chu P, Edelstein LM. Pili bigeminy induced by low fluence therapy with hair removal alexandrite and ruby lasers. Dermatol Surg. 1999;25:969.

Desai S, Mahmoud BH, Bhatia AC, Hamzavi IH. Paradoxical hypertrichosis after laser therapy: a review. Dermatol Surg. 2010;36:291–8.
Acknowledgements
We acknowledge the help of Dr. Debby Mir with English editing (Rabin Medical Center, Petah Tikva). She did not meet the criteria for authorship.
Ethics declarations
Funding
This publication was supported by Alma Lasers Ltd., Caesarea, Israel.
Conflict of interest
Igor Snast, Ran Kaftory, Moshe Lapidoth, and Assi Levi have no conflicts of interest that are directly relevant to the content of this article.
Ethics approval
No ethics approval was needed because data were retrieved from previously published studies in which informed consent was obtained by the primary investigators.
Consent to participate
Not applicable.
Consent for publication
Not applicable.
Availability of data and material
The authors confirm that the data supporting the findings of this study are available within the article and its ESM.
Code availability
Not applicable.
Author contributions
IS and AL were responsible for the data analysis and wrote the first draft of the manuscript. All coauthors contributed to writing of the manuscript. All co-authors provided important intellectual input and approved the final version of the manuscript.
Supplementary Information
Below is the link to the electronic supplementary material.
About this article
Cite this article
Snast, I., Kaftory, R., Lapidoth, M. et al. Paradoxical Hypertrichosis Associated with Laser and Light Therapy for Hair Removal: A Systematic Review and Meta-analysis. Am J Clin Dermatol 22, 615–624 (2021). https://doi.org/10.1007/s40257-021-00611-w
Accepted:

Published:

Issue Date:

DOI: https://doi.org/10.1007/s40257-021-00611-w