Abstract
Onychomycosis is a common disorder that is difficult to cure. Prevalence is lower in children (0.7%), but athletes are 2.5-fold more likely to develop the disease, with infections of the toenails seven times more prevalent than those of the fingernails. This is a concern for athletes as it can interfere with their performance. The risk of developing onychomycosis is increased by the warm environment of many sports activities; the use of occlusive footwear; the warm, moist environment associated with socks and sweating; shared, close quarters among athletes; and trauma to the foot and toenail. Once infected, onychomycosis treatment requires a long duration of treatment with strict compliance, a potential problem for younger patients. Treatment carries the risk of significant side effects, and recurrence rates remain high. Avoiding infection can be a potent first line of defense and may circumvent the need for treatment. Preventive recommendations such as keeping toenails short and proper washing of laundry, to name a few, can be effective and are discussed here. Technological improvements such as synthetic, moisture-wicking socks and well-ventilated, mesh shoes have also been shown to reduce moisture and injury. Education about preventing fungal spread and improving hygiene in the locker room, gym, and pool are of critical importance. This overview of onychomycosis focuses primarily on the preventive measures and innovative changes in athletic gear. It also provides a compact step-by-step guide to prevention intended to be useful for both the general public and the professional. It can be reproduced to use as a handout for athletes, trainers, and coaches.
Access options
Buy single article
Instant access to the full article PDF.
USD 49.95
Price excludes VAT (USA)
Tax calculation will be finalised during checkout.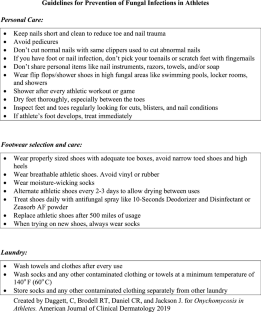 References
Coleman NW, Fleckman P, Huang JI. Fungal nail infections. J Hand Surg Am. 2014;39(5):985–8.

Ghannoum M, Isham N. Fungal nail infections (Onychomycosis): a never-ending story? PLoS Pathog. 2014;10(6):e1004105. https://doi.org/10.1371/journal.ppat.1004105.

Thomas J, Jacobson GA, Narkowicz CK, Peterson GM, Burnet H, Sharpe C. Toenail onychomycosis: an important global disease. J Clin Pharm Ther. 2010;35:497–519.

Kunz M. Big count: 265 million play football. FIFA magazine. July 2007. https://www.fifa.com/mm/document/fifafacts/bcoffsurv/emaga_9384_10704.pdf. Accessed 30 June 2018.

Farhadian JA, Thougan BE, Adams BB, Leventhal JS, Sanchez MR. Skin conditions of baseball cricket and softball players. Sports Med. 2013;43:575–89.

Report: Baseball/softball top list as most participated team sport in U.S. Web site. http://www.wbsc.org/report-baseballsoftball-top-list-as-most-participated-team-sport-in-u-s/. Published May 20, 2017. Accessed 30 June 2018.

Caputo R, De Boulle K, De Rosso J, Nowicki R. Prevalence of superficial fungal infections among sports-active individuals: results from the Achilles survey, a review of the literature. JEAD. 2001;15:312–6.

Glazer AM, Farberg AS, Donohue S, Rigel DS. Analysis of dermatological disorders occurring in Major League Baseball players. Skin J Cutan Med. 2017;1(2):83–5.

BuderV, Augustin M, Schafer I, Welsch G, Catala-Lehnen P, Herberger K. Prevalence of dermatomycoses in professional football players: a study based on data of German Bundesliga fitness check-ups (2013–2015) compared to data of the general population. Hauatarzl. 2018;69(5):401–407.

Erbagci Z, Tuncel A, Zer Y, Balci I. A prospective epidemiologic survery on the prevalence of onychomycosis and dermatophytosis in male boarding school residents. Myciopathologia. 2005;159:347–52.

Geyer AS, Onumah N, Uyttendaele H, Scher RK. Modulation of linear nail growth to treat diseases of the nail. J Am Acad Dermatol. 2004;50(2):229–34.

Piraccini BM, Sisti A, Tosti A. Long-term follow-up of toenail onychomycosis caused by dermatophytes after successful treatment with systemic antifungal agents. J Am Acad Dermatol. 2010;62:411–4.

Gupchup GV, Zatz Jl. Structural characteristics and permeability properties of the human nail: a review. J Cosmet Sci. 1999;50:363–385.

Elewiski BE. Onychomycosis: pathogenesis, diagnosis, and management. Clin Microbiol Rev. 1998;11(3):415–29.

Elewski BE, Rich P, Tosti A, et al. Onychomycosis: an overview. J Drugs Dermatol. 2013;12(7 suppl2):s96–s103.

Brodell RT, Elewski B. Superficial fungal infections. Postgrad Med. 1997;101(4):279–87. https://doi.org/10.3810/pgm.1997.04.209.

Carney C, Tosti A, Daniel CR, et al. A new classification system for grading the severity of onychomycosis. Arch Dermatol. 2011;147(11):1277–82.

Ameen M, Lear JT, Madan V, Mohd Mustapa MF, Richardson M. British Association of Dermatologists' guidelines for the management of onychomycosis 2014. Br J Dermatol. 2014;171(5):937–58.

Lipner SR, Scher RK. Part II. Onychomycosis: treatment and prevention of recurrence. J Am Acad Dermatol. 2018. https://doi.org/10.1016/j.jaad.2018.05.1260.

Olafsson JH, Sigurgeirsson B, Baran R. Combination therapy for onychomycosis. Brit J Dermatol. 2003;149(65):15–8.

Gupta AK, Paquet M. Systemic antifungals to treat onychomycosis in children: a systemic review. Pediatr Dermatol. 2013;30(3):294–302.

Patel D, Castelo-Soccio LA, Rubin AI, Streicher JL. Laboratory monitoring during systemic terbinafine therapy for pediatric onychomycosis. JAMA Dermatol. 2017;153(12):1326–7.

National Cancer Institute Common Terminology Criteria for Adverse Events v4.03 (CTCAE). https://evs-nci-nih-gov.ezproxy2.ums.edu/ftp1/CTCAE/CTCAE_4.03_2010-06-14_QuickReference_5X7.pdf. Accessed 16 Apr 2019.

Adams BB. Dermatologic disorders of the athlete. Sports Med. 2002;32(5):309–21.

Field LA, Adams BB. Tinea pedis in athletes. Int J Dermatol. 2008;47(5):485–92.

Amichai B, Grunwald MH, Davidovici B, Farh R, Shemer A. The effect of domestic laundry processes on fungal contamination of socks. Int J Dermatol. 2013;32(11):1392–4.

Department of Energy. Laundry. https://www.energy.gov/energysaver/appliances-and-electronics/laundry. Accessed 4 July 2018.

Hammer TR, Mucha H, Hoefer D. Infection risk by dermatophytes during storage and after domestic laundry and their temperature- dependent inactivation. Mycopathologia. 2011;171(1):43–9.

Ritchie DH. Athletic socks. In: Werd MB, Knight LE, editors. Athletic footwear and orthoses in sports medicine. New York: Springer; 2010. p. 69–78.

Otto JP. Sock it to me! Good footwear starts with good socks. opedge.com. opedge.comm. 2011;(Nov):1–15. https://opedge.com/Articles?ViewArticle?2011-11_01. Accessed 4 July 2018.

Zatcoff RC, Smith MS, Borkow G. Treatment of tinea pedis with socks containing copper-oxide impregnated fibers. Foot. 2008;18:136–41.

Federer talks footwear. Tennishead magazine. http://www.tennishead.net/news/gear/2012/04/27/federer-talks-footwear. Accessed 4 July 2018.

Teh T. Nike's Hyperfuse Technology. Dazed. https://www.dazeddigital.com/fashion/article/10526/1/nikes-hyperfuse-technology. June 2011. Accessed 3 Mar 2018.

Zinder SM, Basler RS, Foley J, Scarlata C, Vasily DB. National athletic trainers' association position statement: skin diseases. J Athl Train. 2010;45(4):411–28.

Skin infection in Athletics. NCAA Guideline 2 J. July 1981. Revised June 2008. Accessed 4 July 2018. http://www.osaa.org/docs/wre/ncaaskin.pdf.

Cordoro KM, Ganz JE. Training room management of medical condition: sports Dermatology. Clin Sports Med. 2005;24:565–98.

Chacon A, Franca K, Fernandez A, Nouri. Psychosocial impact of onychomycosis: a review. Int J Dermatol. 2013;52:1300–1307.

Kaur R, Kashyap B, Bhalla P. Onychomycosis –epidemiology, diagnosis, and management. Indian J Med Microbiol. 2008;26(2):108–16.

Bhatta AK, Huang X, Keyal U, Zhao JJ. Laser treatment for onychomycosis: a review. Mycoses. 2014;57:734–40.
Ethics declarations
Conflict of interest
Caroline Daggett, Robert T. Brodell, C. Ralph Daniel, and Jeremy Jackson have no conflicts of interest that are directly relevant to the content of this article.
Funding
No sources of funding were used to conduct this review or prepare this manuscript.
About this article
Cite this article
Daggett, C., Brodell, R.T., Daniel, C.R. et al. Onychomycosis in Athletes. Am J Clin Dermatol 20, 691–698 (2019). https://doi.org/10.1007/s40257-019-00448-4
Published:

Issue Date:

DOI: https://doi.org/10.1007/s40257-019-00448-4