Abstract
With tattoos becoming increasingly mainstream, dermatologists are more and more often consulted by patients who are considering getting an ornamental, cosmetic, or even a medical tattoo, and who subsequently ask for advice. This includes not only patients with chronic skin diseases such as psoriasis or atopic dermatitis but also patients with other medical conditions. This review first explores the reasons why patients may want to get a tattoo and aims to offer some key information to dermatologists on what they should know about tattooing and the main risks associated with this procedure. Second, the risks and recommendations of tattooing in patients with specific skin diseases are described more in detail, and the relative and strict contraindications discussed, including the necessity to discontinue certain treatments that could influence the outcome of the procedure and the final result. Our aim was to provide dermatologists with the current knowledge they need to help their patients make adequate and informed choices on skin art, focusing specifically on considerations in patients with chronic skin conditions. Finally, other aspects regarding some general systemic conditions and concomitant diseases that the patient could present are also addressed. In particular, the risks of tattooing in patients with diabetes, coagulation disorders, heart conditions, immunosuppressive treatments, and pregnancy are discussed.
Access options
Buy single article
Instant access to the full article PDF.
US$ 49.95
Tax calculation will be finalised during checkout.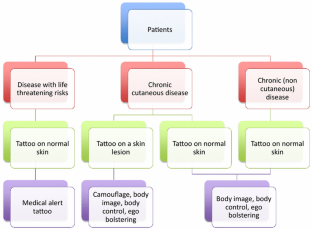 References
1.

Kluger N. Epidemiology of tattoos in industrialized countries. Curr Probl Dermatol. 2015;48:6–20.

2.

Shannon-Missal L. Tattoo takeover: three in ten Americans have tattoos, and most don't stop at just one. Harris Poll 10 Feb 2016. http://www.theharrispoll.com/health-and-life/Tattoo_Takeover.html. Accessed 10 July 2017

3.

Wohlrab S, Stahl J, Kappeler PM. Modifying the body: motivations for getting tattooed and pierced. Body Image. 2007;4:87–95.

4.

De Cuyper C. Permanent makeup: indications and complications. Clin Dermatol. 2008;26:30–4.

5.

Kluger N, Aldasouqi S. The motivations and benefits of medical alert tattoos in patients with diabetes. Endocr Pract. 2013;19:373–6.

6.

Kluger N, Aldasouqi S. A new purpose for tattoos: medical alert tattoos. Presse Med. 2013;42:134–7.

7.

Kluger N. Tattooing, piercing and inherited coagulation disorders. Haemophilia. 2013;19:e358–9.

8.

Kluger N. Body piercing and tattooing among French patients with bleeding disorders. Presse Med. 2017;46:538–40.

9.

Kluger N. Tattooing and piercing: an underestimated issue for immunocompromised patients? Presse Med. 2013;42:791–4.

10.

Kluger N. Tattooing and immunodepression: caution is warranted also in organ transplant patients. Transpl Infect Dis. 2017. doi:10.1111/tid.12701.

11.

Vassileva S, Hristakieva E. Medical applications of tattooing. Clin Dermatol. 2007;25:367–74.

12.

Seité S, Deshayes P, Dréno B, Misery L, Reygagne P, Saiag P, Stengel F, Roguedas-Contios A, Rougier A. Interest of corrective makeup in the management of patients in dermatology. Clin Cosmet Investig Dermatol. 2012;5:123–8.

13.

Drost BH, van de Langenberg R, Manusama OR, Janssens AS, Sikorska K, Zuur CL, Klop WM, Lohuis PJ. Dermatography (Medical Tattooing) for scars and skin grafts in head and neck patients to improve appearance and quality of life. JAMA Facial Plast Surg. 2017;19:16–22.

14.

Laux P, Tralau T, Tentschert J, Blume A, Al Dahouk S, Bäumler W, Bernstein E, Bocca B, Alimonti A, Colebrook H, de Cuyper C, Dähne L, Hauri U, Howard PC, Janssen P, Katz L, Klitzman B, Kluger N, Krutak L, Platzek T, Scott-Lang V, Serup J, Teubner W, Schreiver I, Wilkniß E, Luch A. A medical-toxicological view of tattooing. Lancet. 2016;387:395–402.

15.

Wollina U. Severe adverse events related to tattooing: an retrospective analysis of 11 years. Indian J Dermatol. 2012;57:439–43.

16.

Simunovic C, Shinohara MM. Complications of decorative tattoos: recognition and management. Am J Clin Dermatol. 2014;15:525–36.

17.

Kluger N. Cutaneous and systemic complications associated with tattooing. Presse Med. 2016;45:567–76.

18.

Jafari S, Buxton JA, Afshar K, Copes R, Baharlou S. Tattooing and risk of hepatitis B: a systematic review and meta-analysis. Can J Public Health. 2012;103:207–12.

19.

Jafari S, Copes R, Baharlou S, Etminan M, Buxton J. Tattooing and the risk of transmission of hepatitis C: a systematic review and meta-analysis. Int J Infect Dis. 2010;14:e928–40.

20.

Wenzel SM, Rittmann I, Landthaler M, Bäumler W. Adverse reactions after tattooing: review of the literature and comparison to results of a survey. Dermatology. 2013;226:138–47.

21.

Wenzel SM, Wenzel J, Hafner C, Landthaler M, Baumler W. Permanent make-up colorants may cause severe skin reactions. Contact Dermatitis. 2010;63:223–7.

22.

Serup J, Hutton Carlsen K. Patch test study of 90 patients with tattoo reactions: negative outcome of allergy patch test to baseline batteries and culprit inks suggests allergen(s) are generated in the skin through haptenization. Contact Dermatitis. 2014;71:255–63.

23.

De Cuyper C, Lodewick E, Schreiver I, Hesse B, Seim C, Castillo-Michel H, Laux P, Luch A. Are metals involved in tattoo-related hypersensitivity reactions? Case Report. Contact Dermatitis. 2017;30:683–90.

24.

Kluger N. Contraindications for tattooing. Curr Probl Dermatol. 2015;48:76–87.

25.

Kluger N. Can a mother get a tattoo during pregnancy or while breastfeeding? Eur J Obstet Gynecol Reprod Biol. 2012;16:234–5.

26.

Kluger N, Comte C. Isotretinoin and tattooing: a cautionary tale. Int J Dermatol. 2017;56(10):e199–200. doi:10.1111/ijd.13687.

27.

Grabb WC, MacCollum M, Tan NG. Results from tattooing port-wine hemangiomas. A long-termfollow-up. Plast Reconstr Surg. 1977;59:667–9.

28.

Kluger N, Bosonnet S. Keloid occurring in a tattoo. Ann Dermatol Venereol. 2017;144:455.

29.

Guillem P, Raynal H, Wendling A, Kluger N. P019 Hidradenitissuppurativa influences tattooing practices in women. Exp Dermatol. 2017;26:36–7.

30.

Taaffe A, Wyatt EH. The red tattoo and lichen planus. Int J Dermatol. 1980;19:394–6.

31.

Kluger N. Cutaneous complications related to tattoos: 31 cases from Finland. Dermatology. 2017;233:100–9.

32.

Fields JP, Little WD Jr, Watson PE. Discoid lupus erythematosus in red tattoos. Arch Dermatol. 1968;98:667–9.

33.

Kluger N, Koljonen V. Tattoos, inks, and cancer. Lancet Oncol. 2012;13:e161–8.

34.

Kluger N, Thomas L. The dragon with atypical mole syndrome. Arch Dermatol. 2008;144:948–9.

35.

Kluger N, Catala D, Thibaut I. Naevus and tattooing: a matter of concern. J Eur Acad Dermatol Venereol. 2008;22:767–8.

36.

Kluger N. Tattooing and psoriasis: demographics, motivations and attitudes, complications, and impact on body image in a series of 90 Finnish patients. Acta Dermatovenerol Alp Pannonica Adriat. 2017;26:29–32.

37.

Kluger N, Estève E, Fouéré S, Dupuis-Fourdan F, Jegou MH, Lévy-Rameau C. Tattooing and psoriasis: a case series and review of the literature. Int J Dermatol. 2017;56:822–7.

38.

Hutton Carlsen K, Serup J. Photosensitivity and photodynamic events in black, red and blue tattoos are common: a 'Beach Study'. J Eur Acad Dermatol Venereol. 2014;28:231–7.

39.

Kluger N. Sarcoidosis on tattoos: a review of the literature from 1939 to 2011. Sarcoidosis Vasc Diffuse Lung Dis. 2013;30:86–102.

40.

Sepehri M, Hutton Carlsen K, Serup J. Papulo-nodular reactions in black tattoos as markers of sarcoidosis: study of 92 tattoo reactions from a hospital material. Dermatology. 2016;232:679–86.

41.

van der Velden EM, Drost BH, Ijsselmuiden OE, Baruchin AB. Dermatography: 10 years of applications as adjuvant treatment after nipple and areola reconstruction. Am J Cosmetic Surg. 2000;17:23–6.

42.

van der Velden EM, Defrancq J, Ijsselmuiden OE, Baruchin AM, Hulsebosch HJ. Dermatography: a review of 15 years of clinical applications in surgery. Int J Cosm Surgery Aest Dermatol. 2001;3:151–9.

43.

Farhadi J, Maksvytyte GK, Schaefer DJ, Pierer G, Scheufler O. Reconstruction of the nipple-areola complex: an update. J Plast Reconstr Aesthet Surg. 2006;59:40–53.

44.

Boulart L, Mimoun M, Noel W, Malca N, Chaouat M, Boccara D. Dealingwithtattoos in plastic surgery. Complications and medical use. Ann Chir Plast Esthet. 2017;62(2):e23–9.

45.

Spyropoulou GA, Fatah F. Decorative tattooing for scar camouflage: patient innovation. J Plast Reconstr Aesthet Surg. 2009;62(10):e353–5.

46.

Yoo JJ, Kim HS, Kim JH, Joo M, Kim KJ, Park S, Jang YC. Clinical features and treatment outcomes of skin cancer arising from burn scar: a single-institution experience. Tumori. 2014;100:26–30.

47.

Goldstein N IV. Complications from tattoos. J Dermatol Surg Oncol. 1979;5:869–78.

48.

Arun B, Jamieson L, Mendonca C. An unusual presentation of lichen sclerosus et atrophicus in a tattoo. Clin Exp Dermatol. 2010;35:441.

49.

Kluger N, Trouche F. Vitiligo on a tattoo. Ann Dermatol Venereol. 2011;138:549–50.

50.

Ahluwalia R, Mills A, Cuthbertson D. An, "Avatar" infection: association cellulitis in a type 2 diabetes patient following decorative tattooing. Pract Diabetes. 2011;28:292.

51.

Kluger N, Godenèche J, Vermeulen C. Granuloma annulare within the red dye of a tattoo. J Dermatol. 2012;39:191–3.

52.

Babin-Muise D, Miller R, Murray S, Walsh N. Necrobiosis lipoidica diabeticorum in a tattoo site. J Cutan Med Surg. 2012;16:286–7.

53.

Satchithananda DK, Walsh J, Schofield PM. Bacterial endocarditis following repeated tattooing. Heart. 2001;85:11–2.

54.

Tse D, Khan S, Clarke S. Bacterial endocarditis complicating body art. Int J Cardiol. 2009;133:e28–9.

55.

Akkus NI, Mina GS, Fereidoon S, Rajpal S. Tattooing complicated by multivalvular bacterial endocarditis. Herz. 2014;39:349–51.

56.

Orton CM, Norrington K, Alam H, Alonso-Gonzalez R, Gatzoulis M. The danger of wearing your heart on your sleeve. Int J Cardiol. 2014;175:e6–7.

57.

Shebani SO, Miles HF, Simmons P, Stickley J, De Giovanni JV. Awareness of the risk of endocarditis associated with tattooing and body piercing among patients with congenital heart disease and paediatric cardiologists in the United Kingdom. Arch Dis Child. 2007;92:1013–4.

58.

Kluger N. Bacterial endocarditis and body art: suggestions for an active pre vention. Int J Cardiol. 2009;136:112–3.

59.

Hendren N, Sukumar S, Glazer CS. Vibrio vulnificus septic shock due to a contaminated tattoo. BMJ Case Rep. 2017;. doi:10.1136/bcr-2017-220199.

60.

Tendas A, Niscola P, Barbati R, Abruzzese E, Cuppelli L, Giovannini M, Scar-amucci L, Fratoni S, Ales M, Neri B, Morino L, Dentamaro T, De Fabritiis P. Tattoo related pyoderma/ectymagangrenous as presenting feature of relapsed acute myeloid leukaemia: an exceptionally rare observation. Injury. 2011;42:546–7.

61.

Trinh SA, Angarone MP. Purpureocillium lilacinum tattoo-related skin infection in a kidney transplant recipient. Transpl Infect Dis. 2017;19(3). doi:10.1111/tid.12689.

62.

Silvestre JF, Albares MP, Ramón R, Botella R. Cutaneous intolerance to tattoos in a patient with human immuno-deficiency virus: a manifestation of the immune restoration syndrome. Arch Dermatol. 2001;137:669–70.

63.

Kluger N. Leishmaniasis in Spanishtattoos. Enferm Infecc Microbiol Clin. 2010;28:667.

64.

Khair K, Holland M, Pollard D. The experience of girls and young women with inherited bleeding disorders. Haemophilia. 2013;19:e276–81.

65.

Kluger N. Body art and pregnancy. Eur J Obstet Gynecol Reprod Biol. 2010;153:3–7.

66.

Schreiver I, Hesse B, Seim C, Castillo-Michel H, Villanova J, Laux P, Dreiack N, Penning R, Tucoulou R, Cotte M, Luch A. Synchrotron-based ν-XRF mapping and μ-FTIR microscopy enable to look into the fate and effects of tattoo pigments in human skin. Sci Rep. 2017;7(1):11395. doi:10.1038/s41598-017-11721-z.
Ethics declarations
Conflict of interest
Nicolas Kluger is an honorary member of the French Tattoo Union. Christa De Cuyper has no conflicts of interest to declare.
Funding
None.
About this article
Cite this article
Kluger, N., De Cuyper, C. A Practical Guide About Tattooing in Patients with Chronic Skin Disorders and Other Medical Conditions. Am J Clin Dermatol 19, 167–180 (2018). https://doi.org/10.1007/s40257-017-0326-5