Abstract
Background
Probiotic, prebiotic, and synbiotic supplementation is becoming more prevalent nowadays. Clinical studies have demonstrated some of the medical benefits of probiotics, prebiotics, and synbiotics within dermatology but an evidence-based review of their effects in adults is needed.
Objective
The aim of this study was to identify evidence for the use of supplementation with probiotics, prebiotics, or synbiotics for the prevention and treatment of dermatological diseases in adults.
Data sources
We conducted a search of the Ovid MEDLINE, Cochrane Central Register of Controlled trials and EMBASE electronic databases from 1 January 1946 to 11 January 2017.
Study selection
Trials examining supplementation in the treatment of dermatological diseases using oral or topical probiotics, synbiotics, and prebiotics in adults over the age of 18 years were selected.
Data extraction
Of 315 articles, 12 met the inclusion criteria.
Data synthesis
Nutritional supplementation with probiotics and prebiotics was shown to improve atopic dermatitis (AD) symptomatology, quality of life, or clinical severity in six of nine studies. One study in psoriasis was shown to improve inflammatory markers, and one study suggested that probiotics could be used as adjunctive therapy in the treatment of acne.
Conclusion
Preliminary studies are optimistic for the use of some strains of probiotics for symptomatic and clinical improvement in AD, and as adjunctive treatment with antibiotics for acne. Further research is necessary to better assess how probiotics and prebiotics may be used within dermatology.
This is a preview of subscription content,
to check access.
Access this article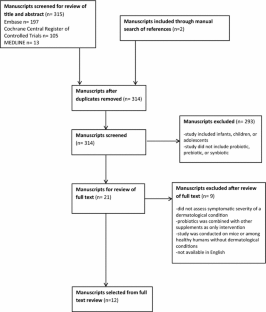 Similar content being viewed by others
References
Food and Agriculture Organization of the United Nations and the World Health Organization. Probiotics in food: health and nutritional properties and guidelines for evaluation. Food and Agriculture Organization of the United Nations and the World Health Organization; 2001.

Sanchez B, Delgado S, Blanco-Miguez A, Lourenco A, Gueimonde M, Margolles A. Probiotics, gut microbiota, and their influence on host health and disease. Mol Nutr Food Res. 2017;61(1). doi:10.1002/mnfr.201600240.

Gibson GR, Probert HM, Loo JV, Rastall RA, Roberfroid MB. Dietary modulation of the human colonic microbiota: updating the concept of prebiotics. Nutr Res Rev. 2004;17(2):259–75.

Slavin J. Fiber and prebiotics: mechanisms and health benefits. Nutrients. 2013;5(4):1417–35.

Pandey KR, Naik SR, Vakil BV. Probiotics, prebiotics and synbiotics- a review. J Food Sci Technol. 2015;52(12):7577–87.

Foolad N, Armstrong AW. Prebiotics and probiotics: the prevention and reduction in severity of atopic dermatitis in children. Benef Microbes. 2014;5(2):151–60.

Lee J, Seto D, Bielory L. Meta-analysis of clinical trials of probiotics for prevention and treatment of pediatric atopic dermatitis. J Allergy Clin Immunol. 2008;121(1):116.e11–121.e11.

Jadad AR, Moore RA, Carroll D, Jenkinson C, Reynolds DJ, Gavaghan DJ, et al. Assessing the quality of reports of randomized clinical trials: is blinding necessary? Control Clin Trials. 1996;17(1):1–12.

Matsumoto M, Ebata T, Hirooka J, Hosoya R, Inoue N, Itami S, et al. Antipruritic effects of the probiotic strain LKM512 in adults with atopic dermatitis. Ann Allergy Asthma Immunol. 2014;13(2):209.e7–216.e7.

Matsumoto M, Aranami A, Ishige A, Watanabe K, Benno Y. LKM512 yogurt consumption improves the intestinal environment and induces the T-helper type 1 cytokine in adult patients with intractable atopic dermatitis. Clin Exp Allergy. 2007;37(3):358–70.

Prescott SL, Dunstan JA, Hale J, Breckler L, Lehmann H, Weston S, et al. Clinical effects of probiotics are associated with increased interferon-gamma responses in very young children with atopic dermatitis. Clin Exp Allergy. 2005;35(12):1557–64.

Yoshida Y, Seki T, Matsunaka H, Watanabe T, Shindo M, Yamada N, et al. Clinical effects of probiotic Bifidobacterium breve supplementation in adult patients with atopic dermatitis. Yonago Acta Med. 2010;53:37–45.

Chren MM. The Skindex instruments to measure the effects of skin disease on quality of life. Dermatol Clin. 2012;30(2):231-6, xiii.

Drago L, Iemoli E, Rodighiero V, Nicola L, Vecchi E, Piconi S. Effects of Lactobacillus salivarius LS01 (DSM 22775) treatment on adult atopic dermatitis: a randomized placebo-controlled study. Int J Immunopathol Pharmacol. 2011;24(4):1037–48.

Kaur S, Kullisaar T, Mikelsaar M, Eisen M, Rehema A, Vihalemm T, et al. Successful management of mild atopic dermatitis in adults with probiotics and emollients. Cent Eur J Med. 2008;3(2):215–20.

Moroi M, Uchi S, Nakamura K, Sato S, Shimizu N, Fujii M, et al. Beneficial effect of a diet containing heat-killed Lactobacillus paracasei K71 on adult type atopic dermatitis. J Dermatol. 2011;38(2):131–9.

Saeki H, Furue M, Furukawa F, Hide M, Ohtsuki M, Katayama I, et al. Guidelines for management of atopic dermatitis. J Dermatol. 2009;36(10):563–77.

Iemoli E, Trabattoni D, Parisotto S, Borgonovo L, Toscano M, Rizzardini G, et al. Probiotics reduce gut microbial translocation and improve adult atopic dermatitis. J Clin Gastroenterol. 2012;46(Suppl):S33–40.

Roessler A, Friedrich U, Vogelsang H, Bauer A, Kaatz M, Hipler UC, et al. The immune system in healthy adults and patients with atopic dermatitis seems to be affected differently by a probiotic intervention. Clin Exp Allergy. 2008;38(1):93–102.

Drago L, Vecchi E, Toscano M, Vassena C, Altomare G, Pigatto P. Treatment of atopic dermatitis eczema with a high concentration of Lactobacillus salivarius LS01 associated with an innovative gelling complex: a pilot study on adults. J Clin Gastroenterol. 2014;48(Suppl 1):S47–51.

Watanabe S, Narisawa Y, Arase S, Okamatsu H, Ikenaga T, Tajiri Y, et al. Differences in fecal microflora between patients with atopic dermatitis and healthy control subjects. J Allergy Clin Immunol. 2003;111(3):587–91.

Jung GW, Tse JE, Guiha I, Rao J. Prospective, randomized, open-label trial comparing the safety, efficacy, and tolerability of an acne treatment regimen with and without a probiotic supplement and minocycline in subjects with mild to moderate acne. J Cutan Med Surg. 2013;17(2):114–22.

Peral MC, Huaman Martinez MA, Valdez JC. Bacteriotherapy with Lactobacillus plantarum in burns. Int Wound J. 2009;6(1):73–81.

Groeger D, O'Mahony L, Murphy EF, Bourke JF, Dinan TG, Kiely B, et al. Bifidobacterium infantis 35624 modulates host inflammatory processes beyond the gut. Gut Microbes. 2013;4(4):325–39.

McCusker M, Sidbury R. Nutrition and skin: kids are not just little people. Clin Dermatol. 2016;34(6):698–709.

Fernandes J, Su W, Rahat-Rozenbloom S, Wolever TM, Comelli EM. Adiposity, gut microbiota and faecal short chain fatty acids are linked in adult humans. Nutr Diabetes. 2014;4:e121.

den Besten G, van Eunen K, Groen AK, Venema K, Reijngoud DJ, Bakker BM. The role of short-chain fatty acids in the interplay between diet, gut microbiota, and host energy metabolism. J Lipid Res. 2013;54(9):2325–40.

Lee JY, Sohn KH, Rhee SH, Hwang D. Saturated fatty acids, but not unsaturated fatty acids, induce the expression of cyclooxygenase-2 mediated through Toll-like receptor 4. J Biol Chem. 2001;276(20):16683–9.

Smith PM, Howitt MR, Panikov N, Michaud M, Gallini CA, Bohlooly YM, et al. The microbial metabolites, short-chain fatty acids, regulate colonic Treg cell homeostasis. Science. 2013;341(6145):569–73.

Chang YS, Trivedi MK, Jha A, Lin YF, Dimaano L, Garcia-Romero MT. Synbiotics for prevention and treatment of atopic dermatitis: a meta-analysis of randomized clinical trials. JAMA Pediatr. 2016;170(3):236–42.

Kim SO, Ah YM, Yu YM, Choi KH, Shin WG, Lee JY. Effects of probiotics for the treatment of atopic dermatitis: a meta-analysis of randomized controlled trials. Ann Allergy Asthma Immunol. 2014;2:217–26.
Acknowledgements
The authors thank Bruce Abbott for his assistance in conducting the systematic search algorithms.
Ethics declarations
Funding
No funding was received for the preparation of this review.
Conflict of interest
Manisha Notay, Negar Foolad, and Alexandra R. Vaughn have no conflicts of interests to declare. Raja K. Sivamani serves as a scientific advisor for Dermveda.
About this article
Cite this article
Notay, M., Foolad, N., Vaughn, A.R. et al. Probiotics, Prebiotics, and Synbiotics for the Treatment and Prevention of Adult Dermatological Diseases. Am J Clin Dermatol 18, 721–732 (2017). https://doi.org/10.1007/s40257-017-0300-2
Published:

Issue Date:

DOI: https://doi.org/10.1007/s40257-017-0300-2