Abstract
Alopecia areata (AA) is a T-cell mediated autoimmune disorder in which inflammatory cells attack the hair follicle, resulting in round, well-circumscribed patches of noncicatricial hair loss in normal appearing skin. AA affecting the beard area is well known and is referred to as AA of the beard (BAA) or AA barbae when involvement is limited exclusively to the beard. BAA has been documented in a select number of studies. We review the literature and discuss the clinical features, epidemiology, diagnosis, and treatment of BAA. Clinical presentation of BAA can vary and manifest as single small areas of hair loss, multiple small or large simultaneous focuses, or total hair loss. Most patients are middle-aged males with focal patches of round or oval hair loss, mostly localized along the jawline. Patches are characteristically well circumscribed and smooth with white hair present at the periphery. Dermoscopic features of BAA include yellow dots, broken hair, and short vellus hairs. BAA may be associated with other autoimmune disorders, including atopic dermatitis, vitiligo, and psoriasis. Many treatment modalities are available for BAA, and selection of a therapy depends on several factors, including disease activity, extent of area affected, duration of disease, and age of the patient. Topical corticosteroids are most commonly used as initial treatment, followed by intralesional steroids. Other therapeutic modalities are discussed.
Access options
Buy single article
Instant access to the full article PDF.
US$ 49.95
Tax calculation will be finalised during checkout.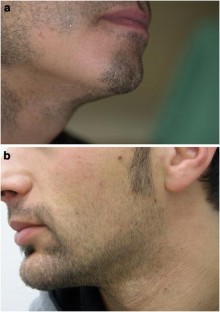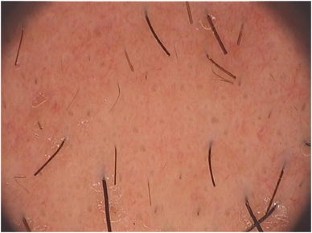 References
1.

Khodaee M. Bald patch in the beard. Am Fam Physician. 2014;89(7):583–4.

2.

Wolff H, Fischer TW, Blume-Peytavi U. The diagnosis and treatment of hair and scalp diseases. Dtsch Arztebl Int. 2016;113(21):377–86. doi:10.3238/arztebl.2016.0377.

3.

Saceda-Corralo D, Grimalt R, Fernandez-Crehuet P, Clemente A, Bernardez C, Garcia-Hernandez MJ, et al. Beard alopecia areata: a multicentre review of 55 patients. J Eur Acad Dermatol Venereol. 2017;31(1):187–92. doi:10.1111/jdv.13896.

4.

Ranawaka RR. An observational study of alopecia areata in Sri Lankan adult patients. Ceylon Med J. 2014;59(4):128–31. doi:10.4038/cmj.v59i4.7865.

5.

Kavak A, Yesildal N, Parlak AH, Gokdemir G, Aydogan I, Anul H, et al. Alopecia areata in Turkey: demographic and clinical features. J Eur Acad Dermatol Venereol. 2008;22(8):977–81. doi:10.1111/j.1468-3083.2008.02699.x.

6.

Dawber R. Diseases of the hair and scalp. 3rd ed. Oxford: Wiley-Blackwell; 1997.

7.

Villasante Fricke AC, Miteva M. Epidemiology and burden of alopecia areata: a systematic review. Clin Cosmet Investig Dermatol. 2015;8:397–403. doi:10.2147/CCID.S53985.

8.

Gilhar A, Etzioni A, Paus R. Alopecia areata. N Engl J Med. 2012;366(16):1515–25. doi:10.1056/NEJMra1103442.

9.

Sredoja Tisma V, Bulimbasic S, Jaganjac M, Stjepandic M, Larma M. Progressive pigmented purpuric dermatitis and alopecia areata as unusual skin manifestations in recognizing hereditary hemochromatosis. Acta Dermatovenerol Croat. 2012;20(3):181–6.

10.

Richmond HM, Lozano A, Jones D, Duvic M. Primary cutaneous follicle center lymphoma associated with alopecia areata. Clin Lymphoma Myeloma. 2008;8(2):121–4. doi:10.3816/CLM.2008.n.015.

11.

Campuzano-Maya G. Cure of alopecia areata after eradication of Helicobacter pylori: a new association? World J Gastroenterol. 2011;17(26):3165–70. doi:10.3748/wjg.v17.i26.3165.

12.

Emre S, Metin A, Caykoylu A, Akoglu G, Ceylan GG, Oztekin A, et al. Clinical characteristics and HLA alleles of a family with simultaneously occurring alopecia areata. Cutis. 2016;97(6):E30–6.

13.

Miteva M, Tosti A. Hair and scalp dermatoscopy. J Am Acad Dermatol. 2012;67(5):1040–8. doi:10.1016/j.jaad.2012.02.013.

14.

Dainichi T, Kabashima K. Alopecia areata: What's new in epidemiology, pathogenesis, diagnosis, and therapeutic options? J Dermatol Sci. 2017;86(1):3–12. doi:10.1016/j.jdermsci.2016.10.004.

15.

Zimova J, Zimova P. Trichotillomania: bizzare patern of hair loss at 11-year-old girl. Acta Dermatovenerol Croat. 2016;24(2):150–3.

16.

Madani S, Trotter MJ, Shapiro J. Pseudopelade of Brocq in beard area. J Am Acad Dermatol. 2000;42(5 Pt 2):895–6.

17.

Ramos-e-Silva M, Pirmez R. Red face revisited: disorders of hair growth and the pilosebaceous unit. Clin Dermatol. 2014;32(6):784–99. doi:10.1016/j.clindermatol.2014.02.018.

18.

Salido-Vallejo R, Garnacho-Saucedo G, Moreno-Gimenez JC, Camacho-Martinez FM. Beard involvement in a man with frontal fibrosing alopecia. Indian J Dermatol Venereol Leprol. 2014;80(6):542–4. doi:10.4103/0378-6323.144183.

19.

Hordinsky M, Donati A. Alopecia areata: an evidence-based treatment update. Am J Clin Dermatol. 2014;15(3):231–46. doi:10.1007/s40257-014-0086-4.

20.

Messenger AG, McKillop J, Farrant P, McDonagh AJ, Sladden M. British Association of Dermatologists' guidelines for the management of alopecia areata 2012. Br J Dermatol. 2012;166(5):916–26. doi:10.1111/j.1365-2133.2012.10955.x.

21.

Alkhalifah A, Alsantali A, Wang E, McElwee KJ, Shapiro J. Alopecia areata update: part II. Treatment. J Am Acad Dermatol. 2010;62(2):191–202. doi:10.1016/j.jaad.2009.10.031 (quiz 3–4).

22.

Porter D, Burton JL. A comparison of intra-lesional triamcinolone hexacetonide and triamcinolone acetonide in alopecia areata. Br J Dermatol. 1971;85(3):272–3.

23.

Kassim JM, Shipman AR, Szczecinska W, Siah TW, Lam M, Chalmers J, et al. How effective is intralesional injection of triamcinolone acetonide compared with topical treatments in inducing and maintaining hair growth in patients with alopecia areata? A Critically Appraised Topic. Br J Dermatol. 2014;170(4):766–71. doi:10.1111/bjd.12863.

24.

Fiedler-Weiss VC. Topical minoxidil solution (1% and 5%) in the treatment of alopecia areata. J Am Acad Dermatol. 1987;16(3 Pt 2):745–8.

25.

Orecchia G, Perfetti L. Alopecia areata and topical sensitizers: allergic response is necessary but irritation is not. Br J Dermatol. 1991;124(5):509.

26.

Dall'oglio F, Nasca MR, Musumeci ML, La Torre G, Ricciardi G, Potenza C, et al. Topical immunomodulator therapy with squaric acid dibutylester (SADBE) is effective treatment for severe alopecia areata (AA): results of an open-label, paired-comparison, clinical trial. J Dermatolog Treat. 2005;16(1):10–4. doi:10.1080/09546630410023601.

27.

Olsen EA, Carson SC, Turney EA. Systemic steroids with or without 2% topical minoxidil in the treatment of alopecia areata. Arch Dermatol. 1992;128(11):1467–73.

28.

Burton JL, Shuster S. Large doses of glucocorticoid in the treatment of alopecia areata. Acta Derm Venereol. 1975;55(6):493–6.

29.

Friedli A, Labarthe MP, Engelhardt E, Feldmann R, Salomon D, Saurat JH. Pulse methylprednisolone therapy for severe alopecia areata: an open prospective study of 45 patients. J Am Acad Dermatol. 1998;39(4 Pt 1):597–602.

30.

Ohtsuki A, Hasegawa T, Ikeda S. Treatment of alopecia areata with 308-nm excimer lamp. J Dermatol. 2010;37(12):1032–5. doi:10.1111/j.1346-8138.2010.00942.x.

31.

Al-Mutairi N. 308-nm excimer laser for the treatment of alopecia areata. Dermatol Surg. 2007;33(12):1483–7. doi:10.1111/j.1524-4725.2007.33320.x.

32.

Fernandez-Guarino M, Harto A, Garcia-Morales I, Perez-Garcia B, Arrazola JM, Jaen P. Failure to treat alopecia areata with photodynamic therapy. Clin Exp Dermatol. 2008;33(5):585–7. doi:10.1111/j.1365-2230.2008.02712.x.

33.

Eckert MMG, Gundin NL, Crespo RL. Alopecia areata: good response to treatment with fractional laser in 5 cases. J Cosmetol Trichol. 2016;2:108. doi:10.4172/2471-9323.1000108.

34.

Bayramgurler D, Demirsoy EO, Akturk AS, Kiran R. Narrowband ultraviolet B phototherapy for alopecia areata. Photodermatol Photoimmunol Photomed. 2011;27(6):325–7. doi:10.1111/j.1600-0781.2011.00612.x.

35.

Krook G. Treatment of alopecia areata with Kromayer's ultra-violet lamp. Acta Derm Venereol. 1961;41:178–81.

36.

Sinclair RD, Banfield CC, Dawber RPR. Handbook of diseases of the hair and scalp. Oxford: Blackwell Science; 1999.

37.

Shapiro J. Current treatment of alopecia areata. J Investig Dermatol Symp Proc. 2013;16(1):S42–4. doi:10.1038/jidsymp.2013.14.

38.

Ikeda T. A new classification of alopecia areata. Dermatologica. 1965;131(6):421–45.
Ethics declarations
Conflict of interest
Jessica Cervantes, Raymond M. Fertig, Austin Maddy, and Antonella Tosti have no conflicts of interest and no commercial associations with any product or device described in the article. Dr. Antonella Tosti has served as a consultant for P&G and DS Laboratories; as Principal Investigator for Incyte and Pfizer; has received author royalties from Taylor & Francis; is the Editor in chief for Karger Publishers; and is on the scientific board for the National Alopecia Areata Foundation.
Funding
No funding was received for this manuscript.
About this article
Cite this article
Cervantes, J., Fertig, R.M., Maddy, A. et al. Alopecia Areata of the Beard: A Review of the Literature. Am J Clin Dermatol 18, 789–796 (2017). https://doi.org/10.1007/s40257-017-0297-6