Abstract
Black hairy tongue (BHT) is a benign condition commonly found among people who smoke, have poor oral hygiene, are immunocompromised, or have a medical condition limiting their ability to practice good oral hygiene. Though this condition is harmless, patients need to be educated on etiology as many common medications are associated with this condition. Patients being placed on certain antibiotics or antipsychotics should be educated on the importance of good oral hygiene or cessation of habits that promote BHT. Similarly, those with medical conditions increasing the risk for the development of BHT should schedule routine visits with their dentist or dental hygienist. Prognosis is good, and treatment consists of gentle brushing of the tongue, but many anecdotal reports exist demonstrating the use of medications or other products to treat this condition. This review addresses the epidemiology, clinical presentation, pathophysiology, etiology, histology, differential diagnosis, and treatment of BHT and lists all of the medications reported to cause this condition.
Access options
Buy single article
Instant access to the full article PDF.
US$ 49.95
Tax calculation will be finalised during checkout.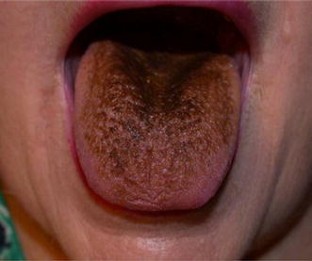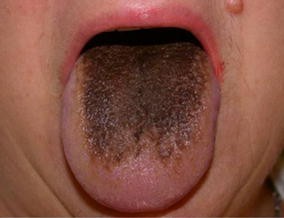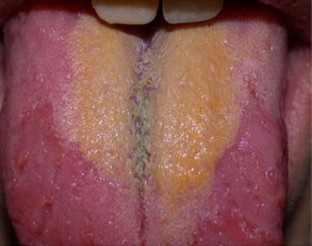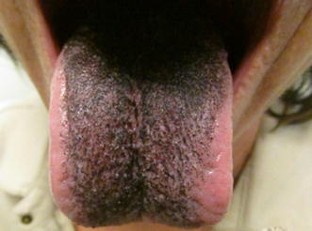 References
1.

Jhaj R, Gour PR, Asati DP. Black hairy tongue with a fixed dose combination of olanzapine and fluoxetine. Indian J Pharmacol. 2016;48(3):318–20.

2.

Thompson DF, Kessler TL. Drug-induced black hairy tongue. Pharmacotherapy. 2010;30(6):585–93.

3.

Avcu N, Kanli A. The prevalence of tongue lesions in 5150 Turkish dental outpatients. Oral Dis. 2003;9(4):188–95.

4.

Nisa L, Giger R. Black hairy tongue. Am J Med. 2011;124(9):816–7.

5.

Gurvits GE, Tan A. Black hairy tongue syndrome. World J Gastroenterol. 2014;20(31):10845–50.

6.

Jeong JS, Lee JY, Kim MK, Yoon TY. Black hairy tongue associated with erlotinib treatment in a patient with advanced lung cancer. Ann Dermatol. 2011;23(4):526–8.

7.

Arab JP, Vargas JI, Morales C, Arrese M. Black hairy tongue during interferon therapy for hepatitis C. Ann Hepatol. 2015;14(3):414–5.

8.

Aijazi I, Abdulla FM. Linezolid induced black hairy tongue: a rare side effect. J Ayub Med Coll Abbottabad. 2014;26(3):401–3.

9.

Manabe M, Lim HW, Winzer M, Loomis CA. Architectural organization of filiform papillae in normal and black hairy tongue epithelium: dissection of differentiation pathways in a complex human epithelium according to their patterns of keratin expression. Arch Dermatol. 1999;135(2):177–81.

10.

Sarti GM, Haddy RI, Schaffer D, Kihm J. Black hairy tongue. Am Fam Physician. 1990;41(6):1751–5.

11.

Pigatto PD, Spadari F, Meroni L, Guzzi G. Black hairy tongue associated with long-term oral erythromycin use. J Eur Acad Dermatol Venereol. 2008;22(10):1269–70.

12.

Sheikh Z, Khan AS, Khan S. Lingua villosa nigra. Lancet. 2011;377(9772):1183.

13.

Mangold AR, Torgerson RR, Rogers RS. Diseases of the tongue. Clin Dermatol. 2016;34(4):458–69.

14.

Dashper SG, Cross KJ, Slakeski N, Lissel P, Aulakh P, Moore C, et al. Hemoglobin hydrolysis and heme acquisition by Porphyromonas gingivalis. Oral Microbiol Immunol. 2004;19(1):50–6.

15.

Fyrestam J, Bjurshammar N, Paulsson E, Mansouri N, Johannsen A, Östman C. Influence of culture conditions on porphyrin production in Aggregatibacter actinomycetemcomitans and Porphyromonas gingivalis. Photodiagnosis Photodyn Ther. Epub 4 Nov 2016. doi:10.1016/j.pdpdt.2016.11.001.

16.

Poulopoulos AK, Antoniades DZ, Epivatianos A, Grivea IN, Syrogiannopoulos GA. Black hairy tongue in a 2-month-old infant. J Paediatr Child Health. 2008;44(6):377–9.

17.

Kullaa-Mikkonen A, Mikkonen M, Kotilainen R. The pH of stimulated and resting saliva in different morphologic forms of the tongue surface in a young population. Oral Surg Oral Med Oral Pathol. 1982;53(5):466–8.

18.

Karadag Oncel E, Boyraz MS, Kara A. Black tongue associated with Kocuria (Micrococcus) kristinae bacteremia in a 4-month-old infant. Eur J Pediatr. 2012;171(3):593.

19.

Nakajima M, Mizooka M, Tazuma S. Black hairy tongue treated with oral antibiotics: a case report. J Am Geriatr Soc. 2015;63(2):412–3.

20.

Farman AG. Hairy tongue (lingua villosa). J Oral Med. 1977;32(3):85–91.

21.

Cheshire WP. Unilateral black hairy tongue in trigeminal neuralgia. Headache. 2004;44(9):908–10.

22.

Erriu M, Pili FM, Denotti G, Garau V. Black hairy tongue in a patient with amyotrophic lateral sclerosis. J Int Soc Prev Commun Dent. 2016;6(1):80–3.

23.

Akay BN, Sanli H, Topcuoglu P, Zincircioğlu G, Gurgan C, Heper AO. Black hairy tongue after allogeneic stem cell transplantation: an unrecognized cutaneous presentation of graft-versus-host disease. Transplant Proc. 2010;42(10):4603–7.

24.

Refaat M, Hyle E, Malhotra R, Seidman D, Dey B. Linezolid-induced lingua villosa nigra. Am J Med. 2008;121(6):e1.

25.

Tamam L, Annagur BB. Black hairy tongue associated with olanzapine treatment: a case report. Mt Sinai J Med. 2006;73(6):891–4.

26.

Heymann WR. Psychotropic agent-induced black hairy tongue. Cutis. 2000;66(1):25–6.

27.

Camkurt M, Metin M, Sonmez E. A case of probable paroxetine induced black hairy tongue. Klin Psikofarmakol Bulteni. 2015;25:403–6.

28.

McGrath EE, Bardsley P, Basran G. Black hairy tongue: what is your call? CMAJ. 2008;178(9):1137–8.

29.

Mukamal LV, Ormiga P, Ramos-E-Silva M. Dermoscopy of the pigmented fungiform papillae of the tongue. J Dermatol. 2012;39(4):397–9.

30.

Waldron CA, Shafer WG. Leukoplakia revisited. A clinicopathologic study 3256 oral leukoplakias. Cancer. 1975;36(4):1386–92.

31.

Siegel R, Ward E, Brawley O, Jemal A. Cancer statistics, 2011: the impact of eliminating socioeconomic and racial disparities on premature cancer deaths. CA Cancer J Clin. 2011;61(4):212–36.

32.

Forastiere A, Koch W, Trotti A, Sidransky D. Head and neck cancer. N Engl J Med. 2001;345(26):1890–900.

33.

Balaji G, Maharani B, Ravichandran V, Parthasarathi T. Linezolid induced black hairy tongue. Indian J Pharmacol. 2014;46(6):653–4.

34.

Schwartz RH, Lee T. A two-week-old term baby with a black tongue. Clin Pediatr (Phila). 2015;54(11):1110–2.

35.

Kobayashi K, Takei Y, Sawada M, Ishizaki S, Ito H, Tanaka M. Dermoscopic features of a black hairy tongue in 2 Japanese patients. Dermatol Res Pract. 2010. doi:10.1155/2010/145878.

36.

Kannan S, Muthusamy S, Chandrasekaran B, Gopal D, Sidhu P. Black hairy tongue in older edentulous individuals. J Am Geriatr Soc. 2014;62(5):992–4.

37.

Langtry JA, Carr MM, Steele MC, Ive FA. Topical tretinoin: a new treatment for black hairy tongue (lingua villosa nigra). Clin Exp Dermatol. 1992;17(3):163–4.

38.

McGregor JM, Hay RJ. Oral retinoids to treat black hairy tongue. Clin Exp Dermatol. 1993;18(3):291.

39.

Ramsakal A, Mangat L. Images in clinical medicine. Lingua villosa nigra. N Engl J Med. 2007;357(23):2388.

40.

Ramadan AE. The association of black hairy tongue with toothpastes containing neomycin. Report of two cases. Egypt Dent J. 1969;15(4):253–6.

41.

Wolfson SA. Black hairy tongue associated with penicillin therapy. J Am Med Assoc. 1949;140(15):1206–8.

42.

Pegum JS. Urea in the treatment of black hairy tongue. Br J Dermatol. 1971;84(6):602.

43.

Weinstein I, Rosencrans M. Treatment of black hairy tongue with triamcinolone acetonide. Report of a case. Oral Surg Oral Med Oral Pathol. 1962;15:1071–4.

44.

Jahanbani J, Sandvik L, Lyberg T, Ahlfors E. Evaluation of oral mucosal lesions in 598 referred Iranian patients. Open Dent J. 2009;3:42–7.
Acknowledgements
The authors thank Eric Ehrsam, MD, who is a dermatologist in Lille, France, for his contribution of the pictures in Figs. 1, 2, 3. We would also like to thank Dr. Bill Liss, a dermatologist in San Francisco, CA, USA, for his contribution of Fig. 4. Emma Schlager, BS, and Chelsea St. Claire, BS, are medical students at Michigan State University College of Human Medicine who are interested in a career in dermatology. Kurt Ashack, MD, is a medical graduate of Michigan State University College of Human Medicine and will also be doing a residency in dermatology at the University of Illinois at Chicago. Dr. Khachemoune is a Mohs micrographic surgeon and a dermatophathologist at the Veterans Affairs Medical Center and the Department of Dermatology at the State University of New York in Brooklyn, NY USA.
Ethics declarations
Funding
No funding was received for the preparation of this review.
Conflict of interest
Emma Schlager, Chelsea St. Claire, Kurt Ashack, and Amor Khachemoune have no conflicts of interest.
About this article
Cite this article
Schlager, E., St. Claire, C., Ashack, K. et al. Black Hairy Tongue: Predisposing Factors, Diagnosis, and Treatment. Am J Clin Dermatol 18, 563–569 (2017). https://doi.org/10.1007/s40257-017-0268-y
Keywords
Trigeminal Neuralgia

Triamcinolone Acetonide

Acanthosis Nigricans

Poor Oral Hygiene

Edentulous Patient