Abstract
Shiitake mushroom dermatitis is a cutaneous reaction caused by the consumption of raw or undercooked shiitake mushrooms. Symptoms include linear erythematous eruptions with papules, papulovesicles or plaques, and severe pruritus. It is likely caused by lentinan, a heat-inactivated beta-glucan polysaccharide. Cases were initially reported in Japan but have now been documented in other Asian countries, North America, South America, and Europe, as this mushroom is now cultivated and consumed worldwide. Shiitake mushroom dermatitis may result from mushroom ingestion or from handling, which can result in an allergic contact dermatitis.
Access options
Buy single article
Instant access to the full article PDF.
USD 49.95
Price excludes VAT (USA)
Tax calculation will be finalised during checkout.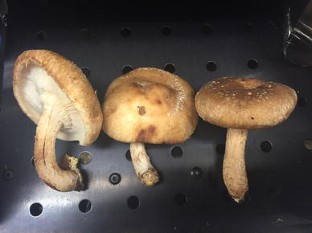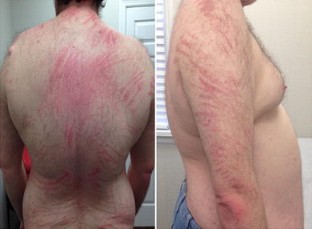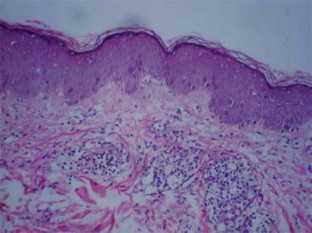 References
Nakamura T. Toxicoderma caused by shiitake (Lentinus edodes). Jpn J Clin Dermatol. 1977;31:65–8.

Royse D. A Global perspective on the high five: Agaricus, Pleurotus, Lentinula, Auricularia & Flammulina. In: Proceedings of the 8th International Conference on Mushroom Biology and Mushroom Products, New Delhi, 2014.

Ina K, Kataoka T, Ando T. The use of lentinan for treating gastric cancer. Anticancer Agents Med Chem. 2013;13:681–8.

Nakamura T. Shiitake (Lentinus edodes) dermatitis. Contact Dermatitis. 1992;27:65–70.

Hamer SE, Kulkarni K, Cohen SN. Shiitake dermatitis with oral ulceration and pustules. Clin Exp Dermatol. 2015;40:332–3.

Luber AJ, Ackerman LS. Flagellate shiitake mushroom dermatitis. Dermatol Online J. 2015;21:8.

Mendonca CN, Silva PM, Avelleira JC, Nishimori FS, Cassia Fde F. Shiitake dermatitis. An Bras Dermatol. 2015;90:276–8.

Zampeli VA, Nikolakis G, Zouboulis CC, Lippert U. A 25-year-old woman with widespread severely pruritic linear papules. Hautarzt. 2014;65:908–10.

Poppe LM, Anders D, Kneitz H, Brocker EB, Benoit S. Flagellate dermatitis caused by shiitake mushrooms. An Bras Dermatol. 2012;87:463–5.

Ade R, Sukut C, Wiser HJ, Shockman S, Buescher L. Shiitake dermatitis demonstrating Koebner phenomenon. Int J Dermatol. 2015;54:e179–81.

Boels D, Landreau A, Bruneau C, Garnier R, Pulce C, Labadie M, et al. Shiitake dermatitis recorded by French Poison Control Centers—new case series with clinical observations. Clin Toxicol (Phila). 2014;52:625–8.

Aalto-Korte K, Susitaival P, Kaminska R, Makinen-Kiljunen S. Occupational protein contact dermatitis from shiitake mushroom and demonstration of shiitake-specific immunoglobulin E. Contact Dermatitis. 2005;53:211–3.

Sastre J, Ibanez MD, Lopez M, Lehrer SB. Respiratory and immunological reactions among shiitake (Lentinus edodes) mushroom workers. Clin Exp Allergy. 1990;20:13–9.

Takeshita K, Hayashi S, Tani M, Kando F, Saito N, Endo M. Monocyte function associated with intermittent lentinan therapy after resection of gastric cancer. Surg Oncol. 1996;5:23–8.

Chu EY, Anand D, Dawn A, Elenitsas R, Adler DJ. Shiitake dermatitis: a report of 3 cases and review of the literature. Cutis. 2013;91:287–90.

Hyry H, Kariniemi AL. Shiitake dermatitis: shiitake mushrooms must be cooked before their use. Duodecim. 1998;114:555–7.

Kopp T, Mastan P, Mothes N, Tzaneva S, Stingl G, Tanew A. Systemic allergic contact dermatitis due to consumption of raw shiitake mushroom. Clin Exp Dermatol. 2009;34:e910–3.

Adriano AR, Acosta ML, Azulay DR, Quiroz CD, Talarico SR. Shiitake dermatitis: the first case reported in Brazil. An Bras Dermatol. 2013;88:417–9.

Ricar J, Pizinger K, Cetkovska P. Shiitake dermatitis: a distinctive clinical entity. Int J Dermatol. 2013;52:1620–1.

Karanovic S, George S, Topham E. Don't miss shiitake dermatitis: a case report. Br J Gen Pract. 2014;64:426–7.

Hamer S, Rabindranathnambi R. A wide-spread flagellate dermatitis. BMJ Case Rep. 2013;2013:bcr2012007682.

Garg S, Cockayne SE. Shiitake dermatitis diagnosed after 16 years! Arch Dermatol. 2008;144:1241–2.

Soo JK, Pearson IC, Misch KJ. A case of flagellation. Clin Exp Dermatol. 2007;32:339–40.

Mak RK, Wakelin SH. Shiitake dermatitis: the first case reported from a European country. Br J Dermatol. 2006;154:800–1.

Girard C, Bessis D. Flagellate dermatitis. Shiitake dermatitis (toxicoderma). Arch Dermatol. 2010;146:1301–6.

Herault M, Waton J, Bursztejn AC, Schmutz JL, Barbaud A. Shiitake dermatitis now occurs in France. Ann Dermatol Venereol. 2010;137:290–3.

Hiernickel C, Metz S, Elsner P. Shiitake dermatitis: an impressive case report. J Dtsch Dermatol Ges. 2015;13:455–6.

Czarnecka AB, Kreft B, Marsch W. Flagellate dermatitis after consumption of shiitake mushrooms. Postepy Dermatol Alergol. 2014;31:187–90.

Haas N, Vogt R, Sterry W. Shiitake dermatitis: flagellate dermatitis after eating mushrooms. Hautarzt. 2001;52:132–5.

Lippert U, Martin V, Schwertfeger C, Junghans V, Ellinghaus B, Fuchs T. Shiitake dermatitis. Br J Dermatol. 2003;148:178–9.

Maier T, Herzinger T. Linear dermatitis due to shiitake mushrooms. Hautarzt. 2007;58:1021–2.

Scheiba N, Andrulis M, Helmbold P. Treatment of shiitake dermatitis by balneo PUVA therapy. J Am Acad Dermatol. 2011;65:453–5.

Wagner G, Sachse MM. Linear grouped erythema and papules on the upper trunkand decollete. Shiitake dermatitis. J Dtsch Dermatol Ges. 2011;9:555–7.

Corazza M, Zauli S, Ricci M, Borghi A, Pedriali M, Mantovani L, et al. Shiitake dermatitis: toxic or allergic reaction? J Eur Acad Dermatol Venereol. 2015;29:1449–51.

Hanada K, Hashimoto I. Flagellate mushroom (shiitake) dermatitis and photosensitivity. Dermatology. 1998;197:255–7.

Baran W, Batycka-Baran A, Maj J, Szepietowski JC. Shiitake dermatitis—now also in Poland. Acta Derm Venereol. 2015;95:102–3.

Loo HV, Oon HH. Flagellate dermatitis following consumption of shiitake mushroom. Dermatol Rep. 2011;3:e21.

Diaz-Corpas T, Mateu-Puchades A, Coll-Puigserver MN, Marquina-Vila A. Flagellate dermatitis after eating shiitake mushrooms. Actas Dermosifiliogr. 2011;102:830–2.

Lapresta A, de Miguel R, Sanchez-Moya AI, Robuschi F, Cardona C. Shiitake dermatitis in a Spanish patient. Dermatol Online J. 2011;17:16.

Lopez-Nunez M, Jaka-Moreno A, Tuneu-Valls A. Pregnant woman with flagellate erythema. Actas Dermosifiliogr. 2012;103:155–6.

Garrido Colmenero C, Nogueras Morillas P, Blasco Morente G, Arias Santiago S. Flagellate dermatitis caused by shiitake. Med Clin (Barc). 2015;144:e7.

Carlson S, Stuckert J, Nedorost S. Shiitake mushroom dermatitis. Dermatitis. 2010;21:290–1.

Adler MJ, Larsen WG. Clinical variability of shiitake dermatitis. J Am Acad Dermatol. 2012;67:e140–1.

Wang AS, Barr KL, Jagdeo J. Shiitake mushroom-induced flagellate erythema: a striking case and review of the literature. Dermatol Online J. 2013;19:5.

Uslu U, Linkner RV. Shiitake mushroom dermatitis. Cutis. 2015;95:E11–2.

Duckworth G. Meadow grass dermatitis. Br J Dermatol Syph. 1946;58:32.
Ethics declarations
Funding
No funding was received for the preparation of this review.
Conflict of interest
Mr. Stephany, Ms. Chung, Ms. Handler, Drs. Handler MZ, Handler G, and Schwartz have no conflicts of interest.
About this article
Cite this article
Stephany, M.P., Chung, S., Handler, M.Z. et al. Shiitake Mushroom Dermatitis: A Review. Am J Clin Dermatol 17, 485–489 (2016). https://doi.org/10.1007/s40257-016-0212-6
Published:

Issue Date:

DOI: https://doi.org/10.1007/s40257-016-0212-6
Keywords
Trastuzumab

Dermatitis

Contact Dermatitis

Allergic Contact Dermatitis

Cutaneous Reaction