Abstract
Platelet-rich plasma (PRP) is a solution derived from whole blood that is enriched in the platelet fraction. Platelets serve as a reservoir of growth factors and cytokines. When platelets are activated in vivo, signaling molecules are released into the immediate microenvironment and activate receptors for various pathways. Historically, PRP has been applied to wound beds to promote healing of complex wounds. Over the last decade, it has served as a valuable therapeutic tool in various specialties such as maxillofacial surgery, plastic surgery, orthopedics and sports medicine. Only recently has PRP been utilized for dermatologic purposes, more specifically, for the treatment of male and female pattern hair loss. In this review, we discuss molecular and cellular pathways upregulated by PRP important in hair folliculogenesis, and examine clinical evidence from all previously published studies involving the use of PRP for pattern hair loss.
Access options
Buy single article
Instant access to the full article PDF.
US$ 49.95
Tax calculation will be finalised during checkout.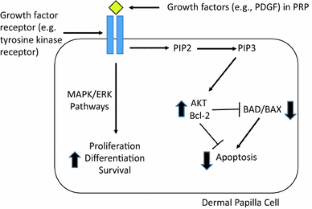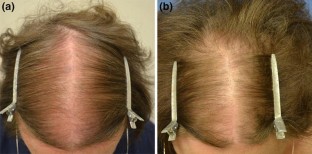 References
1.

Carter MJ, Fylling CP, Parnell LK. Use of Platelet rich plasma gel on wound healing: a systematic review and meta-analysis. Eplasty. 2011;11:e38.

2.

Sommeling CE, Heyneman A, Hoeksema H, et al. The use of platelet-rick plasma in plastic surgery: a systematic review. J Plast Reconstr Aesthet Surg. 2013;66:301–12.

3.

Curi MM, Cossolin GS, Koga DH, et al. Treatment of avascular osteonecrosis of the jaw in cancer patients with a history of bisphosphonate therapy by combining bone resection and autologous platelet-rich plasma: report of 3 cases. J Oral Maxillofac Sug. 2007;65:348–55.

4.

Ronci C, Ferraro AS, Lanti A, et al. Platelet-rich plasma as treatment for persistent ocular epithelial defects. Transfus Apheres Sci. 2015;52(3):300–4.

5.

Uebel CO, da Silva JB, Cantarelli D, et al. The role of platelet plasma growth factors in male pattern baldness surgery. Plast Reconstr Surg. 2006;118(6):1458–66.

6.

Cayirh M, Cahskan E, Acikgoz G, et al. Regression of melisma with platelet-rich plasma treatment. Ann Dermatol. 2014;26(3):401–2.

7.

Conde-Montero E, Horcajada-Reales C, Clavo P, et al. Neuropathic ulcers in leprosy treated with intralesional platelet-rich plasma. Int Wound J. 2014. doi:10.1111/iwj.12359.

8.

Motolese A, Vignati F, Antelmi A, et al. Effectiveness of platelet-rich plasma in healing necrobiosis lipoidica diabeticorum ulcers. Clin Exp Dermatol. 2015;40(1):39–41.

9.

Casabona F, Priano V, Vallerino V, et al. New surgical approach to lichen sclerosis of the vulva: the role of adipose-derived mesenchymal cells and platelet-rich plasma in tissue regeneration. Plast Reconstr Surg. 2010;126(4):210e–211e.

10.

Budamakuntla L, Suryanarayan S, Sarvajnamurthy SS, et al. Autologous platelet rich plasma in pyoderma gangrenosum—two case reports. Indian J Dermatol. 2015;60(2):204–5.

11.

Dhurat R, Sukesh MS. Principles and methods of preparation of platelet-rich plasma: a review and author's perspective. J Cutan Aesthet Surg. 2014;7:189–99.

12.

Raja SV, Naidu ME. Platelet-rich fibrin: evolution of a second-generation platelet concentrate. Indian J Dent Res. 2008;19:42–6.

13.

Senzel L, Gnatenko DV, Bahou WF. The platelet proteome. Curr Opin Hematol. 2009;5:329–33.

14.

Li ZJ, Hi Choi, Choi DK, et al. Autologous platelet-rich plasma: a potential therapeutic tool for promoting hair growth. Dermatol Surg. 2012;38(7):1040–6.

15.

Singhal P, Agarwal S, Dhot PS, et al. Efficacy of platelet-rich plasma in treatment of androgenetic alopecia. Asian J Transfus Sci. 2015;9(2):159–62.

16.

Gentile P, Garcovich S, Bielli A, et al. The effect of platelet-rich plasma in hair regrowth: a randomized placebo-controlled trial. Stem Cells Transl Med. 2015. doi:10.5966/sctm.2015-0107.

17.

Marwah M, Dogse K, Patil S, et al. Is there sufficient research data to use platelet-rich plasma in dermatology? Int J Trichol. 2014;6:35–6.

18.

Khatu SS, More YE, Gokhale NR, et al. Platelet-rich plasma in androgenic alopecia: myth or an effective tool. J Cutan Aesthet Surg. 2014;7:107–10.

19.

Cervelli V, Garcovich S, Bielli A, et al. The effect of autologous activated platelet right plasma (AA-PRP) injection on pattern hair loss: clinical and histomorphometric evaluation. Biomed Res Int. 2014. doi:10.1155/2014/760709.

20.

Gkini MA, Kouskoukis AE, Tripsianis G, et al. Study of platelet-rich plasma injections in the treatment of androgenetic alopecia through an one-year period. J Cutan Aesthet Surg. 2014;7(4):213–9.

21.

Kang JS, Zheng Z, Choi MJ, et al. The effect of CD34+ cell-combining autologous platelet rich plasma injection on pattern hair loss: a preliminary study. JEADV. 2014;28:72–9.

22.

Schiavone G, Raskovic D, Greco J, et al. Platelet-rich plasma for androgenetic alopecia: a pilot study. Dermatol Surg. 2014;40(9):1010–9.

23.

Sclafani AP. Platelet-rich fibrin matrix for androgenetic alopecia. Facial Plast Surg. 2014;30:219–24.

24.

Betsi EE, Germain E, Kalbermatten DF, et al. Platelet-rich plasma injection is effective and safe for the treatment of alopecia. Eur J Plast Surg. 2013;36:407–12.

25.

Takikawa M, Nakamura S, Nakamura S, et al. Enhanced effect of platelet-rich plasma containing a new carrier on hair growth. Dermatol Surg. 2011;37(12):1721–9.

26.

Amable PR, Carias PB, Teixeira MV, et al. Platelet-rich plasma preparation for regenerative medicine: optimization and quantification of cytokines and growth factors. Stem Cell Res Therapy. 2013;4:67.

27.

Giusti I, Rughetti A, D'Ascenzo S, et al. Identification of an optimal concentration of platelet gel for promoting angiogenesis in human endothelial cells. Transfusion. 2009;49:771–8.
Acknowledgments
The authors would like to thank Nicole Rogers, MD, FAAD, FISHRS for providing the sample protocol and the clinical photographs.
Ethics declarations
Funding
No funding was received for the preparation of this review.
Conflict of interest
Babu Singh and Lynne J. Goldberg have no conflicts of interest to declare.
About this article
Cite this article
Singh, B., Goldberg, L.J. Autologous Platelet-Rich Plasma for the Treatment of Pattern Hair Loss. Am J Clin Dermatol 17, 359–367 (2016). https://doi.org/10.1007/s40257-016-0196-2
Keywords
Hair Follicle

Finasteride

Hair Loss

Pyoderma Gangrenosum

Dermal Papilla