Abstract
Background
Moisturizers are widely used for atopic dermatitis (AD) and related conditions, but available evidence of their effectiveness has not been reviewed in a systematic fashion.
Objectives
Our objective was to investigate the effectiveness of emollients, as a group and individually, in the treatment of AD and related conditions, by means of a systematic review.
Data Sources
Studies indexed in MEDLINE and/or Embase before 16 January 2015.
Study Eligibility Criteria
Controlled clinical studies comparing the clinical effect of a moisturizer against its vehicle, another moisturizer, or no treatment were eligible. For the outcomes transepidermal water loss (TEWL) and stratum corneum hydration, uncontrolled before–after designs were also eligible.
Participants
Participants were patients with AD, irritant hand dermatitis, and/or ichthyosis vulgaris.
Results
Out of the 595 publications initially identified, 45 (48 studies, 3262 patients) were eligible for inclusion. A vast majority of studies indicate that moisturizers have beneficial effects on clinical symptoms [SCORAD (SCORing Atopic Dermatitis) reductions ranging from 0 to 2.7 points], TEWL (range 0 to −12.2 g/m2h) and stratum corneum hydration (range +8 to +100 %). Direct comparisons between individual moisturizers are still scarce, but the clinical effect appears to be much more well-documented for urea and glycerin than, for example, propylene glycol, lactate, ceramide, and aluminum chlorohydrate. Compared with urea studies, glycerin studies were more often associated with a high risk of bias.
Limitations
Due to differences in study designs and outcome measures, a quantitative meta-analytic approach was not deemed feasible, and formal indicators of publication bias such as funnel plots could not be used. However, a large number of moderately sized studies with positive outcomes could be compatible with selective publishing of favourable results.
Conclusions
The clinical effect of moisturizers is well-documented. Urea-based preparations may be preferable as a first-line treatment, but there is an unmet need for well-powered comparisons between individual moisturizers.
Access options
Buy single article
Instant access to the full article PDF.
US$ 49.95
Tax calculation will be finalised during checkout.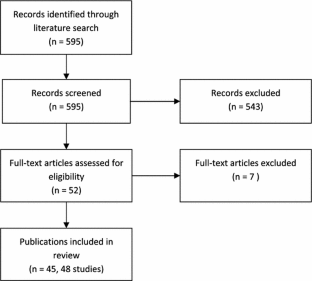 References
1.

Asher MI, Montefort S, Bjorksten B, et al. Worldwide time trends in the prevalence of symptoms of asthma, allergic rhinoconjunctivitis, and eczema in childhood: ISAAC Phases One and Three repeat multicountry cross-sectional surveys. Lancet. 2006;368:733–43.

2.

Schmitt J, Langan S, Stamm T, Williams HC. Core Outcome Domains for Controlled Trials and clinical recordkeeping in eczema: international multiperspective delphi consensus process. J Invest Dermatol. 2011;131:623–30.

3.

Vinding GR, Esmann S, Jemec GB. Quality of life in atopic dermatitis: changes over 6 years in patients who report persistent eczema. J Dermatol. 2012;39:721–2.

4.

Emerson RM, Williams HC, Allen BR. Severity distribution of atopic dermatitis in the community and its relationship to secondary referral. Br J Dermatol. 1998;139:73–6.

5.

Zuberbier T, Orlow SJ, Paller AS, et al. Patient perspectives on the management of atopic dermatitis. J Allergy Clin Immunol. 2006;118:226–32.

6.

Herd RM, Tidman MJ, Prescott RJ, Hunter JA. The cost of atopic eczema. Br J Dermatol. 1996;135:20–3.

7.

Williams HC, Burney PG, Pembroke AC, Hay RJ. The UK Working Party's Diagnostic Criteria for atopic dermatitis. III. Independent hospital validation. Br J Dermatol. 1994;131:406–16.

8.

Leung DY, Bieber T. Atopic dermatitis. Lancet. 2003;361:151–60.

9.

Vahlquist A, Ganemo A, Virtanen M. Congenital ichthyosis: an overview of current and emerging therapies. Acta Derm Venereol. 2008;88:4–14.

10.

Sandilands A, Terron-Kwiatkowski A, Hull PR, et al. Comprehensive analysis of the gene encoding filaggrin uncovers prevalent and rare mutations in ichthyosis vulgaris and atopic eczema. Nat Genet. 2007;39:650–4.

11.

Higgins JP, Altman DG, Gotzsche PC, et al. The Cochrane Collaboration's tool for assessing risk of bias in randomised trials. BMJ. 2011;343:d5928.

12.

Fredriksson T, Gip L. Urea creams in the treatment of dry skin and hand dermatitis. Int J Dermatol. 1975;14:442–4.

13.

Buxman M, Hickman J, Ragsdale W, et al. Therapeutic activity of lactate 12 % lotion in the treatment of ichthyosis. Active versus vehicle and active versus a petrolatum cream. J Am Acad Dermatol. 1986;15:1253–8.

14.

Weber TM, Babcock MJ, Herndon JH Jr, et al. Steroid-free emollient formulations reduce symptoms of eczema and improve quality of life. J Drugs Dermatol. 2014;13:589–95.

15.

Giordano-Labadie F, Cambazard F, Guillet G, et al. Evaluation of a new moisturizer (Exomega milk) in children with atopic dermatitis. J Dermatolog Treat. 2006;17:78–81.

16.

Daehnhardt-Pfeiffer S, Surber C, Wilhelm KP, et al. Noninvasive stratum corneum sampling and electron microscopical examination of skin barrier integrity: pilot study with a topical glycerin formulation for atopic dermatitis. Skin Pharmacol Physiol. 2012;25:155–61.

17.

Lodén M, Wiren K, Smerud K, et al. Treatment with a barrier-strengthening moisturizer prevents relapse of hand-eczema. An open, randomized, prospective, parallel group study. Acta Derm Venereol. 2010;90:602–6.

18.

Williams C, Wilkinson SM, McShane P, et al. A double-blind, randomized study to assess the effectiveness of different moisturizers in preventing dermatitis induced by hand washing to simulate healthcare use. Br J Dermatol. 2010;162:1088–92.

19.

Wirén K, Nohlgard C, Nyberg F, et al. Treatment with a barrier-strengthening moisturizing cream delays relapse of atopic dermatitis: a prospective and randomized controlled clinical trial. J Eur Acad Dermatol Venereol. 2009;23:1267–72.

20.

Msika P, De Belilovsky C, Piccardi N, et al. New emollient with topical corticosteroid-sparing effect in treatment of childhood atopic dermatitis: SCORAD and quality of life improvement. Pediatr Dermatol. 2008;25:606–12.

21.

Szczepanowska J, Reich A, Szepietowski JC. Emollients improve treatment results with topical corticosteroids in childhood atopic dermatitis: a randomized comparative study. Pediatr Allergy Immunol. 2008;19:614–8.

22.

Grimalt R, Mengeaud V, Cambazard F. The steroid-sparing effect of an emollient therapy in infants with atopic dermatitis: a randomized controlled study. Dermatology. 2007;214:61–7.

23.

Küster W, Bohnsack K, Rippke F, et al. Efficacy of urea therapy in children with ichthyosis. A multicenter randomized, placebo-controlled, double-blind, semilateral study. Dermatology. 1998;196:217–22.

24.

Goh CL, Gan SL. Efficacies of a barrier cream and an afterwork emollient cream against cutting fluid dermatitis in metalworkers: a prospective study. Contact Dermatitis. 1994;31:176–80.

25.

Halkier-Sorensen L, Thestrup-Pedersen K. The efficacy of a moisturizer (Locobase) among cleaners and kitchen assistants during everyday exposure to water and detergents. Contact Dermatitis. 1993;29:266–71.

26.

Tadini G, Giustini S, Milani M. Efficacy of topical 10 % urea-based lotion in patients with ichthyosis vulgaris: a two-center, randomized, controlled, single-blind, right-vs.-left study in comparison with standard glycerol-based emollient cream. Curr Med Res Opin. 2011;27:2279–84.

27.

Bissonnette R, Maari C, Provost N, et al. A double-blind study of tolerance and efficacy of a new urea-containing moisturizer in patients with atopic dermatitis. J Cosmet Dermatol. 2010;9:16–21.

28.

Lodén M, Andersson AC, Andersson C, et al. Instrumental and dermatologist evaluation of the effect of glycerine and urea on dry skin in atopic dermatitis. Skin Res Technol. 2001;7:209–13.

29.

Lodén M, Andersson AC, Anderson C, et al. A double-blind study comparing the effect of glycerin and urea on dry, eczematous skin in atopic patients. Acta Derm Venereol. 2002;82:45–7.

30.

Pope FM, Rees JK, Wells RS, Lewis KG. Out-patient treatment of ichthyosis: a double-blind trial of ointments. Br J Dermatol. 1972;86:291–6.

31.

Andersen KE, Brandrup F, Jacobsen M. Calmuril-hydrocortisone and carbamide-hydrocortisone DAK. A comparison in the treatment of atopic dermatitis. Ugeskr Laeger. 1979;141:3512–4.

32.

Åkerström U, Reitamo S, Langeland T, et al. Comparison of moisturizing creams for the prevention of atopic dermatitis relapse: a randomized, double-blind, controlled clinical trial. Acta Derm Venereol 2015;95:587–92.

33.

Blanchet-Bardon C, Tadini G, Machado Matos M, Delarue A. Association of glycerol and paraffin in the treatment of ichthyosis in children: an international, multicentric, randomized, controlled, double-blind study. J Eur Acad Dermatol Venereol. 2012;26:1014–9.

34.

Breternitz M, Kowatzki D, Langenauer M, et al. Placebo-controlled, double-blind, randomized, prospective study of a glycerol-based emollient on eczematous skin in atopic dermatitis: biophysical and clinical evaluation. Skin Pharmacol Physiol. 2008;21:39–45.

35.

Schario M, Lunnemann L, Stroux A, et al. Children with dry skin and atopic predisposition: daily use of emollients in a participant-blinded, randomized, prospective trial. Skin Pharmacol Physiol. 2014;27:208.

36.

Draelos ZD. The effect of ceramide-containing skin care products on eczema resolution duration. Cutis. 2008;81:87–91.

37.

Miller DW, Koch SB, Yentzer BA, et al. An over-the-counter moisturizer is as clinically effective as, and more cost-effective than, prescription barrier creams in the treatment of children with mild-to-moderate atopic dermatitis: a randomized, controlled trial. J Drugs Dermatol. 2011;10:531–7.

38.

Tripodi S, Di Rienzo Businco A, Panetta V, et al. Lack of efficacy of topical furfuryl palmitate in pediatric atopic dermatitis: a randomized double-blind study. J Investig Allergol Clin Immunol. 2009;19:204–9.

39.

Patrizi A, Raone B, Raboni R, Neri I. Efficacy and tolerability of a cream containing AR-GG27® (sorbityl furfural palmitate) in the treatment of mild/moderate childhood atopic dermatitis associated with pityriasis alba. A double-blind, placebo-controlled clinical trial. G Ital Dermatol Venereol. 2012;147:1–8.

40.

Perrenoud D, Gallezot D, van Melle G. The efficacy of a protective cream in a real-world apprentice hairdresser environment. Contact Dermatitis. 2001;45:134–8.

41.

Berndt U, Wigger-Alberti W, Gabard B, Elsner P. Efficacy of a barrier cream and its vehicle as protective measures against occupational irritant contact dermatitis. Contact Dermatitis. 2000;42:77–80.

42.

Korting HC, Schollmann C, Cholcha W, Wolff L. Efficacy and tolerability of pale sulfonated shale oil cream 4 % in the treatment of mild to moderate atopic eczema in children: a multicentre, randomized vehicle-controlled trial. J Eur Acad Dermatol Venereol. 2010;24:1176–82.

43.

Verallo-Rowell VM, Dillague KM, Syah-Tjundawan BS. Novel antibacterial and emollient effects of coconut and virgin olive oils in adult atopic dermatitis. Dermatitis. 2008;19:308–15.

44.

Evangelista MT, Abad-Casintahan F, Lopez-Villafuerte L. The effect of topical virgin coconut oil on SCORAD index, transepidermal water loss, and skin capacitance in mild to moderate pediatric atopic dermatitis: a randomized, double-blind, clinical trial. Int J Dermatol. 2014;53:100–8.

45.

Hagströmer L, Kuzmina N, Lapins J, et al. Biophysical assessment of atopic dermatitis skin and effects of a moisturizer. Clin Exp Dermatol. 2006;31:272–7.

46.

Lodén M, Andersson AC, Lindberg M. Improvement in skin barrier function in patients with atopic dermatitis after treatment with a moisturizing cream (Canoderm). Br J Dermatol. 1999;140:264–7.

47.

Lembo S, Lembo C, Lo Conte V, et al. In vivo evaluation of a Poly-2p barrier cream protective effect. G Ital Dermatol Venereol. 2010;145:703–8.

48.

Arbogast JW, Fendler EJ, Hammond BS, et al. Effectiveness of a hand care regimen with moisturizer in manufacturing facilities where workers are prone to occupational irritant dermatitis. Dermatitis. 2004;15:10–7.

49.

Silny W, Czarnecka-Operacz M, Hasse-Cieslinska M, et al. The influence of emollient Eucerin® soothing lotion 12 % omega on transepidermal water loss, moisturization of epidermis and skin elasticity in children with atopic dermatitis. Postep Dermatol I Alergol. 2009;26:8–16.

50.

Hagströmer L, Nyren M, Emtestam L. Do urea and sodium chloride together increase the efficacy of moisturisers for atopic dermatitis Skin? A comparative, double-blind and randomised study. Skin Pharmacol Appl Skin Physiol. 2001;14:27–33.

51.

Grassi A, Palermi G. Paradisi M [Study of tolerance and efficacy of cosmetic preparations with lenitive action in atopic dermatitis in children]. Clin Ter. 2000;151:77–80.

52.

Kircik LH. Transepidermal water loss (TEWL) and corneometry with hydrogel vehicle in the treatment of atopic dermatitis: a randomized, investigator-blind pilot study. J Drugs Dermatol. 2012;11:180–4.

53.

Chamlin SL, Kao J, Frieden IJ, et al. Ceramide-dominant barrier repair lipids alleviate childhood atopic dermatitis: changes in barrier function provide a sensitive indicator of disease activity. J Am Acad Dermatol. 2002;47:198–208.

54.

Na JI, Hwang JS, Park HJ, et al. A new moisturizer containing physiologic lipid granules alleviates atopic dermatitis. J Dermatolog Treat. 2010;21:23–7.

55.

Angelova-Fischer I, Neufang G, Jung K, et al. A randomized, investigator-blinded efficacy assessment study of stand-alone emollient use in mild to moderately severe atopic dermatitis flares. J Eur Acad Dermatol Venereol. 2014;28(Suppl 3):9–15.

56.

Chiang C, Eichenfield LF. Quantitative assessment of combination bathing and moisturizing regimens on skin hydration in atopic dermatitis. Pediatr Dermatol. 2009;26:273–8.

57.

Danby SG, AlEnezi T, Sultan A, et al. Effect of olive and sunflower seed oil on the adult skin barrier: implications for neonatal skin care. Pediatr Dermatol. 2013;30:42–50.

58.

Loden M. Effect of moisturizers on epidermal barrier function. Clin Dermatol. 2012;30:286–96.
Ethics declarations
Funding
No funding was received specifically for the preparation of this review. Jonatan Lindh holds a postdoc position funded by Karolinska Institutet and Stockholm County Council.
Conflict of interest
Neither Jonatan Lindh nor Maria Bradley have any conflict of interest to declare.
Electronic supplementary material
Below is the link to the electronic supplementary material.
About this article
Cite this article
Lindh, J.D., Bradley, M. Clinical Effectiveness of Moisturizers in Atopic Dermatitis and Related Disorders: A Systematic Review. Am J Clin Dermatol 16, 341–359 (2015). https://doi.org/10.1007/s40257-015-0146-4
Keywords
Atopic Dermatitis

Propylene Glycol

Atopic Dermatitis Patient

Hand Eczema

Irritant Contact Dermatitis