Abstract
Meteorological data show that disastrous floods are increasingly frequent and more severe in recent years, perhaps due to climatic changes such as global warming. During and after a flood disaster, traumatic injuries, communicable diseases, chemical exposures, malnutrition, decreased access to care, and even mental health disorders dramatically increase, and many of these have dermatological manifestations. Numerous case reports document typical and atypical cutaneous infections, percutaneous trauma, immersion injuries, noninfectious contact exposures, exposure to wildlife, and exacerbation of underlying skin diseases after such disasters as the 2004 Asian tsunami, Hurricane Katrina in 2005, and the 2010 Pakistan floods. This review attempts to provide a basic field manual of sorts to providers who are engaged in care after a flooding event, with particular focus on the infectious consequences. Bacterial pathogens such as Staphylococcus and Streptococcus are still common causes of skin infections after floods, with atypical bacteria also greatly increased. Vibrio vulnificus is classically associated with exposure to saltwater or brackish water. It may present as necrotizing fasciitis with hemorrhagic bullae, and treatment consists of doxycycline or a quinolone, plus a third-generation cephalosporin and surgical debridement. Atypical mycobacterial infections typically produce indolent cutaneous infections, possibly showing sporotrichoid spread. A unique nontuberculous infection called spam has recently been identified in Satowan Pacific Islanders; combination antibiotic therapy is recommended. Aeromonas infection is typically associated with freshwater exposure and, like Vibrio infections, immunocompromised or cirrhotic patients are at highest risk for severe disease, such as necrotizing fasciitis and sepsis. Various antibiotics can be used to treat Aeromonas infections. Melioidosis is seen mainly in Southeast Asia and Australia, particularly in rice farmers, and can remain latent for many years before presenting as the host's immunocompetence wanes. It can present with a variety of skin findings or as a nonspecific febrile illness, and preferred treatment consists of ceftazidime or a carbapenem with trimethoprim/sulfamethoxazole (TMP/SMX) for 2 weeks, then continuing TMP/SMX for at least 3 months. Leptospirosis is a waterborne zoonosis that is often prevalent after heavy rains or flooding. Different forms exist, including Fort Bragg fever, which produces a distinctive erythematous papular rash on the shins. Doxycycline is often sufficient; however, volume and potassium repletion may be necessary if renal involvement exists. Chromobacterium violaceum infection may occur after open skin is exposed to stagnant or muddy water. Cultured colonies produce a unique violacein pigment, and treatment typically consists of a carbapenem. Both typical and atypical fungal infections are increased in the flooding disaster scenario, such as dermatophytosis, chromoblastomycosis, blastomycosis, and mucormycosis. Appropriate antifungals should be used. In addition, land inundated with water expands the habitat for parasites and/or vectors, thus increased vigilance for regional parasitic infections is necessary after a flood. Lastly, noninfectious consequences of a flooding disaster are also common and include miliaria, immersion foot syndromes, irritant and allergic contact dermatitis, traumatic wounds and animal bites, and arthropod assault, as well as exacerbation of existing skin conditions such as atopic dermatitis, psoriasis, and alopecia areata due to increased stress or nonavailability of daily medications.
This is a preview of subscription content, log in to check access.
Access options
Buy single article
Instant access to the full article PDF.
US$ 49.95
Price includes VAT for USA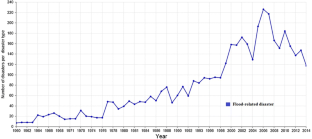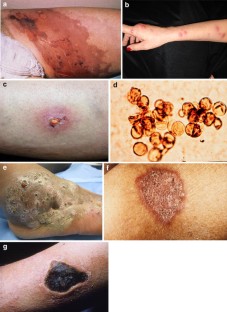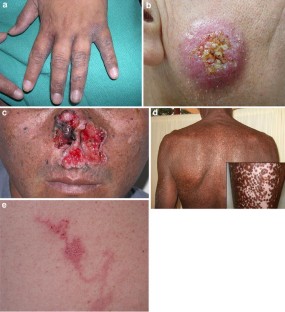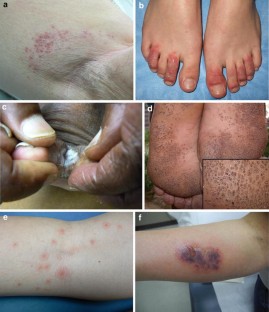 References
1.

Leaning J, Guha-Sapir D. Natural disasters, armed conflict, and public health. N Engl J Med. 2013;369:1836–42.

2.

Dartmouth Flood Observatory. Community surface dynamics modeling system. University of Colorado. http://floodobservatory.colorado.edu. Accessed 10 April 2015.

3.

EM-DAT. The OFDA/CRED International Disaster Database. Centre for Research on the Epidemiology of Disasters, Université Catholique de Louvain, Brussels. http://www.emdat.be. Accessed 6 June 2015.

4.

IPCC. Climate change 2014: synthesis report. In: Core Writing Team, Pachauri RK, Meyer LA editors. Contribution of working groups I, II and III to the fifth assessment report of the intergovernmental panel on climate change. Geneva: IPCC; 2014. p. 1–151.

5.

Allan RP, Soden BJ. Atmospheric warming and the amplification of precipitation extremes. Science. 2008;321:1481–4.

6.

Llewellyn M. Floods and tsunamis. Surg Clin North Am. 2006;86:557–78.

7.

Lee SH, Choi CP, Eun HC, et al. Skin problems after a tsunami. J Eur Acad Dermatol Venereol. 2006;20:860–3.

8.

Bennett JE, Dolin R, Blaser MJ, editors. Mandell, Douglas, and Bennett's principles and practice of infectious diseases. 8th ed. Philadelphia: Elsevier Saunders; 2015.

9.

Fleisher JM, Fleming LE, Solo-Gabriele HM, et al. The BEACHES Study: health effects and exposures from non-point source microbial contaminants in subtropical recreational marine waters. Int J Epidemiol. 2010;39:1291–8.

10.

Taylor PR, Emonson DL, Schlimmer JE. Operation Shaddock: the Australian Defence Force response to the tsunami disaster in Papua New Guinea. Med J Aust. 1998;169:602–6.

11.

Tak S, Bernard BP, Driscoll RJ, et al. Floodwater exposure and the related health symptoms among firefighters in New Orleans, Louisiana 2005. Am J Ind Med. 2007;50:377–82.

12.

Epidemiological bulletin: flood response in Pakistan. 1(2); 2010. http://www.who.int/hac/crises/pak/sitreps/pakistan_epi_30august2010.pdf. Accessed 5 April 2015.

13.

Centers for Disease Control and Prevention. (CDC). Infectious disease and dermatologic conditions in evacuees and rescue workers after Hurricane Katrina—multiple states, August–September, 2005. MMWR Morb Mortal Wkly Rep. 2005;54:961–4.

14.

Hiransuthikul N, Tantisiriwat W, Lertutsahakul K, et al. Skin and soft-tissue infections among tsunami survivors in southern Thailand. Clin Infect Dis. 2005;41:e93–6.

15.

Doung-ngern P, Vatanaprasan T, Chungpaibulpatana J, et al. Infections and treatment of wounds in survivors of the 2004 tsunami in Thailand. Int Wound J. 2009;6:347–54.

16.

Uçkay I, Sax H, Harbarth S, et al. Multi-resistant infections in repatriated patients after natural disasters: lessons learned from the 2004 tsunami for hospital infection control. J Hosp Infect. 2008;68:1–8.

17.

Seybold U, White N, Wang YF, et al. Colonization with multidrug-resistant organisms in evacuees after Hurricane Katrina. Infect Control Hosp Epidemiol. 2007;28:726–9.

18.

Källman O, Lundberg C, Wretlind B, et al. Gram-negative bacteria from patients seeking medical advice in Stockholm after the tsunami catastrophe. Scand J Infect Dis. 2006;38:448–50.

19.

Heymann DL, editor. Cholera and other vibrioses. In: Control of communicable diseases manual, 18th ed. Washington, DC: American Public Health Association; 2006. P.103.

20.

Tsai YH, Hsu RW, Huang TJ, et al. Necrotizing soft-tissue infections and sepsis caused by Vibrio vulnificus compared with those caused by Aeromonas species. J Bone Joint Surg Am. 2007;89:631–6.

21.

Harwood VJ, Gandhi JP, Wright AC. Methods for isolation and confirmation of Vibrio vulnificus from oysters and environmental sources: a review. J Microbiol Methods. 2004;59:301–16.

22.

Majeski J, Majeski E. Necrotizing fasciitis: improved survival with early recognition by tissue biopsy and aggressive surgical treatment. South Med J. 1997;90:1065–8.

23.

Bross MH, Soch K, Morales R, et al. Vibrio vulnificus infection: diagnosis and treatment. Am Fam Physician. 2007;76:539–44.

24.

Tappeiner G. Tuberculosis and infections with atypical mycobacteria. In: Wolff K, Goldsmith LA, Katz SI, Gilchrest B, Paller AS, Leffell DJ, editors. Fitzpatrick's dermatology in general medicine. 7th ed. New York: McGraw Hill; 2010.

25.

Wagner D, Young LS. Nontuberculous mycobacterial infections: a clinical review. Infection. 2004;32:257–70.

26.

Dodiuk-Gad R, Dyachenko P, Ziv M, et al. Nontuberculous mycobacterial infections of the skin: a retrospective study of 25 cases. J Am Acad Dermatol. 2007;57:413–20.

27.

Tran H, Kamino H, Walters RF. Mycobacterium marinum infection. Dermatol Online J. 2008;15:7.

28.

Lillis JV, Ansdell VE, Ruben K, et al. Sequelae of World War II: an outbreak of chronic cutaneous nontuberculous mycobacterial infection among Satowanese islanders. Clin Infect Dis. 2009;48:1541–6.

29.

Brown-Elliott BA, Wallace RJ. Clinical and taxonomic status of pathogenic nonpigmented or late-pigmenting rapidly growing mycobacterial. Clin Microbiol Rev. 2002;15:716–46.

30.

Garzoni C, Emonet S, Legout L, et al. Atypical infections in tsunami survivors. Emerg Infect Dis. 2005;11:1591–3.

31.

Appelgren P, Farnebo F, Dotevall L, et al. Late-onset posttraumatic skin and soft-tissue infections caused by rapid-growing mycobacteria in tsunami survivors. Clin Infect Dis. 2008;47:e11–6.

32.

Petrini B, Farnebo F, Hedblad MA, et al. Concomitant late soft tissue infections by Cladophialophora bantiana and Mycobacterium abscessus following tsunami injuries. Med Mycol. 2006;44:189–92.

33.

Sizaire V, Nackers F, Comte E, et al. Mycobacterium ulcerans infection: control, diagnosis, and treatment. Lancet Infect Dis. 2006;6:288–96.

34.

Willamson HR, Benbow ME, Nguyen KD, et al. Distribution of Mycobacterium ulcerans in buruli ulcer endemic and non-endemic aquatic sites in Ghana. PLoS Negl Trop Dis. 2008;2:e205.

35.

Suykerbuyk P, Wambacq J, Phanzu DM, et al. Persistence of Mycobacterium ulcerans disease (Buruli Ulcer) in the historical focus of Kasongo Territory, the Democratic Republic of Congo. Am J Trop Med Hyg. 2009;81:888–94.

36.

Veitch MG, Johnson PD, Flood PE, et al. A large localized outbreak of Mycobacterium ulcerans infection on a temperate southern Australian island. Epidemiol Infect. 1997;119:313–8.

37.

Johnson PD, Lavender CJ. Correlation between Buruli ulcer and vector-borne notifiable diseases, Victoria. Australia. Emerg Infect Dis. 2009;15:614–5.

38.

Carolan K, Ebong SM, Garchitorena A, et al. Ecological niche modeling of Hemipteran insects in Cameroon; the paradox of a vector-borne transmission for Mycobacterium ulcerans, the causative agent of Buruli ulcer. Int J Health Geogr. 2014;13:44.

39.

Wallace JR, Gordon MC, Hartsell L, et al. Interaction of Mycobacterium ulcerans with mosquito species: implications for transmission and trophic relationships. Appl Environ Microbiol. 2010;76:6215–22.

40.

Posteraro B, Sanguinetti M, Garcovich A, et al. Polymerase chain reaction-reverse cross-blot hybridization assay in the diagnosis of sporotrichoid Mycobacterium marinum infection. Br J Dermatol. 1998;139:872–6.

41.

Herbinger KH, Adjei O, Aqua-Boateng NY, et al. Comparative study of the sensitivity of different diagnostic methods for the laboratory diagnosis of Buruli ulcer disease. Clin Infect Dis. 2009;48:1055–64.

42.

Brown J, Kelm M, Bryan LE. Infection of the skin by Mycobacterium marinum: report of five cases. Can Med Assoc J. 1977;117:912–4.

43.

World Health Organization. Provisional guidance on the role of specific antibiotics in the management of Mycobacterium ulcerans disease (Buruli ulcer). http://www.who.int/buruli/information/antibiotics/en/. Accessed 11 April 2015.

44.

Chauty A, Ardant MF, Adeye A, et al. Promising clinical efficacy of streptomycin-rifampin combination for treatment of buruli ulcer (Mycobacterium ulcerans disease). Antimicrob Agents Chemother. 2007;51:4029–35.

45.

Nienhuis WA, Stienstra Y, Thompson WA, et al. Antimicrobial treatment for early, limited Mycobacterium ulcerans infection: a randomised controlled trial. Lancet. 2010;375:664–72.

46.

Kozinska A. Dominant pathogenic species of mesophilic aeromonads isolated from diseased and healthy fish cultured in Poland. J Fish Dis. 2007;30:293–301.

47.

Ashdown LR, Koehler JM. The spectrum of Aeromonas-associated diarrhea in tropical Queensland, Australia. Southeast Asian J Trop Med Public Health. 1993;24:347–53.

48.

Semel JD, Trenholme G. Aeromonas hydrophila water-associated traumatic wound infections: a review. J Trauma. 1990;30:324–7.

49.

Janda JM, Abbott SL. The genus Aeromonas: taxonomy, pathogenicity, and infection. Clin Microbiol Rev. 2010;23:35–73.

50.

Sanyal D, Burge SH, Hutchings PG. Enteric pathogens in tropical aquaria. Epidemiol Infect. 1987;99:635–40.

51.

Julià Manresa M, Vicente Villa A, Gené Giralt A, et al. Aeromonas hydrophila folliculitis associated with an inflatable swimming pool: mimicking Pseudomonas aeruginosa infection. Pediatr Dermatol. 2009;26:601–3.

52.

Koksal F, Oguzkurt N, Samasti M, et al. Prevalence and antimicrobial resistance patterns of Aeromonas strains isolated from drinking water samples in Istanbul, Turkey. Chemotherapy. 2007;53:30–5.

53.

Yasti AC, Otan E, Doganay M, et al. Aeromonas hydrophila in a burn patient. J Burn Care Res. 2009;30:898–900.

54.

Sartor C, Bornet C, Guinard D, et al. Transmission of Aeromonas hydrophila by leeches. Lancet. 2013;11(381):1686.

55.

Vally H, Whittle A, Cameron S, et al. Outbreak of Aeromonas hydrophila wound infections associated with mud football. Clin Infect Dis. 2004;38:1084–9.

56.

Gold WL, Salit IE. Aeromonas hydrophila infections of skin and soft tissue: report of 11 cases and review. Clin Infect Dis. 1993;16:69–74.

57.

Kelly KA, Koehler JM, Ashdown LR. Spectrum of extraintestinal disease due to Aeromonas species in tropical Queensland, Australia. Clin Infect Dis. 1993;16:574.

58.

Furusu A, Yoshizuka N, Abe K, et al. Aeromonas hydrophila necrotizing fasciitis and gas gangrene in a diabetic patient on haemodialysis. Nephrol Dial Transplant. 1997;12:1730–4.

59.

Monaghan SF, Anjaria D, Mohr A, et al. Necrotizing fasciitis and sepsis caused by Aeromonas hydrophila after crush injury of the lower extremity. Surg Infect (Larchmt). 2008;9:459–67.

60.

Kespechara K, Koysombat T, Pakamol S, et al. Infecting organisms in victims from the tsunami disaster: experiences from Bangkok Phuket Hospital. Thailand. Int J Disaster Med. 2006;3:66–70.

61.

Presley SM, Rainwater TR, Austin GP, et al. Assessment of pathogens and toxicants in New Orleans, LA following Hurricane Katrina. Environ Sci Technol. 2006;40:468–74.

62.

Richards GP, Watson MA. A simple fluorogenic method to detect Vibrio cholerae and Aeromonas hydrophila in well water for areas impacted by catastrophic disasters. Am J Trop Med Hyg. 2006;75:516–21.

63.

Maharjan B, Chantratita N, Vesaratchavest M, et al. Recurrent melioidosis in patient in northeast Thailand is frequently due to reinfection rather than relapse. J Clin Microbiol. 2005;43:6032–4.

64.

Currie BJ, Fisher DA, Anstey NM, et al. Melioidosis: acute and chronic disease, relapse and re-activation. Trans R Soc Trop Med Hyg. 2000;94:301–4.

65.

Blaney D. Melioidosis. In: Heymann DL, editor. Control of communicable diseases manual [online version]. 20th ed. Washington, DC: American Public Health Association and Unbound Medicine, Inc; 2015.

66.

Ngauy V, Lemeshev Y, Sadkowski L, et al. Cutaneous melioidosis in a man who was taken as a prisoner of war by the Japanese during World War II. J Clin Microbiol. 2005;43:970–2.

67.

Cheng AC, Currie BJ. Melioidosis: epidemiology, pathophysiology, and management. Clin Microbiol Rev. 2005;18:383–416.

68.

Rajinikanth J, Balaji V, Gaikwad P, et al. Melioidosis of the parotid: the tip of the iceberg. Otolaryngol Head Neck Surg. 2008;139:731–2.

69.

Peacock SJ. Melioidosis. Curr Opin Infect Dis. 2006;19:421–8.

70.

Othman N, Ismail IH, Yip R, et al. Infections in post-tsunami victims. Pediatr Infect Dis J. 2007;26:960–1.

71.

Chierakul W, Winothai W, Wattanawaitunechai C, et al. Melioidosis in 6 tsunami survivors in southern Thailand. Clin Infect Dis. 2005;41:982–90.

72.

Athan E, Allworth AM, Engler C, et al. Melioidosis in tsunami survivors. Emerg Infect Dis. 2005;11:1638–9.

73.

Svensson E, Welinder-Olsson C, Claesson BA, et al. Cutaneous melioidosis in a Swedish tourist after the tsunami in 2004. Scand J Infect Dis. 2006;38:71–4.

74.

Nieminen T, Vaara M. Burkholderia pseudomallei infections in Finnish tourists injured by the December 2004 tsunami in Thailand. Euro Surveill. 2005;10(E050303):4.

75.

Ciervo A, Mattei R, Cassone A. Melioidosis in an Italian tourist injured by the tsunami in Thailand. J Chemother. 2006;18:443–4.

76.

Vidyalakshmi K, Chakrapani M, Shrikala B, et al. Tuberculosis mimicked by melioidosis. Int J Tuberc Lung Dis. 2008;12:1209–15.

77.

Supaprom C, Wang D, Leelayuwat C, et al. Development of real-time PCR assays and evaluation of their potential use for rapid detection of Burkholderia pseudomallei in clinical blood specimens. J Clin Microbiol. 2007;45:2894–901.

78.

White NJ. Melioidosis. Lancet. 2003;361:1715–22.

79.

Centers for Disease Control and Prevention (CDC). Leptospirosis after flooding of a university campus—Hawaii, 2004. MMWR Morb Mortal Wkly Rep. 2006;55:125–7.

80.

Phraisuwan P, Whitney EA, Tharmaphornpilas P, et al. Leptospirosis: skin wounds and control strategies, Thailand, 1999. Emerg Infect Dis. 2002;8:1455–9.

81.

National Disaster Coordinating Center, Department of Health, Republic of the Philippines. Final report on tropical storm ONDOY and typhoon PEPENG. http://reliefweb.int/report/philippines/philippines-ndcc-update-final-report-tropical-storm-ondoy-and-typhoon-pepeng. Accessed 12 April 2015.

82.

De A, Varaiya A, Mathur M, et al. An outbreak of leptospirosis in Mumbai. Indian J Med Microbiol. 2002;20:153–5.

83.

Fuortes L, Nettleman M. Leptospirosis: a consequence of the Iowa flood. Iowa Med. 1994;84:449–50.

84.

Vanasco NB, Schmeling MF, Lottersberger J, et al. Clinical characteristics and risk factors of human leptospirosis in Argentina (1999–2005). Acta Trop. 2008;107:255–8.

85.

Leal-Castellanos CB, García-Suárez R, González-Figueroa E, et al. Risk factors and the prevalence of leptospirosis infection in a rural community of Chiapas. Mexico. Epidemiol Infect. 2003;131:1149–56.

86.

Zaki SA, Shanbag P. Clinical manifestations of dengue and leptospirosis in children in Mumbai: an observational study. Infection. 2010;38:285–91.

87.

Slack A. Leptospirosis. Aust Fam Physician. 2010;39:495–8.

88.

Abgueguen P, Delbos V, Blanvillain J, et al. Clinical aspects and prognostic factors of leptospirosis in adults. Retrospective study in France. J Infect. 2008;57:171–8.

89.

Gochenour WS Jr, Smadel JE, Jackson EB, et al. Leptospiral etiology of Fort Bragg fever. Public Health Rep. 1952;67:811–3.

90.

Serratrice J, Ené N, de Roux-Serratrice C, et al. Icteric Fort Bragg fever: a case report with nosological discussion [in French]. Rev Med Interne. 2004;25:663–6.

91.

Brett-Major DM, Lipnick RJ. Antibiotic prophylaxis for leptospirosis. Cochrane Database Syst Rev. 2009;(3):CD007342.

92.

Norton SA. Miscellaneous bacterial infections with cutaneous manifestations. In: Wolff K, Goldsmith LA, Katz SI, Gilchrest B, Paller AS, Leffell DJ, editors. Fitzpatrick's dermatology in general medicine. 7th ed. New York: McGraw Hill; 2010.

93.

Sirinavin S, Techasaensiri C, Benjaponpitak S, et al. Invasive Chromobacterium violaceum infection in children: case report and review. Pediatr Infect Dis J. 2005;24:559–61.

94.

Mamlok RJ, Mamlok V, Mills GC, et al. Glucose-6-phosphate dehydrogenase deficiency, neutrophil dysfunction and Chromobacterium violaceum sepsis. J Pediatr. 1987;111:852–4.

95.

Chang CY, Lee YT, Liu KS, et al. Chromobacterium violaceum infection in Taiwan: a case report and literature review. J Microbiol Immunol Infect. 2007;40:272–5.

96.

Ponte R, Jenkins SG. Fatal Chromobacterium violaceum infections associated with exposure to stagnant waters. Pediatr Infect Dis J. 1992;11:583.

97.

Lee J, Kim JS, Nahm CH, et al. Two cases of Chromobacterium violaceum infection after injury in a subtropical region. J Clin Microbiol. 1999;371:2068–70.

98.

Díaz Pérez JA. García J, Rodriguez Villamizar LA. Sepsis by Chromobacterium violaceum: first case report from Colombia. Braz J Infect Dis. 2007;11:441–2.

99.

Minotto R, Bernardi CD, Mallmann LF, et al. Chromoblastomycosis: a review of 100 cases in the state of Rio Grande do Sul, Brazil. J Am Acad Dermatol. 2001;44:585–92.

100.

Hay RJ. Deep fungal infections. In: Wolff K, Goldsmith LA, Katz SI, Gilchrest B, Paller AS, Leffell DJ, editors. Fitzpatrick's dermatology in general medicine. 7th ed. New York: McGraw Hill; 2010.

101.

Wiebels D. Chromomycosis: late sequela of the tsunami of 2004. Dermatol Pract Concept. 2008:14(1).

102.

López Martínez R, Méndez Tovar LJ. Chromoblastomycosis. Clin Dermatol. 2007;25:188–94.

103.

Badali H, Bonifaz A, Barrón-Tapia T, et al. Rhinocladiella aquaspersa, proven agent of verrucous skin infection and a novel type of chromoblastomycosis. Med Mycol. 2010;48:696–703.

104.

Esterre P, Jahevitra M, Andriantsimahavandy A. Humoral immune response in chromoblastomycosis during and after therapy. Clin Diagn Lab Immunol. 2000;7:497–500.

105.

Garnica M, Nucci M, Queiroz-Telles F. Difficult mycoses of the skin: advances in the epidemiology and management of eumycetoma, phaeohyphomycosis and chromoblastomycosis. Curr Opin Infect Dis. 2009;22:559–63.

106.

Chaney S, Gopalan R, Berggren RE. Pulmonary Pseudoallescheria boydii infection with cutaneous zygomycosis after near drowning. South Med J. 2004;97:683–7.

107.

Verma SB, Nayak S, Pasale RK, et al. Late complication after tropic storm accident: subcutaneous and intracranial actinomycetoma. Int Wound J. 2008;5:655–9.

108.

Queiroz-Telles F, Esterre P, Perez-Blanco M, et al. Chromoblastomycosis: an overview of clinical manifestations, diagnosis and treatment. Med Mycol. 2009;47:3–15.

109.

Criado PR, Careta MF, Valente NY, et al. Extensive long-standing chromomycosis due to Fonsecaea pedrosoi: three cases with relevant improvement under voriconazole therapy. J Dermatol Treat. 2011;22:167–74.

110.

Negroni R, Tobón A, Bustamante B, et al. Posaconazole treatment of refractory eumycetoma and chromoblastomycosis. Rev Inst Med Trop Sao Paulo. 2005;47:339–46.

111.

Chapman SW, Lin AC, Hendricks KA, et al. Endemic blastomycosis in Mississippi: epidemiological and clinical studies. Semin Respir Infect. 1997;12:219–28.

112.

Saccente M, Woods GL. Clinical and laboratory update on blastomycosis. Clin Microbiol Rev. 2010;23:367–81.

113.

Klein BS, Vergeront JM, DiSalvo AF, et al. Two outbreaks of blastomycosis along rivers in Wisconsin. Isolation of Blastomyces dermatitidis from riverbank soil and evidence of its transmission along waterways. Am Rev Respir Dis. 1987;136:1333–8.

114.

Szeder V, Ortega-Gutierrez S, Frank M, et al. CNS blastomycosis in a young man working in fields after Hurricane Katrina. Neurology. 2007;68:1746–7.

115.

Spellberg B, Edwards J Jr, Ibrahim A. Novel perspectives on mucormycosis: pathophysiology, presentation, and management. Clin Microbiol Rev. 2005;18:556–69.

116.

Cocanour CS, Miller-Crotchett P, Reed RL 2nd, et al. Mucormycosis in trauma patients. J Trauma. 1992;32:12–5.

117.

Patino JF, Castro D, Valencia A, et al. Necrotizing soft tissue lesions after a volcanic cataclysm. World J Surg. 1991;15:240–7.

118.

Andresen D, Donaldson A, Choo L, et al. Multifocal cutaneous mucormycosis complicating polymicrobial wound infections in a tsunami survivor from Sri Lanka. Lancet. 2005;365:876–8.

119.

Snell BJ, Tavakoli K. Necrotizing fasciitis caused by Apophysomyces elegans complicating soft-tissue and pelvic injuries in a tsunami survivor from Thailand. Plast Reconstr Surg. 2007;119:448–9.

120.

Adam RD, Hunter G, DiTomasso J, et al. Mucormycosis: emerging prominence of cutaneous infections. Clin Infect Dis. 1994;19:67–76.

121.

Spellberg B, Walsh TJ, Kontoyiannis DP, et al. Recent advances in the management of mucormycosis: from bench to bedside. Clin Infect Dis. 2009;48:1743–51.

122.

WHO Expert Committee. The selection and use of essential medicines. World Health Organ Tech Rep Ser. 2007;(946):1–162 (back cover).

123.

World Health Organization. Interagency emergency health kit. 2011. http://www.who.int/medicines/publications/emergencyhealthkit2011/en/. Accessed 11 April 2015.

124.

Centers for Disease Control (CDC). Outbreak of diarrheal illness associated with a natural disaster—Utah. MMWR Morb Mortal Wkly Rep. 1983;32:662–4.

125.

Katsumata T, Hosea D, Wasito EB, et al. Cryptosporidiosis in Indonesia: a hospital-based study and a community-based survey. Am J Trop Med Hyg. 1998;59:628–32.

126.

Caillouët KA, Carlson JC, Wesson D, et al. Colonization of abandoned swimming pools by larval mosquitoes and their predators following Hurricane Katrina. J Vector Ecol. 2008;33:166–72.

127.

Wu XH, Zhang SQ, Xu XJ, et al. Effect of floods on the transmission of schistosomiasis in the Yangtze River valley. People's Republic of China. Parasitol Int. 2008;57:271–6.

128.

Kondo H, Seo N, Yasuda T, et al. Post-flood-infectious diseases in Mozambique. Prehosp Disaster Med. 2002;17:126–33.

129.

World Health Organization. Technical note: malaria risk and malaria control in Asian countries affected by the tsunami disaster. February 2005. http://www.who.int/malaria/publications/atoz/tsunamitn2005/en/. Accessed 12 April 2015.

130.

Briet OJ, Galappaththy GN, Amerasinghe PH, et al. Malaria in Sri Lanka: one year post-tsunami. Malar J. 2006;5:42.

131.

World Health Organization. Communicable disease situation update flood affected districts, Pakistan. 18 August 2010. http://reliefweb.int/report/pakistan/communicable-disease-situation-update-flood-affected-districts-pakistan-18-august. Accessed 12 April 2015.

132.

Gauker ED, Covey DC, Emens-Hesslink KE, et al. A descriptive analysis of patient encounter data from the Fleet Hospital FIVE humanitarian relief mission in Haiti. Mil Med. 2000;165:337–45.

133.

Kawano T, Hasegawa K, Watase H, et al. Infectious disease frequency among evacuees at shelters after the great eastern Japan earthquake and tsunami: a retrospective study. Disaster Med Public Health Prep. 2014;8:58–64.

134.

Fernandes NF, Kovarik CL. Cutaneous manifestations of systemic tropical parasitic diseases. Dermatol Nurs. 2009;21:243–58.

135.

De Vries HJ, Reedijk SH, Schallig HD. Cutaneous leishmaniasis: recent developments in diagnosis and management. Am J Clin Dermatol. 2015;16:99–109.

136.

Wenzel FG, Horn TD. Nonneoplastic disorders of the eccrine glands. J Am Acad Dermatol. 1998;38:1–17.

137.

Adnot J, Lewis CW. Immersion foot syndromes. In: James WD (ed). Military dermatology. Department of the Army, Office of the Surgeon General, Borden Institute; 1994.

138.

Imray CH, Castellani JW. Nonfreezing cold-induced injuries. In: Auerbach PS, editor. Wilderness medicine. 6th ed. Philadelphia: Mosby; 2012. p. 171–80.

139.

Blackwood W. Studies in the pathology of human immersion foot. Br J Surg. 1944;31:320–50.

140.

Ungley CC, Channell CD, Richards RI. The immersion foot syndrome. Br J Surg. 1945;33:17–31.

141.

Price RD, Murdoch DR. Perniosis (chilblains) of the thigh: report of five cases, including four following river crossings. High Alt Med Biol. 2001;2:535–8.

142.

Cox R, Amundson T, Brackin B. Evaluation of the patterns of potentially toxic exposures in Mississippi following Hurricane Katrina. Clin Toxicol (Phila). 2008;46:722–7.

143.

Environmental Protection Agency. Murphy oil spill. http://www.epa.gov/katrina/testresults/murphy/. Accessed 4 April 2015.

144.

Vachiramon V, Busaracome P, Chongtrakool P, et al. Skin diseases during floods in Thailand. J Med Assoc Thai. 2008;91:479–84.

145.

Ma B, Wei W, Xia ZF, et al. Mass chemical burn casualty: emergency management of 118 patients with alkali burn during a Matsa typhoon attack in Shanghai, China in 2005. Burns. 2007;33:565–71.

146.

Palao R, Monge I, Ruiz M, et al. Chemical burns: pathophysiology and treatment. Burns. 2010;36:295–304.

147.

Brennan RJ, Rimba K. Rapid health assessment in Aceh Jaya District, Indonesia, following the December 26 tsunami. Emerg Med Australas. 2005;17:341–50.

148.

Ostbye T, Ponnamperuma T, Fernando N, et al. The impact of the Tsunami on hospitalizations at the tertiary care hospital in the Southern Province of Sri Lanka. Am J Disaster Med. 2008;3:147–55.

149.

Smith CM, Graffeo CS. Regional impact of Hurricane Isabel on emergency departments in coastal southeastern Virginia. Acad Emerg Med. 2005;12:1201–5.

150.

McNabb SJ, Kelso KY, Wilson SA, et al. Hurricane Andrew-related injuries and illnesses, Louisiana, 1992. South Med J. 1995;88:615–8.

151.

Quinn B, Baker R, Pratt J. Hurricane Andrew and a pediatric emergency department. Ann Emerg Med. 1994;23:737–41.

152.

Wylie T, Cheanvechai D, Seaberg D. Emergency response team: Hurricane Georges in Key West. Prehosp Emerg Care. 2000;4:222–6.

153.

Sullivent EE 3rd, West CA, Noe RS, et al. Nonfatal injuries following Hurricane Katrina-New Orleans, Louisiana, 2005. J Safety Res. 2006;37:213–7.

154.

Robinson DC, Adriaans B, Hay RJ, Yesudian P. The clinical and epidemiologic features of tropical ulcer (tropical phagedenic ulcer). Int J Dermatol. 1988;27:49–53.

155.

Lammers RL. Principals of wound management. In: Roberts JR, Hedges JR, editors. Clinical procedures in emergency medicine. 5th ed. Philadelphia: Saunders Elsevier; 2010.

156.

Haury B, Rodeheaver G, Vensko J, et al. Debridement: an essential component of traumatic wound care. Am J Surg. 1978;135:238–42.

157.

Hollander JE, Singer AJ. Laceration management. Ann Emerg Med. 1999;34:356–67.

158.

Berk WA, Osbourne DD, Taylor DD. Evaluation of the "golden period" for wound repair: 204 cases from a Third World emergency department. Ann Emerg Med. 1988;17:496–500.

159.

Prasartritha T, Tungsiripat R, Warachit P. The revisit of 2004 tsunami in Thailand: characteristics of wounds. Int Wound J. 2008;5:8–19.

160.

Waldrop RD, Prejean C, Singleton R. Overuse of parental antibiotics for wound care in an urban emergency department. Am J Emerg Med. 1998;16:343–5.

161.

Edlich RF, Thacker JG, Buchanan L, et al. Modern concepts of treatment of traumatic wounds. Adv Surg. 1979;13:169–97.

162.

Centers for Disease Control. (CDC). Deaths associated with Hurricane Hugo-Puerto Rico. MMWR Morb Mortal Wkly Rep. 1989;38:680–2.

163.

Centers for Disease Control. (CDC). Update: work-related electrocutions associated with Hurricane Hugo-Puerto Rico. MMWR Morb Mortal Wkly Rep. 1989;38(718–20):725.

164.

Centers for Disease Control and Prevention. (CDC). Medical examiner/coroner reports of deaths associated with Hurricane Hugo-South Carolina. MMWR Morb Mortal Wkly Rep. 1989;38(754):759–62.

165.

Lopez RE, Holle RL, Heitkamp TA, et al. The underreporting of lightning injuries and death in Colorado. Bull Am Meteor Soc. 1993;74:2171.

166.

Zafren K, Durrer B, Herry JP, et al. Lightning injuries: prevention and on-site treatment in mountains and remote areas. Official guidelines of the International Commission for Mountain Emergency Medicine and the Medical Commission of the International Mountaineering and Climbing Federation (ICAR and UIAA MEDCOM). Resuscitation. 2005;65:369–72.

167.

Maghsoudi H, Adyani Y, Ahmadian N. Electrical and lightning injuries. J Burn Care Res. 2007;28:255–61.

168.

Cooper MA. Lightning injuries: prognostic signs for death. Ann Emerg Med. 1980;9:134–8.

169.

Ritenour AE, Morton MJ, McManus JG, et al. Lightning injury: a review. Burns. 2008;34:585–94.

170.

Resnik BI, Wetli CV. Lichtenberg figures. Am J Forensic Med Pathol. 1996;17:99–102.

171.

Wright RK, Davis JH. The investigation of electrical deaths: a report of 220 fatalities. J Forensic Sci. 1980;25:514–21.

172.

Warner GS. Increased incidence of domestic animal bites following a disaster due to natural hazards. Prehosp Disaster Med. 2010;25:188–90.

173.

Talan DA, Citron DM, Abrahamian FM, et al. Bacteriologic analysis of infected dog and cat bites. Emergency Medicine Animal Bite Infection Study Group. N Engl J Med. 1999;340:85–92.

174.

Chodakewitz J, Bia FJ. Septic arthritis and osteomyelitis from a cat bite. Yale J Biol Med. 1988;61:513–8.

175.

Stevens DL, Bisno AL, Chambers HF, et al. Practice guidelines for the diagnosis and management of skin and soft-tissue infections: 2014 update by the Infectious Diseases Society of America. Clin Infect Dis. 2014;59:e10–52.

176.

Fleisher GR. The management of bite wounds. N Engl J Med. 1999;340:138–40.

177.

Wozniak EJ, Wisser J, Schwartz M. Venomous adversaries: a reference to snake identification, field safety, and bite-victim first aid for disaster-response personnel deploying into the hurricane-prone regions of North America. Wilderness Environ Med. 2006;17:246–66.

178.

Cheng AC, Currie BJ. Venomous snakebites worldwide with a focus on the Australia-Pacific region: current management and controversies. J Intensive Care Med. 2004;19:259–69.

179.

Cheng AC, Winkel KD. Antivenom efficacy, safety and availability: measuring smoke. Med J Aust. 2004;180:5–6.

180.

Diaz JH. The impact of hurricanes and flooding disasters on hymenopterid-inflicted injuries. Am J Disaster Med. 2007;2:257–69.

181.

Brewer RD, Morris PD, Cole TB. Hurricane-related emergency department visits in an inland area: an analysis of the public health impact of Hurricane Hugo in North Carolina. Ann Emerg Med. 1994;23:731–6.

182.

Noe R, Cohen AL, Lederman E, et al. Skin disorders among construction workers following Hurricane Katrina and Hurricane Rita: an outbreak investigation in New Orleans, Louisiana. Arch Dermatol. 2007;143:1393–8.

183.

Steen CJ, Carbonaro PA, Schwartz RA. Arthropods in dermatology. J Am Acad Dermatol. 2004;50:819–42 (quiz 842–4).

184.

Fernandez G, Morales E, Beutelspacher C, et al. Epidemic dermatitis due to contact with a moth in Cozumel, Mexico. Am J Trop Med Hyg. 1992;46:560–3.

185.

Morsy TA, Arafa MA, Younis TA, et al. Studies on Paederus alfierii Koch (Coleoptera:Staphylinidae) with special reference to the medical importance. J Egypt Soc Parasitol. 1996;26:337–51.

186.

Claborn DM, Polo JM, Olson PE, et al. Staphylinid (rove) beetle dermatitis outbreak in the American southwest? Mil Med. 1999;164:209–13.

187.

Reunala T, Lappalainen P, Brummer-Korvenkontio H, et al. Cutaneous reactivity to mosquito bites: effect of cetirizine and development of anti-mosquito antibodies. Clin Exp Allergy. 1991;21:617–22.

188.

Soar J, Pumphrey R, Cant A, et al. Emergency treatment of anaphylactic reactions: guidelines for healthcare providers. Resuscitation. 2008;77:157–69.

189.

Maegele M, Gregor S, Steinhausen E, et al. The long-distance tertiary air transfer and care of tsunami victims: injury pattern and microbiological and psychological aspects. Crit Care Med. 2005;33:1136–40.

190.

Anthonj C, Nkongolo OT, Schmitz P, et al. The impact of flooding on people living with HIV: a case study from the Ohangwena Region, Namibia. Glob Health Action. 2015;8:26441.

191.

Gupta MA, Gupta AK. Psychodermatology: an update. J Am Acad Dermatol. 1996;34:1030–46.

192.

Brown GE, Malakouti M, Sorenson E, et al. Pychodermatology. Adv Psychosom Med. 2015;34:123–34.
Disclosures
The opinions offered are those of the authors and do not represent the official position of the US Air Force or the Department of Defense.
Ethics declarations
No funding was received for the preparation of this review.
Conflict of interest
Justin P. Bandino, Anna Hang and Scott A. Norton declare that they have no conflicts of interest.
Electronic supplementary material
Below is the link to the electronic supplementary material.
About this article
Cite this article
Bandino, J.P., Hang, A. & Norton, S.A. The Infectious and Noninfectious Dermatological Consequences of Flooding: A Field Manual for the Responding Provider. Am J Clin Dermatol 16, 399–424 (2015). https://doi.org/10.1007/s40257-015-0138-4
Keywords
Necrotizing Fasciitis

Leptospirosis

Flooding Disaster

Alopecia Areata

Blastomycosis