Abstract
Vitamin B12, also known as cobalamin, is a water-soluble vitamin that is important in the hematological and nervous systems, and it has a complex relationship with the skin. Altered cobalamin levels can lead to dermatological manifestations, which may indicate a deficiency or excess of this vitamin. The biochemistry and metabolism of cobalamin is complex, and diseases can be associated with alterations of this metabolic pathway. The cutaneous manifestations of cobalamin deficiency include hyperpigmentation (most commonly); hair and nail changes; and oral changes, including glossitis. Additionally, several dermatologic conditions, including vitiligo, aphthous stomatitis, atopic dermatitis, and acne are related to cobalamin excess or deficiency. The cutaneous complications of cobalamin therapy include acne, rosacea, and allergic site reactions, or anaphylaxis with cobalamin injections. As cobalt is a component of cobalamin, patients with cobalt sensitivity have been reported to have cutaneous manifestations when receiving cobalamin replacement therapy.
This is a preview of subscription content, log in to check access.
Access options
Buy single article
Instant access to the full article PDF.
US$ 49.95
Tax calculation will be finalised during checkout.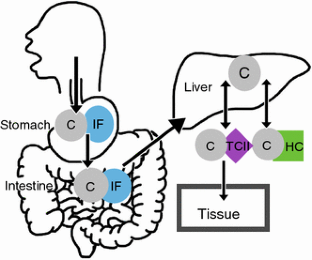 References
1.

Stabler SP. Vitamin B12 Deficiency. N Engl J Med. 2013;368:149–60.

2.

Ermens AA, Vlasveld LT, Lindemans J. Significance of elevated cobalamin (vitamin B12) levels in blood. Clin Biochem. 2003;36(8):585–90.

3.

Kozyraki R, Cases O. Vitamin B12 absorption: mammalian physiology and acquired and inherited disorders. Biochimie. 2013;95(5):1002–7.

4.

Andrès E, Serraj K, Zhu J, Vermorken AJ. The pathophysiology of elevated vitamin B12 in clinical practice. QJM. 2013;106(6):505–15.

5.

Klion AD, Robyn J, Maric I, Fu W, Schmid L, Lemery S, Noel P, Law MA, Hartsell M, Talar-Williams C, Fay MP, Dunbar CE, Nutman TB. Relapse following discontinuation of imatinib mesylate therapy for FIP1L1/PDGFRA-positive chronic eosinophilic leukemia: implications for optimal dosing. Blood. 2007;110(10):3552–6.

6.

Leiferman KM, Gleich GJ, Peters MS. Dermatologic manifestations of the hypereosinophilic syndromes. Immunol Allergy Clin North Am. 2007;27(3):415.

7.

Aparicio-Ugarriza R, Palacios G, Alder M, González-Gross M. A review of the cut-off points for the diagnosis of vitamin B12 deficiency in the general population. Clin Chem Lab Med. 2014 (Epub ahead of print).

8.

Adcock BB, McKnight JT. Cobalamin pseudodeficiency due to a transcobalamin I deficiency. South Med J. 2002;95(9):1060–2.

9.

Kalay Z, Islek A, Parlak M, Kirecci A, Guney O, Koklu E, Kalay S. Reliable and powerful laboratory markers of cobalamin deficiency in the newborn: plasma and urinary methylmalonic acid. J Matern Fetal Neonatal Med. 2014 (Epub ahead of print).

10.

Savage DG, Lindenbaum J, Stabler SP, Allen RH. Sensitivity of serum methylmalonic acid and total homocysteine determinations for diagnosing cobalamin and folate deficiencies. Am J Med. 1994;96:239–46.

11.

Oh R, Brown DL. Vitamin B12 deficiency. Am Fam Physician. 2003;67(5):979–86.

12.

Grarup N, Sulem P, Sandholt CH, Thorleifsson G, Ahluwalia TS, Steinthorsdottir V, Bjarnason H, Gudbjartsson DF, Magnusson OT, Sparsø T, Albrechtsen A, Kong A, Masson G, Tian G, Cao H, Nie C, Kristiansen K, Husemoen LL, Thuesen B, Li Y, Nielsen R, Linneberg A, Olafsson I, Eyjolfsson GI, Jørgensen T, Wang J, Hansen T, Thorsteinsdottir U, Stefánsson K, Pedersen O. Genetic architecture of vitamin B12 and folate levels uncovered applying deeply sequenced large datasets. PLoS Genet. 2013;9(6):e1003530.

13.

Froese DS, Gravel RA. Genetic disorders of vitamin B12 metabolism: eight complementation groups- eight genes. Expert Rev Mol Med. 2010;12:e37.

14.

Coelho D, Kim JC, Miousse IR, Fung S, du Moulin M, Buers I, Suormala T, Burda P, Frapolli M, Stucki M, Nürnberg P, Thiele H, Robenek H, Höhne W, Longo N, Pasquali M, Mengel E, Watkins D, Shoubridge E, Majewski J, Rosenblatt D, Fowler B, Rutsch F, Baumgartner M. Mutations in ABCD4 cause a new inborn error of vitamin B12 metabolism. Nat Genet. 2012;44:1152–5.

15.

Kim JC, Lee NC, Hwu PW, et al. Late onset of symptoms in an atypical patient with the cblJ inborn error of vitamin B12 metabolism: diagnosis and novel mutation revealed by exome sequencing. Mol Genet Metabol. 2012;107:664–8.

16.

Takeichi T, Hsu CK, Yang HS, Chen HY, Wong TW, Tsai WL, Chao SC, Lee JY, Akiyama M, Simpson MA, McGrath JA. Progressive hyperpigmentation in a Taiwanese child due to an inborn error of vitamin B12 metabolism (cbIJ). Br J Dermatol. 2014 (Epub 2014 Sep 18).

17.

Chiang TT, Hung CT, Wang WM, Lee JT, Yang FC. Recreational nitrous oxide abuse-induced vitamin B12 deficiency in a patient presenting with hyperpigmentation of the skin. Case Rep Dermatol. 2013;5(2):186–91.

18.

Pope FM. Parasitophobia as the presenting symptom of vitamin B12 deficiency. Practitioner. 1970;204(221):421–2.

19.

Aaron S, Kumar S, Vijayan J, Jacob J, Alexander M, Gnanamuthu C. Clinical and laboratory features and response to treatment in patients presenting with vitamin B12 deficiency-related neurological syndromes. Neurol India. 2005;53(1):55–8.

20.

Volkov I, Rudoy I, Press Y. Successful treatment of chronic erythema nodosum with vitamin B12. J Am Board Fam Pract. 2005;18(6):567–9.

21.

Srivastava N, Chand S, Bansal M, Srivastava K, Singh S. Reversible hyperpigmentation as the first manifestation of dietary vitamin B12 deficiency. Indian J Dermatol Venereol Leprol. 2006;72:389–90.

22.

Niiyama S, Mukai H. Reversible cutaneous hyperpigmentation and nails with white hair due to vitamin B12 deficiency. Eur J Dermatol. 2007;17(6):551–2.

23.

Mori K, Ando I, Kukita A. Generalized hyperpigmentation of the skin due to vitamin B12 deficiency. J Dermatol. 2001;28(5):282–5.

24.

Aroni K, Anagnostopoulou K, Tsagroni E, Ioannidis E. Skin hyperpigmentation and increased angiogenesis secondary to vitamin B12 deficiency in a young vegetarian woman. Acta Derm Venereol. 2008;88(2):191–2.

25.

Graells J, Ojeda RM, Muniesa C, Gonzalez J, Saavedra J. Glossitis with linear lesions: an early sign of vitamin B12 deficiency. J Am Acad Dermatol. 2009;60(3):498–500.

26.

Karadag AS, Tutal E, Ertugrul DT, Akin KO, Bilgili SG. Serum holotranscobalamine, vitamin B12, folic acid and homocysteine levels in patients with vitiligo. Clin Exp Dermatol. 2012;37:62–4.

27.

Shaker OG, El-Tahlawi SMR. Is there a relationship between homocysteine and vitiligo? A pilot study. Br J Dermatol. 2008;159:720–4.

28.

Balci DD, Yonden Z, Yenin JZ, Okumus N. Serum homocysteine, folic acid and vitamin B12 levels in vitiligo. Eur J Dermatol. 2009;19:382–3.

29.

Montes LF, Diaz ML, Lajous J, Garcia NJ. Folic acid and vitamin B12 in vitiligo: a nutritional approach. Cutis. 1992;50(1):39–42.

30.

Tjioe M, Gerritsen MJ, Juhlin L, van de Kerkhof PC. Treatment of vitiligo vulgaris with narrow band UVB (311 nm) for one year and the effect of addition of folic acid and vitamin B12. Acta Derm Venereol. 2002;82(5):369–72.

31.

Kozlak ST, Walsh SJ, Lalla RV. Reduced dietary intake of vitamin B12 and folate in patients with recurrent aphthous stomatitis. J Oral Pathol Med. 2010;39(5):420–3.

32.

Volkov I, Rudoy I, Freud T, Sardal G, Naimer S, Peleg R, Press Y. Effectiveness of vitamin B12 in treating recurrent aphthous stomatitis: a randomized, double-blind, placebo-controlled trial. J Am Board Fam Med. 2009;22(1):9–16.

33.

Karadag AS, Tutal E, Ertugrul DT, Akin KO. Effect of isotretinoin treatment on plasma holotranscobalamin, vitamin B12, folic acid, and homocysteine levels: non-controlled study. Int J Dermatol. 2011;50(12):1564–9.

34.

Volkov I, Press Y, Rudoy I. Vitamin B12 could be A "master key" in the regulation of multiple pathological processes. J Nippon Med Sch. 2006;73:65–9.

35.

Stücker M, Pieck C, Stoerb C, Niedner R, Hartung J, Altmeyer P. Topical vitamin B12—a new therapeutic approach in atopic dermatitis—evaluation of efficacy and tolerability in a randomized placebo-controlled multicentre clinical trial. Br J Dermatol. 2004;150:977–83.

36.

Yamashiki M, Nishimura A, Kosaka Y. Effects of methylcobalamin (vitamin B12) on in vitro cytokine production of peripheral blood mononuclear cells. J Clin Lab Immunol. 1992;37(4):173–82.

37.

Jung SH, Cho YS, Jun SS, Koo JS, Cheon HG, Shin BC. Topical application of liposomal cobalamin hydrogel for atopic dermatitis therapy. Pharmazie. 2011;66(6):430–5.

38.

Dupré A, Albarel N, Bonafe JL, Christol B, Lassere J. Vitamin B-12 induced acnes. Cutis. 1979;24(2):210–1.

39.

Jansen T, Romiti R, Kreuter A, Altmeyer P. Rosacea fulminans triggered by high-dose vitamins B6 and B12. J Eur Acad Dermatol Venereol. 2001;15(5):484–5.

40.

Bilwani F, Adil SN, Sheikh U, Humera A, Khurshid M. Anaphylactic reaction after intramuscular injection of cyanocobalamin (vitamin B12): a case report. J Pak Med Assoc. 2005;55(5):217–9.

41.

Tordjman R, Genereau T, Guinnepain MT, Weyer A, Lortholary O, Royer I, Casassus P, Guillevin L. Reintroduction of vitamin B12 in 2 patients with prior B12-induced anaphylaxis. Eur J Haematol. 1998;60(4):269–70.

42.

Moloney FJ, Hughes R, O'Shea D, Kirby B. Type I immediate hypersensitivity reaction to cyanocobalamin but not hydroxycobalamin. Clin Exp Dermatol. 2008;33(4):412–4.

43.

Kartal O, Gulec M, Demirel F, Yesillik S, Caliskaner Z, Sener O. Vitamin B12 allergy and successful desensitisation with cyanocobalamin: a case report. Allergol Immunopathol. 2012;40(5):324–5.

44.

Price ML, MacDonald DM. Cheilitis and cobalt allergy related to ingestion of vitamin B12. Contact Dermatitis. 1981;7(6):352.

45.

Veien NK, Hattel T, Justesen O, Norholm A. Oral challenge with nickel and cobalt in patients with positive patch tests to nickel and/or cobalt. Acta Derm Venereol. 1987;67:321–5.

46.

Stuckert J, Nedorost S. Low-cobalt diet for dyshidrotic eczema patients. Contact Dermatitis. 2008;59:361–5.

47.

Thyssen JP, Menné T, Møller P, Jellesen MS, Johansen JD. A cobalt spot test was useful in the diagnostic work-up of a cobalt allergic patient suffering from oral hypersensitivity to cobalt. J Am Acad Dermatol. 2011;65(3):659–60.

48.

Veien NK. Systemic contact dermatitis. Int J Dermatol. 2011;50(12):1445–56.

49.

Midander K, Julander A, Skare L, Thyssen JP, Liden C. The cobalt spot test—further insights into its performance and use. Contact Dermatitis. 2013;69(5):280–7.
Acknowledgments
No sources of funding were used to prepare this review. Jennifer Brescoll and Steven Daveluy have no conflicts of interest that are directly relevant to the content of this review.
About this article
Cite this article
Brescoll, J., Daveluy, S. A Review of Vitamin B12 in Dermatology. Am J Clin Dermatol 16, 27–33 (2015). https://doi.org/10.1007/s40257-014-0107-3
Keywords
Atopic Dermatitis

Homocysteine

Isotretinoin

Vitiligo

Cobalamin