Abstract
Background and Purpose
To date, vitamin K antagonists are the only available oral anticoagulants in patients with mechanical heart valves. In this way, we developed a pilot trial with rivaroxaban.
Methods
 The RIWA study was a proof-of-concept, open-label, randomized clinical trial and was designed to assess the incidence of thromboembolic and bleeding events of the rivaroxaban-based strategy (15 mg twice daily) in comparison to dose-adjusted warfarin. Patients were randomly assigned in a 1:1 ratio and were followed prospectively for 90 days.
Results
 A total of 72 patients were enrolled in the present study. Of these, 44 patients were randomized: 23 patients were allocated to the rivaroxaban group and 21 to the warfarin group. After 90 days of follow-up, the primary outcome occurred in one patient (4.3%) in the rivaroxaban group and three patients (14.3%) in the warfarin group (risk ratio [RR] 0.27; 95% confidence interval [CI] 0.02–2.85; P = 0.25). Minor bleeding (without discontinuation of medical therapy) occurred in six patients (26.1%) in the rivaroxaban group versus six patients (28.6%) in the warfarin group (RR 0.88; 95% CI 0.23–3.32; P = 0.85). One patient in the warfarin group died from myocardial infarction. No cases of hemorrhagic stroke, valve thrombosis, peripheral embolic events, or new intracardiac thrombus were related in both groups.
Conclusions
In this pilot study, rivaroxaban 15 mg twice daily had thromboembolic and bleeding events similar to warfarin in patients with mechanical heart valves. These data confirm the authors' proof-of-concept and suggest that a larger trial with a similar design is not unreasonable.
ClinicalTrial.gov identifier
NCT03566303.
Access options
Buy single article
Instant access to the full article PDF.
US$ 49.95
Tax calculation will be finalised during checkout.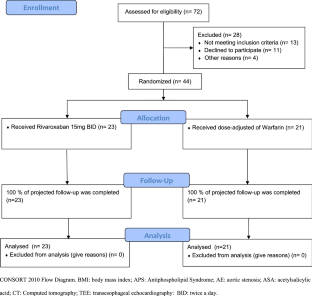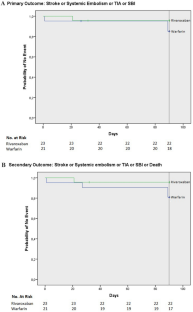 References
1.

Pibarot P, Dumesnil JG. Prosthetic heart valves. Circulation. 2009;119:1034–48.

2.

Cannegieter SC, Rosendaal FR, Briët E. Thromboembolic and bleeding complications in patients with mechanical heart valve prostheses. Circulation. 1994;89:635–41.

3.

Chiota-McCollum N. From "sweet clover disease" to DOACs: A historical perspective on oral anticoagulation for prevention of cardioembolic stroke [Internet]. Neurology. 2016. https://n.neurology.org/content/86/16_Supplement/P2.397. Accessed 7 May 2020.

4.

Pastori D, Lip G, Poli D, Antonucci E, Rubino L, Menichelli D, et al. Determinants of low-quality warfarin anticoagulation in patients with mechanical prosthetic heart valves The nationwide PLECTRUM study [published online ahead of print, 2020 Feb 20]. Br J Haematol. 2020. https://doi.org/10.1111/bjh.16528.

5.

Kirchhof P, Benussi S, Kotecha D, Ahlsson A, Atar D, Casadei B, et al. 2016 ESC Guidelines for the management of atrial fibrillation developed in collaboration with EACTS. Eur J Cardio-Thoracic Surg. 2016;50:e1-88.

6.

Costello M, Murphy R, Judge C, Ruttledge S, Gorey S, Loughlin E, et al. Effect of non-vitamin-K oral anticoagulants on stroke severity compared to warfarin: a meta-analysis of randomized controlled trials. Eur J Neurol Blackwell Publishing Ltd. 2020;27:413–8.

7.

Pan K, Singer DE, Ovbiagele B, Wu Y, Ahmed MA, Lee M. Effects of non–vitamin K antagonist oral anticoagulants versus warfarin in patients with atrial fibrillation and valvular heart disease: a systematic review and meta-analysis. J Am Heart Assoc. 2017;6:e005835.

8.

Eikelboom JW, Connolly SJ, Brueckmann M, Granger CB, Kappetein AP, Mack MJ, et al. Dabigatran versus warfarin in patients with mechanical heart valves. N Engl J Med. 2013;369:1206–14.

9.

Kaeberich A, Reindl I, Raaz U, Maegdefessel L, Vogt A, Linde T, et al. Comparison of unfractionated heparin, low-molecular-weight heparin, low-dose and high-dose rivaroxaban in preventing thrombus formation on mechanical heart valves: results of an in vitro study. J Thromb Thrombolysis. 2011;32:417–25.

10.

Greiten LE, McKellar SH, Rysavy J, Schaff HV. Effectiveness of rivaroxaban for thromboprophylaxis of prosthetic heart valves in a porcine heterotopic valve model. Eur J Cardio-Thoracic Surg. 2014;45:914–9.

11.

Durães AR, de Bitar YSL, Filho JAL, Schonhofen IS, Camara EJN, Roever L, et al. Rivaroxaban versus Warfarin in Patients with Mechanical Heart Valve: Rationale and Design of the RIWA Study. Drugs R D. 2018;18:303–8.

12.

Nishimura RA, Otto CM, Bonow RO, Carabello BA, Erwin JP, Fleisher LA, et al. 2017 AHA/ACC Focused Update of the 2014 AHA/ACC Guideline for the Management of Patients With Valvular Heart Disease: a report of the American College of Cardiology/American Heart Association Task Force on Clinical Practice Guidelines. Circulation. 2017;135:e1159–95.

13.

Baumgartner H, Falk V, Bax JJ, De Bonis M, Hamm C, Holm PJ, et al. 2017 ESC/EACTS Guidelines for the management of valvular heart disease. Eur Heart J. 2017;38:2739–91.

14.

Rosendaal FR, Cannegieter SC, van der Meer FJ, Briët E. A method to determine the optimal intensity of oral anticoagulant therapy. Thromb Haemost. 1993;69:236–9.

15.

Reiffel JA. Time in the Therapeutic Range for Patients Taking Warfarin in Clinical Trials. Circulation. 2017;135:1475–7.

16.

Schulman S, Anger SU, Bergqvist D, Eriksson B, Lassen, M. R. &, Fisher W. Definition of major bleeding in clinical investigations of antihemostatic medicinal products in surgical patients. J Thromb Haemost. 2005;8:202–4.

17.

Mehran R, Rao SV, Bhatt DL, Gibson CM, Caixeta A, Eikelboom J, et al. Standardized Bleeding Definitions for Cardiovascular Clinical Trials. Circulation. 2011;123:2736–47.

18.

Mueck W, Stampfuss J, Kubitza D, Becka M. Clinical Pharmacokinetic and Pharmacodynamic Profile of Rivaroxaban. Clin Pharmacokinet. 2014;53:1–16.

19.

Petzold T, Thienel M, Dannenberg L, Mourikis P, Helten C, Ayhan A, et al. Rivaroxaban Reduces Arterial Thrombosis by Inhibition of FXa-Driven Platelet Activation via Protease Activated Receptor-1. Circ Res. 2020;126:486–500.

20.

Lester PA, Coleman DM, Diaz JA, Jackson TO, Hawley AE, Mathues AR, et al. Apixaban Versus Warfarin for Mechanical Heart Valve Thromboprophylaxis in a Swine Aortic Heterotopic Valve Model. Arterioscler Thromb Vasc Biol. 2017;37:942–8.

21.

Heras M, Chesebro JH, Fuster V, Penny WJ, Grill DE, Bailey KR, et al. High risk of thromboemboli early after bioprosthetic cardiac valve replacement. J Am Coll Cardiol. 1995;25:1111–9.

22.

Durães AR, Bitar YDSL, Lima MLG, Santos CC, Schonhofen IS, Filho JAL, et al. Usefulness and safety of rivaroxaban in patients following isolated mitral valve replacement with a mechanical prosthesis. Am J Cardiol. 2018;122(6):1047–1050.

23.

Roost E, Weber A, Alberio L, Englberger L, Reineke D, Keller D, et al. Rivaroxaban in patients with mechanical heart valves: A pilot study. Thromb Res. 2020;186:1–6.

24.

Chan NC, Weitz JI, Eikelboom JW. Anticoagulation for Mechanical Heart Valves. Arterioscler Thromb Vasc Biol. 2017;37:743–5.
Ethics declarations
Funding
This work was supported by General Hospital Roberto Santos.
Conflict of interest
The authors, ARD, YdSLB, ISS, KSOT, LVP, JALF, MGN, RAJ, and LR, declare that they have no conflict of interest.
Ethics approval
The trial protocol was approved by the local ethics committee.
Consent to participate
All patients provided written informed consent before enrollment.
Consent for publication
Not applicable.
Availability of data and materials
Not applicable.
Code availability
Not applicable.
Electronic supplementary material
Below is the link to the electronic supplementary material.
About this article
Cite this article
Duraes, A.R., de Souza Lima Bitar, Y., Schonhofen, I.S. et al. Rivaroxaban Versus Warfarin in Patients with Mechanical Heart Valves: Open-Label, Proof-of-Concept trial—The RIWA study. Am J Cardiovasc Drugs (2020). https://doi.org/10.1007/s40256-020-00449-3