Abstract
Objective
Our objective was to evaluate a triple-drug antihypertensive strategy for blood pressure control in patients with difficult-to-treat hypertension.
Design
The Perindopril-Indapamide plus AmlodipiNe in high rISk hyperTensive patients (PIANIST) trial was an observational, 4-month, open-label study.
Patients and interventions
A total of 4,731 patients at high or very high cardiovascular risk with hypertension that was not properly controlled despite antihypertensive therapy, and for whom study treatment (fixed-dose perindopril 10 mg/indapamide 2.5 mg + amlodipine 5 or 10 mg) was consistent with their existing therapeutic plan, were included.
Outcomes
One-sample t tests and Chi-squared tests were performed to evaluate changes in blood pressure.
Results
Mean baseline office blood pressure (OBP) was 160.5 ± 13.3/93.8 ± 8.7 mmHg. After 4 months of therapy, OBP decreased by 28.3 ± 13.5/13.8 ± 9.4 to 132.2 ± 8.6/80.0 ± 6.6 mmHg (p < 0.0001). Blood pressure targets were reached by 72.0 % of patients and by 81 and 91 % of patients previously treated with an angiotensin-converting enzyme inhibitor/hydrochlorothiazide or an angiotensin receptor blocker/hydrochlorothiazide, respectively. Changes in OBP were 18.7 ± 8.3/9.7 ± 7.2 mmHg for grade 1 (n = 1,679), 30.4 ± 10.1/14.7 ± 8.6 mmHg for grade 2 (n = 2,397), and 45.4 ± 15.1/20.7 ± 12.1 mmHg for grade 3 patients (n = 655; all p < 0.0001). In patients who underwent ambulatory blood pressure monitoring (n = 104), 24-h mean blood pressure decreased from 147.4 ± 13.8/82.1 ± 11.9 to 122.6 ± 9.1/72.8 ± 7.4 mmHg (p < 0.0001). Ankle edema was infrequent (0.2 % of patients).
Conclusion
Triple combination perindopril/indapamide/amlodipine was effectively and safely administered to a large population of high- and very high-risk hypertensive patients who had not reached target OBP values with previous treatment.
Access options
Buy single article
Instant access to the full article PDF.
USD 39.95
Price excludes VAT (USA)
Tax calculation will be finalised during checkout.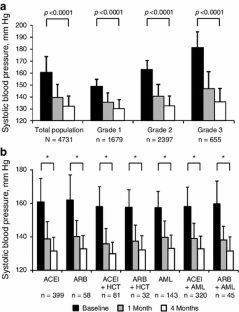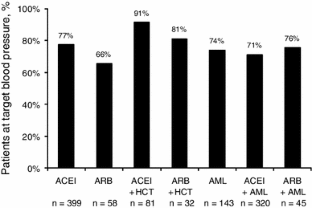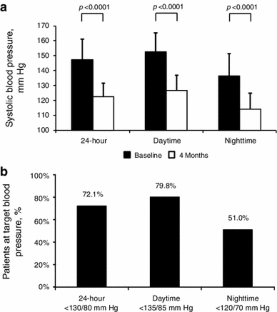 References
Lewington S, Clarke R, Qizilbash N, Peto R, Collins R. Age-specific relevance of usual blood pressure to vascular mortality: a meta-analysis of individual data for one million adults in 61 prospective studies. Lancet. 2002;360(9349):1903–13.

Adler AI, Stratton IM, Neil HA, Yudkin JS, Matthews DR, Cull CA, et al. Association of systolic blood pressure with macrovascular and microvascular complications of type 2 diabetes (UKPDS 36): prospective observational study. BMJ. 2000;321(7258):412–9.

Chobanian AV, Bakris GL, Black HR, Cushman WC, Green LA, Izzo JL Jr, et al. The Seventh Report of the Joint National Committee on prevention, detection, evaluation, and treatment of high blood pressure: the JNC 7 report. JAMA. 2003;289(19):2560–72.

Jackson JH, Sobolski J, Krienke R, Wong KS, Frech-Tamas F, Nightengale B. Blood pressure control and pharmacotherapy patterns in the United States before and after the release of the Joint National Committee on the prevention, detection, evaluation, and treatment of high blood pressure (JNC 7) guidelines. J Am Board Fam Med. 2008;21(6):512–21. doi:10.3122/jabfm.2008.06.080025.

Thoenes M, Neuberger HR, Volpe M, Khan BV, Kirch W, Bohm M. Antihypertensive drug therapy and blood pressure control in men and women: an international perspective. J Hum Hypertens. 2010;24(5):336–44. doi:10.1038/jhh.2009.76.

Bramlage P, Bohm M, Volpe M, Khan BV, Paar WD, Tebbe U, et al. A global perspective on blood pressure treatment and control in a referred cohort of hypertensive patients. J Clin Hypertens (Greenwich). 2010;12(9):666–77. doi:10.1111/j.1751-7176.2010.00322.x.

Law MR, Wald NJ, Morris JK, Jordan RE. Value of low dose combination treatment with blood pressure lowering drugs: analysis of 354 randomised trials. BMJ. 2003;326(7404):1427.

Egan BM, Bandyopadhyay D, Shaftman SR, Wagner CS, Zhao Y, Yu-Isenberg KS. Initial monotherapy and combination therapy and hypertension control the first year. Hypertension. 2012;59(6):1124–31. doi:10.1161/HYPERTENSIONAHA.112.194167.

Mancia G, Fagard R, Narkiewicz K, Redon J, Zanchetti A, Bohm M et al. 2013 ESH/ESC Guidelines for the management of arterial hypertension. Blood Press. 2013. doi:10.3109/08037051.2013.812549.

National Clinical Guideline Centre. Hypertension. Clinical management of primary hypertension in adults (NICE clinical guideline 127). London, United Kingdom 2011.

Mancia G, De Backer G, Dominiczak A, Cifkova R, Fagard R, Germano G, et al. 2007 Guidelines for the management of arterial hypertension: The task force for the management of arterial hypertension of the European Society of Hypertension (ESH) and of the European Society of Cardiology (ESC). J Hypertens. 2007;25(6):1105–87.

Beckett NS, Peters R, Fletcher AE, Staessen JA, Liu L, Dumitrascu D, et al. Treatment of hypertension in patients 80 years of age or older. N Engl J Med. 2008;358(18):1887–98.

Dahlöf B, Gosse P, Gueret P, Dubourg O, de Simone G, Schmieder R, et al. Perindopril/indapamide combination more effective than enalapril in reducing blood pressure and left ventricular mass: the PICXEL study. J Hypertens. 2005;23(11):2063–70.

Dahlöf B, Sever PS, Poulter NR, Wedel H, Beevers DG, Caulfield M, et al. Prevention of cardiovascular events with an antihypertensive regimen of amlodipine adding perindopril as required versus atenolol adding bendroflumethiazide as required, in the Anglo-Scandinavian Cardiac Outcomes Trial-Blood Pressure Lowering Arm (ASCOT-BPLA): a multicentre randomised controlled trial. Lancet. 2005;366(9489):895–906.

Deanfield JE, Detry JM, Lichtlen PR, Magnani B, Sellier P, Thaulow E. Amlodipine reduces transient myocardial ischemia in patients with coronary artery disease: double-blind Circadian Anti-Ischemia Program in Europe (CAPE Trial). J Am Coll Cardiol. 1994;24(6):1460–7.

Fox KM. Efficacy of perindopril in reduction of cardiovascular events among patients with stable coronary artery disease: randomised, double-blind, placebo-controlled, multicentre trial (the EUROPA study). Lancet. 2003;362(9386):782–8.

Mogensen CE, Viberti G, Halimi S, Ritz E, Ruilope L, Jermendy G, et al. Effect of low-dose perindopril/indapamide on albuminuria in diabetes: preterax in albuminuria regression: PREMIER. Hypertension. 2003;41(5):1063–71.

Patel A, MacMahon S, Chalmers J, Neal B, Woodward M, Billot L, et al. Effects of a fixed combination of perindopril and indapamide on macrovascular and microvascular outcomes in patients with type 2 diabetes mellitus (the ADVANCE trial): a randomised controlled trial. Lancet. 2007;370(9590):829–40.

PROGRESS Collaborative group. Randomised trial of a perindopril-based blood-pressure-lowering regimen among 6,105 individuals with previous stroke or transient ischaemic attack. Lancet. 2001;358(9287):1033–41.

van Vark LC, Bertrand M, Akkerhuis KM, Brugts JJ, Fox K, Mourad JJ, et al. Angiotensin-converting enzyme inhibitors reduce mortality in hypertension: a meta-analysis of randomized clinical trials of renin-angiotensin-aldosterone system inhibitors involving 158,998 patients. Eur Heart J. 2012;33(16):2088–97. doi:10.1093/eurheartj/ehs075.

Chalmers J, Arima H, Woodward M, Poulter N, Mancia G, editors. Effects of combination of perindopril, indapamide and calcium channel blockers on death and cardiovascular outcomes in patients with type 2 diabetes in the ADVANCE trial (Abstract). 23rd scientific meeting of the European Society of Hypertension, Milan, Italy; 2013.

Pall D. The antihypertensive efficacy of the perindopril-amlodipine-indapamide combination. J Hypertens. 2012;30(Suppl A):e503.

Kiss I. A hypertoniabetegség felnőttkori és gyermekkori kezelésének szakmai és szervezeti irányelvei. Hypertonia és Nephrologia. 2009;13:81–168.

Weber MA, Julius S, Kjeldsen SE, Brunner HR, Ekman S, Hansson L, et al. Blood pressure dependent and independent effects of antihypertensive treatment on clinical events in the VALUE Trial. Lancet. 2004;363(9426):2049–51.

Kikuya M, Hozawa A, Ohokubo T, Tsuji I, Michimata M, Matsubara M, et al. Prognostic significance of blood pressure and heart rate variabilities: the Ohasama study. Hypertension. 2000;36(5):901–6.

Ceconi C, Fox KM, Remme WJ, Simoons ML, Bertrand M, Parrinello G, et al. ACE inhibition with perindopril and endothelial function. Results of a substudy of the EUROPA study: PERTINENT. Cardiovasc Res. 2007;73(1):237–46.

Koz C, Baysan O, Yokusoglu M, Uzun M, Yildirim M, Hasimi A, et al. The effects of perindopril on aortic elasticity and inflammatory markers in hypertensive patients. Med Sci Monit. 2009;15(7):PI41–5 869690 [pii].

Asmar RG, London GM, O'Rourke ME, Safar ME. Improvement in blood pressure, arterial stiffness and wave reflections with a very-low-dose perindopril/indapamide combination in hypertensive patient: a comparison with atenolol. Hypertension. 2001;38(4):922–6.

Ghiadoni L, Magagna A, Kardasz I, Taddei S, Salvetti A. Fixed dose combination of perindopril and indapamide improves peripheral vascular function in essential hypertensive patients. Am J Hypertens. 2009;22(5):506–12. doi:10.1038/ajh.2009.31.

Williams B, Lacy PS, Thom SM, Cruickshank K, Stanton A, Collier D, et al. Differential impact of blood pressure-lowering drugs on central aortic pressure and clinical outcomes: principal results of the Conduit Artery Function Evaluation (CAFE) study. Circulation. 2006;113(9):1213–25. doi:10.1161/CIRCULATIONAHA.105.595496.

Makani H, Bangalore S, Romero J, Wever-Pinzon O, Messerli FH. Effect of renin-angiotensin system blockade on calcium channel blocker-associated peripheral edema. Am J Med. 2011;124(2):128–35. doi:10.1016/j.amjmed.2010.08.007.

Fogari R, Zoppi A, Mugellini A, Preti P, Banderali A, Salvetti A. Effects of amlodipine, nifedipine GITS, and indomethacin on angiotensin-converting enzyme inhibitor-induced cough: a randomized, placebo-controlled, double-masked, crossover study. Curr Ther Res. 1999;603:121–8.

Kuo SW, Pei D, Hung YJ, Hsieh AT, Wu LY, Hsieh CH, et al. Effect of indapamide SR in the treatment of hypertensive patients with type 2 diabetes. Am J Hypertens. 2003;16(8):623–8.

Madkour H, Gadallah M, Riveline B, Plante GE, Massry SG. Comparison between the effects of indapamide and hydrochlorothiazide on creatinine clearance in patients with impaired renal function and hypertension. Am J Nephrol. 1995;15(3):251–5.

Bangalore S, Kumar S, Messerli FH. Angiotensin-converting enzyme inhibitor associated cough: deceptive information from the Physicians' Desk Reference. Am J Med. 2010;123(11):1016–30. doi:10.1016/j.amjmed.2010.06.014.

Waeber B, Rotaru C, Feihl F. Position of indapamide, a diuretic with vasorelaxant activities, in antihypertensive therapy. Expert Opin Pharmacother. 2012;13(10):1515–26. doi:10.1517/14656566.2012.698611.

Savarese G, Costanzo P, Cleland JG, Vassallo E, Ruggiero D, Rosano G, et al. A meta-analysis reporting effects of angiotensin-converting enzyme inhibitors and angiotensin receptor blockers in patients without heart failure. J Am Coll Cardiol. 2013;61(2):131–42. doi:10.1016/j.jacc.2012.10.011.
Acknowledgments
The author would like to thank Hélène Dassule, PhD, for her editorial support. Her work was funded by Servier International. This study was funded by Egis Pharmaceuticals, Budapest, Hungary. The author has no other potential conflicts of interest that might be relevant to the contents of this manuscript. The author acknowledges the contribution of all 762 participating medical centers in Hungary. In addition to the other members of the PIANIST investigator group, the author would like to acknowledge the assistance of Béla Malomvölgyi (medical advisor) and Norbert Habony, MD (coordinator).
About this article
Cite this article
Tóth, K., on behalf of PIANIST Investigators. Antihypertensive Efficacy of Triple Combination Perindopril/Indapamide Plus Amlodipine in High-Risk Hypertensives: Results of the PIANIST Study (Perindopril-Indapamide plus AmlodipiNe in high rISk hyperTensive patients). Am J Cardiovasc Drugs 14, 137–145 (2014). https://doi.org/10.1007/s40256-014-0067-2
Published:

Issue Date:

DOI: https://doi.org/10.1007/s40256-014-0067-2
Keywords