Summary
Background
Obesity and anxiety are the two most common health problems and increased body mass index can be lead to anxiety.
Objective
The aim of this meta-analysis was to investigate the frequency of anxiety symptoms in people who are obese/overweight.
Methods
For this purpose the authors systematically searched keywords in the databases PubMed, Scopus, PsycINFO and Google scholar through August 2018. After a comprehensive review, 25 studies were included into the meta-analysis.
Results
Results of the meta-analysis showed that the frequency of anxiety in obesity had a pooled odds ratio (OR) of 1.30 and a 95% confidence interval (CI) of 1.20–1.41 and in overweight had an OR of 1.10 and CI of 1.00–1.21. Comparison between obesity/overweight and normal weight showed high frequency of anxiety in obesity/overweight with respect to subgroups (sex, obesity and anxiety assessment, adjusted/unadjusted, anxiety duration and age). Evaluation of 25 studies included in the meta-analysis showed publication bias.
Conclusion
Overall, findings indicate anxiety occurs more frequently in obese/overweight people compared with normal weight people.
Zusammenfassung
Grundlagen
Adipositas und Angst sind die beiden häufigsten Gesundheitsprobleme, ein erhöhter Body-Mass-Index kann zu Angst führen.
Zielsetzung
Ziel dieser Metaanalyse war es, die Häufigkeit von Angstsymptomen bei Menschen mit Adipositas bzw. Übergewicht zu untersuchen.
Methodik
In den Datenbanken PubMed, Scopus, PsycINFO und Google Scholar wurde anhand von Schlüsselwörtern systematisch nach bis 08/2018 publizierten Arbeiten recherchiert. Nach umfassender Überprüfung wurden 25 Studien in die Metaanalyse aufgenommen.
Ergebnisse
Die Ergebnisse der Metaanalyse zeigten für die Häufigkeit von Angst bei Adipositas eine gepoolte OR ("odds ratio") von 1,30 und ein 95%-Konfidenzintervall (KI) von 1,20-1,41, für die Häufigkeit von Angst bei Übergewicht eine gepoolte OR von 1,10 und ein 95%-KI von 1,00-1,21. Beim Vergleich zwischen normalgewichtigen und übergewichtigen/adipösen Menschen zeigte sich eine hohe Frequenz von Angststörungen bei Adipositas/Übergewicht in Bezug auf Untergruppen (Geschlecht, Assessment von Adipositas und Angst, angepasst/unangepasst, Angstdauer und Alter). Die Auswertung von 25 in die Metaanalyse einbezogenen Studien ergab ein Publikationsbias.
Schlussfolgerung
Insgesamt deuten die Ergebnisse darauf hin, dass Angststörungen häufiger bei übergewichtigen bzw. adipösen Menschen auftreten als bei normalgewichtigen.
Access options
Buy single article
Instant access to the full article PDF.
US$ 39.95
Tax calculation will be finalised during checkout.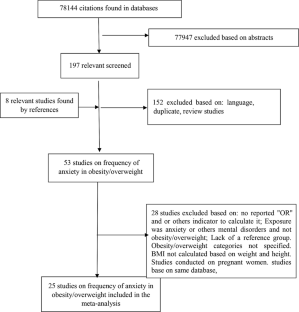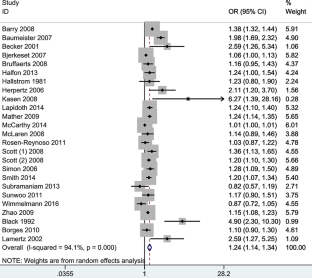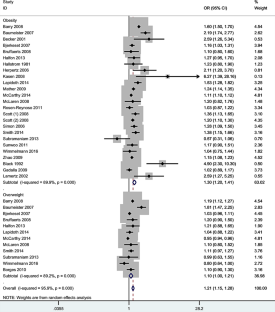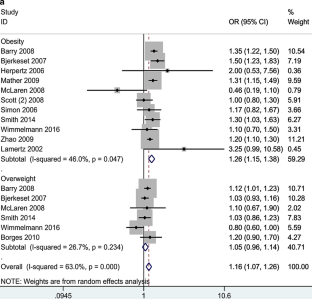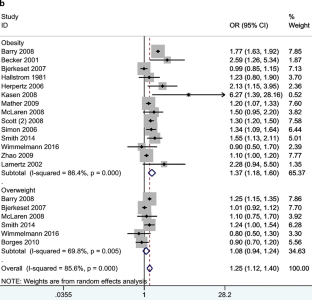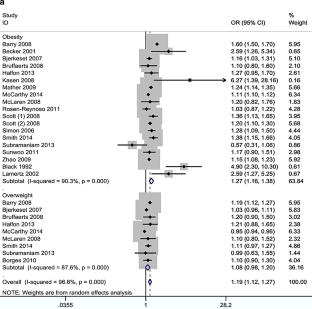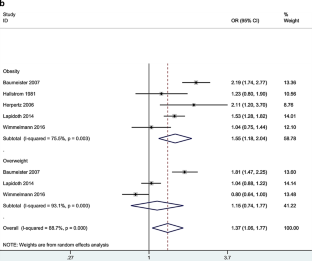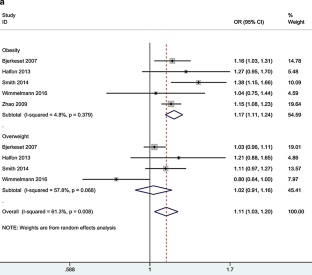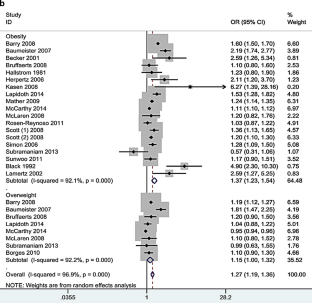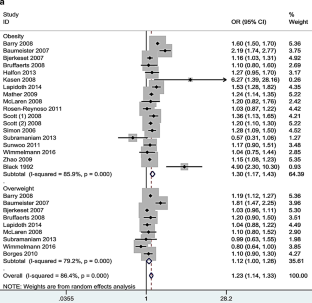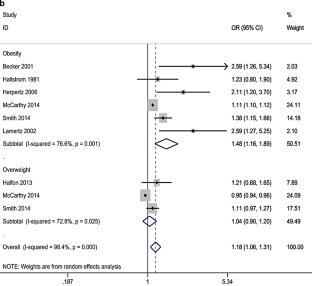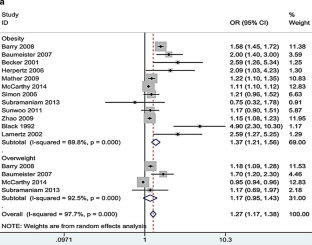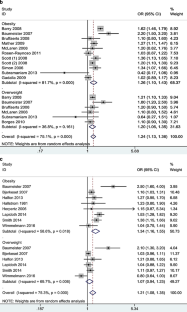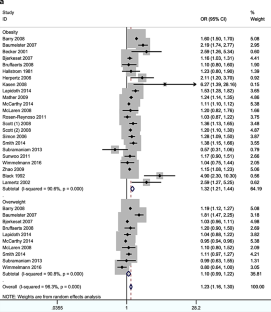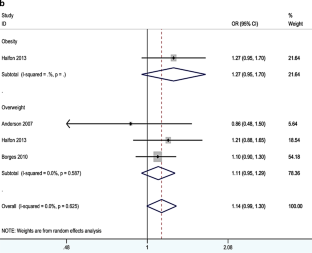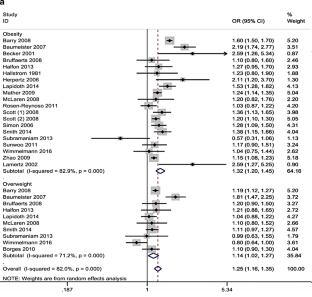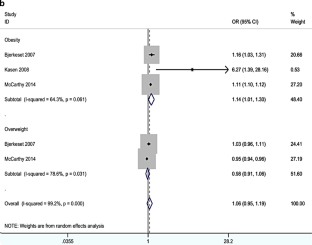 References
1.

(NCD-RisC), N. R. F. C. (2017). Worldwide trends in body-mass index, underweight, overweight, and obesity from 1975 to 2016: a pooled analysis of 2416 population-based measurement studies in 128.9 million children, adolescents, and adults. Lancet, 390(10113), 2627–2642. https://doi.org/10.1016/s0140-6736(17)32129-3

2.

(WHO), W. H. O. (1995). Physical status: the use and interpretation of anthropometry. Report of a WHO Expert Committee. World Health Organ Tech Rep Ser, 854, 1–452.

3.

Afshin A, Forouzanfar MH, Reitsma MB, Sur P, Estep K, Lee A, Murray CJL. Health Effects of Overweight and Obesity in 195 Countries over 25 Years. N Engl J Med. 2017;377(1):13–27. https://doi.org/10.1056/NEJMoa1614362

4.

American PsychiatricAssociation Diagnostic and statistical manual of mental disorders. Fifth ed. Arlington, VA: American Psychiatric Association; 2013.

5.

Anxiety Disorders Association of America. (2012). Facts & statistics. Retrieved from http://www.adaa.org/about-adaa/press-room/facts-statistics. Published 2010. Accessed January 3, 2012

6.

Armijo-Olivo S, Stiles CR, Hagen NA, Biondo PD, Cummings GG. Assessment of study quality for systematic reviews: a comparison of the Cochrane Collaboration Risk of Bias Tool and the Effective Public Health Practice Project Quality Assessment Tool: methodological research. J Eval Clin Pract. 2012;18(1):12–8. https://doi.org/10.1111/j.1365-2753.2010.01516.x.

7.

Begg CB, Mazumdar M. Operating characteristics of a rank correlation test for publication bias. Biometrics. 1994;50(4):1088–101.

8.

Bennett J, Greene G, Schwartz-Barcott D. Perceptions of emotional eating behavior. A qualitative study of college students. Appetite. 2013;60(1):187–92. https://doi.org/10.1016/j.appet.2012.09.023.

9.

Blair AJ, Lewis VJ, Booth DA. Does emotional eating interfere with success in attempts at weight control? Appetite. 1990;15(2):151–7.

10.

Bray GA, Bellanger T. Epidemiology, trends, and morbidities of obesity and the metabolic syndrome. Endocrine. 2006;29(1):109–17. https://doi.org/10.1385/endo:29:1:109.

11.

Chen EY, Brown M. Obesity stigma in sexual relationships. Obes Res. 2005;13(8):1393–7. https://doi.org/10.1038/oby.2005.168.

12.

Crisp AH, McGuiness B. Jolly fat: relation between obesity and psychoneurosis in general population. Br Med J. 1976;1(6000):7–9.

13.

Disorders-10, T.-C. M. a. B. (1992). Clinical description and diagnostic guidelines. In: World Health Organization.

14.

Duval S, Tweedie R. Trim and fill: A simple funnel-plot-based method of testing and adjusting for publication bias in meta-analysis. Biometrics. 2000;56(2):455–63.

15.

Egger M, Davey Smith G, Schneider M, Minder C. Bias in meta-analysis detected by a simple, graphical test. BMJ. 1997;315(7109):629–34.

16.

Finucane MM, Stevens GA, Cowan MJ, Danaei G, Lin JK, Paciorek CJ, Ezzati M. National, regional, and global trends in body-mass index since 1980: systematic analysis of health examination surveys and epidemiological studies with 960 country-years and 9.1 million participants. Lancet. 2011;377(9765):557–567. https://doi.org/10.1016/s0140-6736(10)62037-5

17.

Gariepy G, Nitka D, Schmitz N. The association between obesity and anxiety disorders in the population: a systematic review and meta-analysis. Int J Obes (lond). 2010;34(3):407–19. https://doi.org/10.1038/ijo.2009.252.

18.

Geliebter A, Aversa A. Emotional eating in overweight, normal weight, and underweight individuals. Eat Behav. 2003;3(4):341–7.

19.

Gortmaker SL, Must A, Perrin JM, Sobol AM, Dietz WH. Social and economic consequences of overweight in adolescence and young adulthood. N Engl J Med. 1993;329(14):1008–12. https://doi.org/10.1056/nejm199309303291406.

20.

Higgins JP, Thompson SG. Quantifying heterogeneity in a meta-analysis. Stat Med. 2002;21(11):1539–58. https://doi.org/10.1002/sim.1186.

21.

Higgins JP, Thompson SG, Deeks JJ, Altman DG. Measuring inconsistency in meta-analyses. BMJ. 2003;327(7414):557–60. https://doi.org/10.1136/bmj.327.7414.557.

22.

Hovens JG, Giltay EJ, Wiersma JE, Spinhoven P, Penninx BW, Zitman FG. Impact of childhood life events and trauma on the course of depressive and anxiety disorders. Acta Psychiatr Scand. 2012;126(3):198–207. https://doi.org/10.1111/j.1600-0447.2011.01828.x.

23.

Ioannidis JP, Patsopoulos NA, Evangelou E. Uncertainty in heterogeneity estimates in meta-analyses. BMJ. 2007;335(7626):914–6. https://doi.org/10.1136/bmj.39343.408449.80.

24.

Kadri N, Agoub M, El Gnaoui S, Berrada S, Moussaoui D. Prevalence of anxiety disorders: a population-based epidemiological study in metropolitan area of Casablanca, Morocco. Ann Gen Psychiatry. 2007;6:6. https://doi.org/10.1186/1744-859x-6-6.

25.

Kasen S, Cohen P, Chen H, Must A. Obesity and psychopathology in women: a three decade prospective study. Int J Obes (lond). 2008;32(3):558–66. https://doi.org/10.1038/sj.ijo.0803736.

26.

Kawakami N, Abdulghani EA, Alonso J, Bromet EJ, Bruffaerts R, Caldas-de-Almeida JM, Kessler RC. Early-life mental disorders and adult household income in the World Mental Health Surveys. Biol Psychiatry. 2012;72(3):228–37. https://doi.org/10.1016/j.biopsych.2012.03.009.

27.

Kelly T, Yang W, Chen CS, Reynolds K, He J. Global burden of obesity in 2005 and projections to 2030. Int J Obes (lond). 2008;32(9):1431–7. https://doi.org/10.1038/ijo.2008.102.

28.

Kessler RC, Greenberg PE. The economic burden of anxiety and stress disorders. InNeuropsychopharmacology: TheFifthGeneration of Progress. In: Davis KL, Charney D, Coyle JT, Nemeroff C, editors. Lippencott. Philadelphia: Williams and Wilkins; 2002.

29.

Kessler RC, McLaughlin KA, Koenen KC, Petukhova M, Hill ED. The importance of secondary trauma exposure for post-disaster mental disorder. Epidemiol Psychiatr Sci. 2012;21(1):35–45.

30.

Konttinen H, Mannisto S, Sarlio-Lahteenkorva S, Silventoinen K, Haukkala A. Emotional eating, depressive symptoms and self-reported food consumption. A population-based study. Appetite. 2010;54(3):473–9. https://doi.org/10.1016/j.appet.2010.01.014.

31.

Laitinen J, Ek E, Sovio U. Stress-related eating and drinking behavior and body mass index and predictors of this behavior. Prev Med. 2002;34(1):29–39. https://doi.org/10.1006/pmed.2001.0948.

32.

Larsen JK, van Strien T, Eisinga R, Engels RC. Gender differences in the association between alexithymia and emotional eating in obese individuals. J Psychosom Res. 2006;60(3):237–43. https://doi.org/10.1016/j.jpsychores.2005.07.006.

33.

Lehnert T, Sonntag D, Konnopka A, Riedel-Heller S, Konig HH. Economic costs of overweight and obesity. Best Pract Res Clin Endocrinol Metab. 2013;27(2):105–15. https://doi.org/10.1016/j.beem.2013.01.002.

34.

Lu Y, Hajifathalian K, Ezzati M, Woodward M, Rimm EB, Danaei G. Metabolic mediators of the effects of body-mass index, overweight, and obesity on coronary heart disease and stroke: a pooled analysis of 97 prospective cohorts with 1.8 million participants. Lancet. 2014;383(9921):970–983. https://doi.org/10.1016/s0140-6736(13)61836-x

35.

Macht M, Simons G. Emotions and eating in everyday life. Appetite. 2000;35(1):65–71. https://doi.org/10.1006/appe.2000.0325.

36.

Maranto CL, Stenoien AF. Weight discrimination: A multidisciplinary analysis. Empl Respons. Rights, Vol. 12. 2000. pp. 9–24.

37.

Moher D, Liberati A, Tetzlaff J, Altman DG. Preferred reporting items for systematic reviews and meta-analyses: the PRISMA statement. Ann Intern Med. 2009;151(4):264–269, w264.

38.

Murray CJL, Lopez A. Global Health Statistics: A Compendium of Incidence, Prevalence and Mortality Estimates for. over, Vol. 200. Cambridge MA.: Conditions. Harvard School of Public Health on behalf of the World Health Organization and the World Bank; 1996.

39.

NCD Risk Factor Collaboration (NCD-RisC). Trends in adult body-mass index in 200 countries from 1975 to 2014: a pooled analysis of 1698 population-based measurement studies with 19.2 million participants. Lancet. 2016;387(10026):1377–96. https://doi.org/10.1016/s0140-6736(16)30054-x.

40.

Pickering RP, Grant BF, Chou SP, Compton WM. Are overweight, obesity, and extreme obesity associated with psychopathology? Results from the national epidemiologic survey on alcohol and related conditions. J Clin Psychiatry. 2007;68(7):998–1009.

41.

Pingitore R, Spring B, Garfield D. Gender differences in body satisfaction. Obes Res. 1997;5(5):402–9.

42.

Roberts RE, Strawbridge WJ, Deleger S, Kaplan GA. Are the fat more jolly? Ann Behav Med. 2002;24(3):169–80.

43.

Scott KM, Bruffaerts R, Simon GE, Alonso J, Angermeyer M, de Girolamo G, Von Korff M. Obesity and mental disorders in the general population: results from the world mental health surveys. Int J Obes (lond). 2008;32(1):192–200. https://doi.org/10.1038/sj.ijo.0803701.

44.

Scott KM, McGee MA, Wells JE, Browne OMA. Obesity and mental disorders in the adult general population. J Psychosom Res. 2008;64(1):97–105. https://doi.org/10.1016/j.jpsychores.2007.09.006.

45.

Simon GE, Von Korff M, Saunders K, Miglioretti DL, Crane PK, van Belle G, Kessler RC. Association between obesity and psychiatric disorders in the US adult population. Arch Gen Psychiatry. 2006;63(7):824–30. https://doi.org/10.1001/archpsyc.63.7.824.

46.

Somers JM, Goldner EM, Waraich P, Hsu L. Prevalence and incidence studies of anxiety disorders: a systematic review of the literature. Can J Psychiatry. 2006;51(2):100–13. https://doi.org/10.1177/070674370605100206.

47.

Stein DJ, Williams SL, Jackson PB, Seedat S, Myer L, Herman A, Williams DR. Perpetration of gross human rights violations in South Africa: association with psychiatric disorders. S Afr Med J. 2009;99(5 Pt 2):390–395.

48.

Weiller E, Bisserbe JC, Maier W, Lecrubier Y. Prevalence and recognition of anxiety syndromes in five European primary care settings. A report from the WHO study on Psychological Problems in General Health Care. Br J Psychiatry Suppl. 1998;3(4):18–23.

49.

Wilson SM, Darling KE, Fahrenkamp AJ, D'Auria AL, Sato AF. Predictors of emotional eating during adolescents' transition to college: does body mass index moderate the association between stress and emotional eating? J Am Coll Health. 2015;63(3):163–70. https://doi.org/10.1080/07448481.2014.1003374.
Ethics declarations
Conflict of interest
S. Amiri and S. Behnezhad declare that they have no competing interests.
Additional information
Publisher's Note
Springer Nature remains neutral with regard to jurisdictional claims in published maps and institutional affiliations.
Author contributions
S. Amiri contributed to the formation of the subject, collecting and extracting data, analyzing data and writing a draft. S. Behnezhad contributed to collecting and extracting data and suggested some changes.
Caption Electronic Supplementary Material
About this article
Cite this article
Amiri, S., Behnezhad, S. Obesity and anxiety symptoms: a systematic review and meta-analysis. Neuropsychiatr 33, 72–89 (2019). https://doi.org/10.1007/s40211-019-0302-9
Received:

Accepted:

Published:

Issue Date:
Keywords
Obesity

Overweight

Anxiety

Meta-analysis

Body mass index
Schlüsselwörter
Adipositas

Übergewicht

Angst

Metaanalyse

Body-Mass-Index