Abstract
The development of novel strategies that aim to augment the regenerative potential of bone is critical for devising better treatment options for bone defects or injuries. Facilitation of bone repair and regeneration utilizing composite hydrogels that simulates bone matrix is emerging as a viable approach in bone tissue engineering. The present study aimed to develop nanohydroxyapatite-incorporated gelatin methacryloyl (GelMA)/poly(ethylene glycol) diacrylate (PEGDA) hydrogel (GMPH hydrogel). A facile blending and photocrosslinking approach was employed to incorporate nanohydroxyapatite into the inter-crosslinked polymeric hydrogel network to obtain an ECM mimicking matrix for assisting bone tissue regeneration. Chemical characterization of GelMA and the GMPH hydrogel was carried out using FTIR and 1H NMR. Physical properties of GMPH, such as gelation, swelling and degradation ratios, and internal morphology, signified the suitability of GMPH hydrogel for tissue engineering. Cell viability assay demonstrated a healthy proliferation of MG63 osteoblast cells in GMPH hydrogel extracted growth medium, indicating the hydrogel's cytocompatibility and suitability for bone tissue engineering. Our study documented the fabrication of a novel GelMA/PEGDA-nanohydroxyapatite hydrogel that possesses ideal physicochemical and biological properties for bone tissue engineering.
Access options
Buy single article
Instant access to the full article PDF.
US$ 39.95
Tax calculation will be finalised during checkout.
Subscribe to journal
Immediate online access to all issues from 2019. Subscription will auto renew annually.
US$ 119
Tax calculation will be finalised during checkout.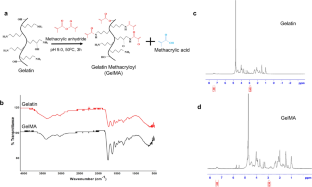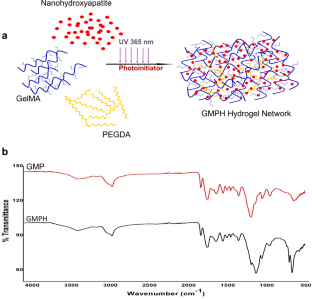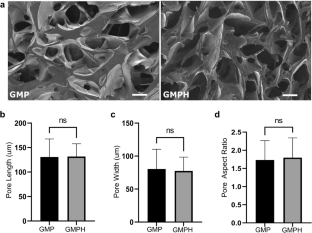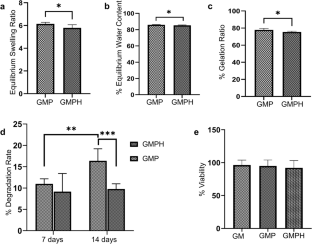 References
Abbasi N, Hamlet S, Love RM, Nguyen NT (2020) Porous scaffolds for bone regeneration. J Sci 5(1):1–9

Barbeck ST, Booms P, Stojanovic S, Najman S, Engel E, Sader R, Kirkpatrick JC, Navarro M, Ghanaati S (2017) Analysis of the in vitro degradation and the in vivo tissue response to bi-layered 3D-printed scaffolds combining PLA and biphasic PLA/bioglass components—guidance of the inflammatory response as basis for osteochondral regeneration. Bioactive Mater 2(4):208–223. https://doi.org/10.1016/j.bioactmat.2017.06.001

Bendtsen ST, Quinnell SP, Wei M (2017) Development of a novel alginate-polyvinyl alcohol-hydroxyapatite hydrogel for 3D bioprinting bone tissue engineered scaffolds. J Biomed Mater Res 105(5):1457–1468. https://doi.org/10.1002/jbm.a.36036

Celikkin N, Mastrogiacomo S, Jaroszewicz J, Walboomers XF, Swieszkowski W (2018) Gelatin methacrylate scaffold for bone tissue engineering: the influence of polymer concentration. J Biomed Mater Res 106(1):201–209. https://doi.org/10.1002/jbm.a.36226

Choi JR, Yong KW, Choi JY, Cowie AC (2019) Recent advances in photo-crosslinkable hydrogels for biomedical applications. Biotechniques 66(1):40–53. https://doi.org/10.2144/btn-2018-0083

Fang X, Xie J, Zhong L, Li J, Rong D, Li X, Ouyang J (2016) Biomimetic gelatin methacrylamide hydrogel scaffolds for bone tissue engineering. J Mater Chem B 4(6):1070–1080. https://doi.org/10.1039/c5tb02251g

Farokhi M, Mottaghitalab F, Shokrgozar MA, Ou KL, Mao C, Hosseinkhani H (2016) Importance of dual delivery systems for bone tissue engineering. J Control Release 225:152–169

Gnanaprakasam Thankam F, Muthu J (2014) Alginate based hybrid copolymer hydrogels—influence of pore morphology on cell-material interaction. Carbohyd Polym 112:235–244. https://doi.org/10.1016/j.carbpol.2014.05.083

Hamlet SM, Vaquette C, Shah A, Hutmacher DW, Ivanovski S (2017) 3-Dimensional functionalized polycaprolactone-hyaluronic acid hydrogel constructs for bone tissue engineering. J Clin Periodontol 44(4):428–437. https://doi.org/10.1111/jcpe.12686

Hernández-González AC, Téllez-Jurado L, Rodríguez-Lorenzo LM (2020) Alginate hydrogels for bone tissue engineering, from injectables to bioprinting: a review. Carbohyd Polym 229:115514

Hoch E, Schuh C, Hirth T, Tovar GEM, Borchers K (2012) Stiff gelatin hydrogels can be photo-chemically synthesized from low viscous gelatin solutions using molecularly functionalized gelatin with a high degree of methacrylation. J Mater Sci 23(11):2607–2617. https://doi.org/10.1007/s10856-012-4731-2

Hoch E, Hirth T, Tovar GEM, Borchers K (2013) Chemical tailoring of gelatin to adjust its chemical and physical properties for functional bioprinting. J Mater Chem B 1(41):5675–5685. https://doi.org/10.1039/c3tb20745e

Jabbarzadeh E, Blanchette J, Shazly T, Khademhosseini A, Camci-Unal G, Laurencin C (2012) Vascularization of biomaterials for bone tissue engineering: current approaches and major challenges. Curr Angiogenes 1(3):180–191. https://doi.org/10.2174/2211552811201030180

Jamróz E, Kulawik P, Kopel P (2019) The effect of nanofillers on the functional properties of biopolymer-based films: a review. Polymers 11(4):675

Li J, Ebied M, Xu J, Zreiqat H (2018) Current approaches to bone tissue engineering: the interface between biology and engineering. Adv Healthcare Mater 7(6):1701061. https://doi.org/10.1002/adhm.201701061

Liao SS, Cui FZ (2004) In vitro and in vivo degradation of mineralized collagen-based composite scaffold: Nanohydroxyapatite/Collagen/Poly(l-Lactide). Tissue Eng 10(1–2):73–80. https://doi.org/10.1089/107632704322791718

Lin L, Chow KL, Leng Y (2009) Study of hydroxyapatite osteoinductivity with an osteogenic differentiation of mesenchymal stem cells. J Biomed Mater Res 89(2):326–335. https://doi.org/10.1002/jbm.a.31994

Liu Y, Luo D, Wang T (2016) Hierarchical structures of bone and bioinspired bone tissue engineering. Small 12(34):4611–4632

Liu M, Zeng X, Ma C, Yi H, Ali Z, Mou X, Li S, Deng Y, He N (2017) Injectable hydrogels for cartilage and bone tissue engineering. Bone Res 5:17014

Lops D, Feroni L, Gardin CA, Ricci S, Guazzo R, Sbricoli L, Romeo E, Calvo-Guirado JL, Bressan E, Zavan BA (2014) Osteoproperties of polyethylene glycol hydrogel material. J Osseointegr 6(3):61–65. https://doi.org/10.23805/jo.2014.06.03.04

Maisani M, Pezzoli D, Chassande O, Mantovani D (2017) Cellularizing hydrogel-based scaffolds to repair bone tissue: How to create a physiologically relevant micro-environment? J Tissue Eng 8:2041731417712073. https://doi.org/10.1177/2041731417712073

Mohajeri S, Hosseinkhani H, Golshan Ebrahimi N, Nikfarjam L, Soleimani M, Kajbafzadeh A (2010) Proliferation and differentiation of mesenchymal stem cell on collagen sponge reinforced with polypropylene/polyethylene terephthalate blend fibers. Tissue Eng Part A 16(12):3821–3830. https://doi.org/10.1089/ten.tea.2009.0520

Mottaghitalab F, Hosseinkhani H, Shokrgozar MA, Mao C, Yang M, Farokhi M (2015) Silk as a potential candidate for bone tissue engineering. J Control Release 215:112–128

Nguyen TH, Ventura R, Min Y, Lee B (2016) Genipin cross-linked polyvinyl alcohol-gelatin hydrogel for bone regeneration. J Biomed Sci Eng 09(09):419–429. https://doi.org/10.4236/jbise.2016.99037

Nurlidar F, Yamane K, Kobayashi M, Terada K, Ando T, Tanihara M (2018) Calcium deposition in photocrosslinked Poly(Pro-Hyp-Gly) hydrogels encapsulated rat bone marrow stromal cells. J Tissue Eng Regen Med 12(3):e1360–e1369. https://doi.org/10.1002/term.2520

Pan Y (2010) Swelling properties of nano-hydroxyapatite reinforced Poly(Vinyl Alcohol) gel biocomposites. Micro Nano Lett 5(4):237–240. https://doi.org/10.1049/mnl.2010.0061

Peppas NA, Hilt J, Khademhosseini A, Langer R (2006) Hydrogels in biology and medicine: from molecular principles to bionanotechnology. Adv Mater 18(11):1345–1360

Peppas NA, Hoffman AS (2020) 1.3.2E - Hydrogels. In: Wagner WR, Sakiyama-Elbert SE, Zhang G, Yaszemski MJ (eds) Biomaterials science, 4th Edn. Academic Press, pp 153–166

Perez JR, Kouroupis D, Li DJ, Best TM, Kaplan L, Correa D (2018) Tissue engineering and cell-based therapies for fractures and bone defects. Front Bioeng Biotechnol. https://doi.org/10.3389/fbioe.2018.00105

Polo-Corrales L, Latorre-Esteves M, Ramirez-Vick JE (2014) Scaffold design for bone regeneration. J Nanosci Nanotechnol 14(1):15–56

Radhakrishnan A, Jose GM, Kurup M (2015) PEG-penetrated chitosan-alginate co-polysaccharide-based partially and fully crosslinked hydrogels as ECM mimic for tissue engineering applications. Progress Biomater 4(2–4):101–112. https://doi.org/10.1007/s40204-015-0041-3

Rahali K, Ben Messaoud Gh, Kahn CJF, Sanchez-Gonzalez L, Kaci M, Cleymand F, Fleutot S, Linder M, Desobry S, Arab-Tehrany E (2017) Synthesis and characterization of nanofunctionalized gelatin methacrylate hydrogels. Int J Mol Sci. https://doi.org/10.3390/ijms18122675

Saberianpour S, Heidarzadeh M, Geranmayeh MH, Hosseinkhani H, Rahbarghazi R, Nouri M (2018) Tissue engineering strategies for the induction of angiogenesis using biomaterials. J Biol Eng 12(1):1–15

Sadeghi M, Heidari B (2011) Crosslinked graft copolymer of methacrylic acid and gelatin as a novel hydrogel with PH-responsiveness properties. Materials 4(3):543–552. https://doi.org/10.3390/ma4030543

Saldin LT, Cramer MC, Velankar SS, White LJ, Badylak SF (2017) Extracellular matrix hydrogels from decellularized tissues: structure and function. Acta Biomater 49:1–15

Satpathy A, Pal A, Sengupta S, Das A, Hasan MM, Ratha I, Barui A, Bodhak S (2019) Bioactive nano-hydroxyapatite doped electrospun PVA-chitosan composite nanofibers for bone tissue engineering applications. J Indian Inst Sci 99(3):289–302

Seliktar D (2012) Designing cell-compatible hydrogels for biomedical applications. Science 336(6085):1124–1128

Shirahama H, Lee BH, Tan LP, Cho NJ (2016) Precise tuning of facile one-pot gelatin methacryloyl (GelMA) synthesis. Sci Rep 6(1):1–11. https://doi.org/10.1038/srep31036

Stratton S, Shelke NB, Hoshino K, Rudraiah S, Kumbar SG (2016) Bioactive polymeric scaffolds for tissue engineering. Bioactive Mater 1(2):93–108

Toosi Sh, Naderi-Meshkin H, Kalalinia F, HosseinKhani H, Heirani-Tabasi A, Havakhah S, Nekooei S, Jafarian AH, Rezaie F, Peivandi MT, Mesgarani H, Behravan J (2019) Bone defect healing is induced by collagen sponge/polyglycolic acid. J Mat Sci 30(3):1–10. https://doi.org/10.1007/s10856-019-6235-9

Van Den Bulcke AI, Bogdanov B, De Rooze N, Schacht Eh, Cornelissen M, Berghmans H (2000) Structural and rheological properties of methacrylamide modified gelatin hydrogels. Biomacromol 1(1):31–38. https://doi.org/10.1021/bm990017d

Wang Y, Ma M, Wang J, Zhang W, Lu W, Gao Y, Zhang B, Guo Y (2018) Development of a photo-crosslinking, biodegradable GelMA/PEGDA hydrogel for guided bone regeneration materials. Materials. https://doi.org/10.3390/ma11081345

Wang Y, Cao X, Ma M, Lu W, Zhang B, Guo Y (2020) A GelMA-PEGDA-NHA composite hydrogel for bone tissue engineering. Materials 13(17):3735. https://doi.org/10.3390/ma13173735

Yue K, Li X, Schrobback K, Sheikhi A, Annabi N, Leijten J, Zhang W, Zhang YS, Hutmacher DW, Klein TJ, Khademhosseini A (2017) Structural analysis of photocrosslinkable methacryloyl-modified protein derivatives. Biomaterials 139:163–171. https://doi.org/10.1016/j.biomaterials.2017.04.050
Acknowledgements
The present study was supported by financial sources from the University of Kerala in the form of faculty research funds and PhD. fellowship. FTIR, NMR and SEM analyses were performed at the Central Laboratory for Instrumentation and Facilitation (CLIF), University of Kerala.
Ethics declarations
Conflict of interest
The authors declare that they have no conflict of interest to publish this manuscript.
Ethical approval
This article does not contain any studies with human participants or animals performed by any authors.
Additional information
Publisher's Note
Springer Nature remains neutral with regard to jurisdictional claims in published maps and institutional affiliations.
About this article
Cite this article
Sreekumaran, S., Radhakrishnan, A., Rauf, A.A. et al. Nanohydroxyapatite incorporated photocrosslinked gelatin methacryloyl/poly(ethylene glycol)diacrylate hydrogel for bone tissue engineering. Prog Biomater 10, 43–51 (2021). https://doi.org/10.1007/s40204-021-00150-x
Received:

Accepted:

Published:

Issue Date:
Keywords
Hydrogel

Composite biomaterial

Photocrosslinking

Bone tissue engineering