Abstract
The present investigation was aimed to synthesize, optimize, and characterize lipid/drug conjugate nanoparticles for delivering 5-fluorouracil (5-FU) to treat brain cancer. The Box–Behnken design was used to optimize the formulation, evaluate the particle size, entrapment efficiency, morphology, in vitro drug release study, and stability profiles. The in vitro performance was executed using cell line studies. The in vivo performance was carried out for pharmacokinetic studies, sterility test, biodistribution studies, and distribution lipid–drug conjugated (LDC) nanoparticles in the brain. Particle size, zeta potential, entrapment efficiency, and morphology of the optimized formulation demonstrated desirable results. In vitro release pattern showed initial fast release, followed by sustained release up to 48 h. Cytotoxic effects of blank stearic acid nanoparticles, LDC nanoparticles, and 5-FU solution on human glioma cell lines U373 MG cell showed more cytotoxicity by LDC-NPs compared to others. The values reported for LDC (AUC = 19.37 ± 0.09 µg/mL h and VD 2.4 ± 0.24 mL) and pure drug (AUC = 8.37 ± 0.04 µg/mL h and VD = 5.24 ± 0.29 mL) indicate higher concentrations of LDC in systemic circulation, while pure 5-FU was found to be largely available in tissue rather than blood circulation. The t1/2 for LDC represents an approximate rise by ninefold, while MRT (12.10 ± 0.44 h) denotes 12-fold rise than pure 5-FU indicating the prolonged circulation of LDC. Free 5-FU concentration in the brain was maximum (5.24 ± 0.01 μg/g) after 3 h, while for the optimized formulation of LDC it was twofold greater estimated as 11.52 ± 0.32 μg/g. In conclusion, the efficiency of 5-FU to treat the brain is increased when it is formulated with LDC nanoparticles.
Access options
Buy single article
Instant access to the full article PDF.
US$ 39.95
Tax calculation will be finalised during checkout.
Subscribe to journal
Immediate online access to all issues from 2019. Subscription will auto renew annually.
US$ 119
Tax calculation will be finalised during checkout.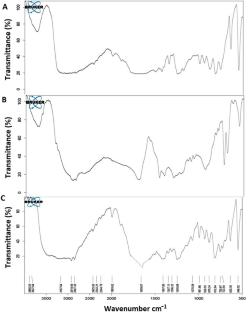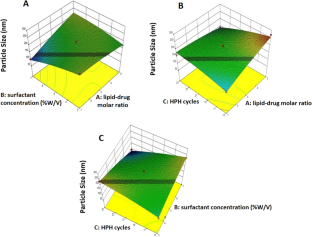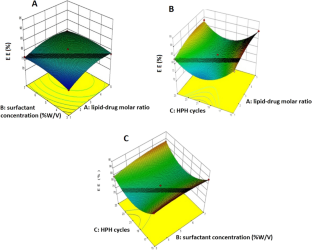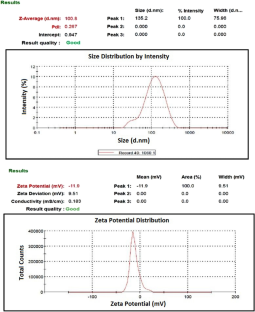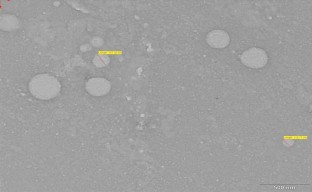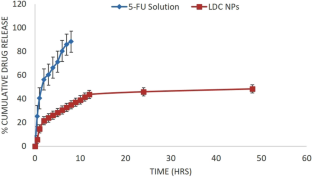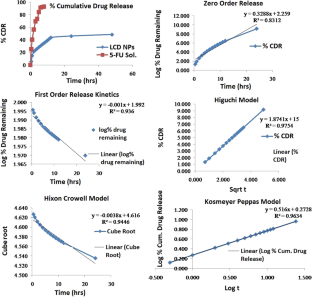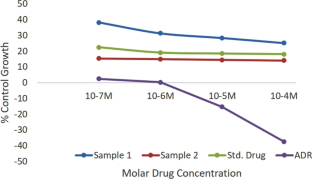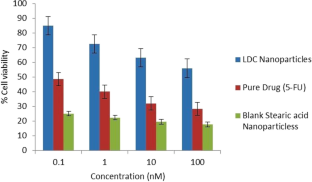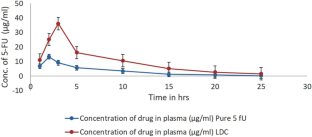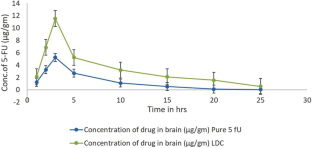 References
Agrawal GR, Wakte P, Shelke S (2017) Formulation, physicochemical characterization and in vitro evaluation of human insulin-loaded microspheres as potential oral carrier. Prog Biomater 6:125–136. https://doi.org/10.1007/s40204-017-0072-z

Ahmadi M, Adibhesami M (2017) The effect of silver nanoparticles on wounds contaminated with Pseudomonas aeruginosa in mice: an experimental study. Iran J Pharm Res 16(2):661–669

Ahn T, Kim JH, Yang H-M et al (2012) Formation pathways of magnetite nanoparticles by coprecipitation method. J Phys Chem C 116:6069–6076. https://doi.org/10.1021/jp211843g

Akrami M, Balalaie S, Hosseinkhani S, Alipour M, Salehi F, Bahador A, Haririan I (2016) Tuning the anticancer activity of a novel pro-apoptotic peptide using gold nanoparticle platforms. Sci Rep 6:31030–31042. https://doi.org/10.1038/srep31030

Arya G, Vandana M, Acharya S, Sahoo SK (2011) Enhanced antiproliferative activity of herceptin (HER2)-conjugated gemcitabine-loaded chitosan nanoparticle in pancreatic cancer therapy. Nanomed Nanotechnol Biol Med 7:859–870. https://doi.org/10.1016/j.nano.2011.03.009

Augustine R, Rajarathinam K (2012) Synthesis and characterization of silver nanoparticles and its immobilization on alginate coated sutures for the prevention of surgical wound infections and the in vitro release studies. Int J Nano Dimens 2:205–212. https://doi.org/10.1007/2Fs40204-016-0060-8

Bala I, Hariharan S, Kumar R (2004) PLGA nanoparticles in drug delivery: the state of the art. Crit Rev Ther Drug Carr Syst 21:387–422. https://doi.org/10.1615/critrevtherdrugcarriersyst.v21.i5.20

Balaji K, Gothandam KM (2016) Cytotoxic effect on cancerous cell lines by biologically synthesized silver nanoparticles. Braz Arch Biol Technol 59:1–8. https://doi.org/10.1590/1678-4324-2016150529

Banerjee K, Ravishankar VR (2017) Aspergillus fischeri mediated biosynthesis of gold nanoparticles and their beneficially comparative effect on normal and cancer cell lines. Pharma Nanotechnol 5:1–10. https://doi.org/10.1007/s40204-019-0106-9

Beduneau A, Saulnier P, Benoit JP (2007) Active targeting of brain tumours using nanocarriers. Biomaterials 28:4947–4967

Brigger I, Dubernet C, Couvreur P (2002) Nanoparticles in cancer therapy and diagnosis. Adv Drug Deliv Rev 54:631–651. https://doi.org/10.1016/j.addr.2012.09.006

Cai H et al (2020) A nanostrategy for efficient imaging-guided antitumor therapy through a stimuli-responsive branched polymeric prodrug. Adv Sci 7:1–13. https://doi.org/10.1002/advs.201903243

Calvo P, Remunan-Lopez C, Vila-Jato JL, Alonso MJ (1997) Novel hydrophilic chitosan-polyethylene oxide nanoparticles as protein carriers. J Appl Polym Sci 63:125–132. https://doi.org/10.1002/(SICI)1097-4628(19970103)63:1%3C125::AID-APP13/3E3.0.CO;2-4

Carneiro G, Silva EL, Pacheco LA, de Souza-FagundesEM CNC, de Goes AM (2012) Formation of ion pairing as an alternative to improve encapsulation and anticancer activity of all-trans retinoic acid loaded in solid lipid nanoparticles. Int J Nanomed 7:6011–6020. https://doi.org/10.2147/ijn.s38953

Chauhan VP, Jain RK (2013) Strategies for advancing cancer nanomedicine. Nat Mater 12:958–962. https://doi.org/10.1038/2Fnmat3792

Chen L, Xiaodong S, Wang T, He L, Shigdar S, Duan W, Kong L (2015) Overcoming acquired drug resistance in colorectal cancer cells by targeted delivery of 5-FU with EGF grafted hollow mesoporous silica nanoparticles. R Soc Chem 7:14080–14092. https://doi.org/10.1039/C5NR03527A

Chen K et al (2020) Multistimuli-responsive PEGylated polymeric bioconjugate-based nano-aggregate for cancer therapy. Chem Eng J 391:1–43. https://doi.org/10.1016/j.cej.2019.123543

Dikpati A, Madgulkar AR, Kshirsagar SJ, Bhalekar MR, Singh Chahal A (2012) Targeted drug delivery to CNS using nanoparticles. J Adv Pharm Sci 2:79–191. https://doi.org/10.15171/2Fapb.2016.044

Din FU, Mustapha O, Qureshi OS et al (2017) Effective use of nanocarriers as drug delivery systems for the treatment of selected tumors. Int J Nanomed 12:7291–7309. https://doi.org/10.2147/2FIJN.S146315

Dinda A, Kumar M, Singh V et al (2012) Cellular interaction of folic acid conjugated superparamagnetic iron oxide nanoparticles and its use as contrast agent for targeted magnetic imaging of tumorcells. Int J Nanomed 7:3503. https://doi.org/10.2147/ijn.s32694

Foldbjerg R, Dang DA, Autrup H (2011) Cytotoxicity and genotoxicity of silver nanoparticles in the human lung cancer cell line, A549. Arch Toxicol 85(7):743–750. https://doi.org/10.1007/s00204-010-0545-5

Fukumoto T, Morinobu S, Okamoto Y, Kagaya A, Yamawaki S (2001) Chronic lithium treatment increases the expression of brain-derived neurotrophic factor in the rat brain. Psychopharmacology (Berlin) 158:100–106. https://doi.org/10.1007/s002130100871

Gindy ME, Prud'homme RK (2009) Multifunctional nanoparticles for imaging, delivery and targeting in cancer therapy. Expert Opin Drug Deliv 6:865–878. https://doi.org/10.1517/17425240902932908

Gupta AK, Gupta M (2005) Synthesis and surface engineering of iron oxide nanoparticles for biomedical applications. Biomaterials 26:3995–4021. https://doi.org/10.1016/j.biomaterials.2004.10.012

Heath JR, Davis ME (2008) Nanotechnology and Cancer. Ann Rev Med 59:251–265. https://doi.org/10.1146/annurev.med.59.061506.185523

Hiremath CG, Kariduraganavar MY, Hiremath MB (2018) Synergistic delivery of 5-fluorouracil and curcumin using human serum albumin-coated iron oxide nanoparticles by folic acid targeting. Prog Biomater 7:297–306. https://doi.org/10.1007/s40204-018-0104-3

Hu Y, Jiang X, Ge H, Ding Y, Yuan Y, Yang C (2002) Synthesis and characterization of chitosan-poly (acrylic acid) nanoparticles. Biomaterials 23:3193–3201. https://doi.org/10.1016/S0142-9612(02)00071-6

Inkielewicz-Stepniak I, Santos-Martinez MJ, Medina C, Radomski MW (2014) Pharmacological and toxicological effects of coexposure of human gingival fibroblasts to silver nanoparticles and sodium fluoride. Int J Nanomed 9:1677–1687. https://doi.org/10.2147/2FIJN.S59172

Jain TK, Richey J, Strand M, Leslie-Pelecky DL, Flask C, Labhsetwar V (2008) Magnetic nanoparticles with dual functional properties: drug delivery and magnetic resonance imaging. Biomaterials 29:4012–4021. https://doi.org/10.1016/2Fj.biomaterials.2008.07.004

Jitendar M, Pandey RS, Jain V, Katare OP, Chandra R, Katyal A (2013) Poly (ethylene)-glycol conjugated solid lipid nanoparticles of noscapine improve biological half-life, brain delivery and efficacy in glioblastomacells. Nanomed Nanotech Biol Med 9:492–503. https://doi.org/10.1016/j.nano.2012.10.003

Koopaei MN, Khoshayand MR, Mostafavi SH, Amini M, Khorramizadeh MR, Atyabi F, Dinarvand R (2014) Docetaxel loaded PEG-PLGA nanoparticle: optimized drug loading, in-vitro cytotoxicity and in vivo antitumor effect. Iran J Pharm Res 13:819–833

Kratz F (2008) Albumin as a drug carrier: design of prodrugs, drug conjugates and nanoparticles. J Control Release 132:171–183. https://doi.org/10.1016/j.jconrel.2008.05.010

Lin M, Teng L, Wang Y, Zhang J, Sun S (2016) Curcumin-guided nanotherapy: a lipid-based nanomedicine for targeted drug delivery in breast cancer therapy. Drug Deliv 23:1420–1425. https://doi.org/10.3109/10717544.2015.1066902

Liu Y, Li K, Pan J, Liu B, Feng SS (2009) Folic acid conjugated nanoparticles of mixed lipid monolayer shell and biodegradable polymer core for targeted delivery of Docetaxel. Biomaterials 31:330–338. https://doi.org/10.1016/j.biomaterials.2009.09.036

Locatelli E, Franchini MC (2012) Biodegradable PLGA-b-PEG polymeric nanoparticles: synthesis, properties, and nanomedical applications as drug delivery system. J Nano Res 14:1316. https://doi.org/10.1007/s11051-012-1316-4

Loira-Pastoriza C, Todoroff J, Vanbever R (2014) Delivery strategies for sustained drug release in the lungs. Adv Drug Deliv Rev 75:81–91. https://doi.org/10.1016/j.addr.2014.05.017

Longley DB, Harkin DP, Johnston PG (2003) 5-Fluorouracil: mechanisms of action and clinical strategies. Nat Rev Cancer 3:330–338. https://doi.org/10.1038/nrc1074

Ma P, Mumper RJ (2013) Paclitaxel nano-delivery systems: a comprehensive review. J Nanomed Nanotechnol 18:1000164. https://doi.org/10.4172/2157-7439.1000164

Meng H, Chen JY, Mi L, Wang PN, Ge MY, Yue Y, Dai N (2011) Conjugates of folic acids with BSA-coated quantum dots for cancer cell targeting and imaging by single-photon and two-photon excitation. J Biol Inorg Chem 16:117–123. https://doi.org/10.1007/s00775-010-0709-z

Mudshinge SR, Deore AB, Patil S, Bhalgat CM (2011) Nanoparticles: emerging carriers for drug delivery. Saudi Pharm J 19:129–141. https://doi.org/10.1016/j.jsps.2011.04.001

Nerkar N, Bajaj A, Shrikhande S, Jain D (2012) Fabrication of lipospheres for paclitaxel and assessment of in vitro cytotoxicity against U373 cancer cell lines. Thai J Pharm Sci 36:117–130

Pan D, Zheng X, Zhang Q, Li Z, Duan Z, Zheng W, Gong M, Zhu H, Zhang H, Gong Q, Gu Z (2020) Dendronized-polymer disturbing cells' stress protection by targeting metabolism leads to tumor vulnerability. Adv Mat 32:1–10. https://doi.org/10.1002/adma.201907490

Prabhjot K, Tarun G, Bhuvaneshwar V, Atish P, Goutam R, Amit KG (2014) Brain delivery of intranasal in situ gel of nanoparticulated polymeric carriers containing antidepressant drug: behavioral and biochemical assessment. J Drug Target 2:1–12. https://doi.org/10.3109/2F1061186X.2014.994097

Ramesh V, Malladi S, Kallappa M, Tejraj MA (2006) Development of 5-fluorouracil loaded poly (acrylamide-comethylmethacrylate)novel core-shell microspheres: in vitro release studies. Int J Pharm 325:55–62

Raut SL, Kirthivasan B, Bommana MM, Squillante E, Sadoqui M (2010) The formulation, characterization and in vivo evaluation of a magnetic carrier for brain delivery of NIR dye. Nanotechnology 21:395102. https://doi.org/10.3109/10717544.2012.714812

Sharma P, Dube B, Sawant K (2012) Synthesis of cytarabine lipid drug conjugate for treatment of meningeal leukemia: development, characterization and in vitro cell line studies. J Biomed Nanotechnol 8:928–937. https://doi.org/10.1166/jbn.2012.1464

Shelke S, Shahi S, Jalalpure S, Dhamecha D (2016) Poloxamer 407-based intranasal thermoreversible gel of zolmitriptan-loaded nanoethosomes: formulation, optimization, evaluation and permeation studies. J Liposome Res. https://doi.org/10.3109/08982104.2015.1132232

Shelke S, Shahi S, Jadhav K, Dhamecha D, Tiwari R, Patil H (2016) Thermoreversible nanoethosomal gel for the intranasal delivery of Eletriptan hydrobromide. J Mater Sci Mater Med. https://doi.org/10.1007/s10856-016-5713-6

Shinde G, Desai P, Shelke S, Patel R, Bangale G, Kulkarni D (2020) Mometasone furoate-loaded aspasomal gel for topical treatment of psoriasis: formulation, optimization, in vitro and in vivo performance. J Dermatol Treat. https://doi.org/10.1080/09546634.2020.1789043

Shrivastava S, Bera T, Roy A, Singh G, Ramachandrarao P, Dash D (2007) Characterization of enhanced antibacterial effects of novel silver nanoparticles. Nanotechnology 18:225103–225112. https://doi.org/10.1088/0957-4484/18/22/225103

Sun C, Sze R, Zhang M (2006) Folic acid-PEG conjugated superparamagnetic nanoparticles for targeted cellular uptake and detection by MRI. J Biomed Mater Res Part A 78A:550–557. https://doi.org/10.1002/jbm.a.30781

Wang Y, Dave RN, Pfeffer R (2004) Polymer coating/encapsulation of nanoparticles using a supercritical anti-solvent process. J Supercrit Fluids 28:85–99. https://doi.org/10.1016/S0896-8446(03)00011-1

Yang X, Liu Y, Liu C, Zhang N (2012) Biodegradable solid lipid nanoparticle flocculates for pulmonary delivery of insulin. J Biomed Nanotech 8:834–842. https://doi.org/10.1166/jbn.2012.1429

Yang R, An Y, Miao FQ, Li MF, Liu PD, Tang QS (2014) Preparation of folic acid-conjugated, doxorubicin-loaded, magnetic bovine serum albumin nanospheres and their antitumor effects in vitro and in vivo. Int J Nanomed 9:4231. https://doi.org/10.2147/2FIJN.S67210

Zhang X, Wu Y, Li Z, Wang W, Wu Y, Pan D, Gu Z, Sheng R, Tomas H, Zhang H, Rodrigues J, Gong Q, Luo K (2020) Glycodendron/pyropheophorbide-a (Ppa)-functionalized hyaluronic acid as a nanosystem for tumor photodynamic therapy. Carbohydr Poly 247:1–14. https://doi.org/10.1016/j.carbpol.2020.116749

Zheng X, Pan D, Chen M, Dai X, Cai H, Zhang H, Gong Q, Gu Z, Luo K (2019) Tunable hydrophile–lipophile balance for manipulating structural stability and tumor retention of amphiphilic nanoparticles. Adv Mat 31:1–10. https://doi.org/10.1002/adma.201901586

Zhuang YG, Xu B, Huang F, Wu JJ, Chen S (2012) Solidlipidnanoparticlesof anticancer drugs against MCF-7 cell line and a murine breast cancer model. Pharmazie 67:925–929
Acknowledgements
The authors thank the Biochem industry, Mumbai, India, for providing the gift sample of 5-FU. The authors are grateful to the Parul Institute of Pharmacy, Faculty of Pharmacy, Parul University, India, for providing facilities to carry out the research work.
Funding
The authors of the paper have no direct financial relationship with any commercial identity mentioned in this paper.
Ethics declarations
Conflict of interest
The authors report no conflicts of interest. The authors alone are responsible for the content and writing of this article.
Additional information
Publisher's Note
Springer Nature remains neutral with regard to jurisdictional claims in published maps and institutional affiliations.
About this article
Cite this article
Shinde, G., Shiyani, S., Shelke, S. et al. Enhanced brain targeting efficiency using 5-FU (fluorouracil) lipid–drug conjugated nanoparticles in brain cancer therapy. Prog Biomater 9, 259–275 (2020). https://doi.org/10.1007/s40204-020-00147-y
Received:

Accepted:

Published:

Issue Date:
Keywords
5-Fluorouracil (5-FU)

Lipid–drug conjugate nanoparticles (LDC nanoparticles)

U373MG

Brain cancer

Cytotoxic study

Stearic acid