Abstract
The naturally obtained protein Bombyxmori silk is a biocompatible polymer with excellent mechanical properties and have the potential in controlled drug delivery applications. In this work, we have demonstrated dielectric barrier discharge (DBD) oxygen (O2) plasma surface modified electrospun Bombyxmori silk/Amoxicillin hydrochloride trihydrate (AMOX)/polyvinyl alcohol (PVA) nanofibers for drug release applications with controlled plasma treatment duration (1–10 min). The findings indicate that plasma treated electrospun nanofibers for 1–3 min exhibited significant enhancement in tensile strength, Young's modulus, wettability and surface energy. The plasma treated electrospun nanofibers for 1–5 min showed remarkable increase in AMOX released rate, whereas the electrospun nanofibers treated with plasma irradiation beyond 5 min showed only marginal increase. Moreover, the plasma treated nanofibers also exhibited good antibacterial activity against both E. coli (gram negative) and S. aureus (gram positive) bacteria. The untreated and the plasma treated silk/AMOX/PVA electrospun nanofibers for 1–3 min showed enhanced viability of primary adipose derived mesenchymal stem cells (ADMSCs) growth on them and much less hemolysis activity (< 5%). The in vitro biocompatibility of various electrospun nanofibers were further corroborated by live/dead imaging and cytoskeletal architecture assessment demonstrating enhanced cell adhesion and spreading on the plasma treated nanofibers for 1–3 min. The findings of the present study suggest that the silk/AMOX/PVA electrospun nanofibers with plasma treatment (1–3 min) due to their enhanced drug release ability and biocompatibility can be used as potential wound dressing applications.
Graphic abstract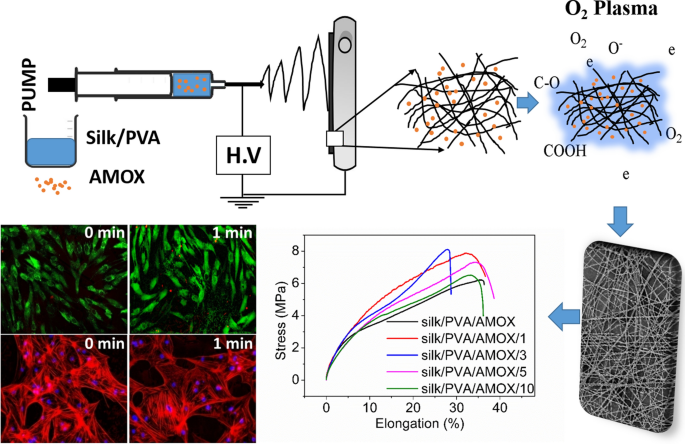 Article Highlights
Effect of O2 DBD plasma treatment time on the surface properties of silk/AMOX/PVA nanofibers.

Plasma treatment time of 1 min shows the highest rate of surface modifications in terms of chemical, mechanical, wettability and surface energy improvement.

Increase in plasma treatment time up to 5 min results in continuous increasing drug release rate.

The plasma treatment time does not cause any hemolytic effect, also improved cell viability and cell attachment with cell spreading is observed after 1−3 min of plasma treatment time.
This is a preview of subscription content, log in to check access.
Access options
Buy single article
Instant access to the full article PDF.
US$ 39.95
Tax calculation will be finalised during checkout.
Subscribe to journal
Immediate online access to all issues from 2019. Subscription will auto renew annually.
US$ 199
Tax calculation will be finalised during checkout.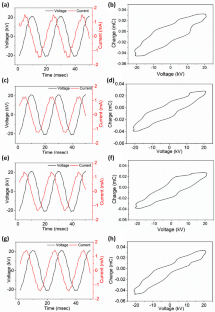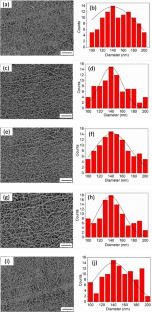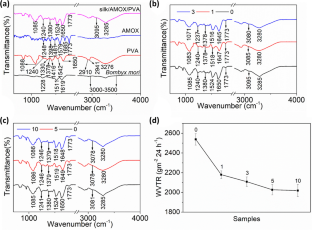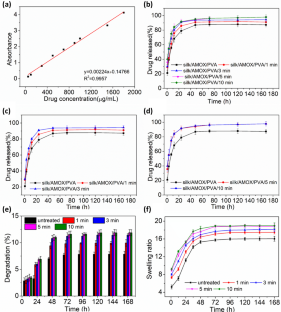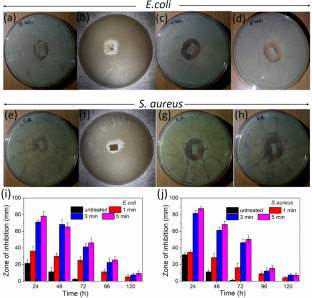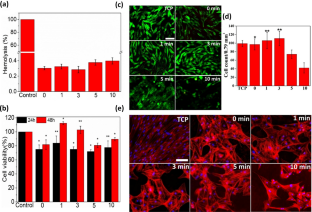 References
Bae SH, Che JH, Seo JM, Jeong J, Kim ET, Lee SW, Koo KI, Suaning GJ, Lovell NH, Cho DD, Kim SJ, Chung H (2012) In vitro biocompatibility of various polymer-based microelectrode arrays for retinal prosthesis. Invest Ophthal Vis Sci 53:2653–2657

Balcon N, Aanesland A, Boswell R (2007) Pulsed RF discharges, glow and filamentary mode at atmospheric pressure in argon. Plas Sour Sci Technol 16:217–225

Baltazar-y-Jimenez A, Bistritz M, Schulz E, Bismarck A (2008) Atmospheric air pressure plasma treatment of lignocellulosic fibres: impact on mechanical properties and adhesion to cellulose acetate butyrate. Compo Sci Tech 68:215–227

Cestari M, Muller V, Rodrigues JHDS, Nakamura CV, Rubira AF, Muniz EC (2014) Preparing silk fibroin nanofibers through electrospinning: further heparin immobilization toward hemocompatibility improvement. Biomacromol 15:1762–1767

Choudhury AJ, Gogoi D, Kandimalla R, Kalita S, Choudhary YB, Khan MR, Kotoky J, Chutia J (2016) Penicillin impregnation on oxygen plasma surface functionalized chitosan/Antheraea assama silk fibroin: studies of antibacterial activity and antithrombogenic property. Mater Sci Engg C 60:475–484

Chouhan D, Mandal BB (2020) Silk biomaterials in wound healing and skin regeneration therapeutics: from bench to bedside. Acta Biomater 103:24–51

Chutia H, Kalita D, Mahanta C, Ojah N, Choudhury AJ (2019) Kinetics of inactivation of peroxidase and polyphenol oxidase intender coconut water by dielectric barrier discharge plasma. LWT-Food Sci Tech 101:625–629

Das P, Ojah N, Kandimalla R, Mohan K, Gogoi D, Duloi SK, Choudhury AJ (2018) Surface modification of electrospun PVA/chitosan nanofibers by dielectric barrier discharge plasma at atmospheric pressure and studies of their mechanical properties and biocompatibility. Int J Biol Macromol 114:1026–1032

Demirci S, Doğan A, Sahin F (2018) Role of adipose‐derived stem cells in wound healing: an update from isolation to transplantation. Wound healing: stem cells repair and restorations, basic and clinical aspects, pp 133–147

Dyakonov T, Yang CH, Bush D, Gosangari S, Majuru S, Fatmi S (2012) Design and characterization of a silk-fibroin-based drug delivery platform using Naproxen as a model drug. J Drug Delivery 2012:490514

Foruzan E, Akmal AAS, Niayesh K, Lin J, Sharma DD (2018) Comparative study on various dielectric barriers and their effect on breakdown voltage. High Volt 3:51–59

Gomide VS, Zonari A, Ocarino NM, Goes AM, Serakides R, Pereira MM (2012) In vitro and in vivo osteogenic potential of bioactive glass–PVA hybrid scaffolds colonized by mesenchymal stem cells. Biomed Mater 7:01500

Hassan WU, Greiser U, Wang W (2014) Role of adipose-derived stem cells in wound healing. Wound Repair Regener 22:313–325

Hetemi D, Pinson J (2017) Surface functionalisation of polymers. Chem Soc Rev 46:5701

Jeong S, Yeo IS, Kim HN, Yoon YI, Jung SY, Min BM, Park WH (2009) Plasma-treated silk fibroin nanofibers for skin regeneration. Int J Biol Macromol 44:222–228

Kajdic S, Planinsek O, Gasperlin M, Kocbek P (2019) Electrospun nanofibers for customized drug-delivery systems. J Drug Delivery Sci Technol 51:672–681

Krishnakumar GS, Sampath S, Muthusamy S, John MA (2019) Importance of crosslinking strategies in designing smart biomaterials for bone tissue engineering: a systematic review. Mater Sci Engg C96:941–954

Kumar A, Borah R (2016) Effect of plasma irradiation on biocompatibility and cell adhesion of polyaniline/chitosan nanocomposites towards Hep G2 and PBMC cells. Adv Mater Proc 1:146–155

Kundu B, Kurland NE, Yadavalli VK, Kundu SC (2014) Isolation and processing of silk proteins for biomedical applications. Int J Bio Macromol 70:70–77

Lee M, Ko YG, Lee JB, Park WH, Cho D, Kwon OH (2014) Hydrophobization of silk fibroin nanofibrous membranes by fluorocarbon plasma treatment to modulate cell adhesion and proliferation behavior. Macromol Res 22:746–752

Liu B, Song YW, Jin L, Wang ZJ, Pu DY, Lin SQ, Zhou C, You HJ, Ma Y, Li JM, Yang L, Sung KLP, Zhang YG (2015) Silk structure and degradation. Colloids Surf B 131:122–128

Ma S, Xie N, Li W, Yuan B, Shi Y, Wang Y (2014) Immunobiology of mesenchymal stem cells. Cell Death Differ 24:216–225

Meghdadi M, Atyabi SM, Pezeshki-Modaress M, Irani S, Noormohammadi Z, Zandi M (2019) Cold atmospheric plasma as a promising approach for gelatin immobilization on poly(ε-caprolactone) electrospun scaffolds. Prog Biomater 8:65–75

Molavi AM, Sadeghi-Avalshahr A, Nokhasteh S, Naderi-Meshkin H (2020) Enhanced biological properties of collagen/chitosan-coated poly(ε-caprolactone) scaffold by surface modification with GHK-Cu peptide and 58S bioglass. Prog Biomater 9:25–34

Nedela O, Slepicka P, Švorčík V (2017) Surface modification of polymer substrates for biomedical applications. Mater 10:1115

Nuno A, Ribeiro GA, Pereira T, Amorim I, Fragoso J, Lopes A, Farnandes J, Costa E, Santos Silva A, Rodrigues M, Santos JD, Mauricio AC, Luis AL (2014) Biocompatibility and hemocompatibility of polyvinyl alcohol hydrogel used for vascular grafting—In vitro and in vivo studies. J Biomed Mater Res Part A 102:4262–4275

Ojah N, Saikia D, Gogoi D, Baishya P, Ahmed GA, Ramteke A, Choudhury AJ (2019) Surface modification of core-shell silk/PVA nanofibers by oxygen dielectric barrier discharge plasma: studies of physico-chemical properties and drug release behavior. App Surf Sci 475:219–229

Ojah N, DekaJ HS, Kandimalla R, Gogoi D, Medhi T, Mandal M, Ahmed GA, Choudhury AJ (2019) Chitosan coated silk fibroin surface modified by atmospheric dielectric-barrier discharge (DBD) plasma: a mechanically robust drug release system. J Biomater Sci Polym Ed 30:1–16

Ozkan A, Dufour T, Silva T, Britun N, Snyders R, Bogaerts A, Reniers F (2016) The influence of power and frequency on the filamentary behaviorof a flowing DBD application to the splitting of CO2. Plasma Sources Sci Technol 25:025013

Petlin DG, Tverdokhlebov SI, Anissimov YG (2017) Plasma treatment as an efficient tool for controlled drug release from polymeric materials: a review. J Cont Rel 266:57–74

Pollini M, Paladini F (2020) Bioinspired materials for wound healing application: the potential of silk fibroin. Materials 13:3361

Queen D, Gaylor JDS, Evans JH, Courtney JM, Reid WH (1987) The preclinical evaluation of the water vapour transmission rate through burn wound dressings. Biomaterials 8:367–371

Ray D, Subramanyam C (2016) CO2 decomposition in a packed DBD plasma reactor: influence of packaging materials. RSC Adv 6:39492

Rezaei F, Shokri B, Sharifian M (2016) Atmospheric-pressure DBD plasma-assisted surface modification of polymethyl methacrylate: a study on cell growth/proliferation and antibacterial properties. App Sur Sci 360:641–651

Ribeiro VP, Almeida LR, Martins AR, Pashkuleva I, Marques AP, Ribeiro AS, Silva CJ, Bonifacio G, Sousa RA, Reis RL, Oliveira AL (2016) Influence of different surface modification treatments on silk biotextiles for tissue engineering applications. J Biomed Mater Res B104:496–507

Saeed SM, Hamid Mirzadeh H, Zandi M, Barzin J (2017) Designing and fabrication of curcumin loaded PCL/PVA multi-layer nanofibrous electrospun structures as active wound dressing. Prog Biomater 6:39–48

Shababdoust A, Ehsan M, Shokrollahi P, Zandi M (2018) Fabrication of curcumin-loaded electrospun nanofiberous polyurethanes with anti-bacterial activity. Prog Biomat 7:23–33

Simor M, Creyghton Y, Wypkema A, Zemek J (2010) The influence of surface DBD plasma treatment on the adhesion of coatings to high-tech textiles. J Adhes Sci Tech 24:77–97

Subia B, Kundu SC (2012) Drug loading and release on tumor cells using silk fibroin–albumin nanoparticles as carriers. Nanotechnology 24:035103

Theapsak S, Watthanaphanit A, Rujiravanit R (2010) Preparation of chitosan-coated polyethylene packagingfilms by DBD plasma treatment. ACS App Mater Interf 4:2474–2482

TomehMhd A, Hadianamrei R, Zhao X (2019) Silk fibroin as a functional biomaterial for drug and gene delivery. Pharmaceutics 11:494

Ujang Z, Rashid AHA, Suboh SK, Halim AS, Lim CK (2014) Physical properties and biocompatibility of oligochitosan membrane film as wound dressing. J Appl Biomater Funct Mater 12:155–162

Wang Y, Kim HJ, Vunjak-Novakovic G, Kaplan DL (2006) Stem cell-based tissue engineering with silk biomaterials. Biomaterials 27:6064–6082

Wang C, Lai PC, Syu SH, Leu J (2011) Effects of CF4 plasma treatment on the moisture uptake, diffusion and WVTR of poly(ethylene terephthalate) flexible films. Sur Coat Tech 206:318–324

Wang C, Zhang G, Wang X (2012) Comparisons of discharge characteristics of a dielectric barrier discharge with electrode structures. Vacuum 86:960–964

Williams KL, Godke RA, Bondioli KR (2011) Isolation and culture of porcine adipose tissue-derived somatic stem cells. Methods Mol Biol 702:77–86

Xiaoping T, Rongde Lu, Hui L (2012) Electrical characteristics of dielectric-barrier discharges in atmospheric pressure air using a power-frequency voltage source. Plasma Sci Technol 14:723

Xu R, Xia H, He W, Li Z, Zhao J, Liu B, Wang Y, Lei Q, Kong Y, Bai Y, Yao Z, Yan R, Li H, Zhan R, Yang S, Luo G, Wu J (2016) Controlled water vapor transmission rate promotes wound-healing via wound re-epithelialization and contraction enhancement. Sci Rep 6:24596

Yoshida S, Hagiwara K, Hasebe T, Hotta A (2013) Surface modification of polymers by plasma treatments for the enhancement of biocompatibility and controlled drug release. Sur Coat Tech 233:99–107

Yucel T, Lovett ML, Kaplan DL (2014) Silk-based biomaterials for sustained drug delivery. J Cont Rel 190:381–397

Zhang Z, Zhao Z, Zheng Z, Liu S, Mao S, Li X, Chen Y, Mao Q, Wang L, Wang F, Wang X, Pan Z, Li G (2019) Functionalization of polyethylene terephthalate fabrics using nitrogen plasma and silk fibroin/chitosan microspheres. App Sur Sci 495:143481
Acknowledgements
This research work is supported by DST-SERB (Grant Nos. SR/FTP/PS-147/2012 and EMR/2016/006146) funded by the Department of Science and Technology (DST), India. Science and Technology (DST), Arup Jyoti Choudhury expresses his gratitude to the DST-INSPIRE Faculty Fellowship (Grant No. IFA14-PH-93) for the financial support to carry out this research work and Tezpur University, Assam, India for hosting the fellowship. Namita Ojah acknowledges the support provided by DST-INSPIRE and DST-SERB in the form of fellowship. The assistance of Kaushik Nath, Aftab Ansari, Dr. Dambarudhar Mohanta and Piyush Kumar Mishra, Department of Physics, Tezpur University, in carrying out the hemolysis test and UV measurement is acknowledged gratefully. The assistance of Dr. Saurav Haloi, Department of Molecular Biology and Biotechnology is acknowledged thankfully in carrying out the antibacterial tests.
Ethics declarations
Conflict of interest
The authors declare no conflict of interest.
Ethical approval
This article does not contain any studies with human participants or animals performed by any of the authors.
Additional information
Publisher's Note
Springer Nature remains neutral with regard to jurisdictional claims in published maps and institutional affiliations.
Electronic supplementary material
Below is the link to the electronic supplementary material.
About this article
Cite this article
Ojah, N., Borah, R., Ahmed, G.A. et al. Surface modification of electrospun silk/AMOX/PVA nanofibers by dielectric barrier discharge plasma: physiochemical properties, drug delivery and in-vitro biocompatibility. Prog Biomater (2020). https://doi.org/10.1007/s40204-020-00144-1
Received:

Accepted:

Published:
Keywords
Silk

Dielectric barrier discharge

Surface modification

Hydrophilicity

Drug delivery

Biocompatibility