Abstract
Artemisia annua L. has been utilized for the first time in a nanofibrous wound dressing composition. The extract of this valuable plant provides anti-inflammatory, anti-bacterial and anti-microbial properties which can be considered as a promising medicinal component in therapeutic applications. In the present work, Artemisia annua L. was picked up from Gorgan forest area of Northern Iran and its extract was prepared by methanol as the extraction solvent. In the fabrication of wound dressing, Artemisia annua L. extract was mixed with gelatin and a nanofibrous structure was formed by electrospinning technique. To have a wound dressing with acceptable stability and optimum mechanical properties, this biologically active layer was formed on a PCL nanofibrous base layer. The fabricated double-layer wound dressing was analyzed chemically, structurally, mechanically and biologically. ATR-FTIR spectra of the prepared wound dressing contain functional groups of Artemisia annua L. as peroxide groups, etc. SEM micrographs of electrospun gelatin/Artemisia annua L. confirmed the successful electrospinning process for producing Artemisia annua L.-containing nanofibers with mean diameter of 242.00 ± 67.53 nm. In vitro Artemisia annua L. release study of the fabricated wound dressings suggests a sustain release over 7 days for the crosslinked sample. In addition, evaluation of the in vitro structural stability of the prepared wound dressings confirmed the stability of the crosslinked nanofibrous structures in PBS solution environment. Biological study of the Artemisia annua L.-containing wound dressing revealed no cytotoxicity, good proliferation and attachment of the seeded fibroblasts cells and acceptable antibacterial property against Staphylococcus aureus bacteria.
Access options
Buy single article
Instant access to the full article PDF.
USD 39.95
Price excludes VAT (USA)
Tax calculation will be finalised during checkout.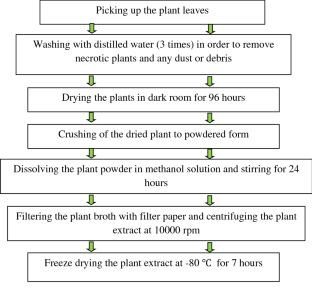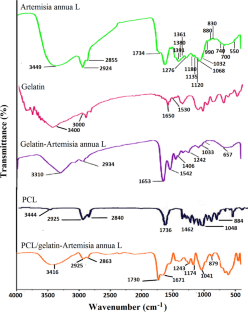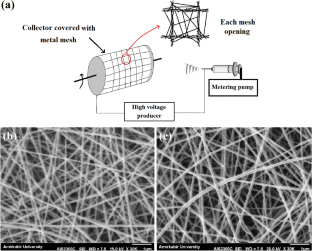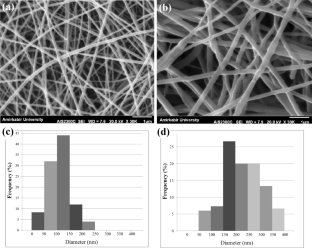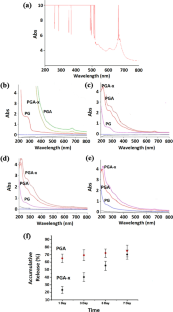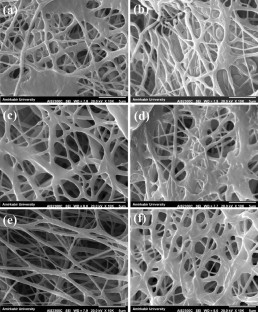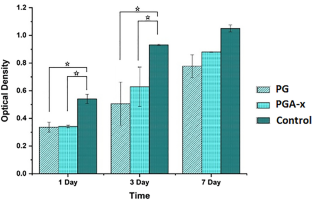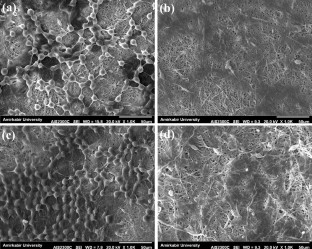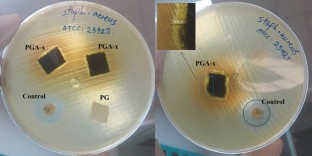 References
Anke H, Sterner O (1991) Comparison of the antimicrobial and cytotoxic activities of twenty unsaturated sesquiterpene dialdehydes from plants and mushrooms. Planta Med 57:344–346. https://doi.org/10.1055/s-2006-960114

Anshul N, Bhakuni RS, Gaur R, Singh D (2013) Isomeric flavonoids of Artemisia annua(Asterales: Asteraceae) as insect growth inhibitors against Helicoverpa armigera (Lepidoptera: Noctuidae) Florida. Entomologist 96:897–903

Belachew TF, Asrade S, Geta M, Fentahun E (2020) In vivo evaluation of wound healing and anti-inflammatory activity of 80% methanol crude flower extract of Hagenia abyssinica (Bruce) J.F. Gmel in mice. Evid Based Complement Altern Med. https://doi.org/10.1155/2020/9645792

Bhakuni RS, Jain DC, Sharma RP, Kumar S (2001) Secondary metabolites of Artemisia annua and their biological activity. Curr Sci India 80:35–48

Böttcher‐Haberzeth S, Biedermann T, Reichmann E (2010) Tissue engineering of skin. Burns. 36(4):450–460

Brown GD (2010) The biosynthesis of artemisinin (Qinghaosu) and the phytochemistry of Artemisia annua L. (Qinghao). Molecules 15:7603–7698. https://doi.org/10.3390/molecules15117603

Cavar S, Maksimovi´ca M, Vidica D, Pari´cb A, (2012) Chemical composition and antioxidant and antimicrobial activity of essential oil of Artemisia annua L. from Bosnia. Ind Crops Prod 37:479–485

Czechowski T, LarsonTR CataniaTM, Harvey D, Wei C, EssomeM BGD, Graham IA (2018) Detailed phytochemical analysis of high- and low artemisinin-producing chemotypes of Artemisia annua. Front Plant Sci 9:641

De Vries PJ, Dien TK (1996) Clinical pharmacology and therapeutic potential of artemisinin and its derivatives in the treatment of malaria. Drugs 52:818–836

Derda M, Hadaś E, Cholewiński M, Skrzypczak L, Grzondziel A, Wojtkowiak-Giera A (2016) Artemisia annua L. as a plant with potential use in the treatment of acanthamoebiasis. Parasitol Res 115:1635–1639

Donata R, Santomauro F, Bilia AR, Flamini G, Sacca C (2015) Antibacterial activity of Tuscan Artemisia annua essential oil and its major components against some foodborne pathogens. LWT Food Sci Technol 64:1251–1254

Gafoori H, Sariri R, Naghavi MR, Aryakia E, Dolatyari A, Shahzadeh Fazli SA, Ramazani H, Farahmand (2013) Analysis of artemisinin isolated from Artemisia annua L. by TLC and HPLC. J Liq Chromat Relat Technol 36:1198–1206

Goonoo N, Bhaw-Luximon A, Jhurry D (2014) Drug loading and release from electrospun biodegradable nanofibers. J Biomed Nanotechnol 10:2173–2199

Hameed IH, Altameme HJ, Idan SA (2016) Artemisia annua: biochemical products analysis of methanolic aerial parts extract and anti-microbial capacity. Res J Pharm Biol Chem Sci 7:1843–1867

Harrigan GG, Goodacre R (2003) Metabolic profiling: its role in biomarker discovery and gene function analysis. Kluwer Academic, Boston, pp 293–309

Hasnaeni H, Sudarsono S, Nurrochmad A, Widyarini S (2017) Identification of active anti-inflammatory principles of betabeta wood (Lunasia amara Blanco) from Siawung Barru-South Sulawesi, Indonesia. Trop J Pharm Res 16(1):161

Hejazi F, Mirzadeh H (2016) Roll-designed 3D nanofibrous scaffold suitable for regeneration of load bearing bone defects. J Prog Biomat 5:199–201

Hermanto S, Sumarlin LO, Fatimah W (2013) Differentiation of bovine and porcine gelatin based on spectroscopic and electrophoretic analysis. J Food Pharm Sci 68–73

Hien TT, White NJ (1993) Qinghaosu. Lancet 341:603–608

Kaboutari Katadj J, Rafieian-Kopaei M, Nourani H, Karimi B (2016) Wound healing effects of Artemisia sieberi extract on the second degree burn in mice skin. J HerbMed Pharmacol 5:67–71

Kim WS, Chio WJ, Lee S, Kim WJ, Lee DC, Sohn UD, Shin HS, Kim W (2015) Anti-inflammatory, antioxidant and antimicrobial effects of Artemisinin extracts from Artemisia annua L. Korean J Physiol Pharmacol 19:21–27

Krishnan KA, Thomas S (2019) Recent advances on herb-derived constituents-incorporated wound-dressing materials: a review. Polym Adv Technol 30:823–838

Laha A, Sharma CS, Majumdar S (2017) Sustained drug release from multi-layered sequentially crosslinked electrospun gelatin nanofiber mesh. Mater Sci Eng C. https://doi.org/10.1016/j.msec.2017.03.110

Liu X, Jia G (2018) Modern wound dressing using polymers/biopolymers. J Mater Sci Eng 7:3

Liu Y, Liu X, Wang X (2011) Biomimetic synthesis of gelatin polypeptide-assisted nobel-metal nanoparticles and their interaction study. Nanoscale Res Lett 6:22

Misra H, Mehta D, Mehta BK, Jain DC (2013) Microwave-assisted extraction studies of target analyte artemisinin from dried leaves of Artemisia annua L. Org Chem Int 2013:1–6

Munj HR, Lannutti JJ, Tomasko DL (2016) Understanding drug release from PCL/gelatin electrospun blends. J Biomat Appl. https://doi.org/10.1177/0885328216673555

Naseri-Nosar M, Ziora ZM (2018) Wound dressing from naturally-occurring polymers: a review on homo polysaccharide-based composites. Carbohydr Polym 189:379–398

Nguyen DT, Göpfert JC, Ikezawa N, MacNevin G, Kathiresan M, Conrad J, Spring O, Ro DK (2010) Biochemical conservation and evolution of germacrene a oxidase in Asteraceae. J Biol Chem 285(22):16588–16598

Niu X, Xing W, Li W, Fan T, Hu H, Li Y (2012) Isofraxidin exhibited anti-inflammatory effects in vivo and inhibited TNF-alpha production in LPS induced mouse peritoneal macrophages in vitro via the MAPK pathway. Int Immunopharmacol 14:164–171. https://doi.org/10.1016/j.intimp.2012.06.022

Okur ME, Karantas ID, Senyigit Z, Okur NU, Siafaka PI (2020) Recent trends on wound management: new therapeutic choices based on polymeric carriers. Asian J Pharm Sci. https://doi.org/10.1016/j.ajps.2019.11.008

Paul Das M, Suguna PR, Prasad K, Vijayakshmi JV, RenukaM. (2017) Extraction and characterization of gelatin: a functional biopolymer. Int J Pharm Pharm Sci 9:239–242

Ranjbar R, Yousefi A (2018) Artemisia dracunculus in combination with chitosan nanoparticle biofilm improves wound healing in MRSA infected excisional wounds: an animal model study. Eur Asia J Biosci 12:219–226

Rezvani Ghomi E, Khalili SH, Nouri Khorasani S, Esmaeely Neisiany R, Ramakrishna S (2019) Wound dressings: current advances and future directions. J Appl Polym Sci 136(27):47738

Santomauro F, Donato R, Sacco C, Pini G, Flamini G, Bilia AR (2016) Vapour and liquid-phase Artemisia annua essential oil activities against several clinical strains of candida. Planta Med 82:1016–1020. https://doi.org/10.1055/s-0042-108740

Schmidt H, Günther C, Weber M, Spörlein C, Loscher S, Bötcher C, Schobert R, Clemens S (2014) Metabolome analysis of Arabidopsis thaliana roots identifies a key metabolic pathway for iron acquisition. PLoS ONE 9(7):e102444

Sharma G, Kapoor H, Chopra M, Kumar K, Agrawal V (2014) Strong larvicidal potential of Artemisia annua leaf extract against malaria (Anopheles stephensi Liston) and dengue (Aedes aegypti L.) vectors and bioassay-driven isolation of the marker compounds. Parasitol Res 113:197–209

Singer AJ, Clark RAFN (1999) Mechanisms of disease: cutaneous wound healing. Engl J Med 341(10):738–746

Stoica AE, Chircov C, Grumezescu AM (2020) Nanomaterials for wound dressings: an up-to-date overview. Molecules 25:2699. https://doi.org/10.3390/molecules25112699

Torres-Martínez EJ, Cornejo Bravo JM, Medina AS, Pérez González GL, Villarreal Gómez LZ (2018) A summary of electrospun nanofibers as drug delivery system: drugs loaded and biopolymers used as matrices. Curr Drug Deliv 15:1360–1374

Verdian-rizi MR, Sadat-Ebrahimi E, Hadjiakhoondi A, Fazeli, Pirali Hamedani M (2008) Chemical composition and antimicrobial activity of Artemisia annua L. essential oil from Iran. J Med Plant 7:58–62

Yamazaki T, Tokiwa T (2010) Isofraxidin, a coumarin component from Acanthopanax senticosus, inhibits matrix metalloproteinase-7 expression and cell invasion of human hepatoma cells. Biol Pharm Bull 33:1716–1722. https://doi.org/10.1248/bpb.33.1716
Ethics declarations
Conflict of interest
The authors declare that they have no conflict of interest.
Ethical approval
This article does not contain any studies with human participants or animals.
Additional information
Publisher's Note
Springer Nature remains neutral with regard to jurisdictional claims in published maps and institutional affiliations.
About this article
Cite this article
Mirbehbahani, F.S., Hejazi, F., Najmoddin, N. et al. Artemisia annua L. as a promising medicinal plant for powerful wound healing applications. Prog Biomater 9, 139–151 (2020). https://doi.org/10.1007/s40204-020-00138-z
Received:

Accepted:

Published:

Issue Date:

DOI: https://doi.org/10.1007/s40204-020-00138-z
Keywords
Artemisia annua L.

Wound dressing

Electrospinning

Antibacterial property

Gelatin–Artemisia annua L. nanofibers