Abstract
Diabetes mellitus is a metabolic syndrome characterized by elevated blood glucose. The α-glucosidase enzyme is responsible for the hydrolysis of carbohydrates. This in silico study aimed to evaluate the inhibitory effects of the isolated compounds from Allium sativum L. on α-glucosidase. At first, sulfur and phenolic compounds of A. sativum L. were obtained from PubChem database, and α-glucosidase enzyme structure was obtained from Protein Data Bank. Toxicity class of compounds and the Lipinski parameter were predicted by Toxtree and Protox II and the Swiss ADME tools, respectively. Finally, the molecular interaction analysis between α-glucosidase and compounds from A. sativum L. was performed by AutoDock 4.2.6. Molecular interactions were investigated using Discovery Studio Visulizer and Ligplot 2.1 program. All of the selected sulfur and phenolic compounds from A. sativum L. followed the Lipinski's rules, had an acceptable binding energy, and lacked toxicity; therefore, they were appropriate candidates for α-glucosidase inhibition. Among these compounds, methionol and caffeic acid showed the lowest binding energy, and the highest inhibitory effect on α-glucosidase enzyme with − 3.9 and − 4.8 kcal/mol, respectively. These compounds also indicated the lower binding energy than the standard inhibitor (miglitol). Among the sulfur and phenolic compounds in A. sativum L., methionol and caffeic acid were predicted to be the powerful inhibitors, due to having more hydrogen binds and hydrophobic interactions with the active site of α-glucosidase.
Access options
Buy single article
Instant access to the full article PDF.
US$ 39.95
Tax calculation will be finalised during checkout.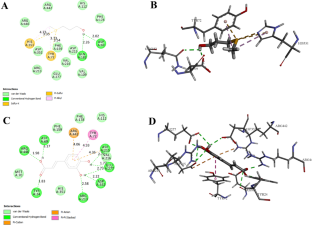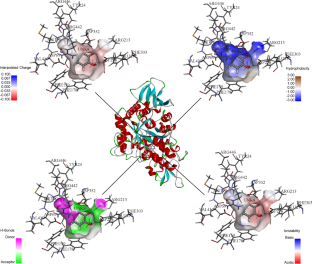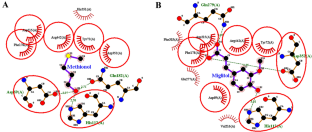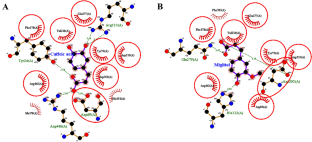 References
Benkeblia N (2004) Antimicrobial activity of essential oil extracts of various onions (Allium cepa) and garlic (Allium sativum) LWT-food. Sci Technol 37:263–268

Bozin B, Mimica-Dukic N, Samojlik I, Goran A, Igic R (2008) Phenolics as antioxidants in garlic (Allium sativum L., Alliaceae). Food Chem 111:925–929

Dabhi AS, Bhatt NR, Shah MJ (2013) Voglibose: an alpha glucosidase inhibitor. JCDR 7:3023

de Camargo AC, Regitano-d'Arce MAB, Biasoto ACT, Shahidi F (2016) Enzyme-assisted extraction of phenolics from winemaking by-products: antioxidant potential and inhibition of alpha-glucosidase and lipase activities. Food Chem 212:395–402

Drwal MN, Banerjee P, Dunkel M, Wettig MR, Preissner R (2014) ProTox: a web server for the in silico prediction of rodent oral toxicity. Nucleic Acids Res 42:W53–W58

Enoch S, Hewitt M, Cronin M, Azam S, Madden J (2008) Classification of chemicals according to mechanism of aquatic toxicity: an evaluation of the implementation of the Verhaar scheme in. Toxtree Chemos 73:243–248

Gerich JE (2003) Clinical significance, pathogenesis, and management of postprandial hyperglycemia. Arch Intern Med 163:1306–1316

Gilson MK, Zhou H-X (2007) Calculation of protein-ligand binding affinities. Annu Rev Biophys Biomol Struct 36:21–42

Gollapalli M et al (2019) Synthesis of benzothiazole derivatives as a potent α-glucosidase inhibitor. Bioorgan Chem 85:33–48

Haghighi O, Moradi M (2020) In silico study of the structure and ligand interactions of alcohol dehydrogenase from cyanobacterium Synechocystis Sp. PCC 6803 as a key enzyme for biofuel production. Appl Biochem Biotechnol:1–22

Haghighi O, Davaeifar S, Zahiri HS, Maleki H, Noghabi KA (2019) Homology Modeling and molecular docking studies of glutamate dehydrogenase (GDH) from Cyanobacterium Synechocystis sp. PCC 6803. Int J Pep Res Ther:1–11

Hanefeld M, Cagatay M, Petrowitsch T, Neuser D, Petzinna D, Rupp M (2004) Acarbose reduces the risk for myocardial infarction in type 2 diabetic patients: meta-analysis of seven long-term studies. Eur Heart J 25:10–16

Harris R, Olson AJ, Goodsell DS (2008) Automated prediction of ligand-binding sites in proteins . Proteins Struct Funct Bioinform 70:1506–1517

Hati S et al (2015) Design, synthesis and biological evaluation of small molecules as potent glucosidase inhibitors. Eur J Med Chem 100:188–196

Holman RR (2006) Long-term efficacy of sulfonylureas: a United Kingdom Prospective Diabetes Study perspective. Metabolism 55:S2–S5

Hudson BI et al (2002) Glycation and diabetes: the RAGE connection. Curr Sci:1515–1521

Jhong CH, Riyaphan J, Lin SH, Chia YC, Weng CF (2015) Screening alpha-glucosidase and alpha-amylase inhibitors from natural compounds by molecular docking in silico. Biofactors 41:242–251

Kallel F, Driss D, Chaari F, Belghith L, Bouaziz F, Ghorbel R, Chaabouni SE (2014) Garlic (Allium sativum L.) husk waste as a potential source of phenolic compounds: influence of extracting solvents on its antimicrobial and antioxidant properties. Ind Crops Prod 62:34–41

Kato A et al (2012) α-1-C-butyl-1, 4-dideoxy-1, 4-imino-l-arabinitol as a second-generation iminosugar-based oral α-glucosidase inhibitor for improving postprandial hyperglycemia. J Med Chem 55:10347–10362

Kimbaris AC, Siatis NG, Daferera DJ, Tarantilis PA, Pappas CS, Polissiou MG (2006) Comparison of distillation and ultrasound-assisted extraction methods for the isolation of sensitive aroma compounds from garlic (Allium sativum). Ultrason Sonochem 13:54–60

Kimura A, Lee J-H, Lee I-S, Lee H-S, Park K-H, Chiba S, Kim D (2004) Two potent competitive inhibitors discriminating α-glucosidase family I from family II. Carbohyd Res 339:1035–1040

Kitabchi AE, Umpierrez GE, Miles JM, Fisher JN (2009) Hyperglycemic crises in adult patients with diabetes. Diabetes Care 32:1335–1343

Kitchen DB, Decornez H, Furr JR, Bajorath J (2004) Docking and scoring in virtual screening for drug discovery: methods and applications. Nat Rev Drug Discov 3:935–949

Lanzotti V, Barile E, Antignani V, Bonanomi G, Scala F (2012) Antifungal saponins from bulbs of garlic, Allium sativum L. var. Voghiera Phytochem 78:126–134

Laskowski RA, Swindells MB (2011) LigPlot+: multiple ligand–protein interaction diagrams for drug discovery. ACS Publications, Washington, DC

Matsui T, Ueda T, Oki T, Sugita K, Terahara N, Matsumoto K (2001) α-Glucosidase inhibitory action of natural acylated anthocyanins. 1. Survey of natural pigments with potent inhibitory activity. J Agric Food Chem 49:1948–1951

Mohamed EAH et al (2012) Potent α-glucosidase and α-amylase inhibitory activities of standardized 50% ethanolic extracts and sinensetin from Orthosiphon stamineus Benth as anti-diabetic mechanism. BMC Complem Alternat Med 12:176

Nabati F, Moradi M, Mohabatkar H (2020) In silico analyzing the molecular interactions of plant-derived inhibitors against E6AP, p53, and c-Myc binding sites of HPV type 16 E6 oncoprotein. Mol Biol Res Commun 9:71–82

Pettersen EF, Goddard TD, Huang CC, Couch GS, Greenblatt DM, Meng EC, Ferrin TE (2004) UCSF Chimera—a visualization system for exploratory research and analysis. J Comput Chem 25:1605–1612

Proença C et al (2017) α-Glucosidase inhibition by flavonoids: an in vitro and in silico structure–activity relationship study. J Enzyme Inhib Med Chem 32:1216–1228

Rasouli H, Hosseini-Ghazvini SM-B, Adibi H, Khodarahmi R (2017) Differential α-amylase/α-glucosidase inhibitory activities of plant-derived phenolic compounds: a virtual screening perspective for the treatment of obesity and diabetes. Food Funct 8:1942–1954

Rastogi L, Arunachalam J (2011) Sunlight based irradiation strategy for rapid green synthesis of highly stable silver nanoparticles using aqueous garlic (Allium sativum) extract and their antibacterial potential. Mater Chem Phys 129:558–563

Rengasamy KR, Aderogba MA, Amoo SO, Stirk WA, Van Staden J (2013) Potential antiradical and alpha-glucosidase inhibitors from Ecklonia maxima (Osbeck). Papenfuss Food Chem 141:1412–1415

Rosas-Ramírez D, Escandón-Rivera S, Pereda-Miranda R (2018) Morning glory resin glycosides as α-glucosidase inhibitors: in vitro and in silico analysis. Phytochemistry 148:39–47

Ross SA, Gulve EA, Wang M (2004) Chemistry and biochemistry of type 2 diabetes. Chem Rev 104:1255–1282

Stratton IM et al (2000) Association of glycaemia with macrovascular and microvascular complications of type 2 diabetes (UKPDS 35): prospective observational study. BMJ 321:405–412

Tice CM (2001) Selecting the right compounds for screening: does Lipinski's Rule of 5 for pharmaceuticals apply to agrochemicals? Pest Manag Sci Formerly Pest Sci 57:3–16

Trapero A, Llebaria A (2012) A prospect for pyrrolidine iminosugars as antidiabetic α-glucosidase inhibitors. ACS Publications, Washington, DC

Tshikalange T, Meyer J, Hussein A (2005) Antimicrobial activity, toxicity and the isolation of a bioactive compound from plants used to treat sexually transmitted diseases. J Ethnopharmacol 96:515–519

van de Laar FA (2008) Alpha-glucosidase inhibitors in the early treatment of type 2 diabetes. Vasc Health Risk Manag 4:1189

Worrall E, Basu S, Hanson K (2005) Is malaria a disease of poverty? A review of the literature. Trop Med Int Health 10:1047–1059

Wright A, Burden AF, Paisey RB, Cull CA, Holman RR (2002) Sulfonylurea inadequacy: efficacy of addition of insulin over 6 years in patients with type 2 diabetes in the UK Prospective Diabetes Study (UKPDS 57). Diabetes Care 25:330–336

Yousuf H et al (2020) Dihydropyridines as potential α-amylase and α-glucosidase inhibitors: synthesis, in vitro and in silico studies. Bioorg Chem 96:103581

Zafar M, Khan H, Rauf A, Khan A, Lodhi MA (2016) In Silico study of alkaloids as α-glucosidase inhibitors: hope for the discovery of effective lead compounds. Front Endocrinol 7:153

Zawawi NKNA et al (2016) Benzimidazole derivatives as new α-glucosidase inhibitors and in silico studies. Bioorgan Chem 64:29–36
Acknowledgements
We wish to thank University of Isfahan, and Zanjan University of Medical Sciences for their supports.
Additional information
Publisher's note
Springer Nature remains neutral with regard to jurisdictional claims in published maps and institutional affiliations.
About this article
Cite this article
Sadeghi, M., Moradi, M., Madanchi, H. et al. In silico study of garlic (Allium sativum L.)-derived compounds molecular interactions with α-glucosidase. In Silico Pharmacol. 9, 11 (2021). https://doi.org/10.1007/s40203-020-00072-9
Received:

Accepted:

Published:
Keywords
In silico

α-glucosidase inhibition

Molecular docking

Allim sativum L.