Abstract
Breast cancer is one of the leading causes of death among women. We employed in silico model to predict the mechanism of actions of selected novel compounds reported against breast cancer using ADMET profiling, drug likeness and molecular docking analyses. The selected compounds were andrographolide (AGP), dipalmitoylphosphatidic acid (DPA), 3-(4-Bromo phenylazo)-2,4-pentanedione (BPP), atorvastatin (ATS), benzylserine (BZS) and 3β,7β,25-trihydroxycucurbita-5,23(E)-dien-19-al (TCD). These compounds largely conform to ADMETlab and Lipinki's rule of drug likeness criteria in addition to their lesser hepatotoxic and mutagenic effects. Docking studies revealed a strong affinity of AGP versus NF-kB (− 6.8 kcal/mol), DPA versus Cutlike-homeobox (− 5.1 kcal/mol), BPP versus Hypoxia inducing factor 1 (− 7.7 kcal/mol), ATS versus Sterol Regulatory Element Binding Protein 2 (− 7.2 kcal/mol), BZS versus Ephrin type-A receptor 2 (− 4.4 kcal/mol) and TCD versus Ying Yang 1 (− 9.4 kcal/mol). Likewise, interaction between the said compounds and respective gene products were evidently observed with strong affinities; AGP versus COX-2 (− 9.6 kcal/mol), DPA versus Fibroblast growth factor receptor (− 5.9 kcal/mol), BPP versus Vascular endothelial growth factor (− 5.8 kcal/mol), ATS versus HMG-COA reductase (− 9.1 kcal/mol), BZS versus L-type amino acid transporter 1 (− 5.3 kcal/mol) and TCD versus Histone deacytylase (− 7.7 kcal/mol), respectively. The compounds might potentially target transcription through inhibition of promoter-transcription factor binding and/or inactivation of final gene product. Thus, findings from this study provide a possible mechanism of action of these xenobiotics to guide in vitro and in vivo studies in breast cancer.
Graphic abstract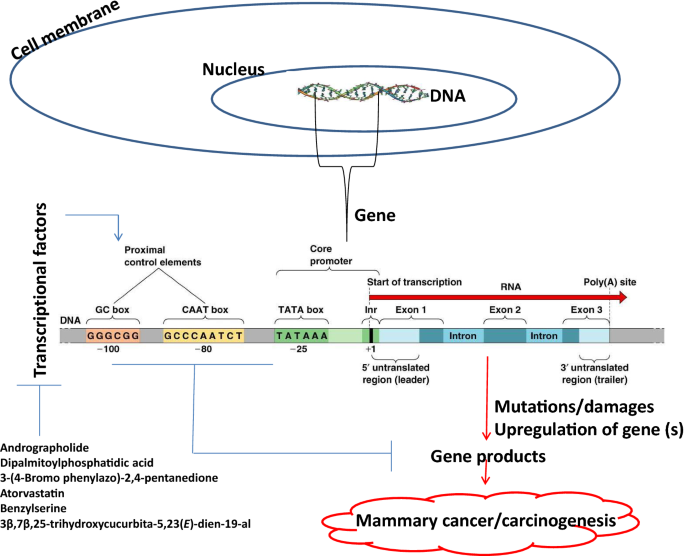 This is a preview of subscription content, log in to check access.
Access options
Buy single article
Instant access to the full article PDF.
US$ 39.95
Tax calculation will be finalised during checkout.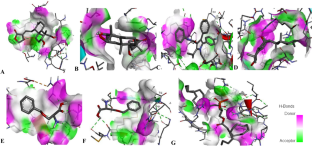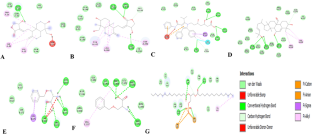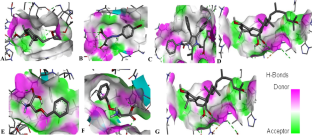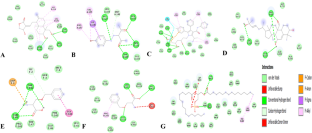 References
Abdulkareem F (2017) Epidemiology & incidence of common cancers in Nigeria. J Cancer Biol Res 5:1105

Ahn SC, Jang H, Bae SK (2011) Curcumin down-regulates visfatin expression and inhibits breast cancer cell invasion. Endocrinology 153:554–563. https://doi.org/10.1210/en.2011-1413

Ali A, Badawy MEI, Shah R, Rehman W, El Y (2017) Synthesis, characterization and in-silico ADMET screening of mono- and di-hydrazides and hydrazones. Der Chem Sin 8:446–460

Babu E, Kanai Y, Chairoungdua A, Kim DK, Iribe Y, Tangtrongsup S, Jutabha P, Li Y, Ahmed N, Sakamoto S et al (2003) Identification of a novel system L amino acid transporter structurally distinct from heterodimeric amino acid transporters. J Biol Chem 278:38–45

Bai LY, Chiu CF, Chu PC, Lin WY, Chiu SJ, Weng JR (2016) A triterpenoid from wild bitter gourd inhibits breast cancer cells. Sci Rep 6:1–10. https://doi.org/10.1038/srep22419

Barbosa AM, Martel F (2020) Targeting glucose transporters for breast cancer therapy : the effect of natural and synthetic compounds. Cancers (Basel) 12:154. https://doi.org/10.3390/cancers12010154

Biovia DS (2015) Discovery studio modeling environment. In: San Diego, Dassault Systemes, Release, vol 4

Body S, Martin L, Zorzano A, Palacin M, Estevez R, Bertran J (2005) Identification of LAT4, a novel amino acid transporter with system L activity. J Biol Chem 280:12002–12011

Budzik MP, Sobieraj MT, Sobol M, Patera J, Czerw A (2019) histopathological analysis and comparison with invasive ductal breast cancer Medullary breast cancer is a predominantly triple- negative breast cancer—histopathological analysis and comparison with invasive ductal breast cancer. Arch Med Sci. https://doi.org/10.5114/aoms.2019.86763.10.5114/aoms.2019.86763

CCP (2018) Nigerian National Cancer Control Plan 2018–2022, pp 1–67

Carvalho-Silva D, Pierleoni A, Pignatelli M, Ong CK, Fumis L, Karamanis N, Carmona M, Faulconbridge A, Hercules A, McAuley E (2019) Open targets platform: new developments and updates two years on. Nucleic Acids Res 47:1056–1065

Chen J, Zhou Z, Yao Y, Dai J, Zhou D, Zhang LWQ (2018) Dipalmitoylphosphatidic acid inhibits breast cancer growth by suppressing angiogenesis via inhibition of the CUX1/FGF1/HGF signalling pathway. J Cell Mol Med 2018:1–11. https://doi.org/10.1111/jcmm.13727

Cheng AC, Coleman RG, Smyth KT, Cao Q, Soulard P, Caffrey DR, Salzberg AC, Huang ES (2007) Structure-based maximal affinity model predicts small-molecule druggability. Nat Biotechnol 25:71–75. https://doi.org/10.1038/nbt1273

Damaskos C, Valsami S, Kontos M, Spartalis E, Kalampokas T, Kalampokas E, Athanasiou A, Moris D, Daskalopoulou A, Davakis S, Tsourouflis G, Kontzoglou K, Perrea D, Nikiteas N, Dimitroulis D (2017) Histone deacetylase inhibitors: an attractive therapeutic strategy against breast cancer. Anticancer Res 37:35–46. https://doi.org/10.21873/anticanres.11286

Dehghani S, Kooshafar Z, Almasirad A, Tahmasvand R, Moayer F, Muhammadnejad A, Shafiee S, Salimi M (2019) A novel hydrazide compound exerts anti-metastatic effect against breast cancer. Biol Res 52:1–8. https://doi.org/10.1186/s40659-019-0247-2

Dimitroulakos J, Lorimer AGG (2006) Strategies to enhance epidermal growth factor inhibition: targeting the mevalonate pathway. Clin Cancer 12:4426s–4431s

Doak BC, Giordanetto F, Kihlberg J (2014) Review oral druggable space beyond the rule of 5: insights from drugs and clinical candidates. Chem Biol Rev 21:1115–1142. https://doi.org/10.1016/j.chembiol.2014.08.013

Dong J, Wang NN, Yao ZJ, Zhang L, Cheng Y, Ouyang D, Lu AP, Cao DS (2018) Admetlab: a platform for systematic ADMET evaluation based on a comprehensively collected ADMET database. J Cheminform. https://doi.org/10.1186/s13321-018-0283-x

Ediriweera MK, Tennekoon KH, Samarakoon SR (2019) Emerging role of histone deacetylase inhibitors as anti-breast-cancer agents. Drug Discov Today. https://doi.org/10.1016/j.drudis.2019.02.003

Fontana E, Dansette PM, Poli SM, Plan C, Ge O (2005) Cytochrome P450 enzymes mechanism based inhibitors: common sub-structures and reactivity. Curr Drug Metab 6:413–454

Geldermalsen MV, Quek L, Turner N, Freidman N, Pang A, Guan YF, Krycer JR, Ryan R, Wang Q, Holst J (2018) Benzylserine inhibits breast cancer cell growth by disrupting intracellular amino acid homeostasis and triggering amino acid response pathways. BMC Cancer 18:1–14

Golla UR, State P, Medical H, Sunder S, Bhimathati R (2014) In SILICO design and ADMET prediction of rivastigmine analogues for treatment of Alzheimer's disease. An Int J Adv Pharm Sci 4:270–278

Gong X, Smith JR, Swanson HM, Rubin LP (2018) Carotenoid lutein selectively inhibits breast cancer cell growth and potentiates the effect of chemotherapeutic agents through ROS-mediated mechanism. Molecules 23:1–18. https://doi.org/10.3390/molecules23040905

Guan M, Tong Y, Guan M, Liu X, Wang M, Niu R (2018) Lapatinib inhibits breast cancer cell proliferation by influencing PKM2 expression. Technol Cancer Res Treat 17:1–12. https://doi.org/10.1177/1533034617749418

Guo P, Chen W, Li H, Li M, Li L (2018) The histone acetylation modifications of breast cancer and their therapeutic implications. Pathol Oncol Res. https://doi.org/10.1007/s12253-018-0433-5

Hjelm TE, Matovu A, Mugisha N, Lo J (2019) Breast cancer care in Uganda: a multicenter study on the frequency of breast cancer surgery in relation to the incidence of breast cancer. PLoS ONE 14:1–10

Jie D, Ning-Ning W, Zhi-Jiang Y, Lin Z, Yan C, Defang O, Ai-Ping L, Dong-Sheng C (2018) ADMETlab: a platform for systematic ADMET evaluation based on a comprehensively collected ADMET database. J Cheminform 10:29

Kamel A, Harriman S (2013) Inhibition of cytochrome P450 enzymes and biochemical aspects of mechanism-based inactivation (MBI). Drug Discov Today Technol 10:e177–e189. https://doi.org/10.1016/j.ddtec.2012.09.011

Kumar S, Aljarrah A, Burney I, Al-moundhri M (2019) Breast cancer (BM) article. Oman Med J 34:412–419. https://doi.org/10.5001/omj.2019.76

Lambert SA, Jolma A, Campitelli LE, Das PK, Yin Y, Albu M, Chen X, HughesWeirauch TJM (2018) The human transcription factors. Cell 172:660–665

Lennernäs H (2003) Clinical pharmacokinetics of atorvastatin. Clin Pharmacokinet 42:1141–1160

Ma Q, Gao Y, Xu P, Li K, Xu X, Gao J, Qi Y, Xu J, Yang Y, Song W, He X, Liu S, Yuan X, Yin W, He Y, Pan W, Wei L, Zhang J (2019) Atorvastatin inhibits breast cancer cells by downregulating PTEN/AKT pathway via promoting ras homolog family member B (RhoB). BioMed Res Int 2019:1–15

Peng Y, Wang Y, Tang N, Sun D, Lan Y, Yu Z, Zhao X, Feng L, Zhang B, Jin L, Yu F, Ma X, Lv C (2018) Andrographolide inhibits breast cancer through suppressing COX-2 expression and angiogenesis via inactivation of p300 signaling and VEGF pathway. J Exp Clin Cancer Res 37:1–14

Pettersen EF, Goddard TD, Huang CC, Couch GS, Greenblatt DM, Meng EC, Ferrin TE (2004) UCSF Chimera—a visualization system for exploratory research and analysis. J Comput Chem 25(13):1605–1612

Prashantha Kumar BR, Soni M, Bharvi Bhikhalal U, Kakkot IR, Jagadeesh M, Bommu P, Nanjan MJ (2010) Analysis of physicochemical properties for drugs from nature. Med Chem Res 19:984–992. https://doi.org/10.1007/s00044-009-9244-2

Ruf W, Yokota NSF (2010) Tissue factor in cancer progression and angiogenesis. Thromb Res 125:S36-38

Segall MD, Greene N (2014) Finding the rules for successful drug optimisation. Drug Discov Today. https://doi.org/10.1016/j.drudis.2014.01.005

Shadap A, Pais M, Prabhu A (2019) A descriptive study to assess the knowledge on breast cancer and utilization of mammogram among women in selected villages of udupi district, Karnataka. Nitte Univ J Heal Sci 4:84–87

Sheikhpoor M (2019) Immunotherapy in breast cancer Immunotherapy in breast cancer. Clin Cancer Investig J. https://doi.org/10.4103/ccij.ccij

Singh JK, Simões BM, Clarke RB, Bundred NJ (2013) Targeting IL-8 signalling to inhibit breast cancer stem cell activity. Expert Opin Ther Targets 17:1234–1241. https://doi.org/10.1517/14728222.2013.835398

Talib WH, Al-noaimi M (2018) A new acetylacetone derivative inhibits breast cancer by apoptosis induction and angiogenesis inhibition. J Cancer Res Ther. https://doi.org/10.4103/jcrt.JCRT

Tsubura A, Lai Y-C, Kuwata M, Uehara N, Yoshizawa K (2011) Anticancer effects of garlic and garlic-derived compounds for breast cancer control. Anticancer Agents Med Chem 11:249–253

Vadodkar AS, Suman S, Lakshmanaswamy R, Damodaran C (2012) Chemoprevention of Breast Cancer by Dietary Compounds Dietary Compounds. Anti-cancer Agent Med Chem 2012:1185–1202

Wang Q, Ge X, Tian X, Zhang Y, Zhang JPZ (2013) Soy isoflavone: the multipurpose phytochemical (review). Biomed Rep 1:697–701. https://doi.org/10.3892/br.2013.129

Wang T, Song Y, Wang H, Zhang J, Yu S, Gu Y, Chen T, Wang Y, Shen H, Jia G (2012) Oxidative DNA damage and global DNA hypomethylation are related to folate deficiency in chromate manufacturing workers. J Hazard Mater 213–214:440–446. https://doi.org/10.1016/j.jhazmat.2012.02.024

Yaghoubi A, Khazaei M, Hasanian SM, Avan A (2019) Bacteriotherapy in breast cancer. Int J Mol Sci 20:1–21

Yusof I, Segall MD (2013) Considering the impact drug-like properties have on the chance of success. Drug Discov Today 18:659–666. https://doi.org/10.1016/j.drudis.2013.02.008

Zhang H, Wang K, Lin G, Zhao Z (2014) Antitumor mechanisms of S-allyl mercaptocysteine for breast cancer therapy. BMC Complement Altern Med 14:1–12

Zhu T, Wang DX, Zhang W, Liao XQ, Guan X, Bo H, Sun JY, Huang NW, He J, Zhang YK, Tong JLC (2013) Andrographolide protects against LPS-induced acute lung injury by inactivation of NF-kappaB. PLoS ONE 2:e56407

Zhu H, Zhu G, Xu Y, Huang G (2018) Bioscience reports: this is an accepted manuscript, not the final version of record. You are encouraged to use the Version of Record that, when published, will replace this version. The most up-to-date version is available at http://dx.doi.org/10.1042/B. Biosci Rep 2018:7. https://doi.org/10.1042/BSR20180738 ((Casticin. Doi: 10.1042/BSR20180738))

Zucchetti B, Shimada AK, Katz A, Curigliano G (2019) The role of histone deacetylase inhibitors in metastatic breast cancer. Breast. https://doi.org/10.1016/j.breast.2018.12.001
Acknowledgements
We wish to thank Dr. David A. Ebuka of the Chemistry Department, Ahmadu Bello University Zaria and Prof. M.N. Shuaibu of Biochemistry Department Ahmadu Bello University Zaria for their assistance and guidance towards successful completion of this work. We also wish to thank Mrs. Salamatu Sani of English and Literary studies Department of Ahmadu Bello University Zaria for improving the quality of this manuscript.
Ethics declarations
Conflict of interest
Authors declare that there is no conflict of interest with regards to the publication of this paper.
Additional information
Publisher's Note
Springer Nature remains neutral with regard to jurisdictional claims in published maps and institutional affiliations.
Electronic supplementary material
Below is the link to the electronic supplementary material.
About this article
Cite this article
Muhammad, A., Katsayal, B.S., Forcados, G.E. et al. In silico predictions on the possible mechanism of action of selected bioactive compounds against breast cancer. In Silico Pharmacol. 8, 4 (2020). https://doi.org/10.1007/s40203-020-00057-8
Received:

Accepted:

Published:
Keywords
Breast cancer

Compounds

In silico

Mechanism

Predictions

Docking