Abstract
Hookah smoke is one of the major indoor sources of Volatile Organic Compounds (VOCs), including Benzene, Toluene, Ethylbenzene, and Xylenes (BTEX). The present study aimed to investigate potential exposure to BTEX compounds among primary school children whose parents smoked hookah at home. BTEX concentrations in indoor air were measured in 60 residential buildings of Khesht, southwestern Iran (case = 30 and control = 30). Target compounds were sampled by charcoal tubes, and the samples were then analyzed by GC-FID. Monte Carlo simulation was used to assess the carcinogenic and non-carcinogenic risks of BTX exposure for the children aged 7–13 years. The concentrations of benzene (7.19 ± 3.09 vs. 0.82 ± 0.5 μg/m3), toluene (1.62 ± 0.69 vs. 0.3 ± 0.22 μg/m3), and xylenes (2.9 ± 1.66 vs. 0.31 ± 0.22 μg/m3) were considerably higher in the indoor air of the case houses compared with the control houses (p < 0.05). The Incremental Lifetime Cancer Risk (ILCR) of benzene for non-smoking and smoking houses were estimated 1.8 × 10−6 and 15 × 10−6, respectively, exceeding the recommendations of the World Health Organization (WHO) and the Environmental Protection Agency (EPA) (1 × 10−6). Moreover, Hazard Quotients (HQs) of all BTX compounds were < 1. The indoor benzene concentration was significantly influenced by the floor at which families lived and type of the kitchen. In order to prevent children's exposure to BTX emitted by hookah, banning indoor smoking is the only way to eliminate these compounds in the indoor air.
Access options
Buy single article
Instant access to the full article PDF.
USD 39.95
Price excludes VAT (USA)
Tax calculation will be finalised during checkout.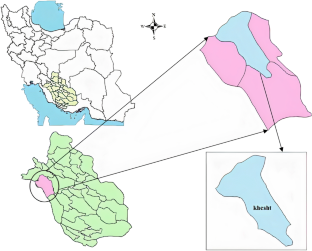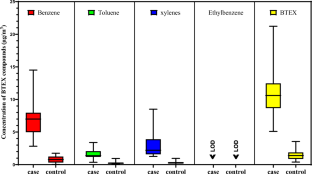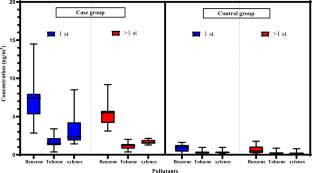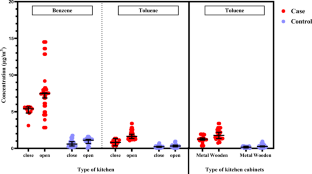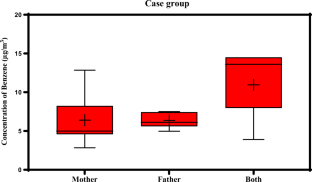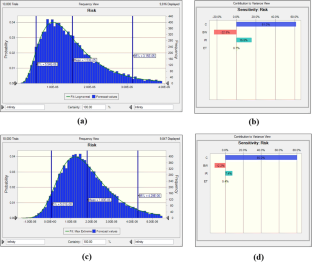 References
Tsakas MP, Siskos AP, Siskos PA. Indoor air pollutants and the impact on human health. Chem, Emission Cont Radioactive Pollut Indoor Air Qual. 2011:447–84.2011.

Rostami R, Fazlzadeh M, Babaei-Pouya A, Abazari M, Rastgho L, Ghasemi R, et al. Exposure to BTEX concentration and the related health risk assessment in printing and copying centers. Environmental Science and Pollution Research. 2021:1–12.2021.

Moradi M, Hopke P, Hadei M, Eslami A, Rastkari N, Naghdali Z, et al. Exposure to BTEX in beauty salons: biomonitoring, urinary excretion, clinical symptoms, and health risk assessments. Environ Monit Assess. 2019;191(5):1–10.2019.

Tabatabaei Z, Baghapour MA, Hoseini M, Shamsedini N. Carcinogenic and non-carcinogenic risk assessment of exposure of housewives to volatile organic compounds (benzene, toluene, ethylbenzene, and xylenes) in the indoor air of houses. J Health Research Commun. 2021;6(4):51–62.2021.

Amoatey P, Omidvarborna H, Baawain MS, Al-Mamun A. Indoor air pollution and exposure assessment of the gulf cooperation council countries: a critical review. Environ Int. 2018;121:491–506.2018.

Tabatabaei Z, Rafiee A, Abbasi A, Mehdizadeh A, Morovati R, Hoseini M. Investigation of fungal contamination in indoor air and on surfaces of traditional public baths in a historical city. J Environ Health Sci Eng. 2020;18(2):925–32.2020.

Bernstein JA, Alexis N, Bacchus H, Bernstein IL, Fritz P, Horner E, Li N, Mason S, Nel A, Oullette J, Reijula K, Reponen T, Seltzer J, Smith A, Tarlo SM. The health effects of nonindustrial indoor air pollution. J Allergy Clin Immunol. 2008;121(3):585–91.2008.

Miri M, Alahabadi A, Ehrampoush MH, Ghaffari HR, Sakhvidi MJZ, Eskandari M, Rad A, Lotfi MH, Sheikhha MH. Environmental determinants of polycyclic aromatic hydrocarbons exposure at home, at kindergartens and during a commute. Environ Int. 2018;118:266–73.2018.

Akl EA, Gaddam S, Gunukula SK, Honeine R, Jaoude PA, Irani J. The effects of waterpipe tobacco smoking on health outcomes: a systematic review. Int J Epidemiol. 2010;39(3):834–57.2010.

Naddafi K, Nabizadeh R, Rostami R, Ghaffari HR, Fazlzadeh M. Formaldehyde and acetaldehyde in the indoor air of waterpipe cafés: measuring exposures and assessing health effects. Build Environ. 2019;165:106392.2019. https://doi.org/10.1016/j.buildenv.2019.106392.

Rostami R, Zarei A, Saranjam B, Ghaffari HR, Hazrati S, Poureshg Y, Fazlzadeh M. Exposure and risk assessment of PAHs in indoor air of waterpipe cafés in Ardebil, Iran. Build Environ. 2019;155:47–57.2019.

Fazlzadeh M, Rostami R, Hazrati S, Rastgu A. Concentrations of carbon monoxide in indoor and outdoor air of Ghalyun cafes. Atmos Pollut Res. 2015;6(4):550–5.2015.

Rostami R, Kalan ME, Ghaffari HR, Saranjam B, Ward KD, Ghobadi H, et al. Characteristics and health risk assessment of heavy metals in indoor air of waterpipe cafés. Build Environ. 2021;190:107557.2021.

Maziak W, Taleb ZB, Jawad M, Afifi R, Nakkash R, Akl EA, et al. Consensus statement on assessment of waterpipe smoking in epidemiological studies. Tob Control. 2017;26(3):338–43.2017.

Leavens EL, Driskill LM, Molina N, Eissenberg T, Shihadeh A, Brett EI, Floyd E, Wagener TL. Comparison of a preferred versus non-preferred waterpipe tobacco flavour: subjective experience, smoking behaviour and toxicant exposure. Tob Control. 2018;27(3):319–24.2018.

Kumar SR, Davies S, Weitzman M, Sherman S. A review of air quality, biological indicators and health effects of second-hand waterpipe smoke exposure. Tob Control. 2015;24(Suppl 1):i54–i9.2015.

El-Zaatari ZM, Chami HA, Zaatari GS. Health effects associated with waterpipe smoking. Tob Control. 2015;24(Suppl 1):i31–i43.2015.

Zhou S, Behrooz L, Weitzman M, Pan G, Vilcassim R, Mirowsky JE, Breysee P, Rule A, Gordon T. Secondhand hookah smoke: an occupational hazard for hookah bar employees. Tob Control. 2017;26(1):40–5.2017.

Hoseini M, Yunesian M, Nabizadeh R, Yaghmaeian K, Parmy S, Gharibi H, Faridi S, Hasanvand MS, Ahmadkhaniha R, Rastkari N, Mirzaei N, Naddafi K. Biomonitoring of tobacco smoke exposure and self-reported smoking status among general population of Tehran, Iran. Environ Sci Pollut Res. 2016;23(24):25065–73.2016.

Weitzman M, Yusufali AH, Bali F, Vilcassim MR, Gandhi S, Peltier R, et al. Effects of hookah smoking on indoor air quality in homes. Tob Control. 2017;26(5):586–91.2017.

Maziak W, Taleb ZB, Bahelah R, Islam F, Jaber R, Auf R, Salloum RG. The global epidemiology of waterpipe smoking. Tob Control. 2015;24(Suppl 1):i3–i12.2015.

Davil MF, Naddafi K, Rostami R, Zarei A, Feizizadeh M. A mathematical model for predicting 24-h variations of BTEX concentrations in ambient air of Tehran. Intl J Environ Health Eng. 2013;2(1):4.2013.

Kitwattanavong M, Prueksasit T, Morknoy D, Tunsaringkarn T, Siriwong W. Health risk assessment of petrol station workers in the inner city of Bangkok, Thailand, to the exposure to BTEX and carbonyl compounds by inhalation. Human Ecol Risk Assess Intl J. 2013;19(6):1424–39.2013.

Kim YM, Harrad S, Harrison RM. Concentrations and sources of VOCs in urban domestic and public microenvironments. Environ Sci Technol. 2001;35(6):997–1004.2001.

El-Hashemy MA, Ali HM. Characterization of BTEX group of VOCs and inhalation risks in indoor microenvironments at small enterprises. Sci Total Environ. 2018;645:974–83.2018.

Masekameni MD, Moolla R, Gulumian M, Brouwer D. Risk assessment of benzene, toluene, ethyl benzene, and xylene concentrations from the combustion of coal in a controlled laboratory environment. Int J Environ Res Public Health. 2019;16(1):95.2019.

Hazrati S, Rostami R, Fazlzadeh M. BTEX in indoor air of waterpipe cafés: levels and factors influencing their concentrations. Sci Total Environ. 2015;524:347–53.2015.

Sakai N, Yamamoto S, Matsui Y, Khan MF, Latif MT, Mohd MA, et al. Characterization and source profiling of volatile organic compounds in indoor air of private residences in Selangor state, Malaysia. Sci Total Environ. 2017;586:1279–86.2017.

Schubert J, Müller FD, Schmidt R, Luch A, Schulz TG. Waterpipe smoke: source of toxic and carcinogenic VOCs, phenols and heavy metals? Arch Toxicol. 2015;89(11):2129–39.2015.

Rafiee A, Delgado-Saborit JM, Sly PD, Amiri H, Hoseini M. Lifestyle and occupational factors affecting exposure to BTEX in municipal solid waste composting facility workers. Sci Total Environ. 2019;656:540–6.2019.

Masih A, Lall AS, Taneja A, Singhvi R. Inhalation exposure and related health risks of BTEX in ambient air at different microenvironments of a terai zone in North India. Atmos Environ. 2016;147:55–66.2016.

Smith MT. Advances in understanding benzene health effects and susceptibility. Annu Rev Public Health. 2010;31:133–48.2010.

Jafari AJ, Faridi S, Momeniha F. Temporal variations of atmospheric benzene and its health effects in Tehran megacity (2010-2013). Environ Sci Pollut Res. 2019;26(17):17214–23.2019.

Cancer IAfRo. Agents classified by the IARC monographs, vol 1–100. http://monographs iarc fr/ENG/Classification/ClassificationsAlphaOrder pdf. 2010.2010.

Rafiee A, Delgado-Saborit JM, Gordi E, Quémerais B, Moghadam VK, Lu W, et al. Use of urinary biomarkers to characterize occupational exposure to BTEX in healthcare waste autoclave operators. Sci Total Environ. 2018;631:857–65.2018.

World Health Organization. Regional Office for E. WHO guidelines for indoor air quality: selected pollutants. Copenhagen: World Health Organization. Regional Office for Europe; 2010 2010.

Iepo I. Clean Air Standard 2012.2012.

Fromme H, Debiak M, Sagunski H, Röhl C, Kraft M, Kolossa-Gehring M. The German approach to regulate indoor air contaminants. Int J Hyg Environ Health. 2019;222(3):347–54.2019. https://doi.org/10.1016/j.ijheh.2018.12.012.

Heydari G, Ranjbar Vakilabadi D, Kermani M, Rayani M, Poureshgh Y, Behroozi M, Fanaei F, Arfaeinia H. Load characteristics and inhalation risk assessment of benzene series (BTEX) pollutant in indoor air of Ghalyan and/or cigarette cafes compared to smoking-free cafes. Environ Pollut Bioavail. 2020;32(1):26–35.2020.

Masjedi MR, Taghizadeh F, Hamzehali S, Ghaffari S, Fazlzadeh M, Jafari AJ, et al. Air pollutants associated with smoking in indoor/outdoor of waterpipe cafés in Tehran, Iran: concentrations, affecting factors and health risk assessment. Sci Rep. 2019;9(1):1–11.2019.

Samarghandi M, Mehralipour J, Shabanlo A, Rahimpoor R. The evaluation of personal exposure to BTEX compounds in the traditional restaurants in Hamadan in 2013. Avicenna J Clin Med. 2014;21(3):231–9.2014.

Kassem NO, Kassem NO, Liles S, Reilly E, Kas-Petrus F, Posis AIB, et al. Waterpipe device cleaning practices and disposal of waste associated with waterpipe tobacco smoking in homes in the USA. Tob Control. 2020;29(Suppl 2):s123–s30.2020.

Buka I, Koranteng S, Osornio-Vargas AR. The effects of air pollution on the health of children. Paediatr Child Health. 2006;11(8):513–6.2006.

Faridi S, Naddafi K, Kashani H, Nabizadeh R, Alimohammadi M, Momeniha F, et al. Bioaerosol exposure and circulating biomarkers in a panel of elderly subjects and healthy young adults. Sci Total Environ. 2017;593:380–9.2017.

Adamović D, Dorić J, Vojinović-Miloradov M. BTEX in the exhaust emissions of motor vehicles. Causes, Impacts and Solutions to Global Warming: Springer; 2013. p. 333–42.

Dehghani MH, Baghani AN, Fazlzadeh M, Ghaffari HR. Exposure and risk assessment of BTEX in indoor air of gyms in Tehran, Iran. Microchem J. 2019;150:104135.2019.

Hazrati S, Rostami R, Farjaminezhad M, Fazlzadeh M. Preliminary assessment of BTEX concentrations in indoor air of residential buildings and atmospheric ambient air in Ardabil, Iran. Atmos Environ. 2016;132:91–7.2016.

Shrivastava A, Gupta VB. Methods for the determination of limit of detection and limit of quantitation of the analytical methods. Chron Young Sci. 2011;2(1):21.2011.

Organization WH. WHO guidelines for indoor air quality: selected pollutants. 2010.2010.

Majumdar D, Mukherjeea A, Sen S. BTEX in ambient air of a Metropolitan City. J Environ Prot. 2011;2(01):11.2011.

Baghani AN, Rostami R, Arfaeinia H, Hazrati S, Fazlzadeh M, Delikhoon M. BTEX in indoor air of beauty salons: risk assessment, levels and factors influencing their concentrations. Ecotoxicol Environ Saf. 2018;159:102–8.2018.

Gao H, Lee S, Chan L, Li W. Risk assessment of exposure to volatile organic compounds in different indoor environment. Environ Res. 2004;94(1):57–66.2004.

Heavner DL, Morgan WT, Ogden MW. Determination of volatile organic compounds and ETS apportionment in 49 homes. Environ Int. 1995;21(1):3–21.1995.

Wallace LA. Major sources of benzene exposure. Environ Health Perspect. 1989;82:165–9.1989.

Fromme H. Gesundheitliche Bedeutung der verkehrsbedingten Benzolbelastung der allgemeinen Bevölkerung. Zentralbl Hyg Umweltmed. 1995;196(6):481–94.1995.

Carrer P, Maroni M, Alcini D, Cavallo D, Fustinoni S, Lovato L, et al. Assessment through environmental and biological measurements of total daily exposure to volatile organic compounds of office workers in Milan, Italy. Indoor Air. 2000;10(4):258–68.2000.

Centre HIAQI. Indoor air quality certification scheme for offices and public places. Government of the Hong Kong Special Administrative Region China; 2003.

Fowles J, Dybing E. Application of toxicological risk assessment principles to the chemical constituents of cigarette smoke. Tob Control. 2003;12(4):424–30.2003.

ATSDR A. Toxicological profile for toluene. USDoHaH Services, editor Atlanta: US Public Health Service 2000:1–357.2000.

Fay M, Risher J, Wilson JD. Toxicological profile for xylene 2007.2007.

Guo H, Lee S, Li W, Cao J. Source characterization of BTEX in indoor microenvironments in Hong Kong. Atmos Environ. 2003;37(1):73–82.2003.

Lee JY, Kim K, Ryu SH, Kim CH, Bae G-N. The relative importance of indoor and outdoor sources for determining indoor pollution concentrations in homes in Seoul, South Korea. Asian J Atmos Environ. 2018;12(2):127–38.2018.

Du Z, Mo J, Zhang Y, Xu Q. Benzene, toluene and xylenes in newly renovated homes and associated health risk in Guangzhou, China. Build Environ. 2014;72:75–81.2014.

Lee SC, Li W-M, Ao C-H. Investigation of indoor air quality at residential homes in Hong Kong—case study. Atmos Environ. 2002;36(2):225–37.2002.

Uchiyama S, Tomizawa T, Tokoro A, Aoki M, Hishiki M, Yamada T, Tanaka R, Sakamoto H, Yoshida T, Bekki K, Inaba Y, Nakagome H, Kunugita N. Gaseous chemical compounds in indoor and outdoor air of 602 houses throughout Japan in winter and summer. Environ Res. 2015;137:364–72.2015.

Serrano-Trespalacios PI, Ryan L, Spengler JD. Ambient, indoor and personal exposure relationships of volatile organic compounds in Mexico City metropolitan area. J Exposure Sci Environ Epidemiol. 2004;14(1):S118–S32.2004.

Esplugues A, Ballester F, Estarlich M, Llop S, Fuentes-Leonarte V, Mantilla E, Iñiguez C. Indoor and outdoor air concentrations of BTEX and determinants in a cohort of one-year old children in Valencia, Spain. Sci Total Environ. 2010;409(1):63–9.2010.

Truc VTQ, Oanh NTK. Roadside BTEX and other gaseous air pollutants in relation to emission sources. Atmos Environ. 2007;41(36):7685–97.2007.

Spengler JD, Chen Q. Indoor air quality factors in designing a healthy building. Annu Rev Energy Environ. 2000;25(1):567–600.2000.

Wong NH, Huang B. Comparative study of the indoor air quality of naturally ventilated and air-conditioned bedrooms of residential buildings in Singapore. Build Environ. 2004;39(9):1115–23.2004.

Chiang T-A, Wu P-F, Wang L-F, Lee H, Lee C-H, Ko Y-C. Mutagenicity and polycyclic aromatic hydrocarbon content of fumes from heated cooking oils produced in Taiwan. Mutation Res/Fundamental Mol Mech Mutagenesis. 1997;381(2):157–61.1997.

Chiang TA, Wu PF, Ko YC. Prevention of exposure to mutagenic fumes produced by hot cooking oil in Taiwanese kitchens. Environ Mol Mutagen. 1998;31(1):92–6.1998.

Schneider P, Loerinci G, Gebefuegi IL, Heinrich J, Kettrup A, Wichmann H-E. Vertical and horizontal variability of volatile organic compounds in homes in eastern Germany. J Exposure Sci Environ Epidemiol. 1999;9(4):282–92.1999.

Wallace LA, Pellizzari E, Leaderer B, Zelon H, Sheldon L. Emissions of volatile organic compounds from building materials and consumer products. Atmos Environ (1967). 1987;21(2):385–93.

Sack TM, Steele DH, Hammerstrom K, Remmers J. A survey of household products for volatile organic compounds. Atmos Environ Part A. 1992;26(6):1063–70.1992.

Akland G, Whitaker D, Sheldon L. Characterizing the sources of human exposure to proposition 65 substances. Epidemiology. 1998;9(4):S106.1998.

Nazaroff WW, Weschler CJ. Cleaning products and air fresheners: exposure to primary and secondary air pollutants. Atmos Environ. 2004;38(18):2841–65.2004.

Cerón Bretón JG, Cerón Bretón RM, Martínez Morales S, Kahl JD, Guarnaccia C, Lara Severino RDC, et al. Health Risk Assessment of the Levels of BTEX in Ambient Air of One Urban Site Located in Leon, Guanajuato, Mexico during Two Climatic Seasons. Atmosphere. 2020;11(2):165.2020.

Martins EM, de Sá Borba PF, dos Santos NE, dos Reis PTB, Silveira RS, Corrêa SM. The relationship between solvent use and BTEX concentrations in occupational environments. Environ Monit Assess. 2016;188(11):608.2016.

Ho DX, Kim K-H, Ryeul Sohn J, Hee Oh Y, Ahn J-W. Emission rates of volatile organic compounds released from newly produced household furniture products using a large-scale chamber testing method. TheScientificWorldJournal. 2011;11(2011):1597–622.

Beauregard D, Branch EI. Locating and estimating air emissions from sources of toluene. US Environ Protect Agency 1993.1993.

Miri M, Shendi MRA, Ghaffari HR, Aval HE, Ahmadi E, Taban E, et al. Investigation of outdoor BTEX: concentration, variations, sources, spatial distribution, and risk assessment. Chemosphere. 2016;163:601–9.2016.

Mehralipour J, Samarghandi MR, Rahimpoor R. Evaluation of exposure to BTEX in hookah smokers and carcinogenic and non-carcinogenic risk assessment. Iranian J Health Safety Environ. 2018;5(4):1128–31.2018.

Buczynska AJ, Krata A, Stranger M, Godoi AFL, Kontozova-Deutsch V, Bencs L, et al. Atmospheric BTEX-concentrations in an area with intensive street traffic. Atmos Environ. 2009;43(2):311–8.2009.

Pyatt D, Hays S. A review of the potential association between childhood leukemia and benzene. Chem Biol Interact. 2010;184(1–2):151–64.2010.

Abbasi F, Pasalari H, Delgado-Saborit JM, Rafiee A, Abbasi A, Hoseini M. Characterization and risk assessment of BTEX in ambient air of a middle Eastern City. Process Saf Environ Prot. 2020;2020.
Acknowledgements
This article was extracted from the thesis written by Zeynab Tabatabaei, MSc student of Environmental Health engineering. The present work was financially supported by the Vice-chancellor for Research and Technology, Shiraz University of Medical Sciences (proposal No.19458).
Ethics declarations
Conflict of interest
The authors declare that they have no competing interests.
Additional information
Publisher's note
Springer Nature remains neutral with regard to jurisdictional claims in published maps and institutional affiliations.
About this article
Cite this article
Tabatabaei, Z., Baghapour, M.A., Hoseini, M. et al. Assessing BTEX concentrations emitted by hookah smoke in indoor air of residential buildings: health risk assessment for children. J Environ Health Sci Engineer 19, 1653–1665 (2021). https://doi.org/10.1007/s40201-021-00721-x
Received:

Accepted:

Published:

Issue Date:

DOI: https://doi.org/10.1007/s40201-021-00721-x
Keywords