Abstract
The study of bioaerosol dispersion in wastewater treatment plants (WWTPs) has received considerable attention. This study aimed to investigate the seasonal changes and spatial distributions of airborne bacteria around different parts of Ahvaz WWTP, the capital city of Khuzestan Province, Iran, over 4 months in the cold and warm seasons. Samples were collected from 2 and 10-m intervals of grit chamber (GCh), primary sludge dewatering basin (PSDB), aeration tank (AT), as well as 60-m upstream (US) and downstream (DS) of the WWTP. Further, bacteria in the indoor air of administrative building (AB) of WWTP were investigated. Bioaerosols were collected by passive sampling method. The total bacteria count was 105.3 ± 98.5 CFU/plate/h. The dominant bacteria stood 2 m away from the AT with an average 244.2 ± 73.1 CFU/plate/h in the warm season while they were the lowest with an average 43 ± 11.4 CFU/plate/h in the 10-m distance of the GCh in the cold season. According to the sequencing results, the dominant bacterial species included Bacillus pumilus (26.7%), Staphylococcus arlettae (23.2%), Kocuria turfanensis (13.6%) and Alicycliphilus (9.2%), respectively. There was a positive relationship between the release of bacteria, temperature and wind speed. However, there was a significant negative correlation between total bacteria concentration and humidity. There are accumulative perils to WWTP workers and neighbors exposed by persistent exposure to airborne bacteria. Therefore, AT should be paid more attention as a dominant source of airborne bacteria emissions, especially in the warm season.
This is a preview of subscription content, log in to check access.
Access options
Buy single article
Instant access to the full article PDF.
US$ 39.95
Price includes VAT for USA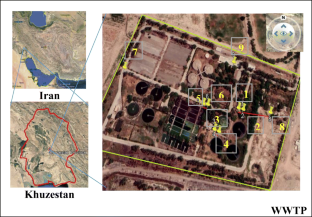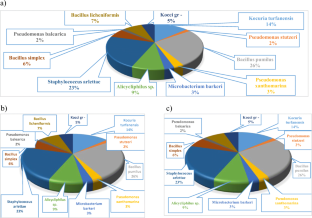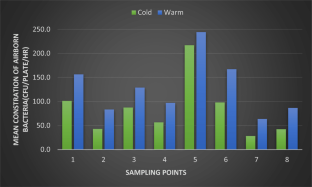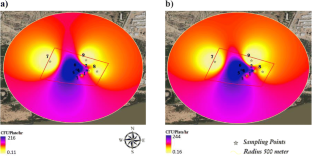 References
1.

Yang T, Han Y, Liu J, Li L. Aerosols from a wastewater treatment plant using oxidation ditch process: characteristics, source apportionment, and exposure risks. Environ Pollut. 2019;250:627–38.

2.

Fathi S, Hajizadeh Y, Nikaeen M, Gorbani M. Assessment of microbial aerosol emissions in an urban wastewater treatment plant operated with activated sludge process. Aerobiologia. 2017;33(4):507.

3.

Niazi S, Hassanvand MS, Mahvi AH, Nabizadeh R, Alimohammadi M, Nabavi S, et al. Assessment of bioaerosol contamination (bacteria and fungi) in the largest urban wastewater treatment plant in the Middle East. Environ Sci Pollut Res. 2015;22(20):16014–21.

4.

Li L, Gao M, Liu J. Distribution characterization of microbial aerosols emitted from a wastewater treatment plant using the Orbal oxidation ditch process. Process Biochem. 2011;46(4):910–5.

5.

Uhrbrand K, Schultz AC, Koivisto A, Nielsen U, Madsen A. Assessment of airborne bacteria and noroviruses in air emission from a new highly-advanced hospital wastewater treatment plant. Water Res. 2017;112:110–9.

6.

Filipkowska Z, Janczukowicz W, Krzemieniewski M, Pesta J. Microbiological air pollution in the surroundings of the wastewater treatment plant with activated-sludge tanks aerated by horizontal rotors. Pol J Environ Stud. 2000;9(4):273–80.

7.

Malakootian M, Radhakrishna N, Mazandarany MP, Hossaini H. Bacterial-aerosol emission from wastewater treatment plant. Desalin Water Treat. 2013;51(22–24):4478–88.

8.

Li J, Zhou L, Zhang X, Xu C, Dong L, Yao M. Bioaerosol emissions and detection of airborne antibiotic resistance genes from a wastewater treatment plant. Atmospheric environment. 2016;124:404.

9.

Szyłak-Szydłowski M, Kulig A, Miaśkiewicz-Pęska E. Seasonal changes in the concentrations of airborne bacteria emitted from a large wastewater treatment plant. Int Biodeterior Biodegradation. 2016;115:11–6.

10.

De Vrieze J, Pinto AJ, Sloan WT, Ijaz UZ. The active microbial community more accurately reflects the anaerobic digestion process: 16S rRNA (gene) sequencing as a predictive tool. Microbiome. 2018;6(1):63.

11.

Shah MP. Evaluation and analysis of bacterial communities from different waste water treatment plants by denaturing gradient gel electrophoresis with group specific 16s rRNA. Int J Environ Biorem Biodegrad. 2014;2(3):100–11.

12.

Boon N, De Windt W, Verstraete W, Top EM. Evaluation of nested PCR–DGGE (denaturing gradient gel electrophoresis) with group-specific 16S rRNA primers for the analysis of bacterial communities from different wastewater treatment plants. FEMS Microbiol Ecol. 2002;39(2):101–12.

13.

Zhang L, Shen Z, Fang W, Gao G. Composition of bacterial communities in municipal wastewater treatment plant. Science of The Total Environment. 2019.

14.

Wang Y, Li L, Xiong R, Guo X, Liu J. Effects of aeration on microbes and intestinal bacteria in bioaerosols from the BRT of an indoor wastewater treatment facility. Sci Total Environ. 2019;648:1453–61.

15.

Jiayu C, Qiaoqiao R, Feilong C, Chen L, Jiguo W, Zhendong W, et al. Microbiology community structure in bioaerosols and the respiratory diseases. J Environ Sci. 2019;3(3):347–57.

16.

Mbareche H, Morawska L, Duchaine C. On the interpretation of bioaerosol exposure measurements and impacts on health. J Air Waste Manage Assoc. 2019;69(7):789–804.

17.

Faridi S, Hassanvand MS, Naddafi K, Yunesian M, Nabizadeh R, Sowlat MH, et al. Indoor/outdoor relationships of bioaerosol concentrations in a retirement home and a school dormitory. Environ Sci Pollut Res. 2015;22(11):8190–200.

18.

Kim K-H, Kabir E, Jahan SA. Airborne bioaerosols and their impact on human health. J Environ Sci. 2018;67:23–35.

19.

Tran HT, Stephenson SL, Tullis JA. Geographic information system (GIS)-based image analysis for assessing growth of Physarum polycephalum on a solid medium. Fungal biology and biotechnology. 2015;2(1):7.

20.

Available from: www.AccuWeather.com.

21.

Nourmoradi H, Amin MM, Hatamzadeh M, Nikaeen M. Evaluation of bio-aerosols concentration in the different wards of three educational hospitals in Iran. International Journal of Environmental Health Engineering. 2012;1(1):47.

22.

Hameed AA, Khoder M, Yuosra S, Osman A, Ghanem S. Diurnal distribution of airborne bacteria and fungi in the atmosphere of Helwan area, Egypt. Science of the Total Environment. 2009;407(24):6217-.

23.

Zarayneh S, Sepahi AA, Jonoobi M, Rasouli H. Comparative antibacterial effects of cellulose nanofiber, chitosan nanofiber, chitosan/cellulose combination and chitosan alone against bacterial contamination of Iranian banknotes. International Journal of Biological Macromolecules. 2018;118:1045-.

24.

Bafandeh N, Rahimian H, Jouzani GS, Alidadi A. Characterization of the bacteria associated with alder angular leaf spot in Iran. Australas Plant Pathol. 2019:1–9.

25.

Liu KF-R, Hung M-J, Kuo J-Y, Liang H-H. Using GIS and kriging to analyze the spatial distributions of the health risk of indoor air pollution. Journal of Geoscience and Environment Protection. 2015;3(06):20–5.

26.

Yang K, Li L, Wang Y, Xue S, Han Y, Liu J. Airborne bacteria in a wastewater treatment plant: emission characterization, source analysis and health risk assessment. Water Res. 2019;149:596–606.

27.

Mentese S, Rad AY, Arısoy M, Güllü G. Seasonal and spatial variations of bioaerosols in indoor urban environments, Ankara, Turkey. Indoor and built environment. 2012;21(6):797–810.

28.

Wang Y, Li L, Han Y, Liu J, Yang K. Intestinal bacteria in bioaerosols and factors affecting their survival in two oxidation ditch process municipal wastewater treatment plants located in different regions. Ecotoxicol Environ Saf. 2018;154:162–70.

29.

Walker M, Talley N. Bacteria and pathogenesis of disease in the upper gastrointestinal tract–beyond the era of helicobacter pylori. Aliment Pharmacol Ther. 2014;39(8):767–79.

30.

Morell F, Ojanguren I, Cruz M-J. Diagnosis of occupational hypersensitivity pneumonitis. Curr Opin Allergy Clin Immunol. 2019;19(2):105–10.

31.

Yoo K, Han I, Ko KS, Lee TK, Yoo H, Khan MI, et al. Bacillus-dominant airborne bacterial communities identified during Asian dust events. Microb Ecol. 2019:1–11.

32.

Noble RC, Overman SB. Pseudomonas stutzeri infection a review of hospital isolates and a review of the literature. Diagn Microbiol Infect Dis. 1994;19(1):51–6.

33.

Abbas AA, Amran AM. BACILLUS PUMILUS ISOLATED FROM HEALTHY HONEY BEES AND ITS EFFECTS ON SOME BIOLOGICALASPECTS IN MICE. 2018.

34.

Houard M, Rouzé A, Ledoux G, Six S, Jaillette E, Poissy J, et al. Relationship between digestive tract colonization and subsequent ventilator-associated pneumonia related to ESBL-producing Enterobacteriaceae. PLoS One. 2018;13(8):e0201688.

35.

Lau L, Wiens EJ, Karlowsky JA, Keynan Y, Jassal DS. Clinical utility of echocardiography for the diagnosis of native valve infective endocarditis in Staphylococcus aureus bacteremia. Echocardiography. 2019.

36.

Elhag M, Alaagib RM, Ahmed NM, Elhadi MA, Haroun EM, Albagi SOA, et al. Design of Epitope Based Peptide Vaccine Against Pseudomonas aeruginosa Fructose Bisphosphate Aldolase Protein using Immunoinformatics. bioRxiv. 2019:720730.

37.

Laitinen S, Kangas J, Kotimaa M, Liesivuori J, Martikainen PJ, Nevalainen A, et al. Workers' exposure to airborne bacteria and endotoxins at industrial wastewater treatment plants. Am Ind Hyg Assoc J. 1994;55(11):1055–60.

38.

Wlazło A, Pastuszka J, Łudzeń-Izbińska B. Assessment of workers' exposure to airborne bacteria at a small wastewater treatment plant. Med Pr. 2002;53(2):109–14.

39.

Michałkiewicz M, Pruss A, Dymaczewski Z, Jeż-Walkowiak J, Kwaśna S. Microbiological air monitoring around municipal wastewater Treatment Plants. Polish Journal of Environmental Studies. 2011;20(5).

40.

Cox CS, Wathes CM. Bioaerosols handbook: crc press; 1995.

41.

Li H, Zhou X-Y, Yang X-R, Zhu Y-G, Hong Y-W, Su J-Q. Spatial and seasonal variation of the airborne microbiome in a rapidly developing city of China. Sci Total Environ. 2019;665:61–8.

42.

Kermani M, Dehghani A, Farzadkia M, Nadafi K, Bahrami Asl F, Zeinalzadeh D. Investigation of airborne bactria and fungi in Tehran's Shahrake Ghods WWTP and its association with environmental parameters. Journal of Health. 2015;6(1):57–68.

43.

Breza-Boruta B, Paluszak Z. Influence of water treatment plant on microbiological composition of air bioaerosol. Polish Journal of Environmental Studies. 2007;16(5).

44.

Korzeniewska E, Filipkowska Z, Gotkowska-Płachta A, Janczukowicz W, Dixon B, Czułowska M. Determination of emitted airborne microorganisms from a BIO-PAK wastewater treatment plant. Water Res. 2009;43(11):2841–51.

45.

Brown NJ. Health hazard manual: wastewater treatment plant and sewer workers. Manuals and User Guides. 1997;2.

46.

Dunklin EW, Puck TT. The lethal effect of relative humidity on air-borne bacteria. J Exp Med. 1948;87(2):87–101.

47.

Wells Wt, Zappasodi P. The effect of humidity on beta streptococci (Group C) atomized into air. science (Washington). 1942:277–8.

48.

Tang JW. The effect of environmental parameters on the survival of airborne infectious agents. Journal of the Royal Society Interface. 2009;6(suppl_6):S737-S46.

49.

Jones AM, Harrison RM. The effects of meteorological factors on atmospheric bioaerosol concentrations—a review. Sci Total Environ. 2004;326(1–3):151–80.

50.

Handley B, Webster A. Some factors affecting the airborne survival of bacteria outdoors. J Appl Bacteriol. 1995;79(4):368–78.

51.

Xu C, Wei M, Chen J, Wang X, Zhu C, Li J, et al. Bacterial characterization in ambient submicron particles during severe haze episodes at Ji'nan, China. Science of the Total Environment. 2017;580:188-.

52.

Fang Z, Ouyang Z, Zheng H, Wang X, Hu L. Culturable airborne bacteria in outdoor environments in Beijing. China Microbial Ecology. 2007;54(3):487–96.

53.

Fang Z, Guo W, Zhang J, Lou X. Influence of heat events on the composition of airborne bacterial communities in urban ecosystems. Int J Environ Res Public Health. 2018;15(10):2295.

54.

Fernando NL, Fedorak PM. Changes at an activated sludge sewage treatment plant alter the numbers of airborne aerobic microorganisms. Water Res. 2005;39(19):4597–608.
Acknowledgments
The authors would like to thank the Environmental Technologies Research Center of Ahvaz Jundishapur University (grant number ETRC -9701).
Ethics declarations
Conflict of interest
The authors declare no competing financial interests.
Additional information
Publisher's note
Springer Nature remains neutral with regard to jurisdictional claims in published maps and institutional affiliations.
About this article
Cite this article
Talepour, N., Hassanvand, M.S., Abbasi-Montazeri, E. et al. Spatio-temporal variations of airborne bacteria from the municipal wastewater treatment plant: a case study in Ahvaz, Iran. J Environ Health Sci Engineer (2020). https://doi.org/10.1007/s40201-020-00470-3
Received:

Accepted:

Published:
Keywords
Airborne bacteria

Seasonal changing

Spatial distributions

Wastewater treatment plant