A simple and effective synthesis of magnetic γ-Fe2O3@SiO2@TiO2–Ag microspheres as a recyclable photocatalyst: dye degradation and antibacterial potential
Abstract
Purpose and methods
In this study, an effective technique for synthesizing γ-Fe2O3@SiO2@TiO2–Ag magnetically separable photocatalyst was introduced by combining co-precipitation, sol-gel, and photo-deposition methods. A series of analyses including FTIR, SEM, EDS, XRD, and VSM were applied to characterize the prepared materials and the investigations on photocatalytic activity of the prepared composites were accomplished.
Results
Compared to bare γ-Fe2O3@SiO2@TiO2, the Ag-doped composite was more active in terms of photocatalytic characteristics. By applying γ-Fe2O3@SiO2@TiO2-Ag, the decomposition rate of the Basic blue 41 reached to about 94% after 3 h of UV irradiation; this rate was 63% for pure γ-Fe2O3@SiO2@TiO2. The results indicated that the dye degradation kinetics followed first-order kinetic model. During the five cycles of separation, it was observed that the Ag-doped composite was greatly effective and stable in terms of recycling. Moreover, the results indicated that antibacterial activity of γ-Fe2O3@SiO2@TiO2-Ag was remarkably stronger than that of pure Fe2O3@SiO2@TiO2 particles.
Conclusion
It was concluded that by modifying magnetic TiO2 by silver nanoparticles, charge separation was eased by catching photo-generated electrons, resulted in an enhanced photo- and biological activity.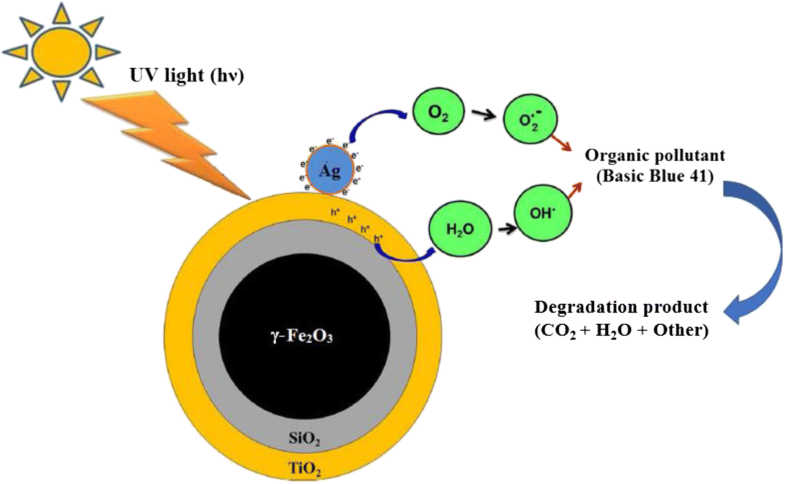 Keywords
Synthesis 
Magnetic nanocomposite 
Core-shell 
TiO2 photocatalyst 
Dye degradation 
Antibacterial activity 
Notes
Compliance with ethical standards
Conflict of interest
The authors have no conflicts of interest to declare.
Copyright information
© Springer Nature Switzerland AG 2019