Abstract
Purpose
Recent trials have demonstrated the possible improvements in lipid profile & anthropometric indices after probiotics supplementation. We aimed to reanalyze the related literature to explore the efficacy of probiotics in Diabetic Nephropathy (DN) patients.
Methods
PubMed, Embase, Web of science, google scholar, Scopus, and Cochrane Library databases were systematically searched to find the related data on diabetic nephropathy population. All Randomized controlled trials (RCTs) that investigated the effect of probiotics on serum lipid markers (High-Density Lipoprotein [HDL], Triglyceride, Total Cholesterol, TC-to-HDL ratio, Low-Density Lipoprotein, Very Low-Density Lipoprotein) and anthropometric indices (Body Weight, Body Mass Index, waist-to-hip ratio) were included (PROSPERO No.CRD42020186189). Meta-analysis was performed using the random-effect model.
Results
Of 156 studies, seven were eligible for inclusion. Lipid biomarkers had a marginal reduction (except for HDL; WMD = 2.59 mg/dl; 95% CI = -0.28, 5.47; P = 0.077); whereas anthropometric indices increased in a non-significant manner.
Conclusion
There is limited evidence to support the efficacy of probiotics for the modulation of lipid profile and anthropometric indices in DN patients.
Graphical abstract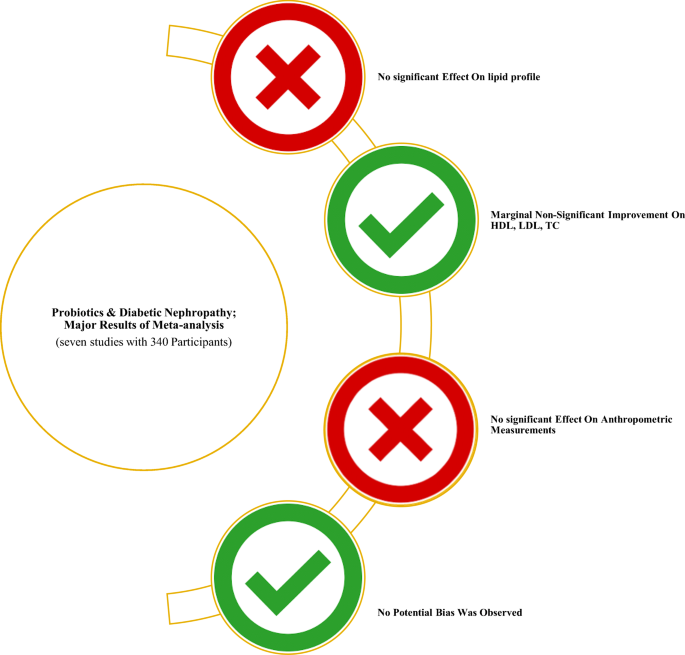 Access options
Buy single article
Instant access to the full article PDF.
US$ 39.95
Tax calculation will be finalised during checkout.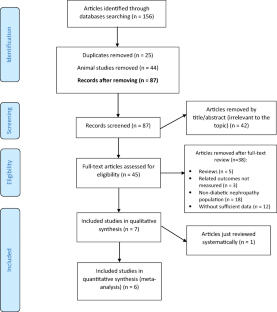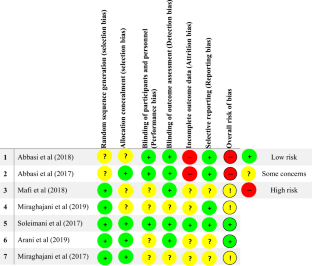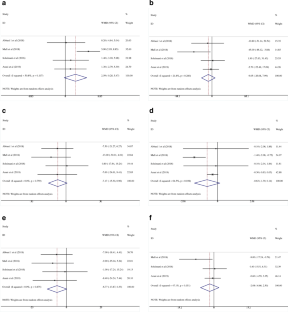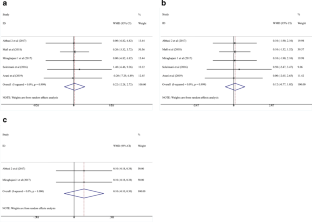 References
1.

Kikuchi K, Saigusa D, Kanemitsu Y, Matsumoto Y, Thanai P, Suzuki N, et al. Gut microbiome-derived phenyl sulfate contributes to albuminuria in diabetic kidney disease. Nat Commun. 2019;10(1):1–17.

2.

Morimoto K, Matsui M, Samejima K, Kanki T, Nishimoto M, Tanabe K, et al. Renal arteriolar hyalinosis, not intimal thickening in large arteries, is associated with cardiovascular events in people with biopsy-proven diabetic nephropathy. Diabet Med. 2020;37:2143–52.

3.

Thongprayoon C, Hatch ST, Kaewput W, Sharma K, Ungprasert P, Wijarnpreecha K, et al. The effects of probiotics on renal function and uremic toxins in patients with chronic kidney disease; a meta-analysis of randomized controlled trials. Journal of Nephropathology. 2018;7(3).

4.

Maric C, Hall JE. Obesity, metabolic syndrome and diabetic nephropathy. Diabetes and the Kidney. 2011;170: Karger Publishers;:28–35.

5.

Sabapathy V, Stremska ME, Mohammad S, Corey RL, Sharma PR, Sharma R. Novel immunomodulatory cytokine regulates inflammation, diabetes, and obesity to protect from diabetic nephropathy. Front Pharmacol. 2019;10:572.

6.

Russo G, Piscitelli P, Giandalia A, Viazzi F, Pontremoli R, Fioretto P, et al. Atherogenic dyslipidemia and diabetic nephropathy. Journal of Nephrology. 2020:1–8.

7.

Fang B, Zhang M, Dong L, Zhou X, Ren F, Ge S. Probiotic camel milk powder improves glycemic control, dyslipidemia, adipose tissue and skeletal muscle function in T2DM patients: a randomized trial. 2020.

8.

Asad F, Anwar H, Yassine HM, Ullah MI, Kamran Z, Sohail MU. White button mushroom, agaricus bisporus (Agaricomycetes), and a probiotics mixture supplementation correct dyslipidemia without influencing the colon microbiome profile in hypercholesterolemic rats. International Journal of Medicinal Mushrooms. 2020;22(3).

9.

López-Moreno A, Suárez A, Avanzi C, Monteoliva-Sánchez M, Aguilera M. Probiotic strains and intervention Total doses for modulating obesity-related microbiota Dysbiosis: a systematic review and meta-analysis. Nutrients. 2020;12(7):1921.

10.

Bahreini-Esfahani N, Moravejolahkami AR. Can synbiotic dietary pattern predict Lactobacillales strains in breast Milk? Breastfeeding Medicine. 2020.

11.

Moravejolahkami A, Chitsaz A. Mediterranean-style diet co-supplemented with synbiotics improved quality of life, fatigue and disease activity in five secondary progressive multiple sclerosis patients. Ann Med & Surg Case Rep: AMSCR. 2019;2019(02).

12.

Khalili L, Alipour B, Jafarabadi MA, Hassanalilou T, Abbasi MM, Faraji I. Probiotic assisted weight management as a main factor for glycemic control in patients with type 2 diabetes: a randomized controlled trial. Diabetology & metabolic syndrome. 2019;11(1):5.

13.

Razmpoosh E, Javadi A, Ejtahed HS, Mirmiran P, Javadi M, Yousefinejad A. The effect of probiotic supplementation on glycemic control and lipid profile in patients with type 2 diabetes: a randomized placebo controlled trial. Diabetes & Metabolic Syndrome: Clinical Research & Reviews. 2019;13(1):175–82.

14.

Bock PM, Telo GH, Ramalho R, Sbaraini M, Leivas G, Martins AF, et al. The effect of probiotics, prebiotics or synbiotics on metabolic outcomes in individuals with diabetes: a systematic review and meta-analysis. Diabetologia. 2020:1–16.

15.

Kocsis T, Molnár B, Németh D, Hegyi P, Szakács Z, Bálint A, et al. Probiotics have beneficial metabolic effects in patients with type 2 diabetes mellitus: a meta-analysis of randomized clinical trials. Sci Rep. 2020;10(1):1–14.

16.

Kasińska MA, Drzewoski J. Effectiveness of probiotics in type 2 diabetes: a meta-analysis. Pol Arch Med Wewn. 2015;125(11):803–13.

17.

Yao K, Zeng L, He Q, Wang W, Lei J, Zou X. Effect of probiotics on glucose and lipid metabolism in type 2 diabetes mellitus: a meta-analysis of 12 randomized controlled trials. Medical science monitor: international medical journal of experimental and clinical research. 2017;23:3044–53.

18.

Million M, Angelakis E, Paul M, Armougom F, Leibovici L, Raoult D. Comparative meta-analysis of the effect of Lactobacillus species on weight gain in humans and animals. Microb Pathog. 2012;53(2):100–8.

19.

Vlachou E, Ntikoudi A, Govina O, Lavdaniti M, Kotsalas N, Tsartsalis A, et al. Effects of probiotics on diabetic nephropathy: a systematic review. Curr Clin Pharmacol. 2020;15:234–42.

20.

Liberati A, Altman DG, Tetzlaff J, Mulrow C, Gøtzsche PC, Ioannidis JP, et al. The PRISMA statement for reporting systematic reviews and meta-analyses of studies that evaluate health care interventions: explanation and elaboration. Annals of internal medicine. 2009;151(4):W-65–94.

21.

Sterne JA, Savović J, Page MJ, Elbers RG, Blencowe NS, Boutron I, et al. RoB 2: a revised tool for assessing risk of bias in randomised trials. bmj. 2019;366.

22.

Hozo SP, Djulbegovic B, Hozo I. Estimating the mean and variance from the median, range, and the size of a sample. BMC Med Res Methodol. 2005;5(1):13.

23.

Peng W, Mao P, Liu L, Chen K, Zhong Y, Xia W, et al. Effect of carnosine supplementation on lipid profile, fasting blood glucose, HbA1C and insulin resistance: a systematic review and meta-analysis of long-term randomized controlled trials. Complementary Therapies in Medicine. 2019;102241.

24.

Abbasi B, Ghiasvand R, Mirlohi M. Kidney function improvement by soy milk containing Lactobacillus plantarum A7 in type 2 diabetic patients with nephropathy: a double-blinded randomized controlled trial. Iran J Kidney Dis. 2017;11(1):36–43.

25.

Abbasi B, Mirlohi M, Daniali M, Ghiasvand R. Effects of probiotic soymilk on lipid panel in type 2 diabetic patients with nephropathy: a double-blind randomized clinical trial. Prog Nutr. 2018;20:70–8.

26.

Arani NM, Emam-Djomeh Z, Tavakolipour H, Sharafati-Chaleshtori R, Soleimani A, Asemi Z. The effects of probiotic honey consumption on metabolic status in patients with diabetic nephropathy: a randomized, double-blind, controlled trial. Probiotics and antimicrobial proteins. 2019;11(4):1195–201.

27.

Mafi A, Namazi G, Soleimani A, Bahmani F, Aghadavod E, Asemi Z. Metabolic and genetic response to probiotics supplementation in patients with diabetic nephropathy: a randomized, double-blind, placebo-controlled trial. Food Funct. 2018;9(9):4763–70.

28.

Miraghajani M, Zaghian N, Mirlohi M, Ghiasvand R. Probiotic soy milk consumption and renal function among type 2 diabetic patients with nephropathy: a randomized controlled clinical trial. Probiotics and antimicrobial proteins. 2019;11(1):124–32.

29.

Soleimani A, Mojarrad MZ, Bahmani F, Taghizadeh M, Ramezani M, Tajabadi-Ebrahimi M, et al. Probiotic supplementation in diabetic hemodialysis patients has beneficial metabolic effects. Kidney Int. 2017;91(2):435–42.

30.

Miraghajani M, Zaghian N, Mirlohi M, Feizi A, Ghiasvand R. The impact of probiotic soy milk consumption on oxidative stress among type 2 diabetic kidney disease patients: a randomized controlled clinical trial. J Ren Nutr. 2017;27(5):317–24.

31.

Jia L, Jia Q, Yang J, Jia R, Zhang H. Efficacy of probiotics supplementation on chronic kidney disease: a systematic review and meta-analysis. Kidney Blood Press Res. 2018;43(5):1623–35.

32.

AbdelQadir YH, Hamdallah A, Sibaey EA, Hussein AS, Abdelaziz M, AbdelAzim A, et al. Efficacy of probiotic supplementation in patients with diabetic nephropathy: a systematic review and meta-analysis. Clinical Nutrition ESPEN. 2020;40:57–67.

33.

Koutnikova H, Genser B, Monteiro-Sepulveda M, Faurie J-M, Rizkalla S, Schrezenmeir J, et al. Impact of bacterial probiotics on obesity, diabetes and non-alcoholic fatty liver disease related variables: a systematic review and meta-analysis of randomised controlled trials. BMJ Open. 2019;9(3):e017995.

34.

Wada J, Makino H. Innate immunity in diabetes and diabetic nephropathy. Nat Rev Nephrol. 2016;12(1):13–26.

35.

Mohammed SK, Magdy YM, El-Waseef DA, Nabih ES, Hamouda MA, El-kharashi OA. Modulation of hippocampal TLR4/BDNF signal pathway using probiotics is a step closer towards treating cognitive impairment in NASH model. Physiol Behav. 2020;214:112762.

36.

Ahmed LA, Salem MB, El-Din SHS, El-Lakkany NM, Ahmed HO, Nasr SM, et al. Gut microbiota modulation as a promising therapy with metformin in rats with non-alcoholic steatohepatitis: role of LPS/TLR4 and autophagy pathways. Eur J Pharmacol. 2020;887:173461.

37.

Tuoheti A, Gu X, Cheng X, Zhang H. Silencing Nrf2 attenuates chronic suppurative otitis media by inhibiting pro-inflammatory cytokine secretion through up-regulating TLR4. Innate Immunity. 2020;1753425920933661.

38.

Bhat B, Bajaj BK. Multifarious cholesterol lowering potential of lactic acid bacteria equipped with desired probiotic functional attributes. 3 Biotech. 2020;10:1–16.

39.

Bäckhed F, Fraser CM, Ringel Y, Sanders ME, Sartor RB, Sherman PM, et al. Defining a healthy human gut microbiome: current concepts, future directions, and clinical applications. Cell Host Microbe. 2012;12(5):611–22.

40.

Kaur L, Gordon M, Baines PA, Iheozor-Ejiofor Z, Sinopoulou V, Akobeng AK. Probiotics for induction of remission in ulcerative colitis. Cochrane Database Syst Rev. 2020;3.
Acknowledgements
This research was supported by Isfahan University of Medical Sciences, Isfahan, Iran.
PROSPERO Registration ID. CRD42020186189.
Authors' contributions (CRediT author statement)
Amir Reza Moravejolahkami: Conceptualization, Investigation, Methodology, Software, Validation, Formal analysis, Writing - Original Draft.
Mohammad Ali Hojjati Kermani: Visualization, Project administration, Writing - Review & Editing.
Zakiyeh Balouch Zehi: Data Curation, Resources, Writing - Review & Editing.
Seyed Mohammad Sadegh Mirenayat: Writing - Review & Editing.
Marjan Mansourian: Supervision, Funding acquisition.
Ethics declarations
Conflict of interest
The authors declare that they have no conflict of interest to the publication of this article.
Additional information
Publisher's note
Springer Nature remains neutral with regard to jurisdictional claims in published maps and institutional affiliations.
This study has not been duplicate publication or submission elsewhere.
Supplementary Information
About this article
Cite this article
Moravejolahkami, A., Hojjati Kermani, M., Balouch Zehi, Z. et al. The effect of probiotics on lipid profile & anthropometric indices in diabetic nephropathy; a systematic review and meta-analysis of clinical trials. J Diabetes Metab Disord (2021). https://doi.org/10.1007/s40200-021-00765-8
Received:

Accepted:

Published:
Keywords
Probiotics

Lipoproteins

Body weights and measures

Diabetic nephropathies

Meta-analysis

Systematic review