Abstract
Purpose
The aim of this study is to identify patterns in information sharing between Evidence-Based Medicine journals to determine key evidence dissemination areas from co-authorship, co-occurrence and citation networks and to provide a scientific horizon for improving the dissemination of Evidence Based Medicine Research in Iran. And show the trend of Evidence Based Medicine research at Endocrinology & Metabolism Research Institute (EMRI), Tehran University of Medical Sciences.
Methods
This was a bibliometric study. Scopus database was used for retrieving and analyzing the publications. We analyzed the relationship between co-authorship and citation and visualized them. Co-occurrence keywords in EBM articles in the Scopus database, and developed subject charts and research field relationship.
Results
Journal of Diabetes and Metabolism Disorders (GDMD) contains a large collection of information of relevance to Evidence Based Medicine and its contents are widely cited across many journals in Iran. The investigation of co-authorship network showed that 121 EBM articles from 191 authors, Akbar Soltani has the highest citations in EBM research and he is a pioneer in this subject area. The scientific contributions of GDMD to EBM is mostly in disease control and therapy. An Evidence Based Medicine Research Center focused more on these areas such as education, treatment and research, Evidence Based Clinical Practice, Evidence Based Policymaking and to improve clinical reasoning and clinical thinking. In co-occurrence author keywords, the highest publications were in osteoporosis. From the main journals that had published the most were the journal of diabetes and metabolic disorders (GDMD) .From citation organizations, EMRI contains large collections of information of relevance to EBM and are widely cited across 171 organizations in Iran.
Conclusions
An Evidence Based Medicine Research Center scientific production contain several key clusters. With authors, organizations and subject area being the source of the majority of articles. The EBM co-authorship author's network in Iran is comprised of 191 authors in 23 clusters in major groups, the largest and most productive in this network is led by Akbar Soltani with Bagher Larijani,Shirin Hasani Ranjbar, Arash Moayyari, Arash Hossen-nazhad, Iraj Nabipour, Ramin Heshmat ,Hamideh Mosapour,Azadeh Aletaha, ,Mahbobeh Khabaz- Mafinejad as central members. The findings shows that EBM research topics are widely communicated to other medical fields like osteoporosis and obesity and have begun to shift from Evidence Based clinical Practice to Evidence based management.
Access options
Buy single article
Instant access to the full article PDF.
US$ 39.95
Tax calculation will be finalised during checkout.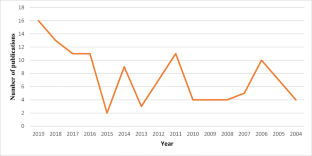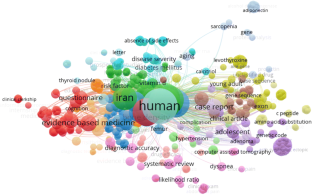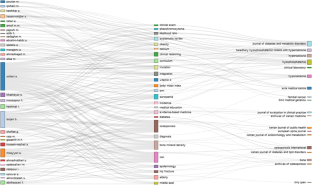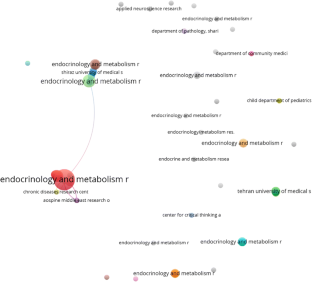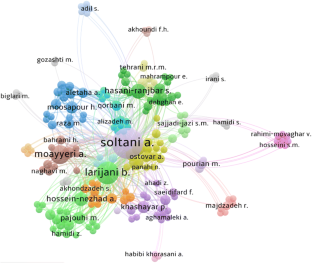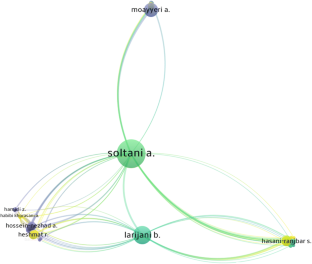 Notes
1.

2.

The Open Graph Viz Platform.
Abbreviations
EBM:

Evidence-Based Medicine

MeSH:

Medical Subject Headings

NLM:

National Library of Medicine

VOSviewer:

Visualizing scientific landscapes
References
1.

Haynes RB, Sackett DL, Richardson WS, Rosenberg W, Langley GR. Evidence-based medicine: How to practice & teach EBM. Can Med Assoc J. 1997;157(6):788.

2.

Guyatt G, Rennie D, Meade M, Cook D. Users' guides to the medical literature: a manual for evidence-based clinical practice. Chicago: AMA Press; 2002.

3.

Bastaninejad S, Soltani A, Dabiran S, Amali A, Adil S, Borghei P, et al. Determining effectiveness of EBM education in otolaryngology residents using modified fresno test. Laryngoscope. 2019;129(10):2291–4.

4.

Soleyman-Jahi S, Yousefian A, Maheronnaghsh R, Shokraneh F, Zadegan SA, Soltani A, et al. Evidence-based prevention and treatment of osteoporosis after spinal cord injury: a systematic review. Eur Spine J. 2018;27(8):1798–814.

5.

Soltani Akbar. Evidence-Based Medicine in Endocrinology: The Path to the Future-Review Article. (2014);19–23.

6.

Moayyeri A, Soltani A, Moosapour H, Raza M. Evidence-based history taking under "time constraint". J Res Med Sci. 2011;16(4):559.

7.

Ahmadi-Abhari S, Soltani A, Hosseinpanah F. Knowledge and attitudes of trainee physicians regarding evidence‐based medicine: a questionnaire survey in Tehran, Iran. J Eval Clin Pract. 2008;14(5):775–9.

8.

Soltani A, Moayyeri A. Deterministic versus evidence-based attitude towards clinical diagnosis. J Eval Clin Pract. 2007;13(4):533–7.

9.

Green ML. A train-the-trainer model for integrating evidence-based medicine training into podiatric medical education. J Am Podiatr Med Assoc. 2005;95(5):497–504.

10.

Weinbrenner S, Meyerrose B, Vega-Perez A, Kulier R, Coppus SF, Kunz R. EUebm–Integrating a Europe-wide Harmonised Training and Continuing Medical Education in Evidence-based Medicine (EbM) with patient care. Z Evid Fortbild Qual Gesundhwes. 2009;103(1):35–9.

11.

Green ML. Evidence-based medicine training in graduate medical education: past, present and future. J Eval Clin Pract. 2000;6(2):121–38.
Acknowledgements
This article is extracted from 25 scientific production of Evidence-Based Medicine Research Center, without any financial support.
Ethics declarations
Ethics approval and consent to participate
Not applicable.
Consent for publication
Not applicable.
Conflict of interest
The authors declare that they have no competing interests.
Additional information
Publisher's note
Springer Nature remains neutral with regard to jurisdictional claims in published maps and institutional affiliations.
About this article
Cite this article
Aletaha, A., Soltani, A., Atlasi, R. et al. A bibliometric analysis of evidence-based medicine publications of Endocrinology and Metabolism Research Institute of Iran in Scopus Database. J Diabetes Metab Disord (2021). https://doi.org/10.1007/s40200-021-00731-4
Received:

Revised:

Accepted:

Published:
Keywords
Bibliometric analysis

Evidence-Based Medicine

Endocrinology

Research