Abstract
Purpose
We investigated the research conducted on osteoporosis at EMRI to provide practical implications and suggestions for the development of future research.
Methods
We searched osteoporosis and related concepts, as well as various forms of affiliations to EMRI to find published documents indexed in Web of Science, PubMed, and Scopus databases until January 27, 2020. The main purpose and scopes of the studies were classified into seven main study areas. Co-authorship relations were examined using the VOSviewer and keyword analysis was carried out by the ScientoPy.
Results
A total 201 papers on the subject of osteoporosis with organizational affiliation to EMRI were found after initial screening and removing duplicates. A time trend analysis of publications showed a growing trend of EMRI's publication in the field of osteoporosis since 2014. A total of 558 independent authors participated in osteoporosis-related research at EMRI, and the average contribution of authors was 6.72 per papers. The Co-authorship network for authors contributing in at least five publications, showed 4 main clusters of independent authors. The co-occurrence network of keywords included three large and intertwined clusters including the epidemiology of osteoporosis and its resulting fractures and risk factors, bone markers and monitoring the effectiveness of treatment with them, and nutrition and supplements in the field of osteoporosis and fractures.
Conclusion
EMRI has significantly contributed in osteoporosis science and related subjects during recent years, especially in public health aspects of osteoporosis and its risk factors and consequences. More attention should be paid to other areas such clinical and basic science studies.
This is a preview of subscription content, log in to check access.
Access options
Buy single article
Instant access to the full article PDF.
US$ 39.95
Price includes VAT for USA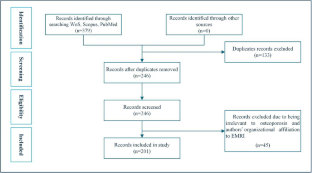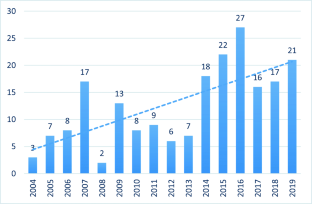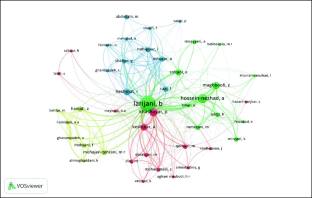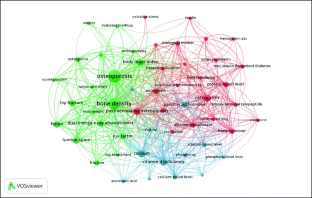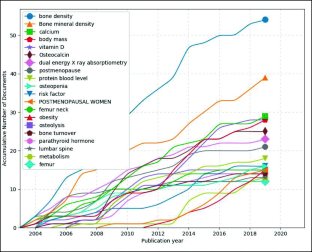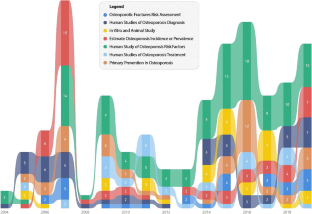 References
1.

EMRI Strategic plan: endocrinology and metabolism research institute; 2019. Available from: http://emri.tums.ac.ir/EN/Item/12889.

2.

Abolhassani F, Mohammadi M, Soltani A. Burden of osteoporosis in Iran. Iranian journal of public health. 2004;33(Supple 1):18–28.

3.

WHO Collaborating Centre for Research and Education on Management of Osteoporosis and Diabetes: World Health Organization (WHO); 2007 [cited 2020 08/April/2020]. Available from: https://apps.who.int/whocc/Detail.aspx?cc_ref=IRA-25&cc_code=ira.

4.

EMRI takes a leading role in outreach to Iranian patients, doctors and policy makers: International Osteoporosis Foundation; 2019 [cited 2020 08/April/2020]. Available from: https://www.iofbonehealth.org/news/emri-takes-leading-role-outreach-iranian-patients-doctors-and-policy-makers.

5.

van Eck NJ, Waltman L. Software survey: VOSviewer, a computer program for bibliometric mapping. Scientometrics. 2010;84(2):523–38.

6.

Ruiz-Rosero J, Ramirez-Gonzalez G, Viveros-Delgado J. Software survey: ScientoPy, a scientometric tool for topics trend analysis in scientific publications. Scientometrics. 2019;121(2):1165–88.

7.

van Eck NJ, Waltman L. VOSviewer Manual. version 1.6.15 ed: Leiden University; 2020.

8.

Maia LFMP, Lenzi M, Rabello ET, Oliveira J. Scientific collaboration in Zika: identification of the leading research groups and researchers via social network analysis. Cad Saude Publica. 2019;35:e00220217.

9.

Ghahnavyeh H, Danesh F. The collaboration rate among researchers of Isfahan University of Medical Sciences in medical and paramedical National Seminars. Health Inf Manag. 2011;7(Special Issue):556–65 (in Persian).

10.

Monastersky R, Van Noorden R. 150 years of nature: a data graphic charts our evolution. Nature. 2019;575(7781):22–3.

11.

Crew B. Despite political turmoil, global scientific collaboration continues to flourish; 2019. [cited 2020 27/May/2020]. Available from: https://www.natureindex.com/news-blog/despite-political-turmoil-global-scientific-collaboration-continues-to-flourish.

12.

Corrales-Reyes IE. Co-authorship and scientific collaboration networks in Medwave. Medwave. 2017;17(09):7103.

13.

Hadavi M, Larijani B, Qorbani M, Eshrati B. Osteoporosis prevalence and t-score discordance between femur and lumbar spine in Iran and some related factors: imos study. J Diabetes Metab Disord. 2015;14(5):305–14.

14.

Keshtkar A, Khashayar P, Mohammadi Z, Etemad K, Dini M, Aghaei MH, et al. A suggested prototype for assessing bone health. Arch Iran Med. 2015;18(7):411–5.

15.

Khalilitehrani A, Qorbani M, Hosseini S, Pishva H. The association of MC4R rs17782313 polymorphism with dietary intake in Iranian adults. Gene. 2015;563(2):125–9.

16.

Larijani B, Moayyeri A, Keshtkar AA, Hossein-Nezhad A, Soltani A, Bahrami A, et al. Peak bone mass of Iranian population: the Iranian multicenter osteoporosis study. J Clin Densitom. 2006;9(3):367–74.

17.

Meybodi HA, Heshmat R, Maasoumi Z, Soltani A, Hossein-Nezhad A, Keshtkar A, et al. Iranian osteoporosis research network: background, mission and its role in osteoporosis management. Iranian Journal of Public Health. 2008;37(supp):1–6.

18.

Rahnavard Z, Eybpoosh S, Homami MR, Meybodi HA, Azemati B, Heshmat R, et al. Vitamin D deficiency in healthy male population: results of the Iranian multi-center osteoporosis study. Iran J Public Health. 2010;39(3):45–52.

19.

Rahnavard Z, Zolfaghari M, Hossein-Nezad A, Vahid DM. The incidence of osteoporotic hip fracture: Iranian multicenter osteoporosis study (IMOS). Res j Biol sci. 2009;4(2):171–3.

20.

Keshtkar A, Ebrahimi M, Khashayar P, Abdollahi Z, Pouraram H, Salehi F, et al. Community interventional trial (CITFOMIST) of vitamin D fortified versus non-fortified milk on serum levels of 25 (OH) D in the students of Tehran. Arch Iran Med. 2015;18(5):272–6.
Acknowledgments
Authors are thankful to the Deputy of Research of EMRI for the support and guidance in conducting this study.
Availability of data and material
All data used in this research are available at Web of Science, PubMed, and Scopus databases.
Funding
This study was supported by Deputy of Research of EMRI.
Ethics declarations
Conflicts of interest/competing interests
KK, NF, FH, MS, NM, BL, and AO are affiliated to EMRI.
Additional information
Publisher's note
Springer Nature remains neutral with regard to jurisdictional claims in published maps and institutional affiliations.
Appendix
Appendix
About this article
Cite this article
Mansourzadeh, M.J., Khalagi, K., Yarmohammadi, H. et al. Osteoporosis researches in Endocrinology & Metabolism Research Institute (EMRI) of Tehran University of Medical Sciences; a Scientometrics study. J Diabetes Metab Disord (2020). https://doi.org/10.1007/s40200-020-00599-w
Received:

Accepted:

Published:
Keywords
Osteoporosis

Metabolic bone diseases

Bibliometrics

Osteoporosis research center

Endocrinology and metabolism research institute