Abstract
Purpose
Diabetes is one of the leading causes of mortality and morbidity among women in India. The burden of diabetes among women was found to increase with age and exposure to the post-partum period. The present study examines the spatial variation in the prevalence of diabetes among women in the late reproductive age-group of 35–49 years across 640 districts in India.
Methods
The study utilized data from the recent round of the National Family Health Survey, 2015–16. Age-standardized prevalence rates were calculated, followed by an examination of economic inequality using the poor-rich-ratio (PRR) and Wagstaff's concentration index. Spatial variation in the prevalence of diabetes was explored with a series of quantile maps, univariate, and bivariate LISA cluster maps. Further, to explore the district-level diabetes prevalence among women in the country, Ordinary Least Square and Spatial Autoregressive (SAR) models were used.
Results
The study findings affirm the presence of spatial clustering in the burden of diabetes among women. The burden is relatively higher among women from the Southern and Eastern parts of the country. Findings establish obesity, hypertension, and living in urban areas as major correlates of diabetes.
Conclusion
Program with an aim to lower the intensity of community-based prevalence of diabetes, especially among women in their late reproductive ages, should adopt differential approaches across different states/districts in the context of their lifestyle, dietary pattern, working pattern, and other socio-cultural practices.
Access options
Buy single article
Instant access to the full article PDF.
USD 39.95
Price includes VAT (USA)
Tax calculation will be finalised during checkout.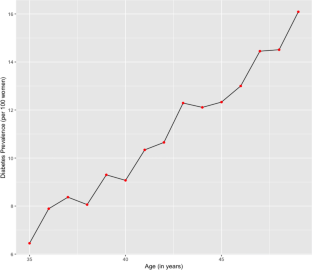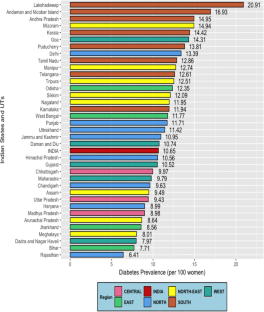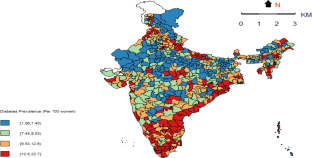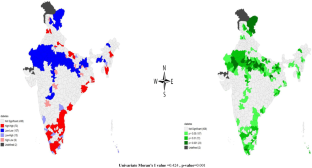 Data Availability
This study utilizes secondary data from a national survey conducted under the stewardship of the Ministry of Health & Family Welfare, Government of India, with the help of the International Institute for Population Sciences as the nodal agency. The data has been archived in a public repository. Therefore, the data is easily accessible for research purposes.
Abbreviations
BMI:

Body Mass Index

DBP:

Diastolic Blood Pressure

NCD:

Non-Communicable Diseases

NFHS:

National Family Health Survey

SBP:

Systolic Blood Pressure
References
1.

Deshpande AD, Harris-Hayes M, Schootman M. Epidemiology of Diabetes and Diabetes-Related Complications [Internet]. Vol. 88, Physical Therapy. 2008. p. 1254–64. Available from: https://academic.oup.com/ptj/ptj/article/2858146/Epidemiology.

2.

World Health Organization. Global report on diabetes: executive summary. Geneva: World Health Organization; 2016.

3.

Wild S, Roglic G, Green A, Sicree R, King H. Global prevalence of diabetes: estimates for the year 2000 and projections for 2030. Diabetes Care. 2004;27(5):1047–53.

4.

Shridhar G, Rajendra N, Murigendra H, Shridevi P, Prasad M. Modern diet and its impact on human health. J Nutr Food Sci [Internet]. 2015;05(06):9–11. Available from: https://www.omicsonline.org/open-access/modern-diet-and-its-impact-on-human-health-2155-9600-1000430.php?aid=63494.

5.

Raha O, Chowdhury S, Dasgupta S, Raychaudhuri P, Sarkar BN, Raju PV, Rao VR. Approaches in type 1 diabetes research: A status report. International journal of diabetes in developing countries. Int J Diabetes Dev C. 2009;29(2):85.

6.

Min MU, Li-Fa XU, Dong HU, Jing WU, Ming-Jie BA. Dietary patterns and overweight/obesity: a review article. Iran J Public Health. 2017;46(7):869. Available from: https://www.ncbi.nlm.nih.gov/pmc/articles/PMC5563867/pdf/IJPH-46-869.pdf.

7.

Singh SK, Pedgaonkar S, Puri P, Gupta J. Diabetes-free life in India: application of survival function analysis. J Soc Heal Diabetes [Internet]. 2018;6:48–55 Available from: www.joshd.net.

8.

Arabin B, Stupin JH. Overweight and obesity before, during and after pregnancy. Vol. 74, Geburtshilfe und Frauenheilkunde. 2014. p. 646–55.

9.

Khadilkar A, Chiplonkar S, Khadilkar V, Kajale N. Changes in body composition in apparently healthy urban Indian women up to 3 years post-partum [Internet]. Indian J Endocr Metab. 2015;19:477. Available from: http://www.ijem.in/text.asp?2015/19/4/477/159032.

10.

International Institute for Population Sciences. National Family Health Survey (NFHS-4). 2016. Available from: http://rchiips.org/NFHS/NFHS-4Reports/India.pdf.

11.

Shil A, Puri P, Prakash R. A geospatial analysis of non-communicable disease (NCD) burden in Indian agro-climatic and political regions. J Public Health (Bangkok). 2017.

12.

Singh SK, Kashyap GC, Puri P. Potential effect of household environment on prevalence of tuberculosis in India: evidence from the recent round of a cross-sectional survey. BMC Pulm Med. 2018;18:66.

13.

Anders S, Schroeter C. Diabetes, diet-health behavior, and obesity.pdf. Front Endocrinol. 2015;6(33):1–8.

14.

Puri P, Khan J, Shil A, Ali M. A cross-sectional study on selected child health outcomes in India : quantifying the spatial variations and identification of the parental risk factors. Sci Rep. 2020:1–15.

15.

Rutstein S. Steps to construct new DHS Wealth Index. Usaid [Internet]. 2015; Demographi. Available from: https://www.dhsprogram.com/programming/wealthindex/Steps_to_constructing_the_new_DHS_Wealth_Index.pdf%0Ahttp://www.dhsprogram.com/topics/wealth-index/Wealth-Index-Construction.cfm.

16.

Meshram II, Vardhana V, Rao M, Sudershan Rao V, Laxmaiah A, Polasa K. Regional variation in the prevalence of overweight/obesity, hypertension and diabetes and their correlates among the adult rural population in India. Br J Nutr. 2016;115(7):1265–72.

17.

Khan J, Shil A, Prakash R. Exploring the spatial heterogeneity in different doses of vaccination coverage in India. PLoS One [Internet]. 2018;13(11):e0207209 Available from: http://dx.plos.org/10.1371/journal.pone.0207209.

18.

Puri P, Singh SK, Srivastava S. Reporting heterogeneity in the measurement of hypertension and diabetes in India. J Public Health. 2020;28(1):23–30.

19.

Khan J, Mohanty SK. Spatial heterogeneity and correlates of child malnutrition in districts of India. BMC Public Health. 2018;18(1):1–13.

20.

Singh A, Pathak PK, Chauhan RK, Pan W. Infant and child mortality in India in the last two decades: A geospatial analysis. PLoS One. 2011;6(11).

21.

Kaveeshwar SA, Cornwall J. The current state of diabetes mellitus in India. Australas Med J. 2014;7(1):45–8.

22.

Gold EB. The timing of the age at which natural menopause occurs. Obstet Gynecol Clin N Am. 2011;38(3):425–40.

23.

Schmidt CW. Age at menopause: do chemical exposures play a role? Environ Health Perspect. 2017;125(6):1–5.

24.

Xu X, Jones M, Mishra GD. Age at natural menopause and development of chronic conditions and multimorbidity: results from an Australian prospective cohort. Hum Reprod. 2020;35(1):203–11.

25.

Levine ME, Lu AT, Chen BH, Hernandez DG, Singleton AB, Ferrucci L, et al. Menopause accelerates biological aging. Proc Natl Acad Sci U S A. 2016;113(33):9327–32.

26.

Slopien R, Wender-Ozegowska E, Rogowicz-Frontczak A, Meczekalski B, Zozulinska-Ziolkiewicz D, Jaremek JD, et al. Menopause and diabetes: EMAS clinical guide. Maturitas [Internet]. 2018;117:6–10. https://doi.org/10.1016/j.maturitas.2018.08.009.

27.

Government of India. Cause of Death Statistics [Internet]. 2015. Available from: http://censusindia.gov.in/vital_statistics/causesofdeath.html.

28.

Ramachandran A. Trends in prevalence of diabetes in Asian countries. World J Diabetes [Internet]. 2012;3(6):110. Available from: http://www.wjgnet.com/1948-9358/full/v3/i6/110.htm.

29.

Kerr EA, Heisler M, Krein SL, Kabeto M, Langa KM, Weir D, et al. Beyond comorbidity counts: how do comorbidity type and severity influence diabetes patients' treatment priorities and self-management? J Gen Intern Med. 2007;22(12):1635–40.

30.

Tasneem Imam BH. Diabetes prevalence: a comparison between urban and rural areas of Bangladesh. Irjals. 2012;1(4):114–26.

31.

Sifferlin A. Study: Does Eating White Rice Raise Your Risk of Diabetes? | TIME.com [Internet]. TIME. 2012 [cited 2018 Oct 24]. Available from: http://healthland.time.com/2012/03/16/study-does-eating-white-rice-raise-your-risk-of-diabetes/.

32.

Khalik S. Diabetes: The rice you eat is worse than sugary drinks, Health News & Top Stories - The Straits Times [Internet]. The Straitstimes. 2016 [cited 2018 Oct 24]. Available from: https://www.straitstimes.com/singapore/health/diabetes-the-rice-you-eat-is-worse-than-sugary-drinks.

33.

Green R, Milner J, Joy EJM, Agrawal S, Dangour AD. Dietary patterns in India: a systematic review. Br J Nutr. 2016;116(1):142–8.

34.

Gillies CL, Abrams KR, Lambert PC, Cooper NJ, Sutton AJ, Hsu RT, et al. Pharmacological and lifestyle interventions to prevent or delay type 2 diabetes in people with impaired glucose tolerance: systematic review and meta-analysis. Br Med J. 2007;334(7588):299–302.
Acknowledgements
The authors would like to acknowledge the research co-ordinators in Demographic and Health Surveys (DHS) India that developed the study's research protocol. We would also like to acknowledge the helpful comments of the anonymous referees.
Funding
This research did not receive any specific grant from funding agencies in the public, commercial, or not-for-profit sectors.
Ethics declarations
Conflict of interest
The authors declare that they have no conflict/competing interests.
Code availability
Not Applicable.
Additional information
Publisher's note
Springer Nature remains neutral with regard to jurisdictional claims in published maps and institutional affiliations.
About this article
Cite this article
Singh, S., Puri, P. & Subramanian, S.V. Identifying spatial variation in the burden of diabetes among women across 640 districts in India: a cross-sectional study. J Diabetes Metab Disord 19, 523–533 (2020). https://doi.org/10.1007/s40200-020-00545-w
Received:

Accepted:

Published:

Issue Date:
Keywords
India

Chronic diseases

Diabetes

Districts

Geospatial

Women