Abstract
Purpose
The highest level of peripheral serotonin in the body can be found in the gastrointestinal (GI) tract as its reservoir. There is complete interaction between human gastrointestinal microbiota and serotonin system. Serotonin in the GI is transferred by serotonin transporters (SERTs), which play a crucial role in the bioavailability of serotonin in the GI. SERT impairment is associated with the pathology of GI disorders. It is known that intestinal microbiota can regulate the SERT function. Therefore, it may be useful to regulate of SERT expression by modulation of microbiota and improvement of intestinal motility and GI sensation. In this study, we aimed to evaluate the effects of two next-generation probiotics, including Akkermansia muciniphila and Faecalibacterium prausnitzii, and their supernatants on SERT gene expression in human epithelial colorectal adenocarcinoma cells (Caco-2).
Methods
The Caco-2 cells were treated with multiplicity of infection (MOI) ratio of 100 of A. muciniphila and F. prausnitzii, as well as their supernatants. After 24 h, SERT gene expression was examined by quantitative real-time polymerase chain reaction (qRT-PCR) assay.
Results
A. muciniphila up-regulated the SERT mRNA level by 3.01 folds, compared to the control group. F. prausnitzii, similar to A. muciniphila, increased the expression of SERT gene in Caco-2 cells by 3.43 folds (P < 0.001). Moreover, the supernatants of A. muciniphila and F. prausnitzii significantly up-regulated the expression of SERT gene in the cell line by 2.4 and 5.7 folds, respectively, compared to the control group (P < 0.001).
Conclusions
The present results showed that A. muciniphila and F. prausnitzii, as well as their supernatants, increased the expression of SERT gene in Caco-2 cells. Therefore, they might be helpful in the microbiota-modulating treatment of inflammatory bowel diseases.
Access options
Buy single article
Instant access to the full article PDF.
US$ 39.95
Tax calculation will be finalised during checkout.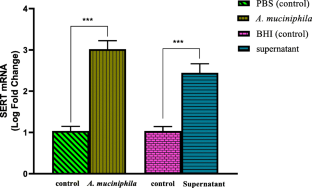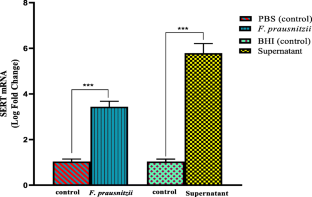 References
1.

Kho ZY, Lal SK. The human gut microbiome–a potential controller of wellness and disease. Front Microbiol. 2018;9:1835.

2.

Belkaid Y, Harrison OJ. Homeostatic immunity and the microbiota. Immunity. 2017;46(4):562–76.

3.

Spohn SN, Mawe GM. Non-conventional features of peripheral serotonin signalling—the gut and beyond. Nat Rev Gastroenterol Hepatol. 2017;14(7):412.

4.

Fuller RW, Wong DT. Serotonin uptake and serotonin uptake inhibition. Ann N Y Acad Sci. 1990;600(1):68–80.

5.

Jin D-C, Cao H-L, Xu M-Q, Wang S-N, Wang Y-M, Yan F, Wang B-M. Regulation of the serotonin transporter in the pathogenesis of irritable bowel syndrome. World J Gastroenterol. 2016;22(36):8137.

6.

Tada Y, Ishihara S, Kawashima K, Fukuba N, Sonoyama H, Kusunoki R, et al. Downregulation of serotonin reuptake transporter gene expression in healing colonic mucosa in presence of remaining low-grade inflammation in ulcerative colitis. J Gastroenterol Hepatol. 2016;31(8):1443–52.

7.

El Aidy S, Ramsteijn AS, Dini-Andreote F, van Eijk R, Houwing DJ, Salles JF, Olivier JD. Serotonin transporter genotype modulates the gut microbiota composition in young rats, an effect augmented by early life stress. Front Cell Neurosci. 2017;11:222.

8.

Waclawiková B, El Aidy S. Role of microbiota and tryptophan metabolites in the remote effect of intestinal inflammation on brain and depression. Pharmaceuticals. 2018;11(3):63.

9.

Wang Y, Ge X, Wang W, Wang T, Cao H, Wang B, Wang B. Lactobacillus rhamnosus GG supernatant up-regulates serotonin transporter expression in intestinal epithelial cells and mice intestinal tissues. Neurogastroenterol Motil. 2015;27(9):1239–48.

10.

Cao Y-N, Feng L-J, Wang B-M, Jiang K, Li S, Xu X, Wang W-Q, Zhao J-W, Wang Y-M. Lactobacillus acidophilus and Bifidobacterium longum supernatants upregulate the serotonin transporter expression in intestinal epithelial cells. Saudi J Gastroenterol. 2018;24(1):59.

11.

Derrien M, Belzer C, de Vos WM. Akkermansia muciniphila and its role in regulating host functions. Microb Pathog. 2017;106:171–81.

12.

Miquel S, Martin R, Rossi O, Bermudez-Humaran L, Chatel J, Sokol H, Thomas M, Wells J, Langella P. Faecalibacterium prausnitzii and human intestinal health. Curr Opin Microbiol. 2013;16(3):255–61.

13.

Iceta R, Aramayona J, Mesonero J, Alcalde A. Regulation of the human serotonin transporter mediated by long-term action of serotonin in Caco‐2 cells. Acta Physiol. 2008;193(1):57–65.

14.

Ashrafian F, Behrouzi A. Comparative study of effect of Akkermansia muciniphila and its extracellular vesicles on toll-like receptors and tight junction. Gastroenterol Hepatol Bed Bench. 2019;12(2):163.

15.

Yano JM, Yu K, Donaldson GP, Shastri GG, Ann P, Ma L, Nagler CR, Ismagilov RF, Mazmanian SK, Hsiao EY. Indigenous bacteria from the gut microbiota regulate host serotonin biosynthesis. Cell. 2015;161(2):264–76.

16.

El-Salhy M. Irritable bowel syndrome: diagnosis and pathogenesis. World J Gastroenterol. 2012;18(37):5151.

17.

Wendelbo I, Mazzawi T, El–Salhy M. Increased serotonin transporter immunoreactivity intensity in the ileum of patients with irritable bowel disease. Mol Med Rep. 2014;9(1):180–4.

18.

Wang H, Wei C-X, Min L, Zhu L-Y. Good or bad: gut bacteria in human health and diseases. Biotechnol Biotechnol Equip. 2018;32(5):1075–80.

19.

Marteau P. Probiotics in functional intestinal disorders and IBS: proof of action and dissecting the multiple mechanisms. Gut. 2010;59(3):285–6.

20.

Chandrasekharan B, Saeedi BJ, Alam A, Houser M, Srinivasan S, Tansey M, Jones R, Nusrat A, Neish AS. Interactions between commensal bacteria and enteric neurons, via FPR1 induction of ROS, increase gastrointestinal motility in mice. Gastroenterology. 2019;157(1):179-192.e2.

21.

Rajilić–Stojanović M, Biagi E, Heilig HG, Kajander K, Kekkonen RA, Tims S, de Vos WM. Global and deep molecular analysis of microbiota signatures in fecal samples from patients with irritable bowel syndrome. Gastroenterology. 2011;141(5):1792–801.

22.

Martín R, Miquel S, Chain F, Natividad JM, Jury J, Lu J, Sokol H, Theodorou V, Bercik P, Verdu EF. Faecalibacterium prausnitzii prevents physiological damages in a chronic low-grade inflammation murine model. BMC Microbiol. 2015;15(1):67.

23.

Nzakizwanayo J, Dedi C, Standen G, Macfarlane WM, Patel BA, Jones BV. Escherichia coli Nissle 1917 enhances bioavailability of serotonin in gut tissues through modulation of synthesis and clearance. Sci Rep. 2015;5:17324.

24.

Cao Y-N, Feng L-J, Liu Y-Y, Jiang K, Zhang M-J, Gu Y-X, Wang B-M, Gao J, Wang Z-L, Wang Y-M. Effect of Lactobacillus rhamnosus GG supernatant on serotonin transporter expression in rats with post-infectious irritable bowel syndrome. World J Gastroenterol. 2018;24(3):338.

25.

Singhal M, Turturice BA, Manzella CR, Ranjan R, Metwally AA, Theorell J, Huang Y, Alrefai WA, Dudeja PK, Finn PW. Serotonin transporter deficiency is associated with dysbiosis and changes in metabolic function of the mouse intestinal microbiome. Sci Rep. 2019;9(1):2138.

26.

Latorre E, Pradilla A, Chueca B, Pagán R, Layunta E, Alcalde AI, Mesonero J. Listeria monocytogenes inhibits serotonin transporter in human intestinal Caco-2 cells. Microb Ecol. 2016;72(3):730–9.

27.

Esmaili A, Nazir SF, Borthakur A, Yu D, Turner JR, Saksena S, Singla A, Hecht GA, Alrefai WA, Gill RK. Enteropathogenic Escherichia coli infection inhibits intestinal serotonin transporter function and expression. Gastroenterology. 2009;137(6):2074–83.
Acknowledgements
The authors would like to thank the laboratory staff of Microbiology Research Center (MRC) and Department of Mycobacteriology and Pulmonary Research of Pasteur Institute of Iran.
Funding
This study was funded by Pasteur Institute of Iran (Grant No.: B-9325).
Ethics declarations
Conflict of interest
The authors declare that they have no conflict of interest.
Additional information
Publisher's note
Springer Nature remains neutral with regard to jurisdictional claims in published maps and institutional affiliations.
About this article
Cite this article
Yaghoubfar, R., Behrouzi, A., Fateh, A. et al. Effects of Akkermansia muciniphila and Faecalibacterium prausnitzii on serotonin transporter expression in intestinal epithelial cells. J Diabetes Metab Disord (2021). https://doi.org/10.1007/s40200-020-00539-8
Received:

Revised:

Accepted:

Published:
Keywords
Gut microbiota

Akkermansia muciniphila
Faecalibacterium prausnitzii

Serotonin transporter

Caco-2 cells