Abstract
Purpose
Diabetic ulcers are one of the complications that often occur in patients with DM. The aim is to develop a behaviour model for diabetic ulcer prevention by integrating Lawrance Green Theory and the Theory of Planned Behaviour.
Methods
An explanative observational design was used with a cross-sectional approach. The population consisted of DM patients who had underwent treatment at the internal medicine clinic of Sidoarjo District Hospital. The sample size of 133 respondents was obtained through purposive sampling. The data analysis used Partial Least Square.
Results
Predisposing factors (knowledge), supporting factors (availability of health facilities and accessibility of health resources) and driving factors (the role of health workers and family support) significantly influence the main factors (attitudes toward behaviour, subjective norms and perceptions of self-control) with a statistical T value>1.96. The main factor influences intention (T = 48.650) and intention influences behaviour (T = 4.891).
Conclusion
Intention is influenced by the attitudes toward behaviour, subjective norms and self-control perceptions. Good intentions can increase the preventive behaviour related to diabetic ulcers. Increasing the diabetic ulcer prevention behaviour can be done by providing regular education to both the patients and their families about diabetic ulcers and their prevention through the appropriate management of DM, lifestyle modification and regular foot care that requires active involvement from the family and health care workers.
This is a preview of subscription content, log in to check access.
Access options
Buy single article
Instant unlimited access to the full article PDF.
US$ 39.95
Price includes VAT for USA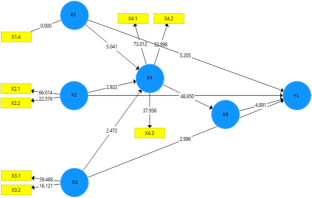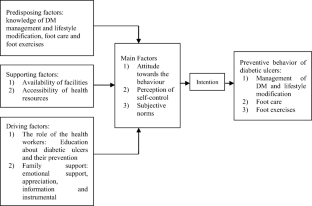 References
1.

Alexandre K, Desrichard O, Burnand B, Peytremann-Bridevaux I. Factors influencing self-management in adults with diabetes. JBI Database Syst Rev Implement Reports. 2017;15:2630–7. https://doi.org/10.11124/JBISRIR-2016-003318.

2.

Hemmati Maslakpak M, Shahbaz A, Parizad N, Ghafourifard M. Preventing and managing diabetic foot ulcers: application of Orem's self-care model. Int J Diabetes Dev Ctries. 2018;38:165–72. https://doi.org/10.1007/s13410-017-0570-5.

3.

PERKENI. Konsensus Pengelolaan dan Pencegahan Diabetes Melitus tipe 2 di Indonesia 2015. vol. 1. 2015. https://doi.org/10.1017/CBO9781107415324.004.

4.

International Diabetes Federation (IDF). IDF Diabetes Atlas 8th edition. 2017. https://doi.org/10.1289/image.ehp.v119.i03.

5.

Kementerian Kesehatan RI. Hasil Utama Riskesdas 2018 2018. https://doi.org/10.1177/109019817400200403.

6.

Ibraim A, Jude E, Langton K, Martínez F, Harkless L, Gawish H, et al. IDF Clinical Practice Recommendations on the Diabetic Foot – 2017. 2017. https://doi.org/10.13140/RG.2.2.15315.07202.

7.

Aalaa M, Malazy OT, Sanjari M, Peimani M, Mohajeri-Tehrani M. Nurses' role in diabetic foot prevention and care; a review. J Diabetes Metab Disord 2012;11:1–6. https://doi.org/10.1186/2251-6581-11-24.

8.

Hadi Sulistyo AA, Sae Sia W, Maneewat K. The effect of a foot care camp on diabetic foot care knowledge and the behaviours of individuals with diabetes mellitus. J Res Nurs. 2018;23:416–25. https://doi.org/10.1177/1744987118765903.

9.

D'Souza MS, Ruppert SD, Parahoo K, Karkada SN, Amirtharaj A, Jacob D, et al. Foot care behaviors among adults with type 2 diabetes. Prim Care Diabetes. 2016;10:442–51. https://doi.org/10.1016/j.pcd.2016.04.002.

10.

Li R, Yuan L, Guo XH, Lou QQ, Zhao F, Shen L, et al. The current status of foot self-care knowledge, behaviours, and analysis of influencing factors in patients with type 2 diabetes mellitus in China. Int J Nurs Sci. 2014;1:266–71. https://doi.org/10.1016/j.ijnss.2014.05.023.

11.

Glanz K, Rimer BK, Viswanath K. Health Behaviour and Health Education. vol. 63. 2008. https://doi.org/10.1016/S0033-3506(49)81524-1.

12.

Green LW, Kreuter MW. Health promotion planning : an educational and environmental approach. Mountain View, CA: Mayfield Pub. Co.; 1991.

13.

Mandasari. Penerapan Teori Health Promotion Model Terhadap Diabetes Self Management Education (DSME) Dengan Perilaku Kepatuhan Klien Diabetes Mellitus Tipe 2. Universitas Airlangga, 2017.

14.

Ajzen I. Attitudes, personality and behavior. 2nd ed. New York: Open University Press; 2005.

15.

Lestarina NNW. Theory of Planned Behavior sebagai Upaya Peningkatan Kepatuhan pada Klien Diabetes Melitus. Media Kesehat Masy Indones 2018;14:201. https://doi.org/10.30597/mkmi.v14i2.3987.

16.

Ghannadi S, Amouzegar A, Amiri P, Karbalaeifar R, Tahmasebinejad Z, Ardebili SK. Evaluating the effect of knowledge, attitude, and practice on self-Management in Type 2 diabetic patients on dialysis. J Diabetes Res. 2016;2016:1–7. https://doi.org/10.1155/2016/3730875.

17.

Chin YF, Huang TT, Hsu BRS, Weng LC, Wang CC. Factors associated with foot ulcer self-management behaviours among hospitalised patients with diabetes. J Clin Nurs. 2019;28:2253–64. https://doi.org/10.1111/jocn.14822.

18.

Ahmed SA, Badi S, Tahir H, Ahmed MH, Almobarak AO. Knowledge and practice of diabetic foot care in Sudan: a cross sectional survey. Diabetes Metab Syndr Clin Res Rev. 2019;13:2431–5. https://doi.org/10.1016/j.dsx.2019.06.016.

19.

Indrayana S, Guo SE, Lin CL, Fang SY. Illness perception as a predictor of foot care behavior among people with type 2 diabetes mellitus in Indonesia. J Transcult Nurs. 2019;30:17–25. https://doi.org/10.1177/1043659618772347.

20.

Al Odhayani AA, Al Sayed Tayel S, Al-Madi F. Foot care practices of diabetic patients in Saudi Arabia. Saudi J Biol Sci. 2017;24:1667–71. https://doi.org/10.1016/j.sjbs.2015.12.003.

21.

Sayampanathan AA, Cuttilan AN, Pearce CJ. Barriers and enablers to proper diabetic foot care amongst community dwellers in an Asian population: a qualitative study. Ann Transl Med. 2017;5:254–4. https://doi.org/10.21037/atm.2017.04.31.

22.

Ishak NH, Mohd Yusoff SS, Rahman RA, Kadir AA. Diabetes self-care and its associated factors among elderly diabetes in primary care. J Taibah Univ Med Sci. 2017;12:504–11. https://doi.org/10.1016/j.jtumed.2017.03.008.

23.

Jannuzzi FF, Rodrigues RCM, Cornélio ME, São-João TM, Gallani MCBJ. Beliefs related to adherence to oral antidiabetic treatment according to the theory of planned behavior. Rev Lat Am Enfermagem. 2014;22:529–37. https://doi.org/10.1590/0104-1169.3578.2448.

24.

Gabert R, Ng M, Sogarwal R, Bryant M, Deepu RV, McNellan CR, et al. Identifying gaps in the continuum of care for hypertension and diabetes in two Indian communities. BMC Health Serv Res. 2017;17:1–11. https://doi.org/10.1186/s12913-017-2796-9.

25.

The International Working Group on the Diabetic Foot. IWGDF Guidelines on the prevention and management of diabetic foot disease 2019.

26.

McKee M, Toh S-AES, Chia KS, Perel P, Ong SE, Koh JJK, et al. Assessing the influence of health systems on Type 2 Diabetes Mellitus awareness, treatment, adherence, and control: A systematic review. vol. 13. 2018. https://doi.org/10.1371/journal.pone.0195086.

27.

Castro B, Ing L, Park Y, Abrams J, Ryan M. Addressing Noncommunicable Disease in Dominican Republic: Barriers to Hypertension and Diabetes Care. Ann Glob Heal. 2018;84:625. https://doi.org/10.29024/aogh.2370.

28.

Green L, Kreuter M. Health promotion planning. An educational and environmental approach. Mountain View: Mayfield Publishing Co.; 1991.

29.

International Diabetes Federation. IDF Diabetes Atlas, 8th edn. Eight Edit. Brussels, Belgium: 2017.

30.

Mealer M, Jones J, Newman J, McFann KK, Rothbaum B, Moss M. The presence of resilience is associated with a healthier psychological profile in intensive care unit (ICU) nurses: results of a national survey. Int J Nurs Stud. 2012;49:292–9. https://doi.org/10.1016/j.ijnurstu.2011.09.015.

31.

Dasgupta I, Thomas GN, Clarke J, Sitch A, Martin J, Bieber B, et al. Associations between hemodialysis facility practices to manage fluid volume and intradialytic hypotension and patient outcomes. Clin J Am Soc Nephrol. 2019;14:385–93. https://doi.org/10.2215/CJN.08240718.

32.

Susila I. Pengaruh Ketersediaan Fasilitas Kesehatan terhadap Perilaku Ibu dalam Pemberian ASI Ekslusif. J Kebidanan Dan Keperawatan Aisyiyah. 2018;14:111–8. https://doi.org/10.31101/jkk.741.

33.

Askari A, Jeihooni AK, Mansour S, Kashfi MA, Khiyali Z. The effect of educational program based on belief, attitude, subjective norm, and enabling factors model on changing the metabolic indices in elderly patients with type II diabetes. Int J Prev Med. 2018;9:1–7. https://doi.org/10.4103/ijpvm.IJPVM.

34.

Lee H, Woo BKP. Perceptions of and attitudes toward diabetes among Chinese Americans. J Am Osteopath Assoc. 2018;118:e33. https://doi.org/10.7556/jaoa.2018.087.

35.

Gatt S, Sammut R. An exploratory study of predictors of self-care behaviour in persons with type 2 diabetes. Int J Nurs Stud. 2008;45:1525–33. https://doi.org/10.1016/j.ijnurstu.2008.02.006.

36.

Ramirez-Perdomo C, Perdomo-Romero A, Rodríguez-Vélez M. Knowledge and practices for the prevention of the diabetic foot. Rev Gaúcha Enferm. 2019;40:1–7. https://doi.org/10.1590/1983-1447.2019.20180161.

37.

Nather A, Cao S, Chen JLW, Low AY. Prevention of diabetic foot complications. Singap Med J. 2018;59:291–4. https://doi.org/10.11622/smedj.2018069.

38.

Tiruneh SA, Ayele AA, Emiru YK, Tegegn HG, Ayele BA, Engidaw MT, et al. Factors influencing diabetes self-care practice among type 2 diabetes patients attending diabetic care follow up at an Ethiopian general hospital, 2018. J Diabetes Metab Disord. 2019;18:199–206. https://doi.org/10.1007/s40200-019-00408-z.

39.

Neta DSR, da Silva ARV, da Silva GRF. Adherence to foot self-care in diabetes mellitus patients. Rev Bras Enfrem. 2015;68:103–8. https://doi.org/10.11604/pamj.2014.18.92.3683.

40.

Fai EK, Anderson C, Ferreros V. Role of attitudes and intentions in predicting adherence to oral diabetes medications. Endocr Connect. 2017;6:63–70. https://doi.org/10.1530/ec-16-0093.

41.

Guénette L, Breton MC, Guillaumie L, Lauzier S, Grégoire JP, Moisan J. Psychosocial factors associated with adherence to non-insulin antidiabetes treatments. J Diabetes Complicat. 2016;30:335–42. https://doi.org/10.1016/j.jdiacomp.2015.10.016.

42.

Basu S, Garg S, Sharma N, Singh MM, Garg S. Adherence to self-care practices, glycemic status and influencing factors in diabetes patients in a tertiary care hospital in Delhi. World J Diabetes. 2018;9:72–9. https://doi.org/10.4239/wjd.v9.i5.72.

43.

Sainsbury K, Mullan B, Sharpe L. Predicting intention and behaviour following participation in a theory-based intervention to improve gluten free diet adherence in coeliac disease. Psychol Health. 2015;30:1063–74. https://doi.org/10.1080/08870446.2015.1022548.

44.

Akbar H, Anderson D, Gallegos D. Predicting intentions and behaviours in populations with or at-risk of diabetes: a systematic review. Prev Med Rep. 2015;2:270–82. https://doi.org/10.1016/j.pmedr.2015.04.006.

45.

Gattoc L, Viswanathan AN, Perez CA, Tew WP, Makhija S. Cervical Cancer | Cancer network. Cancer Netw Home J Oncol. 2015:1–8.

46.

Ferreira G, Pereira MG. Physical activity: the importance of the extended theory of planned behavior, in type 2 diabetes patients. J Health Psychol. 2017;22:1312–21. https://doi.org/10.1177/1359105315626787.
Acknowledgements
We would like to thank Sidoarjo Public Hospital and all of the respondents in this study.
Additional information
Publisher's note
Springer Nature remains neutral with regard to jurisdictional claims in published maps and institutional affiliations.
Electronic supplementary material
About this article
Cite this article
Sukartini, T., Theresia Dee, T.M., Probowati, R. et al. Behaviour model for diabetic ulcer prevention. J Diabetes Metab Disord (2020) doi:10.1007/s40200-019-00484-1
Received:

Accepted:

Published:
Keywords
Behaviour

Diabetic ulcer

Diabetes mellitus

Prevention