Abstract
Background
Polychlorinated biphenyls (PCBs) are a group of synthetic organic chlorine compounds known as an organic pollutant in food sources, which play important roles in malignancies. The present study aimed to investigate the direct effects of prevalent PCBs in food in hormone-responsive and non-responsive cell lines.
Methods
In the current study, MCF-7, LNCap, and MDA-MB231 cell lines were treated with serial concentrations (0.001–100 μM) of PCBs for 48 h and cell viability assessment was performed using MTT assay. The best concentration then applied and the expression level of PON1 was evaluated using real-time PCR. Besides, molecular docking was performed to determine the binding mechanism and predicted binding energies of PBCs compounds to the AhR receptor.
Results
Unlike MCF-7 and LNCap cells, the viability of MDA-MB231 cells did not significantly change by different concentrations of PCBs. Meanwhile, quantitative gene expression analysis showed that the PON1 was significantly more expressed in MCF-7 and LNCap lines treated with PCB28 and PCB101. However, the expression level of this gene in other groups and also MDA-MB231cells did not demonstrate any significantly change. Also, the results of molecular docking showed that PBCs had steric interaction with AhR receptor.
Conclusions
Current results showed that despite of hormone non-responsive cells the PCBs have a significant positive effect on hormone-responsive cell. Therefore, and regarding to the existence of PCBs contamination in food there should be serious concern about their impact on the prevalence of different malignancies which certainly should result in a standard limit for this material.
Graphical abstract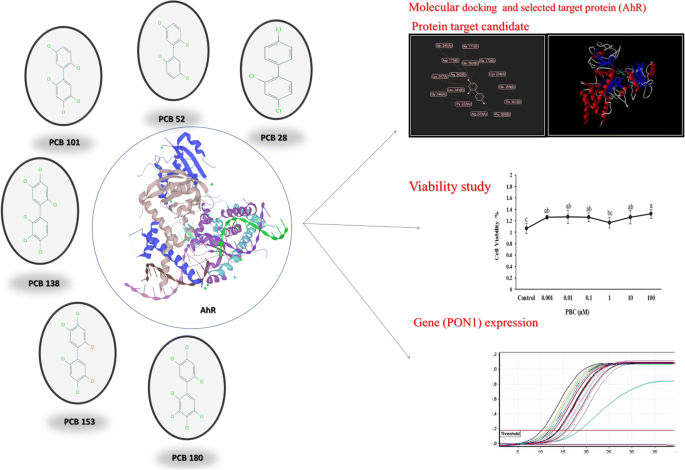 Access options
Buy single article
Instant access to the full article PDF.
US$ 39.95
Tax calculation will be finalised during checkout.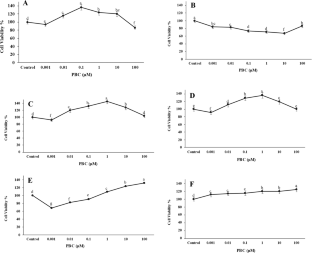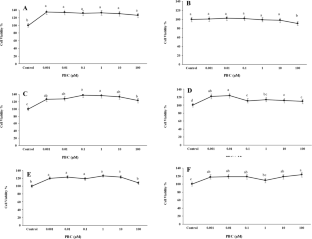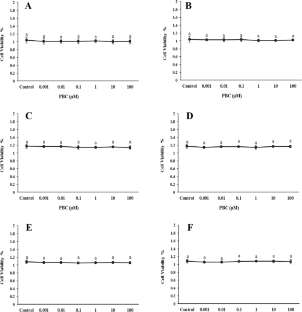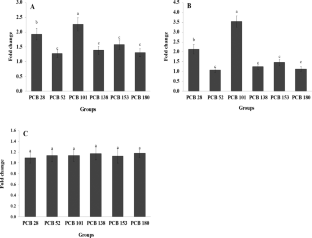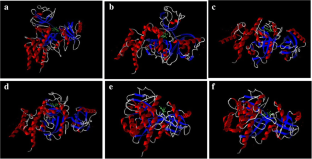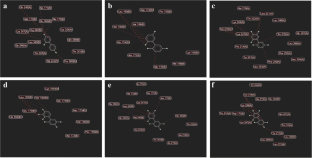 References
1.

Wen Y, Schoups G, van de Giesen N. Organic pollution of rivers: combined threats of urbanization, livestock farming and global climate change. Sci Rep. 2017;7(1):1–9. https://doi.org/10.1038/srep43289.

2.

Dhakal K, Gadupudi GS, Lehmler HJ, Ludewig G, Duffel MW, Robertson LW. Sources and toxicities of phenolic polychlorinated biphenyls (OH-PCBs). Environ Sci Pollut Res Int. 2018;25:16277–90. https://doi.org/10.1007/s11356-017-9694-x.

3.

Crinnion WJ. Polychlorinated biphenyls: persistent pollutants with immunological, neurological, and endocrinological consequences. Altern Med Rev. 2011;16(1):5–13.

4.

Jayaraj R, Megha P, Sreedev P. Organochlorine pesticides, their toxic effects on living organisms and their fate in the environment. Interdiscip Toxicol. 2016;9:90–100. https://doi.org/10.1515/intox-2016-0012.

5.

Roszko M, Jedrzejczak R, Szymczyk K. Polychlorinated biphenyls (PCBs), polychlorinated diphenyl ethers (PBDEs) and organochlorine pesticides in selected cereals available on the polish retail market. Sci Total Environ. 2014;466-467:136–51. https://doi.org/10.1016/j.scitotenv.2013.07.016.

6.

Chovancova J, Conka K, Kocan A, Sejakova ZS. PCDD, PCDF, PCB and PBDE concentrations in breast milk of mothers residing in selected areas of Slovakia. Chemosphere. 2011;83:1383–90. https://doi.org/10.1016/j.chemosphere.2011.02.070.

7.

Koh WX, Hornbuckle KC, Wang K, Thorne PS. Serum polychlorinated biphenyls and their hydroxylated metabolites are associated with demographic and behavioral factors in children and mothers. Environ Int. 2016;94:538–45. https://doi.org/10.1016/j.envint.2016.06.014.

8.

Brazova T, Hanzelova V, Miklisova D. Bioaccumulation of six PCB indicator congeners in a heavily polluted water reservoir in eastern Slovakia: tissue-specific distribution in fish and their parasites. J Parasitol Res. 2012;111:779–86. https://doi.org/10.1007/s00436-012-2900-3.

9.

European Food Safety Authority (EFSA). Opinion of the scientific panel on contaminants in the food chain on a request from the commission related to the presence of non-dioxin like polychlorinated biphenyls (PCB) in feed and food. EFSA J. 2005;3:1–137.

10.

Vondracek J, Machala M, Bryja V, Chramostova K, Krcmar P, Dietrich C, et al. Aryl hydrocarbon receptor-activating polychlorinated biphenyls and their hydroxylated metabolites induce cell proliferation in contact-inhibited rat liver epithelial cells. Toxicol Sci. 2005;83:53–63. https://doi.org/10.1093/toxsci/kfi009.

11.

Diamanti-Kandarakis E, Bourguignon JP, Giudice LC, Hauser R, Prins GS, Soto AM, et al. Endocrine-disrupting chemicals: an Endocrine Society scientific statement. Endocr Rev. 2009;2005:293–342. https://doi.org/10.1210/er.2009-0002.

12.

Kolluri SK, Jin UH, Safe S. Role of the aryl hydrocarbon receptor in carcinogenesis and potential as an anti-cancer drug target. Arch Toxicol. 2017;91:2497–513. https://doi.org/10.1007/s00204-017-1981-2.

13.

Dietrich C. Antioxidant functions of the aryl hydrocarbon receptor. Stem Cells Int. 2016;2016:1–10. https://doi.org/10.1155/2016/7943495.

14.

Vázquez SM, Mladovan A, Garbovesky C, Baldi A, Lüthy IA. Three novel hormone-responsive cell lines derived from primary human breast carcinomas: functional characterization. J Cell Physiol. 2004;199:460–9. https://doi.org/10.1002/jcp.10466.

15.

Turgut Cosan D, Colak E, Saydam F, Yazıcı H, Degirmenci I, Birdane A, et al. Association of paraoxonase 1 (PON1) gene polymorphisms and concentration with essential hypertension. Clin Exp Hypertens. 2016;38:602–7. https://doi.org/10.3109/10641963.2016.1174255.

16.

Sakurai S, Shimizu T, Ohto UJJo BC. The crystal structure of the AhRR–ARNT heterodimer reveals the structural basis of the repression of AhR-mediated transcription. J Biol Chem. 2017;292:17609–16. https://doi.org/10.1074/jbc.M117.812974.

17.

Naeem S, Hylands P, Barlow D. Docking studies of chlorogenic acid against aldose redutcase by using molgro virtual docker software. J Appl Pharm Sci. 2013;3(1):13. https://doi.org/10.7324/JAPS.2013.30104.

18.

Ptak A, Mazur K, Gregoraszczuk EL. Comparison of combinatory effects of PCBs (118, 138, 153 and 180) with 17 beta-estradiol on proliferation and apoptosis in MCF-7 breast cancer cells. Toxicol Ind Health. 2011;27:315–21. https://doi.org/10.1177/0748233710387003.

19.

Endo F, Monsees TK, Akaza H, Schill W-B, Pflieger-Bruss S. Effects of single non-ortho, mono-ortho, and di-ortho chlorinated biphenyls on cell functions and proliferation of the human prostatic carcinoma cell line, LNCaP. Reprod Toxicol. 2003;17:229–36. https://doi.org/10.1016/s0890-6238(02)00126-0.

20.

Radice S, Chiesara E, Fucile S, Marabini L. Different effects of PCB101, PCB118, PCB138 and PCB153 alone or mixed in MCF-7 breast cancer cells. Food Chem Toxicol. 2008;46:2561–7. https://doi.org/10.1016/j.fct.2008.04.012.

21.

Robertson LW, Ludewig G. Polychlorinated biphenyl (PCB) carcinogenicity with special emphasis on airborne PCBs. Gefahrst Reinhalt Luft. 2011;71(1–2):25–32.

22.

Milon A, Opydo-Chanek M, Tworzydlo W, Galas J, Pardyak L, Kaminska A, et al. Chlorinated biphenyls effect on estrogen-related receptor expression, steroid secretion, mitochondria ultrastructure but not on mitochondrial membrane potential in Leydig cells. Cell Tissue Res. 2017;369:429–44. https://doi.org/10.1007/s00441-017-2596-x.

23.

Dutta SK, Mitra PS, Ghosh S, Zang S, Sonneborn D, Hertz-Picciotto I, et al. Differential gene expression and a functional analysis of PCB-exposed children: understanding disease and disorder development. Environ Int. 2012;40:143–54. https://doi.org/10.1016/j.envint.2011.07.008.

24.

Burow ME, Tang Y, Collins-Burow BM, Krajewski S, Reed JC, JA ML, et al. Effects of environmental estrogens on tumor necrosis factor α-mediated apoptosis in MCF-7 cells. Carcinogenesis. 1999;20(11):2057–2061. https://doi.org/10.1093/carcin/20.11.2057.

25.

Spink BC, Pang S, Pentecost BT, Spink DC. Induction of cytochrome P450 1B1 in MDA-MB-231 human breast cancer cells by non-ortho-substituted polychlorinated biphenyls. Toxicol in Vitro. 2002;16:695–704. https://doi.org/10.1016/s0887-2333(02)00091-7.

26.

Liu S, Li S, Du Y. Polychlorinated biphenyls (PCBs) enhance metastatic properties of breast Cancer cells by activating rho-associated kinase (ROCK). PLoS One. 2010;5:e11272. https://doi.org/10.1371/journal.pone.0011272.

27.

Leijs MM, Gan L, De Boever P, Esser A, Amann PM, Ziegler P, et al. Altered gene expression in dioxin-like and non-dioxin-like PCB exposed peripheral blood mononuclear cells. Int J Environ Res Public Health. 2019;16(12):2090. https://doi.org/10.3390/ijerph16122090.

28.

Champion S, Sauzet C, Bremond P, Benbrahim K, Abraldes J, Seree E, et al. Activation of the NF kappa B pathway enhances AhR expression in intestinal Caco-2 cells. ISRN Toxicol. 2013;2013:1–7. https://doi.org/10.1155/2013/792452.
Acknowledgments
The authors would like to thank Dr. Mahdi Taherian and Dr. Hassan Noor-Bazargan for their constructive comments on our manuscript.
Ethics declarations
Conflict of interests
The authors declare that they have no potential for competing for financial or other interests.
Additional information
Publisher's note
Springer Nature remains neutral with regard to jurisdictional claims in published maps and institutional affiliations.
About this article
Cite this article
Yazdi, F., Shoeibi, S., Yazdi, M.H. et al. Effect of prevalent polychlorinated biphenyls (PCBs) food contaminant on the MCF7, LNCap and MDA-MB-231 cell lines viability and PON1 gene expression level: proposed model of binding. DARU J Pharm Sci (2021). https://doi.org/10.1007/s40199-021-00394-9
Received:

Accepted:

Published:
Keywords
Aryl hydrocarbon receptor

Cell viability

Food contamination

Molecular docking

PON1