Abstract
Background
Rumex crispus L. (Polygonaceae), known as "Labada" in Turkey, was reported to be used for the treatment of gynecological diseases such as postpartum complications and infertility in folk medicine. Earlier studies on R. crispus have shown that leaf, fruit and root extracts have anti-inflammatory and antioxidant activities and are used for the treatment of tumors in the uterus. The hypothesis of this study is that R. crispus may generate potential anti-adhesive activity against complex factors such as inflammation, oxidation and fibrosis.
Objectives
We aimed to investigate the potential anti-adhesive activity of aqueous methanol extracts of leaves, fruits and roots of R. crispus.
Methods
Abdominal adhesion model was performed in 72 female Wistar Albino rats. In the first step of the experiment, the rats were divided into six groups namely, Sham, Control, Reference and Experimental Groups (consisting of three sub-groups in which R. crispus leaf, fruit and root extracts were applied at 100 mg/kg dose). The test samples were administered once to the peritoneal cavity and the rats were sacrificied at the end of the 14th day. Root extract showed prominent activity, therefore this extract was subjected to fractionation to obtain 3 fractions (30–60–100% methanol fractions) by using vacuum-liquid chromatography. In the second stage, animals were divided into 6 groups as Sham, Control, Reference and Experimental Groups (R30, R60, R100 at 100 mg/kg dose). Adhesion scoring, tissue total antioxidant and oxidant levels, histopathological and immunohistochemical (TNF-α, IL-6 and IL-8) analyzes were performed.
Results and conclusion
Adhesion scores, inflammatory cytokines and inflammation cells decreased by the application of R. crispus root extract. The fractions also showed similar anti-inflammatory effects, but R60 was found to be more effective in prevention of intra-abdominal adhesions and uterine fibrosis. R60 fraction, possessing potential bioactivity, was investigated in terms of phenolic composition by HPLC.
Graphical abstract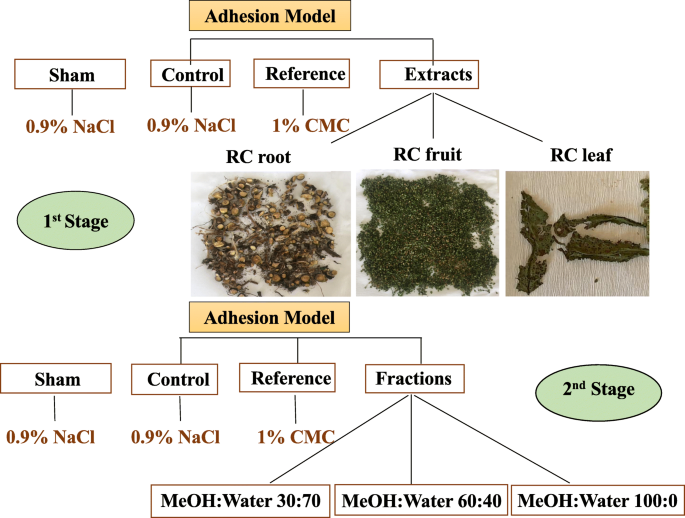 Access options
Buy single article
Instant access to the full article PDF.
US$ 39.95
Tax calculation will be finalised during checkout.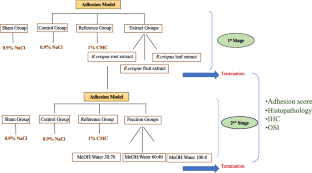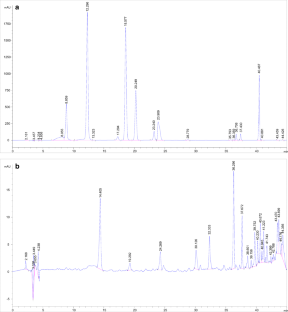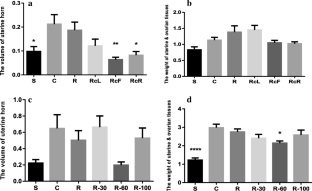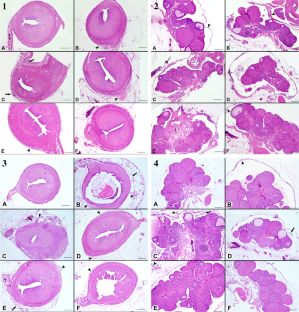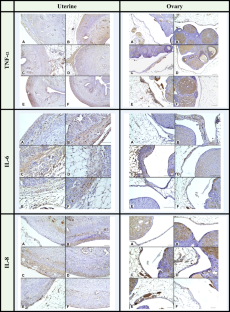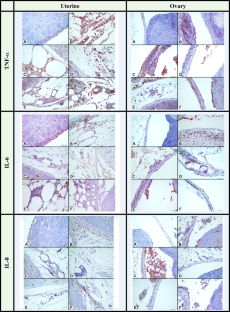 Abbreviations
CMC:

Carboxymethyl cellulose

C:

Control group

G.Ü.ET:

Gazi University Local Ethics Committee for Animal Experiments

GUE:

Herbarium of Faculty of Pharmacy Gazi University

HPLC:

High performance liquid chromatography

IL:

Interleukin

i.p.:

Intraperitoneal

OSI:

Oxidative stress index

PDA:

Photo-diode array dedector

R:

Reference group

R30:

30% methanol fraction of the R.crispus root extract

R60:

60% methanol fraction of R.crispus root extract

R100:

100% methanol fraction of R.crispus root extract

S:

Sham group

SEM:

Standard error of the mean

TAS:

Total antioxidant status

TOS:

Total oxidant status

TNF:

Tumour necrosis factor.
References
1.

Attard JP, MacLean AR. Adhesive small bowel obstruction: epidemiology, biology and prevention. Can J Surg. 2007;50(4):291–300.

2.

Maciver AH, McCall M, Shapiro AMJ. Intra-abdominal adhesions: cellular mechanism and strategies for prevention. Int J Surg. 2011;9:589–94.

3.

Parsaei P, Karimi M, Asadi SY, Rafieian-Kopaei M. Bioactive components and preventive effect of green tea (Camellia sinensis) extract on post-laparotomy intra-abdominal adhesion in rats. Int J Surg. 2013;11:811–5.

4.

Hızlı D, Hızlı F, Köşüş A, Yılmaz S, Köşüş N, Haltaş H, Dede H, Kafalı H. Effect of Hypericum perforatum on intraperitoneal adhesion formation in rats. Arch Med Sci. 2014;10(2):396–400.

5.

Rajaei M, Najafian A, Fallahi S, Asadi I, Salimi M, Shahrzad ME, Eftekhaari TE, Golpaygani KA. Fibrinolytic effects of Matricaria chamomila in preventing peritoneal adhesions. Bull Env Pharmacol Life Sci. 2014;3(5):40–5.

6.

Karimi M, Asadi SY, Parsaei P, Rafieian-Kopaei M, Ghaheri H, Ezzati S. The effect of ethanol extract of rose (Rosa damascena) on intra-abdominal adhesions after laparotomy in rats. Wounds. 2016;28(5):167–74.

7.

Karimi M, Parsaei P, Shafiei-Alavijeh S, Rafieian-Kopaei M, Asadi SY. Effect of silymarin alcoholic extract on surgery-induced intraperitoneal adhesion in rats. Surg Pract. 2016;20:27–33.

8.

Kunwar PM, Bussmann RW. Ethnobotany in the Nepal Himalaya. J Ethnobiol Ethnomed. 2008;4:24–9.

9.

Gürbüz İ, Yeşilada E, Ito S. An anti-ulcerogenic flavonoid diglucoside from Equisetum palustre L. J Ethnopharmacol. 2009;121:360–5.

10.

Steenkamp V. Traditional herbal remedies used by South African women for gynaecological complaints. J Ethnopharmacol. 2003;86:97–108.

11.

Wabe NT, Mohammed MA, Raju NJ. Ethnobotanical survey of medicinal plants in the Southeast Ethiopia used in traditional medicine. Spatula DD. 2011;1:153–8.

12.

Yeşilada E, Honda G, Sezik E, Tabata M, Fujita T, Tanaka T, Takeda Y, Takaishi Y. Traditional medicine in Turkey. V. Folk medicine in the inner Taurus Mountains. J Ethnopharmacol. 1995;46(3):133–52.

13.

Yıldırım A, Mavi A, Kara AA. Determination of antioxidant and antimicrobial activities of Rumex crispus L. extracts. J Agric Food Chem. 2001;49:4083–9.

14.

Coruh I, Gormez AA, Ercisli S, Sengul M. Total phenolic content, antioxidant, and antibacterial activity of Rumex crispus grown wild in Turkey. Pharm Biol. 2008;46(9):634–8.

15.

Park JA, Choi MO. Antimicrobial activity and anti-inflammation effect to the human skin pathogens by the Rumex crispus L. root extracts. Kor J Aesthet Cosmetol. 2011;9(2):9–16.

16.

Shiwani S, Singh NK, Wang MH. Carbohydrase inhibition and anti-cancerous and free radical scavenging properties along with DNA and protein protection ability of methanolic root extracts of Rumex crispus. Nutr Res Pract. 2012;6(5):389–95.

17.

Im NK, Jung YS, Choi JH, Yu MH, Jeong GS. Inhibitory effect of the leaves of Rumex crispus L. on LPS-induced nitric oxide. Production and the expression of iNOS and COX-2 in macrophages. Nat Prod Sci. 2014;20(1):51–7.

18.

Vasas A, Orbán-Gyapai O, Hohmann J. The genus Rumex: Review of traditional uses, phytochemistry and pharmacology. J Ethnopharmacol. 2015;175:198–228.

19.

Idris OA, Wintola OA, Afolayan AJ. Phytochemical and antioxidant activities of Rumex crispus L. in treatment of gastrointestinal helminths in eastern Cape Province, South Africa. Asian Pac J Trop Biomed. 2017;7(12):1071–8.

20.

Gökbulut A. Validated RP-HPLC method for quantification of phenolic compounds in methanol extracts of aerial parts and roots of Thymus sipyleus and evaluation of antioxidant potential. Trop J Pharm Res. 2015;14(10):1871–7.

21.

Gökbulut A. Determination of Hispidulin in the flowers of Inula viscosa (L.) Aiton using HPLC and HPTLC methods. Turk J Pharm Sci. 2016;13(2):159–66.

22.

Yilmaz SS, Hizli D, Yilmaz E, Eryilmaz OG, Hizli F, Haltaş H. Effect of vitamin D on postoperative adhesion formation in a rat uterine horn adhesion model. J Reprod Med. 2013;58(11–12):511–6.

23.

Günaydın M, Güvenç D, Yıldız L, Aksoy A, Tander B, Bıçakcı Ü, Ayyıldız HS, Sünter AT, Arıtürk E, Rızalar R, Bernay F. Comparison of substances used for prevention of intra-abdominal adhesions: an experimental study in rats. Türkiye Klinikleri J Med Sci. 2012;32(2):337–45.

24.

Ergin İ, Demirel MA. Intra-abdominal adhesion physiology and prevention with medical treatment after gynecologic operations in cats and dogs. J Fac Vet Med Erciyes Univ. 2017;14(1):61–72.

25.

Kim Y. Comparative study for preventive effects of intra-abdominal adhesion using cyclo-oxygenase-2 enzyme (COX-2) inhibitor, low molecular weight heparin (LMWH), and synthetic barrier. Yonsei Med J. 2013;54(6):1491–7.

26.

Celepli S, Kismet K, Kaptanoğlu B, Erel S, Ozer S, Celepli P, Kaygusuz G, Devrim E, Gencay O, Sorkun K, Durak I, Akkuş MA. The effect of oral honey and pollen on postoperative intraabdominal adhesions. Turk J Gastroenterol. 2011;22:65–72.

27.

Erel O. A novel automated direct measurement method for total antioxidant capacity using a new generation, more stable ABTS radical cation. Clin Biochem. 2004;37(4):277–85.

28.

Erel O. A new automated colorimetric method for measuring total oxidant status. Clin Biochem. 2005;38(12):1103–11.

29.

Sahbaz A, Isik H, Aynioglu O, Gungorduk K, Dogan GB. Effect of intraabdominal administration of Allium sativum (garlic) oil on postoperative peritoneal adhesion. Eur J Obstet Gynecol. 2014;177:44–7.

30.

Lugrin J, Rosenblatt-Velin N, Parapanov R, Liaudet L. The role of oxidative stress during inflammatory processes. Biol Chem. 2014;395(2):203–30.

31.

Hussain T, Tan B, Yin Y, Blachier F, Tossou MC, Rahu N. Oxidative stress and inflammation: what polyphenols can do for us? Oxidative Med Cell Longev. 2016:7432797–9.

32.

Maksimović Z, Kovacević N, Lakusić B, Cebović T. Antioxidant activity of yellow dock (Rumex crispus L., Polygonaceae) fruit extract. Phytother Res. 2011;25(1):101–5.

33.

Demir S, Bozkurt B, Önür MA, Kaya IG, Ünver-Somer N. Determination of antioxidant properties of Rumex crispus and Scrophularia canina subsp. bicolor. Int J Sec Metabolite. 2017;4:55–7.

34.

Çelik Ö, Koç E. Rumex crispus extract exerts anti-diabetic properties in streptozotocin-induced diabetes in rats. J Inst Sci Techn. 2019;9(4):1937–43.

35.

Minh TN, Van TM, Andriana Y, Vinh LT, Hau DV, Duyen DH, Guzman-Gelani C. Antioxidant, xanthine oxidase, α-amylase and α-glucosidase inhibitory activities of bioactive compounds from Rumex crispus L. root. Molecules. 2019;24(21):E3899.

36.

Liang HX, Dai HQ, Fu HA, Dong XP, Adebayo AH, Zhang LX, Cheng YX. Bioactive compounds from Rumex plants. Phytochem Lett. 2010;3(4):181–4.

37.

Sahreen S, Khan MR, Khan RA. Comprehensive assessment of phenolics and antiradical potential of Rumex hastatus D. Don. roots. BMC Complement Altern Med. 2014;14(47):1–11.

38.

Wcislo A, Niedziałkowski P, Wnuk E, Zarzeczanska D, Ossowski T. Influence of different amino substituents in position 1 and 4 on spectroscopic and acid base properties of 9,10-anthraquinone moiety. Spectrochim Acta A Mol Biomol Spectrosc. 2013;108:82–8.

39.

Ren H, Zhu C, Li Z, Yang W, Song E. Emodin-loaded magnesium silicate hollow Nanocarriers for anti-angiogenesis treatment through inhibiting VEGF. Int J Mol Sci. 2014;15:16936–48.

40.

Wei G, Wu Y, Gao Q, Zhou C, Wang K, Shen C, Wang G, Wang K, Sun X, Li X. Effect of emodin on preventing postoperative intra-abdominal adhesion formation. Oxid Med Cell Longev. 2017;2017:1740317. https://doi.org/10.1155/2017/1740317.
Funding
This study was financially supported by Scientific Research Projects Unit of Gazi University with the Project number of 02/2017–10.
Ethics declarations
Conflict of interest
On behalf of all authors, the corresponding author states that there is no conflict of interest.
Additional information
Publisher's note
Springer Nature remains neutral with regard to jurisdictional claims in published maps and institutional affiliations.
About this article
Cite this article
Süntar, I., Demirel, M.A., Ceribasi, A.O. et al. Preventive effect of Rumex crispus L. on surgically induced intra-abdominal adhesion model in rats. DARU J Pharm Sci (2021). https://doi.org/10.1007/s40199-021-00387-8
Received:

Accepted:

Published:
Keywords
Rumex crispus

Polygonaceae

Anti-inflammatory

Antioxidant

Anti-adhesive

HPLC