Abstract
Hemolytic anemia is a very important immune-mediated reaction, which its late diagnosis can be fatal. Medications along with other causes can induce hemolytic anemia. Drug induced immune hemolytic anemia (DIIHA) is caused by the development of autoantibodies. Accordingly, DIIHA is rare and there is not enough data for its prevalence. Number of drugs that can cause DIIHA have increased in recent decades. A 17-year-old man who had congenital single ventricle heart (CHB) and pulmonary artery hypertension (PAH) was admitted at Imam Khomeini hospital complex affiliated to Tehran University of Medical Sciences, with chief complaint of jaundice and icter. Bosentan and Tadalafil were in the list of the drugs used by this patient. Although both drugs were recommended to be discontinued in the patient, in the course of hospitalization, the patient accidentally continued to take his Tadalafil. However, the patient's recovery continued. Given that the patient's Coombs test was positive, his hemolytic anemia mechanism was drug-induced immune-mediated hemolytic anemia. As a result, according to Naranjo score = 6, Bosentan was considered as the main possible culprit to induce DIIHA in this patient. Following the discontinuation of Bosentan and receiving Prednisolone, the patient's clinical symptoms and laboratory parameters resolved and the patient was then discharged.
Graphical abstract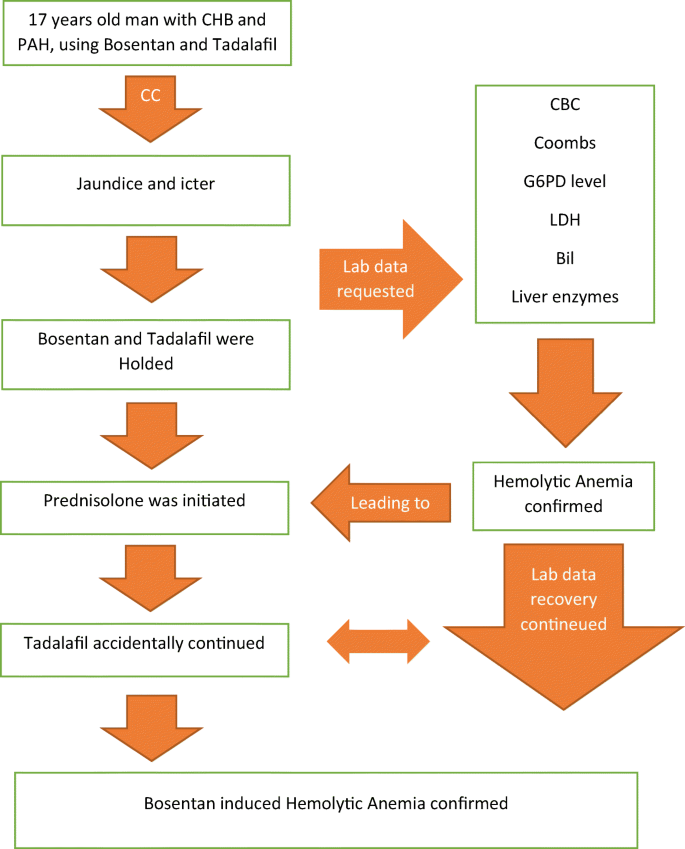 Access options
Buy single article
Instant access to the full article PDF.
US$ 39.95
Tax calculation will be finalised during checkout.
Abbreviations
ALP:

Alkaline phosphatase

ALT:

Alanine aminotransferase

AST:

Aspartate aminotransferase

BIL:

Bilirubin

BP:

Blood pressure

CHB:

Congenital heart block

Cr:

Creatinine

CRP:

C-Reactive Protein

DIC:

Disseminated intravascular coagulation

D/ID:

Direct and indirect

DIHA:

Drug induced hemolytic anemia

DIIHA:

Drug induced immune hemolytic anemia

EF:

Ejection fraction

ESR:

Erythrocyte sedimentation rate

G6PD:

Glucose-6-phosphate dehydrogenase

HA:

Hemolytic anemia

Hgb:

Hemoglobin

HR:

Heart rate

IVIG:

Intravenous immunoglobulin

LDH:

Lactate dehydrogenase

Mg:

Milligram

MCV:

Mean cell volume

NSAIDs:

Non-steroidal anti-inflammatory drugs

PAH:

Pulmonary artery hypertension

PAP:

Pulmonary artery pressure

PBS:

Peripheral blood smear

RBC:

Red blood cell

RR:

Respiratory rate

SC:

Sub-cutaneous

TIBC:

Total iron binding capacity

WBC:

White blood cell count
References
1.

Kumar S, Bansal R, Bansal P, et al. Ceftriaxone-induced hemolytic Anemia: a rare case report. Perm J. 2020;24:19.088.

2.

Garratty G. Drug-induced immune hemolytic anemia. Hematology Am Soc Hematol Educ Program. 2009;1:73–9.

3.

Tanios GE, Doley PB, Munker R. Autoimmune hemolytic anemia associated with the use of immune checkpoint inhibitors for cancer: 68 cases from the Food and Drug Administration database and review. Eur J Haematol. 2019;102:157–62.

4.

Garbe E, Andersohn F, Bronder E, Klimpel A, Thomae M, Schrezenmeier H, et al. Drug induced immune haemolytic anaemia in the Berlin case-control surveillance study. Br J Haematol. 2011;154:644–53.

5.

Brodsky RA. Warm autoimmune hemolytic Anemia. N Engl J Med. 2019;381:647–54.

6.

Stahl WM. Acute phase protein response to tissue injury. Crit Care Med. 1987;15:545–50.

7.

Snapper I, Marks D, Schwartz L, et al. Hemolytic anemia secondary to Mesantoin. Ann Intern Med. 1953;39:619–23.

8.

Klinger JR, Elliott CG, Levine DJ, Bossone E, Duvall L, Fagan K, et al. Therapy for pulmonary arterial hypertension in adults: update of the CHEST guideline and expert panel report. Chest. 2019;155(3):565–86.

9.

Naranjo CA, Busto U, Sellers EM, et al. A method for estimating the probability of adverse drug reactions. Clin Pharmacol Ther. 1981;30:239–45.

10.

Elissa M, et al. Diagnosing and managing drug allergy. CMAJ. 2018;190:532–8.

11.

Valerio C. Bosentan in the treatment of pulmonary arterial hypertension with the focus on the mildly symptomatic patient. Vasc Health Risk Manag. 2009;5:607–19.

12.

Barst RJ, Mubarak KK, Machado RF, Ataga KI, Benza RL, Castro O, et al. Exercise capacity and haemodynamics in patients with sickle cell disease with pulmonary hypertension treated with bosentan: results of the ASSET studies. Br J Haematol. 2010;149:426–35.

13.

Pulido T, Adzerikho I, Channick RN, et al. Macitentan and morbidity and mortality in pulmonary arterial hypertension. N Engl J Med. 2013;369:809–18.

14.

Humbert M, Segal ES, Kiely DG, Carlsen J, Schwierin B, Hoeper MM. Results of European post-marketing surveillance of bosentan in pulmonary hypertension. Eur Respir J. 2007;30:338–44.

15.

Gabbay E, Fraser J, McNeil K. Review of bosentan in the management of pulmonary arterial hypertension. Vasc Health Risk Manag. 2007;3:887–900.

16.

Mylan Pharmaceuticals ULC. Product Mmonograph PrMYLAN-BOSENTAN. 2016.

17.

Garratty G. Immune hemolytic anemia associated with drug therapy. Blood Rev. 2010;24:143–50.

18.

Meyboom R. Intentional Rechallenge and the clinical Management of Drug-Related Problems. Drug Saf. 2013;36:163–5.
Funding
The author(s) received no financial support for the research, author-ship, and/or the publication of this article.
Ethics declarations
Conflict of interests
The author(s) declared no potential conflicts of interest with respect to the research, authorship, and/or publication of this article.
Additional information
Publisher's note
Springer Nature remains neutral with regard to jurisdictional claims in published maps and institutional affiliations.
About this article
Cite this article
Afra, F., Mehri, M. & Namazi, S. Bosentan-induced immune hemolytic anemia in 17 years old man. A case report. DARU J Pharm Sci (2021). https://doi.org/10.1007/s40199-020-00386-1
Received:

Accepted:

Published:
Keywords
Drug-induced immune hemolytic anemia (DIIHA)

Pulmonary artery hypertension (PAH)

Bosentan

Hemolytic anemia

Congenital heart block (CHB)