Abstract
Background
Despite the advances in the treatment of multiple myeloma (MM), complete remission is usually challenging. The interactions between tumor and host cells, in which exosomes (EXs) play critical roles, have been shown to be among the major deteriorative tumor-promoting factors herein. Therefore, any endeavor to beneficially target these EX-mediated interactions could be of high importance.
Objectives
a) To investigate the effects of myeloma EXs on natural killer (NK) cell functions. b) To check whether treatment of myeloma cells with eicosapentaenoic acid (EPA) or docosahexaenoic acid (DHA), two polyunsaturated omega-3 fatty acids with known anti-cancer effects, can modify myeloma EXs in terms of their effects on natural killer functions.
Methods
L363 cells were treated with either EPA or DHA or left untreated and the released EXs (designated as E-EX, D-EX and C-EX, respectively) were used to treat NK cells for functional studies.
Results
Myeloma EXs (C-EXs) significantly reduced NK cytotoxicity against K562 cells (P ≤ 0.05), while the cytotoxicity suppression was significantly lower (P ≤ 0.05) in the (E-EX)- and (D-EX)-treated NK cells compared to the (C-EX)-treated cells. The expression of the activating NK receptor NKG2D and NK degranulation, after treatment with the EXs, were both altered following the same pattern. However, C-EXs could increase IFN-γ production in NK cells (P < 0.01), which was not significantly affected by EPA/DHA treatment. This indicates a dual effect of myeloma EXs on NK cells functions.
Conclusion
Our observations showed that myeloma EXs have both suppressive and stimulatory effects on different NK functions. Treatment of myeloma cells with EPA/DHA can reduce the suppressive effects of myeloma EXs while maintaining their stimulatory effects. These findings, together with the previous findings on the anti-cancer effects of EPA/DHA, provide stronger evidence for the repositioning of the currently existing EPA/DHA supplements to be used in the treatment of MM as an adjuvant treatment.
Graphical abstract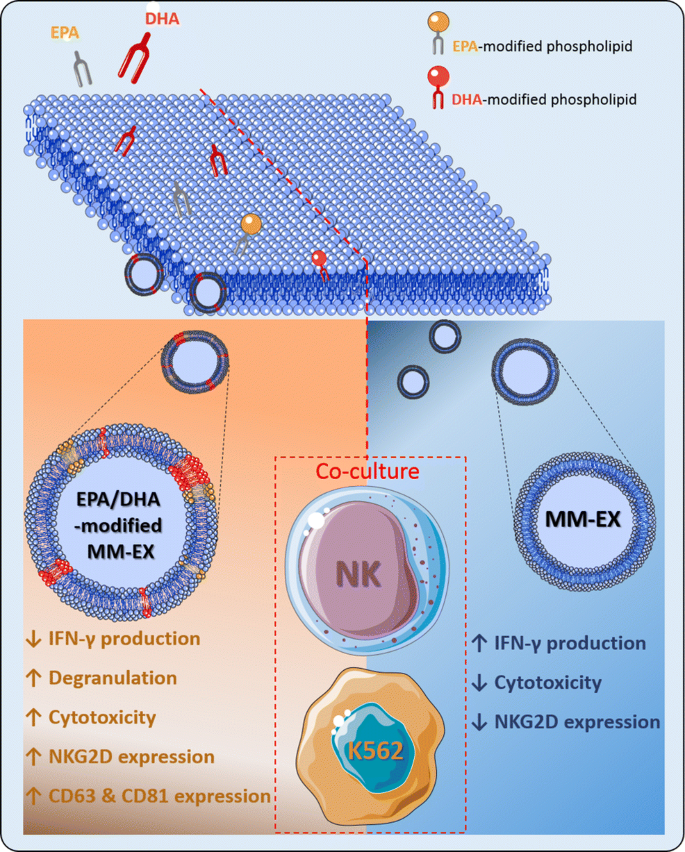 This is a preview of subscription content, log in to check access.
Access options
Buy single article
Instant access to the full article PDF.
US$ 39.95
Price includes VAT for USA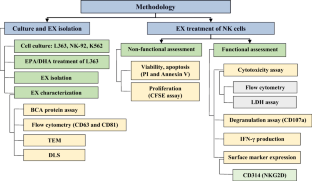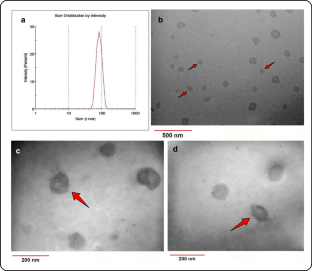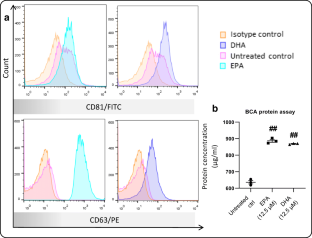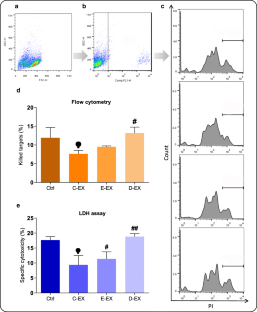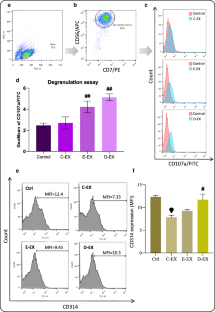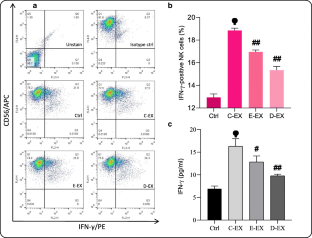 References
1.

Canella A, et al. The potential diagnostic power of extracellular vesicle analysis for multiple myeloma. Expert Rev Mol Diagn. 2016;16(3):277–84.

2.

Iaccino E, et al. Monitoring multiple myeloma by idiotype-specific peptide binders of tumor-derived exosomes. Mol Cancer. 2017;16.

3.

Di Marzo L, et al. Microenvironment drug resistance in multiple myeloma: emerging new players. Oncotarget. 2016;7(37):60698–711.

4.

Zhang L, Pan L, Xiang B, Zhu H, Wu Y, Chen M, et al. Potential role of exosome-associated microRNA panels and in vivo environment to predict drug resistance for patients with multiple myeloma. Oncotarget. 2016;7(21):30876–91.

5.

Soley L, Falank C, Reagan MR. MicroRNA transfer between bone marrow adipose and multiple myeloma cells. Current Osteoporosis Reports. 2017;15(3):162–70.

6.

Umezu T, Tadokoro H, Azuma K, Yoshizawa S, Ohyashiki K, Ohyashiki JH. Exosomal miR-135b shed from hypoxic multiple myeloma cells enhances angiogenesis by targeting factor-inhibiting HIF-1. Blood. 2014;124(25):3748–57.

7.

Moloudizargari M, Asghari MH, Abdollahi M. Modifying exosome release in cancer therapy: how can it help? Pharmacol Res. 2018;134:246–56.

8.

De Veirman K, et al. Induction of miR-146a by multiple myeloma cells in mesenchymal stromal cells stimulates their pro-tumoral activity. Cancer Lett. 2016;377(1):17–24.

9.

Thery C, Zitvogel L, Amigorena S. Exosomes: composition, biogenesis and function. Nat Rev Immunol. 2002;2(8):569–79.

10.

Wolfers J, Lozier A, Raposo G, Regnault A, Théry C, Masurier C, et al. Tumor-derived exosomes are a source of shared tumor rejection antigens for CTL cross-priming. Nat Med. 2001;7(3):297–303.

11.

Yanez-Mo, M., et al., (2015) Biological properties of extracellular vesicles and their physiological functions. Journal of Extracellular Vesicles. 4.

12.

Kosaka N, Yoshioka Y, Tominaga N, Hagiwara K, Katsuda T, Ochiya T. Dark side of the exosome: the role of the exosome in cancer metastasis and targeting the exosome as a strategy for cancer therapy. Future Oncol. 2014;10(4):671–81.

13.

Maybruck BT, Pfannenstiel LW, Diaz-Montero M, Gastman BR. Tumor-derived exosomes induce CD8(+) T cell suppressors. J Immunother Cancer. 2017;5(1):65.

14.

Szajnik M, Czystowska M, Szczepanski MJ, Mandapathil M, Whiteside TL. Tumor-derived microvesicles induce, expand and up-regulate biological activities of human regulatory T cells (Treg). PLoS One. 2010;5(7):e11469.

15.

Hoshino A, Costa-Silva B, Shen TL, Rodrigues G, Hashimoto A, Tesic Mark M, et al. Tumour exosome integrins determine organotropic metastasis. Nature. 2015;527(7578):329–35.

16.

Raimondi L, de Luca A, Amodio N, Manno M, Raccosta S, Taverna S, et al. Involvement of multiple myeloma cell-derived exosomes in osteoclast differentiation. Oncotarget. 2015;6(15):13772–89.

17.

Wang JH, et al. Multiple myeloma exosomes establish a favourable bone marrow microenvironment with enhanced angiogenesis and immunosuppression. J Pathol. 2016;239(2):162–73.

18.

Calder PC. Mechanisms of action of (n-3) fatty acids. J Nutr. 2012;142(3):592S–9S.

19.

Ghaedi E, Rezaei, N, Mahmoudi, M (2019) Nutrition, Immunity, and Cancer, in Nutrition and Immunity. Springer. p. 209–281.

20.

Golzari MH, Javanbakht MH, Ghaedi E, Mohammadi H, Djalali M. Effect of Eicosapentaenoic acid (EPA) supplementation on cardiovascular markers in patients with type 2 diabetes mellitus: a randomized, double-blind, placebo-controlled trial. Diabetes Metab Syndr. 2018;12(3):411–5.

21.

Betiati Dda S, de Oliveira PF, Camargo Cde Q, Nunes EA, Trindade EB. Effects of omega-3 fatty acids on regulatory T cells in hematologic neoplasms. Rev Bras Hematol Hemoter. 2013;35(2):119–25.

22.

Gillis RC, Daley BJ, Enderson BL, Karlstad MD. Eicosapentaenoic acid and gamma-linolenic acid induce apoptosis in HL-60 cells. J Surg Res. 2002;107(1):145–53.

23.

Moloudizargari M, et al. Effects of the polyunsaturated fatty acids, EPA and DHA, on hematological malignancies: a systematic review. Oncotarget. 2018;9(14):11858–75.

24.

Fan YY, McMurray DN, Ly LH, Chapkin RS. Dietary (n-3) polyunsaturated fatty acids remodel mouse T-cell lipid rafts. J Nutr. 2003;133(6):1913–20.

25.

Stulnig TM, Huber J, Leitinger N, Imre EM, Angelisova P, Nowotny P, et al. Polyunsaturated eicosapentaenoic acid displaces proteins from membrane rafts by altering raft lipid composition. J Biol Chem. 2001;276(40):37335–40.

26.

Abdi J, Garssen J, Faber J, Redegeld FA. Omega-3 fatty acids, EPA and DHA induce apoptosis and enhance drug sensitivity in multiple myeloma cells but not in normal peripheral mononuclear cells. J Nutr Biochem. 2014;25(12):1254–62.

27.

Mortaz E et al., (2019) EPA and DHA have selective toxicity for PBMCs from multiple myeloma patients in a partly caspase-dependent manner. Clin Nutr.

28.

Thery C et al., (2006) Isolation and characterization of exosomes from cell culture supernatants and biological fluids. Curr Protoc Cell Biol. Chapter 3: p. Unit 3 22.

29.

Good Z, Borges L, Vivanco Gonzalez N, Sahaf B, Samusik N, Tibshirani R, et al. Proliferation tracing with single-cell mass cytometry optimizes generation of stem cell memory-like T cells. Nat Biotechnol. 2019;37(3):259–66.

30.

Lee HR et al. (2017) Expansion of cytotoxic natural killer cells using irradiated autologous peripheral blood mononuclear cells and anti-CD16 antibody. Sci Rep. 7.

31.

Zhang H, Xie Y, Li W, Chibbar R, Xiong S, Xiang J. CD4(+) T cell-released exosomes inhibit CD8(+) cytotoxic T-lymphocyte responses and antitumor immunity. Cell Mol Immunol. 2011;8(1):23–30.

32.

Lorenzo-Herrero S, Sordo-Bahamonde C, Gonzalez S, López-Soto A. CD107a degranulation assay to evaluate immune cell antitumor activity. Methods Mol Biol. 2019;1884:119–30.

33.

Strack R. Improved exosome detection. Nat Methods. 2019;16(4):286–6.

34.

Du YM, et al. Mesenchymal stem cell exosomes promote immunosuppression of regulatory T cells in asthma. Exp Cell Res. 2018;363(1):114–20.

35.

Cheng N et al. (2019) Recent advances in biosensors for detecting Cancer-derived Exosomes. Trends Biotechnol.

36.

Morcos M et al. (2019) Perforin inhibition blocks NK-mediated in vitro killing of human lung epithelial cells in COPD. Am J Respir Crit Care Med. 199.

37.

Arendt BK, Walters DK, Wu X, Tschumper RC, Huddleston PM, Henderson KJ, et al. Increased expression of extracellular matrix metalloproteinase inducer (CD147) in multiple myeloma: role in regulation of myeloma cell proliferation. Leukemia. 2012;26(10):2286–96.

38.

Arendt BK, Walters DK, Wu X, Tschumper RC, Jelinek DF. Multiple myeloma cell-derived microvesicles are enriched in CD147 expression and enhance tumor cell proliferation. Oncotarget. 2014;5(14):5686–99.

39.

Vulpis E, Cecere F, Molfetta R, Soriani A, Fionda C, Peruzzi G, et al. Genotoxic stress modulates the release of exosomes from multiple myeloma cells capable of activating NK cell cytokine production: role of HSP70/TLR2/NF-kB axis. Oncoimmunology. 2017;6(3):e1279372.

40.

Hannafon BN, Carpenter KJ, Berry WL, Janknecht R, Dooley WC, Ding WQ. Exosome-mediated microRNA signaling from breast cancer cells is altered by the anti-angiogenesis agent docosahexaenoic acid (DHA). Mol Cancer. 2015;14:133.

41.

Anel A et al. (2019) Role of Exosomes in the Regulation of T-cell Mediated Immune Responses and in Autoimmune Disease. Cells. 8(2).

42.

LeBleu VS, Kalluri R. Exosomes exercise inhibition of anti-tumor immunity during chemotherapy. Immunity. 2019;50(3):547–9.

43.

Offen D, Perets N, Guo S, Betzer O, Popovtzer R, Ben-Shaul S, et al. Exosomes loaded with Pten Sirna leads to functional recovery after complete transection of the spinal cord by specifically targeting the damaged area. Cytotherapy. 2019;21(5):E7–8.

44.

Zheng M, Huang M, Ma X, Chen H, Gao X. Harnessing Exosomes for the development of brain drug delivery systems. Bioconjug Chem. 2019;30(4):994–1005.

45.

Wang J, et al. Multiple myeloma exosomes establish a favourable bone marrow microenvironment with enhanced angiogenesis and immunosuppression. J Pathol. 2016;239(2):162–73.

46.

Canella A, Harshman SW, Radomska HS, Freitas MA, Pichiorri F. The potential diagnostic power of extracellular vesicle analysis for multiple myeloma. Expert Rev Mol Diagn. 2016;16(3):277–84.

47.

Boyiadzis M, Whiteside TL. The emerging roles of tumor-derived exosomes in hematological malignancies. Leukemia. 2017;31(6):1259–68.

48.

Bobrie A, Colombo M, Raposo G, Théry C. Exosome secretion: molecular mechanisms and roles in immune responses. Traffic. 2011;12(12):1659–68.

49.

Moloudizargari M et al. (2019) The emerging role of exosomes in multiple myeloma. Blood Rev: p. 100595.

50.

Moloudizargari M, Asghari MH, Mortaz E. Inhibiting exosomal MIC-A and MIC-B shedding of cancer cells to overcome immune escape: new insight of approved drugs. Daru. 2019;27:879–84.

51.

Gronberg A, et al. IFN-gamma treatment of K562 cells inhibits natural killer cell triggering and decreases the susceptibility to lysis by cytoplasmic granules from large granular lymphocytes. J Immunol. 1988;140(12):4397–402.

52.

Phuyal S, et al. Regulation of exosome release by glycosphingolipids and flotillins. FEBS J. 2014;281(9):2214–27.

53.

Sierich H and Eiermann T (2013) Comparing individual NK cell activity in vitro. Curr Protoc Immunol. Chapter 14: p. Unit 14 32.

54.

Gillgrass A, Ashkar A. Stimulating natural killer cells to protect against cancer: recent developments. Expert Rev Clin Immunol. 2011;7(3):367–82.

55.

Ferrari de Andrade, L., et al., Antibody-mediated inhibition of MICA and MICB shedding promotes NK cell-driven tumor immunity. Science, 2018. 359(6383): p. 1537–1542.

56.

Labani-Motlagh A, et al. Differential expression of ligands for NKG2D and DNAM-1 receptors by epithelial ovarian cancer-derived exosomes and its influence on NK cell cytotoxicity. Tumour Biol. 2016;37(4):5455–66.

57.

DeClercq V, d'Eon B, McLeod RS. Fatty acids increase adiponectin secretion through both classical and exosome pathways. Biochimica Et Biophysica Acta-Molecular and Cell Biology of Lipids. 2015;1851(9):1123–33.

58.

Wu M, Harvey KA, Ruzmetov N, Welch ZR, Sech L, Jackson K, et al. Omega-3 polyunsaturated fatty acids attenuate breast cancer growth through activation of a neutral sphingomyelinase-mediated pathway. Int J Cancer. 2005;117(3):340–8.

59.

Mathieu M, Martin-Jaular L, Lavieu G, Théry C. Specificities of secretion and uptake of exosomes and other extracellular vesicles for cell-to-cell communication. Nat Cell Biol. 2019;21(1):9–17.

60.

Plebanek MP et al. (2015) Nanoparticle targeting and cholesterol flux through scavenger receptor type B-1 inhibits cellular exosome uptake. Sci Rep. 5.

61.

Cvetkovic Z, et al. Abnormal fatty acid distribution of the serum phospholipids of patients with non-Hodgkin lymphoma. Ann Hematol. 2010;89(8):775–82.

62.

Bayram I, Erbey F, Celik N, Nelson JL, Tanyeli A. The use of a protein and energy dense Eicosapentaenoic acid containing supplement for malignancy-related weight loss in children. Pediatr Blood Cancer. 2009;52(5):571–4.

63.

Galli M, Chatterjee M, Grasso M, Specchia G, Magen H, Einsele H, et al. Phase I study of the heparanase inhibitor roneparstat: an innovative approach for ultiple myeloma therapy. Haematologica. 2018;103(10):e469–72.
Acknowledgments
This article has been extracted from the thesis written by Mr. Milad Moloudizargari in School of Medicine Shahid Beheshti University of Medical Sciences (Registration No: 260). Ethics committee approval ID: IR.SBMU.MSP.REC.1397.578.
Funding
E. Mortaz was supported by National Institute for Medical Research Development (NIMAD) grant number 977582.
Additional information
Publisher's note
Springer Nature remains neutral with regard to jurisdictional claims in published maps and institutional affiliations.
About this article
Cite this article
Moloudizargari, M., Redegeld, F., Asghari, M.H. et al. Long-chain polyunsaturated omega-3 fatty acids reduce multiple myeloma exosome-mediated suppression of NK cell cytotoxicity. DARU J Pharm Sci (2020). https://doi.org/10.1007/s40199-020-00372-7
Received:

Accepted:

Published:
Keywords
Extracellular vesicle

Cancer

Tumor

Natural killer cell

Exosome

Omega-3