Abstract
Background
Phytoestrogens are plant compounds that are structurally similar to estrogen and that possess anti-cancer properties. Previous studies have reported that coumestrol, daidzein and genistein could induce cell death by reducing Annexin A1 protein in leukemic cell lines. Annexin A1 (ANXA1) is involved in cell progression, metastasis, and apoptosis in several types of cancer cells. The present study sought to investigate if the effects of phytoestrogens on apoptosis, cell cycle arrest and phagocytosis in ANXA1-knockdown leukemic cells are mediated through ANXA1 or occurred independently.
Methods
Transfection of ANXA1 siRNA was conducted to downregulate ANXA1 expression in Jurkat, K562 and U937 cells. Apoptosis and cell cycle assays were conducted using flow cytometry. Western blot was performed to evaluate ANXA1, caspases and Bcl-2 proteins expression. Phagocytosis was determined using hematoxylin and eosin staining.
Results
The expression of ANXA1 after the knockdown was significantly downregulated in all cell lines. Genistein significantly induced apoptosis associated with an upregulation of procaspase-3, −9, and − 1 in Jurkat cells. The Bcl-2 expression showed no significant difference in Jurkat, K562 and U937 cells. Treatment with phytoestrogens increased procaspase-1 expression in Jurkat and U937 cells while no changes were detected in K562 cells. Flow cytometry analysis demonstrated that after ANXA1 knockdown, coumestrol and genistein caused cell cycle arrest at G2/M phase in selected type of cells. The percentage of phagocytosis and phagocytosis index increased after the treatment with phytoestrogens in all cell lines.
Conclusion
Phytoestrogens induced cell death in ANXA1-knockdown leukemia cells, mediated by Annexin A1 proteins.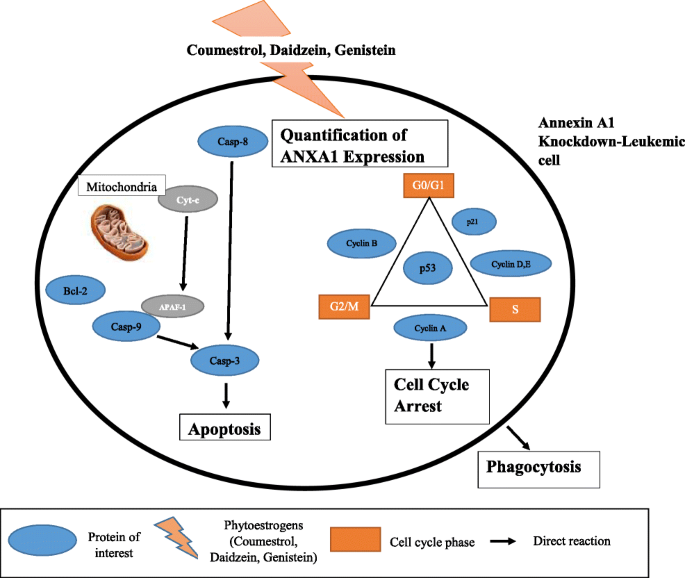 This is a preview of subscription content, log in to check access.
Access options
Buy single article
Instant unlimited access to the full article PDF.
US$ 39.95
Price includes VAT for USA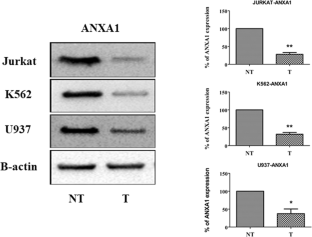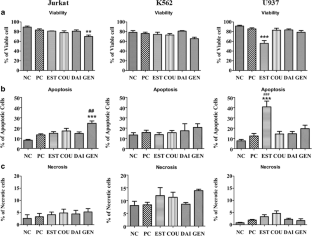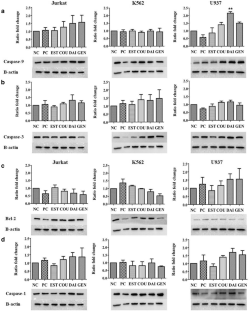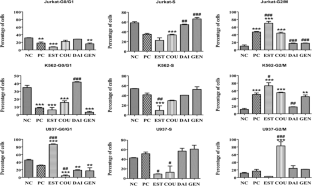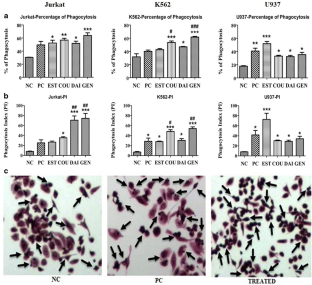 Abbreviations
ANXA1:

annexinA1

Annexin V-FITC:

annexin V-fluorescein

PI:

propidium iodide

RPMI-1640:

Roswell Park Memorial Institute medium 1640

IMDM:

Iscove's modified Dulbecco's medium

FBS:

fetal bovine serum

siRNA:

small interfering RNA

ER:

estrogen receptor
References
1.

Hsieh C-J, Hsu Y-L, Huang Y-F, Tsai E-M. Molecular mechanisms of anticancer effects of phytoestrogens in breast Cancer. Curr Protein Pept Sci. 2018;19:323–32.

2.

Chen F, Chien M. Phytoestrogens induce apoptosis through a mitochondria / caspase pathway in human breast cancer cells. Climacteric. 2014;17:385–92.

3.

Stopper H, Schmitt E, Kobras K. Genotoxicity of phytoestrogens. Mutat Res - Fundam Mol Mech Mutagen. 2005;574:139–55.

4.

Reger MK, Zollinger TW, Liu Z, Jones JF, Zhang J. Dietary intake of isoflavones and coumestrol and the risk of prostate cancer in the prostate, lung, colorectal and ovarian Cancer screening trial. Int J Cancer. 2018;142:719–28.

5.

Zafar A, Singh S, Naseem I. Cytotoxic activity of soy phytoestrogen coumestrol against human breast cancer MCF-7 cells: insights into the molecular mechanism. Food Chem Toxicol. 2017. https://doi.org/10.1016/j.fct.2016.11.034.

6.

Lee Y, Joo H, Park K, Bae Y. Coumestrol induces senescence through protein kinase CKII inhibition-mediated reactive oxygen species production in human breast cancer and colon cancer cells. Food Chem. 2013. https://doi.org/10.1016/j.foodchem.2013.03.053.

7.

Nakajima R, Morikawa K, Nakajima Y, Kobayashi M, Nonaka M, Hanada H, et al. Effect of Genistein and Daidzein on the proliferation and differentiation of human Preadipocyte cell line. J Agric Food Chem. 2010;58:5821–7.

8.

Choi EJ, Kim G. Daidzein causes cell cycle arrest at the G1 and G2 / M phases in human breast cancer MCF-7 and MDA-MB-453 cells. Phytomedicine. 2008;15:683–90.

9.

Bektic J, Guggenberger R, Eder IE, Pelzer AE, Berger AP, Bartsch G. et al, Molecular effects of the isoflavonoid genistein in prostate cancer. Clin Prostate Cancer. 2005. https://doi.org/10.3816/CGC.2005.n.021.

10.

Bu P, Gukovskaya AS, Mouria M, Bu MC, Bu MW, Friess H, et al. Prevention of metastatic pancreatic cancer growth in vivo by Induction of Apoptosis with Genistein , a naturally occurring isoflavonoid. Pancreas. 2003;26:264–73.

11.

Dixon RA, Ferreira D. Genistein. 2002;60:205–11.

12.

Kroemer G. Mitochondrial control of apoptosis: an introduction. Biochem Biophys Res Commun. 2003;304:433–5.

13.

Bras M, Queenan B, Susin SA. Programmed cell death via mitochondria: different modes of dying. Biochemistry. 2005;70:231–9.

14.

Matsuura K, Canfield K, Feng W, Kurokawa M. Metabolic regulation of apoptosis in Cancer. Vol. 327, International Review of Cell and Molecular Biology. Elsevier Inc.; 2016; https://doi.org/10.1016/bs.ircmb.2016.06.006

15.

Hassan M, Watari H, Abualmaaty A, Ohba Y, Sakuragi N. Apoptosis and molecular targeting therapy in cancer. Biomed Res Int. 2014. https://doi.org/10.1155/2014/150845.

16.

Sundquist TE, Moravec R, Niles AN, O'Brien MA, Riss T. Timing your apoptosis assays. Cell Notes. 2006;16:18–21.

17.

Shi Y. Mechanisms of caspase activation and inhibition during apoptosis. Mol Cell. 2002. https://doi.org/10.1016/S1097-2765(02)00482-3.

18.

Lim W, Jeong M, Bazer FW, Song G. Coumestrol inhibits proliferation and migration of prostate cancer cells by regulating AKT, ERK1/2, and JNK MAPK cell signaling cascades. J Cell Physio. 2016;232:862–71.

19.

Balabhadrapathruni S, Thomas TJ, Yurkow EJ. Effects of genistein and structurally related phytoestrogens on cell cycle kinetics and apoptosis in MDA-MB-468 human breast cancer cells. Oncol Rep. 2000;7:3–12.

20.

Yang VW. Chapter 15 - The Cell Cycle. Physiology of the Gastrointestinal Tract (Fifth Edit.). 2012; https://doi.org/10.1016/B978-0-12-382026-6.00015-4.

21.

Blagosklonny MV. Cell cycle arrest is not senescence. Aging. 2011;3:94–101.

22.

DiPaola RS. To arrest or not to G2-M cell-cycle arrest: commentary re: AK Tyagi et al., Silibinin strongly synergizes human prostate carcinoma DU145 cells to doxorubicin-induced growth inhibition, G2-M arrest, and apoptosis. Clin. Cancer res., 8: 3512–3519, 2002. Clin. Cancer Res 2002;8:3311–4.

23.

D'Acunto CW, Gbelcova H, Festa M, Ruml T. The complex understanding of Annexin A1 phosphorylation. Cell Signal. 2014. https://doi.org/10.1016/j.cellsig.2013.09.020.

24.

Parente L, Solito E. Annexin 1: more than an anti-phospholipase protein. Inflamm Res. 2004;53:125–32.

25.

Sheikh MH, Solito E. Annexin A1: uncovering the many talents of an old protein. Int J Mol Sci. 2018. https://doi.org/10.3390/ijms19041045.

26.

Gerke V, Creutz CE, Moss SE. Annexins: linking Ca2+signalling to membrane dynamics. Nat Rev Mol Cell Biol. 2005;6:449–61.

27.

Solito E, De Coupade C, Canaider S, Goulding NJ, Perretti M, Solito E, et al. Transfection of annexin 1 in monocytic cells produces a high degree of spontaneous and stimulated apoptosis associated with caspase-3 activation. Br J Pharmacol. 2001;133:217–28.

28.

Castro-Caldas M, Mendes AF, Duarte CB, Lopes MCF. Dexamethasone-induced and estradiol-induced CREB activation and annexin 1 expression in CCRF- CEM lymphoblastic cells : evidence for the involvement of cAMP and p38 MAPK. Mediat Inflamm. 2003;12:329–38.

29.

Ahmad W, Kumolosasi E, Jantan I, Jasamai M. Modulatory effect of phytoestrogens and Curcumin on induction of Annexin 1 in human peripheral blood mononuclear cells and their inhibitory effect on secretory phospholipase a 2. Trop J Pharm Res. 2014;13:171–7.

30.

Maioral MF, Gaspar PC, Souza GR, Mascarello A, Chiaradia LD, Licínio MA, et al. Apoptotic events induced by synthetic naphthylchalcones in human acute leukemia cell lines. Biochimie. 2013;95:866–74.

31.

Darzynkiewicz Z. Critical aspects in analysis of cellular DNA content. Current protocols in cytometry. 2010;52:7–2.

32.

Martinez-Marin D, Jarvis C, Nelius T, Filleur S. Assessment of phagocytic activity in live macrophages-tumor cells co-cultures by Confocal and Nomarski Microscopy. Biology Methods and Protocols. 2017;2(1).

33.

Chanput W, Mes JJ, Wichers HJ. THP-1 cell line: An in vitro cell model for immune modulation approach. Int Immunopharmacol. 2014;23:37–45.

34.

Boatright KM, Salvesen GS. Mechanisms of caspase activation. Curr Opin Cell Biol. 2003;15:725–31.

35.

Yamasaki M, Fujita S, Ishiyama E, Mukai A, Madhyastha H, Sakakibara Y, et al. Soy-derived isoflavones inhibit the growth of adult T-cell leukemia cells in vitro and in vivo. Cancer Sci. 2007;98:1740–6.

36.

Sabran A, Kumolosasi E, Jantan I. Effects of annexin A1 on apoptosis and cell cycle arrest in human leukemic cell lines. Acta Pharma. 2019;69:75–86.

37.

Seo HS, Ju JH, Jang K, Shin I. Induction of apoptotic cell death by phytoestrogens by up-regulating the levels of phospho-p53 and p21 in normal and malignant estrogen receptor α–negative breast cells. Nutr Res. 2011;31:139–46.

38.

Obiorah IE, Fan P, Jordan VC. Breast cancer cell apoptosis with phytoestrogens is dependent on an estrogen-deprived state. Cancer Prev Res. 2014;7:939–49.

39.

Gong L, Li Y, Nedeljkovic-Kurepa A, Sarkar FH. Inactivation of NF-κB by genistein is mediated via Akt signaling pathway in breast cancer cells. Oncogene. 2003;22:4702–9.

40.

Sarkar F, Adsule S, Kulkarni S, Li Y, Padhye S. The role of Genistein and synthetic derivatives of Isoflavone in Cancer prevention and therapy. Mini-Reviews Med Chem. 2006;6:401–7.

41.

Franchi L, Eigenbrod T, Muñoz-planillo R, Nuñez G. Review the inflammasome : a caspase-1-activation platform that regulates immune responses and disease pathogenesis. Nature Immunol. 2009;10:241–7.

42.

Denes A, Lopez-Castejon G, Brough D. Caspase-1: is IL-1 just the tip of the ICEberg? Cell Death Dis. 2012;3:1–9.

43.

Adjakly M, Ngollo M, Boiteux JP, Bignon YJ, Guy L, Bernard-Gallon D. Genistein and daidzein: different molecular effects on prostate cancer. Anticancer Res. 2013;33:39–44.

44.

Murata M, Midorikawa K, Koh M, Umezawa K, Kawanishi S. Genistein and Daidzein induce cell proliferation and their metabolites cause oxidative DNA damage in relation to Isoflavone-induced Cancer of estrogen-sensitive organs. Biochemistry. 2004:2569–77.

45.

Arandjelovic S, Ravichandran KS. Phagocytosis of apoptotic cells in homeostasis. Nat Immunol. 2015. https://doi.org/10.1038/ni.3253.

46.

Hochreiter-hufford A, Ravichandran KS. Clearing the dead: apoptotic cell sensing, recognition. Engulfment and Digestion Cold Spring Harb Perspect Biol. 2013;5:a008748.

47.

Poon IKH, Lucas CD, Rossi AG, Ravichandran KS. Apoptotic cell clearance: basic biology and therapeutic potential. Nat Rev Immunol. 2014. https://doi.org/10.1038/nri3607.

48.

Sarkar FH, Li Y. Mechanisms of cancer chemoprevention by soy isoflavone genistein. Cancer Metastasis Rev. 2002:265–80.
Acknowledgements
This project has been funded by Ministry of Higher Education for Fundamental Research Grant Scheme (FRGS), FRGS/1/2015/SKK09/UKM/02/3.
Availability of data and materials
All data generated or analyzed during this study are included in this published article and supplementary data.
Ethics declarations
Ethical approval
Not applicable
Consent for publication
Not applicable
Conflict of interest
The authors declare that they have no conflict of interest.
Additional information
Publisher's note
Springer Nature remains neutral with regard to jurisdictional claims in published maps and institutional affiliations.
Electronic supplementary material
About this article
Cite this article
Hasan, M., Kumolosasi, E., Jasamai, M. et al. Evaluation of phytoestrogens in inducing cell death mediated by decreasing Annexin A1 in Annexin A1-knockdown leukemia cells. DARU J Pharm Sci (2020) doi:10.1007/s40199-019-00320-0
Received:

Accepted:

Published:
Keywords
Annexin A1

siRNA

Apoptosis

Caspase cascade

Cell cycle arrest

Phagocytosis

Human leukemic cell lines