Recent advances in the delivery of disulfiram: a critical analysis of promising approaches to improve its pharmacokinetic profile and anticancer efficacy
Abstract
Background
Disulfiram (DSF) has a long history of being used as a first-line promising therapy for treatment of alcoholism in human. Besides its prominence in the treatment of alcoholism, extensive investigations have been carried out to explore other biomedical and pharmacological effects of DSF. Amongst other biomedical implications, plenty researches have shown evidence of promising anticancer efficacy of this agent for treatment of wide range of cancers such as breast cancer, liver cancer and lung carcinoma.
Methods
Electronic databases, including Google scholar, PubMed and Web of science were searched with the keywords disulfiram, nanoparticles, cancer, drug delivery systems.
Result
Despite its excellent anticancer efficacy, the pharmaceutical significance and clinical applicability of DSF are hampered due to poor stability, low solubility, short plasma half-life, rapid metabolism, and early clearance from systemic circulation. Various attempts have been made to eradicate these issues. Nanotechnology based interventions have gained remarkable recognition in improving pharmacokinetic and pharmacodynamic profile of DSF by improving its stability and avoiding its degradation.
Conclusion
The aim of the present review is to critically analyse all recent developments in designing various nanotechnology-based delivery systems, to ponder their relevance in improving stability, pharmacokinetic and pharmacodynamic profile, and achieving target-specific delivery of this agent to cancer cells to effectively eradicate cancer and abolish its metastasis. Nanotechnology is a novel approach for overcoming such obstacles faced presently, the results obtained so far using different novel drug delivery systems seem to be very promising to increase the stability and half-life of DSF.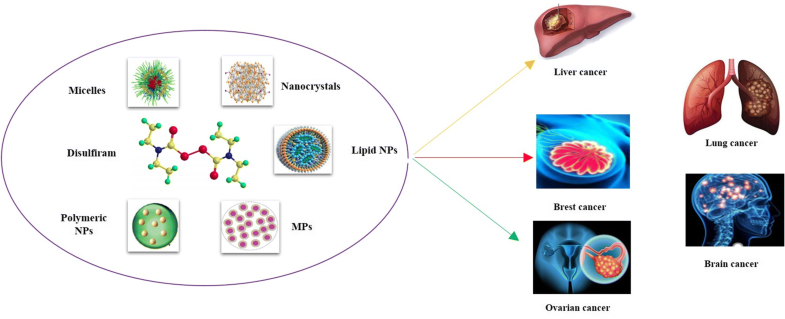 Keywords
Disulfiram 
Polymeric nanoparticles 
Cancer 
Nanotechnology 
Drug delivery systems 
Notes
Author's contributions
Muhammad Asim Farooq designed the review and wrote the manuscript, Md Aquib and Daulat Haleem Khan contributed to searching and data collection, Zahid Hussain critical revision of the manuscript, Anam Ahsan checked the grammar and proofread, Mirza Muhammad Faran Ashraf Baig and Dickson Pius Wande revised the manuscript based on reviewers comments, Muhammad Masood Ahmad and Hafiz Muhammad Ahsan edited the manuscript, Jiang jiajie designed the figures, Bo wang supervised the project. All the authors read and approved the final manuscript.
Compliance with ethical standards
Declaration of interest
The authors state no conflict of interest and have received no funding in preparation of this manuscript.
Copyright information
© Springer Nature Switzerland AG 2019