Targeting kidneys by superparamagnetic allopurinol loaded chitosan coated nanoparticles for the treatment of hyperuricemic nephrolithiasis
Abstract
Purpose
The major short coming of conventional therapy system is that they can't deliver the therapeutics specifically to a site within the body without producing nonspecific toxicity. Present research aimed at developing kidney targeted allopurinol (AP) loaded chitosan coated magnetic nanoparticles (A-MNPs) for the management of hyperuricemic nephropathy manifested in the form of nephrolithiasis.
Methods
The work includes preparation of magnetic nanoparticles by chemical co-precipitation method and evaluation of the prepared batches for particle size analysis, Transmission electron microscopy, entrapment efficiency, in-vitro release study etc. Further, FTIR spectroscopy, X-ray diffraction, Differential Scanning Calorimetry, Vibrational sample magnetometer (VSM) and in-vivo animal studies were also performed.
Results
VSM analysis demonstrates that the prepared nanoparticles exhibit superparamagnetic magnetic behaviour which was retained even after coating by chitosan. In-vivo studies of A-MNPs showed 19.07-fold increase in kidney uptake of AP as compared to serum post 2 h of administration in mice whereas no drug was detected in kidney and serum post 2 h administration of pure drug (free-form) indicating successful targeting to kidney as well as sustained release of AP from the formulated A-MNPs. The significant (p < 0.01) effectiveness of A-MNPs in management of hyperuricemic nephrolithiasis was observed through estimating pH and uric acid levels in urine and serum samples of mice. These findings were also confirmed by histological examination of isolated kidney samples.
Conclusion
Present investigation signifies that a simple external magnetic field is enough for targeting allopurinol to kidneys by formulating A-MNPs which further offers an effective approach for management of hyperuricemic nephrolithiasis.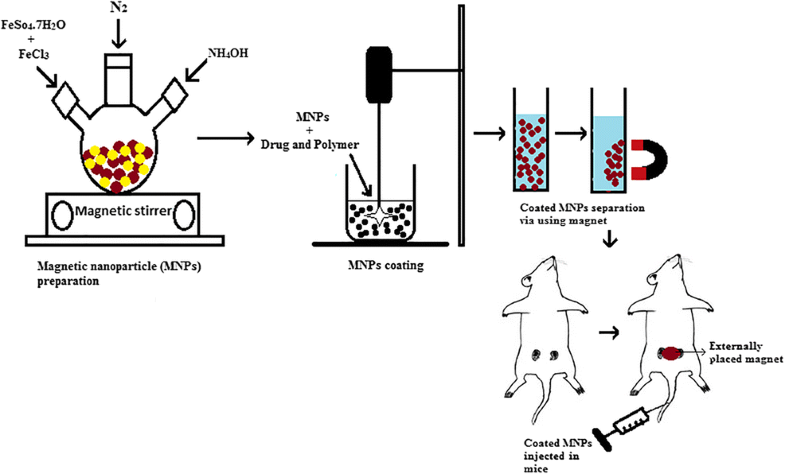 Keywords
Magnetic nanoparticles 
Allopurinol 
Chitosan 
Kidney targeting 
Nephropathy 
Abbreviations
A-MNPs

Allopurinol loaded chitosan coated magnetic nanoparticles

AP

Allopurinol

C-MNPs

Chitosan coated magnetic nanoparticles (without drug)

DSC

Differential Scanning Calorimetry

FTIR

Fourier Transform Infrared

HPLC

High Performance Liquid Chromatography

MNPs

Magnetic nanoparticles (without drug and polymer coating)

MWCO

Molecular weight cut off

P-AP-CH

Physical mixture of AP and chitosan polymer

PO

Potassium oxonate

SUA

Serum uric acid

TEM

Transmission Electron Microscopy

UA

Uric acid

UUA

Urine uric acid

VSM

Vibrating sample magnetometer

XO

Xanthine oxidase

XRD

X-Ray Diffraction
Notes
Acknowledgments
Authors express their deepest gratitude to Late Dr. Shailendra Kumar Singh, Professor, Department of Pharmaceutical Sciences, G.J.U S&T, Hisar for his valuable contribution to research work. Authors acknowledge the UGC, New Delhi for providing Rajiv Gandhi National Fellowship and Coordinator, DST-FIST, Department of Pharmaceutical Sciences, G.J.U S&T, Hisar for providing zetasizer and HPLC analysis.
Compliance with ethical standards
Conflict of interest
Authors declare no conflict of interest.
Copyright information
© Springer Nature Switzerland AG 2019