Abstract
Background
Atopic dermatitis is a multifactorial immune-mediated skin disorder characterized by an alteration of epidermal barrier function and onset of skin lesions, which range from mild erythema to severe lichenification. Treatment consists in hydration with possible use of topical or immunomodulatory corticosteroids, which, however sometimes showed side effects. Recently, the interest in natural compounds has grown significantly and among these, hydroxytyrosol (HT) plays a pivotal role due to its strong and well-known anti-inflammatory activity.
Objectives
The aim of this study was to investigate the safety and efficacy of Fenolia® Eudermal Cream 15 (HT-based formulation) on epidermal barrier impaired as consequence of skin injury.
Methods
Whit this purpose, morphologic and structural as well as anti-inflammatory evaluations, after treatment with pro-inflammatory mediators (PBS 1 X and LPS) and HT-based formulation on reconstructed human epidermis (RHE) were carried out by qualitative (hematoxylin/eosin- and immunostaining) and quantitative (MTT assay, IL-1α and IL-8 release by ELISA) techniques. Furthermore, HT absorption through the epidermal barrier was evaluated by RP-LC-DAD analysis.
Results
A rise in the thickness of the epidermis as well as an appropriate maturation and protein expression (Loricrin, Fillagrin, E-Cadherin and Cytokeratins 5&6) were detected in treated RHE samples. In particular, the HT-based formulation was found to stimulate cell proliferation, as evidenced by the significant increase in Ki67 expression, which suggests the involvement of repair mechanisms, increasing epithelial regeneration and differentiation and improving the epidermal barrier effect. Furthermore, HT-based formulation showed a statistically significant anti-inflammatory activity by reducing both IL-1α and IL-8 release by RHE tissues, greater than the reference drug dexamethasone. Finally, excellent transcutaneous absorption values were found for HT, demonstrating how this new formulation increases the availability of the bioactive compound.
Conclusions
In light of these results, Fenolia® Eudermal Cream 15 could be an effective agent to counteract atopic dermatitis.

This is a preview of subscription content,
to check access.
Access this article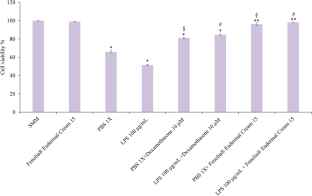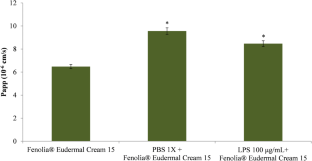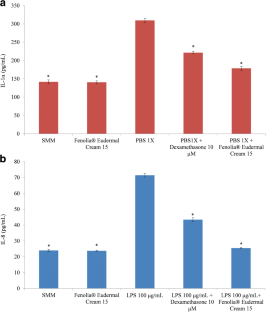 Similar content being viewed by others
Abbreviations
AD:

atopic dermatitis

HT:

hydroxytyrosol

PBS:

phosphate buffered saline

MTT:

thiazoyl blue tetrazolium bromide

RP-LC-DAD:

reverse phase-liquid chromatography-diode array detection

RHE:

reconstructed human epidermis

SMM:

skinethic maintenance medium

LPS:

lipopolysaccharides

H&E:

hematoxylin and eosin

RT:

room temperature

Papp :

apparent permeability coefficient

ANOVA:

one-way analysis of variance

SC:

stratum corneum

EVOO:

extra virgin olive oil
References
Fabbrocini G, Napolitano M, Megna M, Balato N, Patruno C. Treatment of atopic dermatitis with biologic drugs. Dermatol Ther (Heidelb). 2018. https://doi.org/10.1007/s13555-018-0258-x.

Napolitano M, Megna M, Patruno C, Gisondi P, Ayala F, Balato N. Adult atopic dermatitis: a review. G Ital Dermatol Venereol. 2016;151:403–11.

Katsarou A, Armenaka MC. Atopic dermatitis in older patients: particular points. J Eur Acad Dermatol Venereol. 2011;25:12–8.

Silvestre Salvador JF, Romero-Pérez D, Encabo-Duràn B. Atopic dermatitis in adults: a diagnostic challenge. J Investig Allergol Clin Immunol. 2017;27:78–88.

Dinulos JG, Trickett A, Crudele C. New science and treatment paradigms for atopic dermatitis. Curr Opin Pediatr. 2018;30(1):161–8.

Kim DH, Li K, Seo SJ, Jo SJ, Yim HW, Kim CM, et al. Quality of life and disease severity are correlated in patients with atopic dermatitis. J Korean Med Sci. 2012;27:1327–32.

Megna M, Napolitano M, Patruno C, Villani A, Balato A, Monfrecola G, et al. Systemic treatment of adult atopic dermatitis: a review. Dermatol Ther (Heidelb). 2017;7:1–23.

Calzavara Pinton P, Cristaudo A, Foti C, Canonica GW, Balato N, Costanzo A, et al. Diagnosis and management of moderate to severe adult atopic dermatitis: a consensus by the Italian Society of Dermatology and Venereology (SIDeMaST), the Italian Association of Hospital Dermatologists (ADOI), the Italian Society of Allergy, asthma and clinical immunology (SIAAIC), and the Italian Society of Allergological, environmental and occupational dermatology (SIDAPA). G Ital Dermatol Venereol. 2018;153(2):133–45.

Wollenberg A, Barbarot S, Bieber T, Christen-Zaech S, Deleuran M, Fink-Wagner A, et al. European dermatology forum (EDF), the European academy of dermatology and venereology (EADV), the European academy of allergy and clinical immunology (EAACI), the European task force on atopic dermatitis (ETFAD), European Federation of Allergy and Airways Diseases Patients' associations (EFA), the European Society for Dermatology and Psychiatry (ESDaP), the European Society of Pediatric Dermatology (ESPD), global allergy and asthma European network (GA2LEN) and the European Union of medical specialists (UEMS). Consensus-based European guidelines for treatment of atopic eczema (atopic dermatitis) in adults and children: part II. J Eur Acad Dermatol Venereol. 2018;32:850–78.

Rerknimitr P, Otsuka A, Nakashima C, Kabashima K. The etiopathogenesis of atopic dermatitis: barrier disruption, immunological deragement, and pruritus. Inflamm Regen. 2017;37:14.

Megna M, Patruno C, Balato A, Rongioletti F, Stingeni L, Balato N. An Italian multicentre study on adult atopic dermatitis: persistent versus adult-onset disease. Arch Dermatol Res. 2017;309:443–52.

Eshtiaghi P, Gooderham MJ. Dupilumab: an evidence- based review of its potential in the treatment of atopic dermatitis. Core Evid. 2018;13:13–20.

Dohil MA. Natural ingredients in atopic dermatitis and other inflammatory skin disease. J Drugs Dermatol. 2013, 12(9):s128–32.

Liphschitz N, Gophna R, Hartman M, Biger G. The beginning of olive (Olea europaea) cultivation in the old world: a reassessment. J Arch Sci. 1991;18(4):441–53.

Marchetti C, Clericuzio M, Borghesi B, Cornara L, Ribulla S, Gosetti F, et al. Oleuropein-enriched olive leaf extract affects calcium dynamics and impairs viability of malignant mesothelioma cells. Evid Based Complement Alternat Med. 2015;2015:908493.

Viola P, Viola M. Virgin olive oil as a fundamental nutritional component and skin protector. Clin Dermatol. 2009;27(2):159–65.

Caramia G, Gori A, Valli E, Cerretani L. Virgin olive oil in preventive medicine: from legend to epigenetics. Eur J Lipid Sci Technol. 2012;114:375–88.

Omar SH. Oleuropein in olive and its pharmacological effects. Sci Pharm. 2010;78(2):133–54.

Cicerale S, Lucas L, Keast R. Biological activities of phenolic compounds present in virgin olive oil. Int J Mol Sci. 2010;11(2):458–79.

Trombetta D, Smeriglio A, Marcoccia D, Giofrè SV, Toscano G, Mazzotti F, et al. Analytical evaluation and antioxidant properties of some secondary metabolites in northern Italian mono- and multi-varietal extra virgin olive oils (EVOOs) from early and late harvested olives. Int J Mol Sci. 2017;18(4).

Alarcón de la Lastra C, Barranco MD, Motilva V, Herrerías JM. Mediterranean diet and health: biological importance of olive oil. Curr Pharm Des. 2001;7(10):933–50.

Colica C, Di Renzo L, Trombetta D, Smeriglio A, Bernardini S, Cioccoloni G, et al. Antioxidant effects of a Hydroxytyrosol-based pharmaceutical formulation on body composition, metabolic state, and gene expression: a randomized double-blinded, placebo-controlled crossover trial. Oxidative Med Cell Longev. 2017;2017:2473495.

Martínez L, Ros G, Nieto G. Hydroxytyrosol: health benefits and use as functional ingredient in meat. Medicines (Basel). 2018;5(1):pii E13.

Procopio A, Celia C, Nardi M, Oliverio M, Paolino D, Sindona G. Lipophilic hydroxytyrosol esters: fatty acid conjugates for potential topical administration. J Nat Prod. 2011;74:2377–81.

Hussain Z, Katas H, Mohd Amin MC, Kumolosasi E. Efficient immuno-modulation of TH1/TH2 biomarkers in 2,4-dinitrofluorobenzene-induced atopic dermatitis: nanocarrier-mediated transcutaneous co-delivery of anti-inflammatory and antioxidant drugs. PLoS One. 2014;9(11):e113143.

Al-Waili NS. Clinical and mycological benefits of topical application of honey, olive oil and beeswax in diaper dermatitis. Clin Microbiol Infect. 2005;11(2):160–3.

Al-Waili NS. Topical application of natural honey, beeswax and olive oil mixture for atopic dermatitis or psoriasis: partially controlled, single-blinded study. Compl Ther Med. 2003;11(4):226–34.

Guarrera PM. Usi e Tradizioni della Flora Italiana. Medicina popolare ed etnobotanica. Aracne Editrice S.r.l., Roma; 2006.

Smeriglio A, Giovinazzo C, Trombetta D. Development and validation of RP-HPLC-DAD method to quantify hydroxytyrosol content in a semi-solid pharmaceutical formulation. Med Chem. 2015;5:442–6.

Lichtenauer M, Nickl S, Hoetzenecker K, Mangold A, Moser B, Zimmermann M, et al. Phosphate buffered saline containing calcium and magnesium elicits increased secretion of Interleukin-1 receptor antagonist. Lab Med. 2009;40(5):290–3.

Matabuena-de Yzaguirre M, Bacchini G, Luna EG, Vila-Martínez E. Anti-inflammatory efficacy of product containing "skin calm complex" in vitro reconstructed epidermis. J Cosmet Dermatol Sci Appl. 2014;4:309–15.

Gambella A, Porro L, Pigozzi S, Fiocca R, Grillo F, Mastracci L. Section detachment in immunohistochemistry: causes, troubleshooting, and problem-solving. Histochem Cell Biol. 2017;148(1):95–101.

Merlin JL, Azzi S, Lignon D, Ramacci C, Zeghari N. Guillemin F. MTT assays allow quick and reliable measurement of the response of human tumour cells to photodynamic therapy. Eur J Cancer. 1992;28A(8–9):1452–8.

Hussain Z, Katas H, Mohd Amin MC, Kumolosasi E, Buang F, Sahudin S. Self-assembled polymeric nanoparticles for percutaneous co-delivery of hydrocortisone hydroxytyrosol: an ex vivo and in vivo study using an NC/Nga mouse model. Int J Pharm. 2013;444:109–19.

Lias PM, Steinhoff M. "Outside-to-inside" (and now back to "outside") pathogenic mechanisms in atopic dermatitis. J Invest Dermatol. 2008;128(5):1067–70.

Maldonado OS, Lucas R, Comelles F, González MJ, Parra JL, Medina I, et al. Synthesis and characterization of phenolic antioxidants with surfactant properties: glucosyl- and glucuronosyl alkyl gallates. Tetrahedron. 2011;67:7268–79.

Wiechers JW, Kelly CL, Blease TG, Dederen JC. Formulating for efficacy. Int J Cosmet Sci. 2004;26:173–82.

Alonso C, Lucas R, Barba C, Marti M, Rubio L, Comelles F, et al. Skin delivery of antioxidant surfactants based on gallic acid and hydroxytyrosol. J Pharm Pharmacol. 2015;67(7):900–8.

Lee H-J, Lee S-H. Epidermal permeability barrier defects and barrier repair therapy in atopic dermatitis. Allergy Asthma Immunol Res. 2014;6(4):276–87.

Tabassum N, Hamdani M. Plants used to treat skin diseases. Pharmacogn Rev. 2014;8(15):52–60.

Shenefelt PD. Herbal treatment for dermatologic disorders. In: Benzie IFF, Wachtel-Galor S, editors. Herbal medicine, 2nd edition biomolecular and clinical aspects. Boca Raton. FL: CRC Press/Taylor & Francis; 2011.

Choi NY, Lee JH, Shin HS. Antioxidant activity and nitrite scavenging ability of olive leaf (Olea europaea L.) fractions. Korean J Food Sci Technol. 2008;40:257–64.

Fatima PM, Rui C, Susana F, Pedro F, Michael H. Effects of enrichment of refined olive oil with phenolic compounds from olive leaves. J Agric Food Chem. 2007;55:4139–82.

Ziogas V, Tanou G, Molassiotis A, Diamantidis G. Antioxidant and free radical-scavenging activities of phenolic extracts of olive fruits. Food Chem. 2010;120:1097–110.

Juráňová J, Franková J, Ulrichová J. The role of keratinocytes in inflammation. J Appl Biomed. 2017;15(3):169–79.

Palomo J, Dietrich D, Martin P, Palmer G, Gabay C. The interleukin (IL)-1 cytokine family-balance between agonists and antagonists in inflammatory diseases. Cytokine. 2015;76(1):25–37.

Russo RC, Garcia CC, Teixeira MM, Amaral FA. The CXCL8/IL-8 chemokine family and its receptors in inflammatory diseases. Expert Rev Clin Immunol. 2014;10(5):593–619.

Matabuena-de Yzaguirre M, Bacchini G, Vila-Martínez E, Juarranz Á. Product containing "skin calm complex" improves barrier effect in vitro. J Cosmet Dermatol Sci Appl. 2014;4:234–43.

Angeloni C, Malaguti M, Barbalace MC, Hrelia S. Bioactivity of olive oil phenols in Neuroprotection. Int J Mol Sci. 2017;18(11):pii E2230.

Tutino V, Caruso MG, Messa C, Perri E, Notarnicola M. Antiproliferative, antioxidant and anti-inflammatory effects of hydroxytyrosol on human hepatoma HepG2 and Hep3B cell lines. Anticancer Res. 2012;32(12):5371–7.

Jeon S, Choi M. Anti-inflammatory and anti-aging effects of hydroxytyrosol on human dermal fibroblasts (HDFs). Biomed Dermatol. 2018;2:21.

Richard N, Arnold S, Hoeller U, Kilpert C, Wertz K, Schwager J. Hydroxytyrosol is the major anti-inflammatory compound in aqueous olive extracts and impairs cytokine and chemokine production in macrophages. Planta Med. 2011;77(17):1890–7.

Killeen MJ, Linder M, Pontoniere P, Crea R. NF-κβ signaling and chronic inflammatory diseases: exploring the potential of natural products to drive new therapeutic opportunities. Drug Discov Today. 2014;19(4):373–8.

Zhang X, Cao J, Jiang L, Zhong L. Suppressive effects of hydroxytyrosol on oxidative stress and nuclear factor-kappaB activation in THP-1 cells. Biol Pharm Bull. 2009;32:578–82.

St-Laurent-Thibault C, Arseneault M, Longpré F, Ramassamy C. Tyrosol and hydroxytyrosol, two main components of olive oil, protect N2a cells against amyloid-b-induced toxicity. Involvement of the NF-kB signaling. Curr Alzheimer Res. 2011;8:543–51.

Huet F, Severino-Freire M, Chéret J, Gouin O, Praneuf J, Pierre O, et al. Reconstructed human epidermis for in vitro studies on atopic dermatitis: a review. J Dermatol Sci. 2018;89(3):213–8.
Acknowledgements
The authors thank Simona Pigozzi and Ilaria Tosi for technical support.
Ethics declarations
Consent for publication
All authors agree to publish the manuscript.
Competing interests
On behalf of all authors, the corresponding author states that there is no conflict of interest.
Ethical approval
Not applicable.
Additional information
Publisher's note
Springer Nature remains neutral with regard to jurisdictional claims in published maps and institutional affiliations.
About this article
Cite this article
Smeriglio, A., Denaro, M., Mastracci, L. et al. Safety and efficacy of hydroxytyrosol-based formulation on skin inflammation: in vitro evaluation on reconstructed human epidermis model. DARU J Pharm Sci 27, 283–293 (2019). https://doi.org/10.1007/s40199-019-00274-3
Received:

Accepted:

Published:

Issue Date:

DOI: https://doi.org/10.1007/s40199-019-00274-3
Keywords