Abstract
Copper nanoparticles (Cu NPs) have been synthesized by using laser ablation method, using deionized water as main solvent. The formation of Cu NPs is confirmed by UV–visible spectrophotometer (UV–Vis), atomic force microscopy (AFM) and X-ray diffraction (XRD). Cu NPs fabricated by laser ablation have diameter in the range from 14 to 55 nm. Structural analysis revealed the face-centered cubic (fcc) crystal structure of Cu NPs. The antibacterial activity of Cu NPs has been evaluated in vitro against strains of Escherichia coli (E. coli) and Staphylococcus aureus (S. aureus). The fabricated Cu NPs show considerable antibacterial activity against both bacterial strains. The bacterial activity of Cu NPs was found to depend on the microbial species.
Access options
Buy single article
Instant access to the full article PDF.
US$ 39.95
Tax calculation will be finalised during checkout.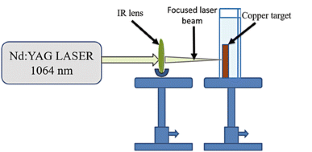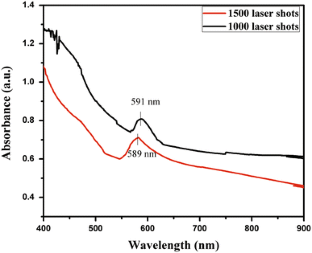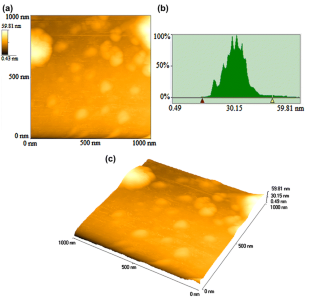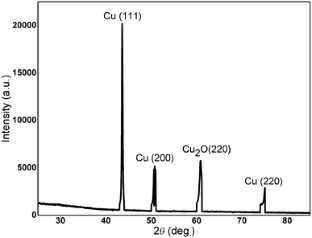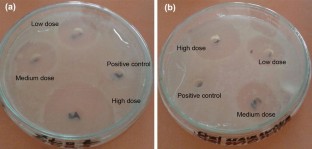 References
[1]

T. Jumaa, M. Chasib, M.K. Hamid, R. Al Haddad, Nanosci. Nanotechnol. Res. 2, 1 (2014)

[2]

W. Yu, H. Xie, L. Chen, Y. Li, C. Zhang, Nanoscale Res. Lett. 4, 465 (2009)

[3]

K.S. Tan, K.Y. Cheong, J. Nanopart. Res. 15, 1537 (2013)

[4]

H. Hashemipour, M.E. Zadeh, R. Pourakbari, P. Rahimi, Int. J. Phys. Sci. 6, 4331 (2011)

[5]

M.M. Miranda, C. Gellini, E. Giorgetti, J. Phys. Chem. 115, 5021 (2011)

[6]

A. Umier, S. Naveed, N. Ramzan, M.S. Rafique, Nano Brief Rep. Rev. 7, 1096 (2012)

[7]

R. Betancourt-Galindo, P.Y. Reyes-Rodriguez, B.A. Puente-Urbina, C.A. Avila-Orta, O.S. Rodriguez-Fernandez, G. Cadenas-Pliego, R.H. Lira-Saldivar, L.A. Garcia-Cerda, J. Nanomater. 2014, 980545 (2014)

[8]

H.X. Zhang, U. Siegert, R. Liu, W.B. Cai, Nanoscale Res. Lett. 4, 705 (2009)

[9]

V. Amendola, M. Meneghetti, J. Phys. Chem. Chem. Phys. 11, 3805 (2009)

[10]

M. Saito, K. Yasukawa, T. Umeda, Y. Aoi, Opt. Mater. 301, 1201 (2008)

[11]

S. Shamaila, H. Wali, R. Sharif, J. Nazir, N. Zafar, Appl. Phys. Lett. 103, 153701 (2013)

[12]

R.M. Tilaki, A.I. Zad, S.M. Mahdavi, Appl. Phys. A 88, 415 (2007)

[13]

T.M. Al-Nori, J. Sci. 23, 45 (2012)

[14]

P. Rahimi, H. Hashemipour, M.E. Zadeh, S. Ghader, Int. J. Nanosci. Nanotechnol. 6, 144 (2010)

[15]

S. Kheybari, N. Samadi, S.V. Hosseini, A. Fazeli, M.R. Fazeli, Daru 18, 168 (2010)

[16]

B. Duncan, C. Kim, V.M. Rotello, J. Control. Release 148, 122 (2010)

[17]

C.R. Patra, R. Bhattacharya, D. Mukhopadhyay, P. Mukherjee, Adv. Drug Deliv. Rev. 62, 346 (2010)

[18]

M.G. Guzman, J. Dille, S. Godet, Proc. World Acad. Sci. Eng. Technol. 45, 367 (2008)

[19]

A.D. Russell, W.B. Hogo, G.A.J. Ayliffe, Principles and Practice of Disinfection, Preservation and Sterlization, 3rd edn. (Blackwell Scientific Ltd, Oxford, 1999)

[20]

F.R. Lourenco, T.J.A. Pinto, Brazil. J. Pharm. Sci. 47, 573 (2011)

[21]

B.P. Rama, P.S. Prajna, P.M. Vinita, S. Pavithra, Adv. Bio. Res. 2, 52 (2011)

[22]

G. Mishra, S.K. Verma, D. Singh, P.K. Yadawa, R.R. Yadav, Open J. Acoust. 1, 9 (2011)

[23]

L. Argueta-Figueroa, R.A. Morales-Luckie, R.J. Scougall-Vilchis, O.F. Olea-Mejía, Prog. Nat. Sci. Mater. Int. 24, 321 (2014)

[24]

A.D. Karthik, K. Geetha, J. Appl. Pharm. Sci. 3, 16 (2013)

[25]

R. Ali Soomro, S. Hussain Sherazi, N. Memon, M.R. Shah, N.H. Kalwar, K.R. Hallam, A. Shah, Adv. Mater. Lett. 5, 191 (2014)

[26]

R. Ramli, M.R. Khan, N.K. Chowdhury, M.D.H. Beg, R.M. Halim, A.A. Aziz, Z. Ibrahim, N.H. Zainal, Adv. Nanopart. 2, 358 (2013)

[27]

A. Azam, A.S. Ahmed, M. Oves, M.S. Khan, S.S. Habib, A. Memic, Int. J. Nanomed. 7, 6003 (2012)

[28]

K. Giannousi, K. Lafazanis, J. Arvanitidis, A. Pantazaki, S.D. Dendrinou, J. Inorg. Biochem. 133, 24 (2014)

[29]

C.P. Jeffrey, Alcamo's Fundamentals of Microbiology, 9th edn. (Jones and Bartlett Publishers, Canada, 2011), pp. 57–85

[30]

S. Malathi, V. Ramya, T. Ezhilarasu, T. Abiraman, S. Balasubramanian, J. Nanotechnol. 2014, 1 (2014)

[31]

K.S. Khashan, G.M. Sulaiman, F.A. Abdul Ameer, Arab. J. Sci. Eng. 5, 1 (2015)

[32]

J. Ramyadevi, K. Jeyasubramanian, A. Marikani, G. Rajakumar, A.A. Rehman, Mater. Lett. 71, 114 (2012)

[33]

K. Yoon, J.H. Byeon, J. Park, J. Hwang, Sci. Total Environ. 373, 572 (2007)

[34]

J.F. Xu, W. Ji, Z.X. Shen, S.H. Tang, X.R. Ye, D.Z. Jia, X.Q. Xin, J. Solid State Chem. 147, 516 (1999)

[35]

J.P. Ruparelia, A.K. Chatterjee, S.P. Duttagupta, S. Mukherji, Acta Biomater. 4, 707 (2008)
Acknowledgments
The authors gratefully acknowledge the Physics Department of University of Engineering and Technology, Lahore, Physics Department of COMSATS, Lahore, and Chemistry Department of Forman Christian College, A Charted University, Lahore, for accomplishing the AFM and XRD and UV–visible spectrophotometer analysis of the synthesized nanoparticles, respectively. Also the authors are grateful to Department of Microbiology, University of Veterinary and Animal Sciences, Lahore, Pakistan, for the assistance in antibacterial studies.
About this article
Cite this article
Khalid, H., Shamaila, S., Zafar, N. et al. Antibacterial Behavior of Laser-Ablated Copper Nanoparticles. Acta Metall. Sin. (Engl. Lett.) 29, 748–754 (2016). https://doi.org/10.1007/s40195-016-0450-x
Received:

Revised:

Published:

Issue Date:
Keywords
Laser-ablated nanoparticles

UV–visible spectrophotometer

Atomic force microscopy (AFM)

Escherichia coli
Staphylococcus aureus