Abstract
Metal oxides can be used as a series of new and effective anti-bacterial agents. In this study, four concentrations of ZnO nanoparticles (0.2, 0.5, 0.7 and 1.0 mol/L) were synthesized using a low-temperature sol–gel method annealed at 400 and 550 °C. The products were characterized by X-ray diffraction (XRD), transmission electron microscopy (TEM) and Fourier transform infrared spectroscopy (FTIR). XRD results show the hexagonal wurtzite structure of the nanoparticles with the grain size in the range of 38–43 nm. TEM micrographs exhibit a polyhedral form of the synthesized nanoparticles. The antimicrobial activity of different concentrations of nanoparticles against Salmonella typhi PTCC 1609 was determined by disk diffusion and agar dilution method at five concentrations of 10, 5, 2.5, 1.25 and 0.625 mg/mL. Analysis shows that the prepared ZnO nanoparticles have a very effective antimicrobial activity against Salmonella typhi. This activity increases by reducing the size of nanoparticles and increasing their content in the bacterial growth medium.
Access options
Buy single article
Instant access to the full article PDF.
USD 39.95
Price excludes VAT (USA)
Tax calculation will be finalised during checkout.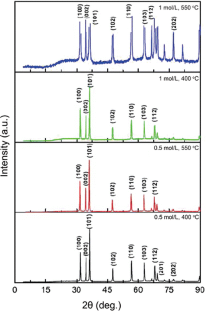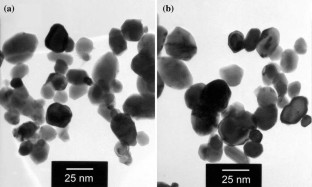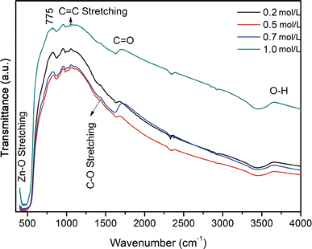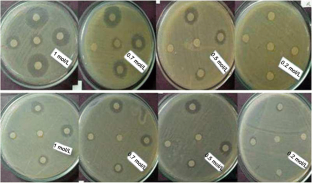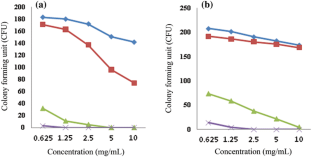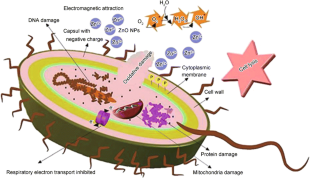 References
K. Vimala, S. Sundarraj, M. Paulpandi, S. Vengatesan, S. Kannan, Process. Biochem. 49, 160 (2014)

N. Duran, P.D. Marcato, R.D. Conti, O.L. Alves, F.T.M. Costa, M. Brocchi, J. Braz. Chem. Soc. 21, 949 (2010)

K.S. Babu, V. Narayanan, Chem. Sci. Trans. 2, S33 (2013)

B.S. Reddy, S.V. Reddy, N.K. Reddy, J.P. Kumari, Res. J. Mater. Sci. 1, 11 (2013)

S.S. Kumar, P. Venkateswarlu, V.R. Rao, G.N. Rao, Int. Nano. Lett. 3, 1 (2013)

A. Akbar, A.K. Anal, Food Control 38, 88 (2014)

S. Talam, S.R. Karumuri, N. Gunnam, ISRN Nanotechnol. 2012, 1 (2012)

J. Yu, M. Baek, H.E. Chung, S.J. Choi, J. Phys: Conf. Ser. 304, 012044 (2011)

Z. Song, T.A. Kelf, W.H. Sanchez, M.S. Roberts, J. Rička, M. Frenz, A.V. Zvyagin, Biomed. Opt. Express 2, 3321 (2011)

K.G. Chandrappa, V.T. Venkatesha, Nano-Micro Lett. 4, 14 (2012)

A. Kołodziejczak-Radzimska, T. Jesionowski, Materials 7, 2833 (2014)

K.R. Raghupathi, R.T. Koodali, A.C. Manna, Langmuir 27, 4020 (2011)

J. Vidic, S. Stankic, F. Haque, D. Ciric, R.L. Goffic, A. Vidy, J. Jupille, B. Delmas, J. Nanopart. Res. 15, 1595 (2013)

S. Azizi, M. Ahmad, M. Mahdavi, S. Abdolmohammadi, Preparation. Bioresources 8, 1841 (2013)

Y. Xie, Y. He, P.L. Irwin, T. Jin, X. Shi, Appl. Environ. Microbiol. 77, 2325 (2011)

W. Jiang, H. Mashayekhi, B. Xing, Environ. Pollut. 157, 1619 (2009)

A. Azam, A.S. Ahmed, M. Oves, M.S. Khan, S.S. Habib, A. Memic, Int. J. Nanomed. 7, 6003 (2012)

A.A. Tayel, W.S. EL-Tras, S.H. Moussa, A.F. El-Baz, H. Mahrous, M.F. Salem, L. Brimer, J. Food Saf. 31, 211 (2011)

B.H. Soni, M.P. Deshpande, S.V. Bhatt, S.H. Chaki, H. Kaheria, Arch. Appl. Sci. Res. 3, 173 (2011)

C. Wang, L.L. Liu, A.T. Zhang, P. Xie, J.J. Lu, X.T. Zou, Afr. J. Biotechnol. 11, 10248 (2012)

M. Saadat, S.R. Mohammadi, M. Yadegari, M. Eskandari, R. Khavari-nejad, J. Jahrom, Univ. Med. Sci. 10, 11 (2012)

M. Ataeefard, F. Mirjalili, Compos. Part B-Eng. 51, 92 (2013)

F. Arabi, M. Imandar, M. Negahdary, M. Imandar, M.T. Noughabi, H. Akbaridastjerdi, M. Fazilati, Ann. Biol. Res. 3, 3679 (2012)

I.A. Farbun, I.V. Romanova, S.A. Kirillov, J. Sol–Gel Sci. Technol. 68, 411 (2013)

X.L. Zhang, V.T. Jeza, Q. Pan, Cell. Mol. Immunol. 5, 91 (2008)

A.W. Bauer, W.M. Kirby, J.C. Sherris, M. Truck, Am. J. Clin. Pathol. 45, 493 (1966)

M.A. Wikler, Approved Standard (PA, National Committee for Clinical Laboratory Standards (NCCLS), 2000)

B.D. Cullity, Elements of X–ray Diffraction (Reading, MA, Addison-esley, 1978), p. 102

H. Kose, A.O. Aydin, H. Akbulut, Acta Phys. Pol. A 125, 345 (2014)

A.A. Ziabari, A.H.R. Sheikhani, R.V. Nezafat, K.M. Haghighidoust, J. Appl. Phys. 117, 135303 (2015)

B. Issa, I.M. Obaidat, B.A. Albiss, Y. Haik, Int. J. Mol. Sci. 14, 21266 (2013)

M. Baek, M.K. Kim, H.J. Cho, J.A. Lee, J. Yu, H.E. Chung, S.J. Choi, JPCS 304, 012044 (2011)

M.Y. Jehad, N.D. Enas, JHS 2, 38 (2012)

S. Ramamoorthy, P. Kannaiyan, M. Moturi, Ind. J. Fish. 60, 107 (2013)

J. Lellouche, A. Friedman, A. Gedanken, E. Banin, Int. J. Nanomed. 7, 5611 (2012)

R. Rajendran, C. Balakumar, H.A.M. Ahammed, S. Jayakumar, K. Vaideki, E.M. Rajesh, IJEST 2, 2850 (2010)

Y.N. Chang, M. Zhang, L. Xia, J. Zhang, G. Xing, Materials 5, 2850 (2012)

A.A. Ziabari, S. Bahrekazemi, Optoelectro. Adv. Mat. 8, 230 (2014)

A. Manke, L. Wang, Y. Rojanasakul, Biomed. Res. Int. 2013, 1 (2013)

M.J. Hajipour, K.M. Fromm, A.A. Ashkarran, D.J. de Aberasturi, I.R. de Larramendi, T. Rojo, V. Serpooshan, W.J. Parak, M. Mahmoudi, Trends Biotechnol. 30, 499 (2012)

G. Singh, E.M. Joyce, J. Beddow, T.J. Mason, World J. Microbiol. Biotechnol. 2, 106 (2012)

Z. Emami-Karvani, P. Chehrazi, Afr. J. Microbiol. Res. 5, 1368 (2011)

Y.Y. Kao, Y.U. Chen, T.J. Cheng, Y.M. Chiung, P.S. Liu, Toxicol. Sci. 125, 462 (2011)

P. Hosseinkhani, A.M. Zand, S. Imani, M. Rezayi, S.R. Zarchi, Int. J. Nano. Dim. 1, 279 (2011)
About this article
Cite this article
Meraat, R., Ziabari, A.A., Issazadeh, K. et al. Synthesis and Characterization of the Antibacterial Activity of Zinc Oxide Nanoparticles against Salmonella typhi . Acta Metall. Sin. (Engl. Lett.) 29, 601–608 (2016). https://doi.org/10.1007/s40195-016-0439-5
Received:

Revised:

Published:

Issue Date:

DOI: https://doi.org/10.1007/s40195-016-0439-5
Keywords
ZnO nanoparticles

Antimicrobial agents

Reactive oxygen species (ROS)

Salmonella
Typhi