Abstract
A cold metal transfer (CMT) Twin welding-brazing technique was applied to Ti/Al dissimilar metals for the first time. Significant improvements in intermetallic compound (IMC) suppression and joint strength were obtained. Compared with the normal CMT, the reasonable range of the welding heat input was extended by 15.4%, the IMC thickness was further suppressed to 0.53 μm, the maximum tensile strength of the joint was up to 297 MPa, and the fracture position was transferred from the IMC layer to the base aluminum, by employing the CMT Twin. The serrated IMC was identified to be Ti (Al, Si)3 by TEM and evenly distributed at the interface layer. Whether for the common single-wire CMT or CMT Twin, with decreasing heat input, the IMC thickness decreased, and the joint strength increased. The CMT Twin shows significant advantages over the traditional single-wire CMT in terms of a higher welding speed, lower heat input, thinner IMC thickness, and higher joint strength on the joining of incompatible dissimilar alloys.
This is a preview of subscription content,
to check access.
Access this article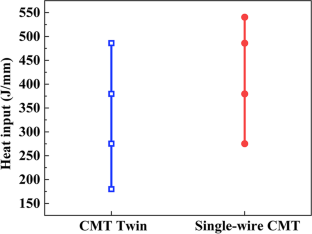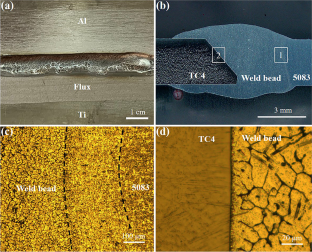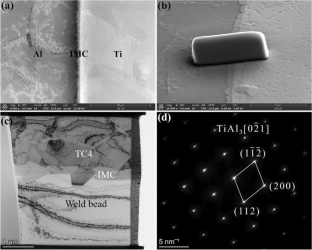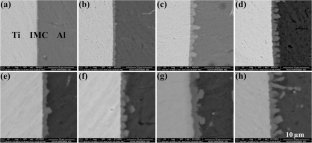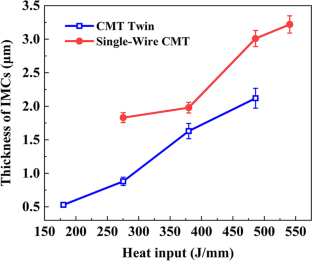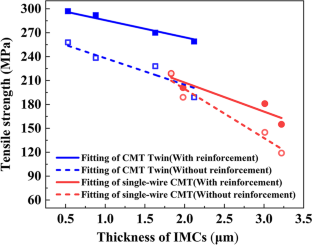 Similar content being viewed by others
References
Stemper L, Tunes MA, Tosone R, Uggowitzer PJ, Pogatscher S (2022) On the potential of aluminum crossover alloys. Prog Mater Sci 124:100873

Zhang XS, Chen YJ, Hu JL (2018) Recent advances in the development of aerospace materials. Prog Aerosp Sci 97:22–34

Möller F, Thomy C, Vollertsen F (2012) Joining of titanium-aluminium seat tracks for aircraft applications system technology and joint properties. Weld World 56:108–114

Zhou XF, Cao XB, Zhang F, Chen Z, Duan JA (2021) Effects of AlSi12 interlayer on microstructure and mechanical properties of laser welded 5A06/Ti6Al4V joints. Weld World 65:1389–1402

Gadakh VS, Badheka VJ, Mulay AS (2021) Solid-state joining of aluminum to titanium: a review. Proceedings of the Institution of Mechanical Engineers, Part L: J of Mater: Des App 235:1757-1799.

Jiang SY, Li SC, Zhang L (2013) Microstructure evolution of Al-Ti liquid-solid interface. T Nonferr Metal Soc 23:3545–3552

Chaudhari R, Parekh R, Ingle A (2014) Reliability of dissimilar metal joints using fusion welding: a review. in: International Conference on Machine Learning, Electrical and Mechanical Engineering.

Fronczek D, Wojewoda-Budka J, Chulist R, Sypien A, Korneva A, Szulc Z, Schell N, Zieba P (2016) Structural properties of Ti/Al clads manufactured by explosive welding and annealing. Mater Des 91:80–89

Luo JG, Acoff VL (2000) Interfacial reactions of titanium and aluminum during diffusion welding. Weld J 79:239s–243s

Fuji A, North TH, Kimura M, Ameyama K (1995) Effect of frictipn welding on characteristics of pure titanium/A5083alumimum alloy joint Report 1: Joint Mechanical Properties. J Soc Mater Sci Japan 44:188–192

Kar A, Suwas S, Kailas SV (2018) Two-pass friction stir welding of aluminum alloy to titanium alloy: a simultaneous improvement in mechanical properties. Mat Sci Eng: A 733:199–210

Geyer M, Vidal V, Pottier T, Boher C, Rezai-Aria F (2021) Investigations on the material flow and the role of the resulting hooks on the mechanical behaviour of dissimilar friction stir welded Al2024-T3 to Ti-6Al-4V overlap joints. J Mater Process Tech 292:117057

Yu MR, Zhao HY, Xu F, Chen TJ, Zhou L, Song XG, Ma NS (2020) Influence of ultrasonic vibrations on the microstructure and mechanical properties of Al/Ti friction stir lap welds. J Mater Process Tech 282:116676

Ma ZP, Wang CW, Yu HC, Yan JC, Shen HR (2013) The microstructure and mechanical properties of fluxless gas tungsten arc welding-brazing joints made between titanium and aluminum alloys. Mater Des 45:72–79

Wei SZ, Li YJ, Wang J, Liu K, Zhang PF (2014) Microstructure and joining mechanism of Ti/Al dissimilar joint by pulsed gas metal arc welding. Int J Adv Manuf Tech 70:1137–1142

Huang JK, Liu YL, Liu SE, Guan ZC, Yu XQ, Wu HS, Yu SR, Fan D (2021) Process of welding-brazing and interface analysis of lap joint Ti-6Al-4V and aluminum by plasma arc welding. J Manuf Process 61:396–407

Nandagopal K, Kailasanathan C (2016) Analysis of mechanical properties and optimization of gas tungsten Arc welding (GTAW) parameters on dissimilar metal titanium (6Al-4V) and aluminium 7075 by Taguchi and ANOVA techniques. J Alloy Compd 682:503–516

Li JZ, Sun QJ, Liu YB, Cai CW, Feng JC (2017) Cold metal transfer welding-brazing of pure titanium TA2 to aluminum alloy 6061–T6. Adv Eng Mater 19:1600494

Chen SH, Li LQ, Chen YB, Dai JM, Huang JH (2011) Improving interfacial reaction nonhomogeneity during laser welding-brazing aluminum to titanium. Mater Des 32:4408–4416

Tomashchuk I, Sallamand P, Cicala E, Peyre P, Grevey D (2015) Direct keyhole laser welding of aluminum alloy AA5754 to titanium alloy Ti6Al4V. J Mater Process Tech 217:96–104

Tomashchuk I, Sallamand P, Méasson A, Cicala E, Duband M, Peyre P (2017) Aluminum to titanium laser welding-brazing in V-shaped groove. J Mater Process Tech 245:24–36

Zhu ZT, Wang W, Li YX, Chen H (2019) Effect of laser-arc offset and laser-deviation angle on the control of a Ti-Al interlayer. J Mater Process Tech 271:336–345

Wang T, Li XP, Zhang YY, Li HJ, Zhang BG, Feng JC (2017) Regulating the interfacial morphology of electron beam welded pure Ti/2024Al dissimilar joint. J Mater Process Tech 245:227–231

Li P, Lei ZL, Zhang XR, Chen YB (2020) Influence of Si content on interfacial reactions and mechanical properties of dual-spot laser welded-brazed Ti/Al joints. J Manuf Process 56:950–966

Malikov A, Vitoshkin I, Orishich A, Filippov A, Karpov E (2020) Effect of the aluminum alloy composition (Al-Cu-Li or Al-Mg-Li) on structure and mechanical properties of dissimilar laser welds with the Ti-Al-V alloy. Opt Laser Tech 126:106135

Chang SY, Tsao LC, Lei YH, Mao SM, Huang CH (2012) Brazing of 6061 aluminum alloy/Ti-6Al-4V using Al-Si-Cu-Ge filler metals. J Mater Process Tech 212:8–14

Lv SX, Cui QL, Huang YX, Jing XJ (2013) Influence of Zr addition on TIG welding-brazing of Ti-6Al-4V to Al5A06. Mat Sci Eng: A 568:150–154

Dong KW, Kong J, Peng Y, Zhou Q, Wang KH (2020) A new strategy for high-strength joining of dissimilar materials. J Mater Process Tech 283:116724

Li XF, Li CX, Cao ZL, Yang P (2020) The effect of Zn interlayer on microstructure and mechanical performance during TIG overlap welding-brazing of Al to Ti. Mater Res Express 7:026514

Majumdar B, Galun R, Weisheit A, Mordike B (1997) Formation of a crack-free joint between Ti alloy and Al alloy by using a high-power CO2 laser. J Mater Sci 32:6191–6200

Zhang YF, Huang JH, Ye Z, Cheng Z, Yang J, Chen SH (2018) Influence of welding parameters on the IMCs and the mechanical properties of Ti/Al butt joints welded by MIG/TIG double-sided arc welding-brazing. J Alloy Compd 747:764–771

Cao R, Sun JH, Chen JH (2013) Mechanisms of joining aluminium A6061–T6 and titanium Ti–6Al–4V alloys by cold metal transfer technology. Sci Technol Weld Joi 18:425–433

Gao M, Chen C, Gu YZ, Zeng XY (2014) Microstructure and tensile behavior of laser arc hybrid welded dissimilar Al and Ti alloys. Materials 7:1590–1602

Cui XP, Fan GH, Geng L, Wang Y, Huang LJ, Peng HX (2012) Growth kinetics of TiAl3 layer in multi-laminated Ti-(TiB2/Al) composite sheets during annealing treatment. Mat Sci Eng: A 539:337–343

Sujata M, Bhargava S, Sangal S (1997) On the formation of TiAl3 during reaction between solid Ti and liquid Al. J Mater Sci Lett 16:1175–1178

He H, Zhao KP, Gou WQ, Qiao PB, Yuan EW (2021) Growth characterisation of TiAl3 during initial period of hot dip aluminising on Ti6Al4V. Trans IMF 99:146–152

Raman A, Schubert K (1965) On the constitution of some alloy series related to TiAl3. II. Investigations in some T4–Al–Si and T4…6-in systems. Z Metallk 56:44–52

Zhang CQ, Robson JD, Haigh SJ, Prangnell PB (2019) Interfacial segregation of alloying elements during dissimilar ultrasonic welding of AA6111 aluminum and Ti6Al4V titanium. Metall Mater Trans A 50:5143–5152

Sun QJ, Li JZ, Liu YB, Li BP, Xu PW, Feng JC (2017) Microstructural characterization and mechanical properties of Al/Ti joint welded by CMT method-assisted hybrid magnetic field. Mater Des 116:316–324

Dybkov VI (2013) Solid State Reaction Kinetics. IPMS publications, Kyiv

Ding ZY, Hu QD, Lu WQ, Sun SY, Xia MX, Li JG (2017) In situ observation on the formation of intermetallics compounds at the interface of liquid Al/solid Ni. Scripta Mater 130:214–218

Chen YB, Chen SH, Li LQ (2009) Effects of heat input on microstructure and mechanical property of Al/Ti joints by rectangular spot laser welding-brazing method. Int J Adv Manuf Tech 44:265

Takemoto T, Okamoto I (1988) Intermetallic compounds formed during brazing of titanium with aluminium filler metals. J Mater Sci 23:1301–1308

Chen SH, Li LQ, Chen YB, Huang JH (2011) Joining mechanism of Ti/Al dissimilar alloys during laser welding-brazing process. J Alloy Compd 509:891–898

Baqer YM, Ramesh S, Yusof F, Manladan S (2018) Challenges and advances in laser welding of dissimilar light alloys: Al/Mg, Al/Ti, and Mg/Ti alloys. Int J Adv Manuf Tech 95:4353–4369

Goldak J, Chakravarti A, Bibby M (1984) A new finite element model for welding heat sources. Mater Trans B 15:299–305

Dong KQ, Liu CY, Xiao QJ (2006) Study of heat source model for temperature field simulation in double wire welding processes. Hot Working Technology 35:49–52

Chen J, Han ZK, Wang L, Wu CS (2020) Influence of arc interactions on heat and mass transfer during a two-arc hybrid welding. Int J Heat Mass Tran 148:119058

Michie K, Blackman S, Ogunbiyi TB (1999) Twin-wire GMAW: process characteristics and applications. Weld J 78:31–34
Funding
The authors are thankful for the financial support provided by the National Natural Science Foundation of China (Grant No. 52005112, 51605263), Science and Technology Planning Project of Guangzhou City (Grant No. 201807010035, 201807010011), and Science and Technology Planning Project of Guangdong Academy of Sciences (Grant No. 2020GDASYL-20200402006, 2020GDASYL-20200302013).
Ethics declarations
Conflict of interest
The authors declare no competing interests.
Additional information
Publisher's note
Springer Nature remains neutral with regard to jurisdictional claims in published maps and institutional affiliations.
Recommended for publication by Commission II - Arc Welding and Filler Metals
About this article
Cite this article
Xu, W., Wang, W., Yang, Q. et al. CMT Twin welding-brazing of aluminum to titanium. Weld World 66, 1121–1130 (2022). https://doi.org/10.1007/s40194-022-01288-3
Received:

Accepted:

Published:

Issue Date:

DOI: https://doi.org/10.1007/s40194-022-01288-3
Keywords