Abstract
As consistent lightweight construction nowadays becomes more and more important in smart production processes, the demand for joints of dissimilar materials increases steadily due to their variety of advantages in engineering. Friction stir welding (FSW) is an innovative pressure welding technique, which offers the ability to realize such dissimilar joints while achieving high tensile strengths. Furthermore, it has been proved that ultrasound enhanced friction stir welding (USE-FSW) has an additional positive effect on the joint strength of these compounds due to the additional introduction of mechanical energy into the joining zone through influencing the formation of brittle intermetallic phase (IMP) and particle allocation in the weld nugget. In this paper, the influence of power ultrasound introduction via USE-FSW on hybrid joints of industrially die-cast aluminum alloy EN AC-48000 (AlSi12CuNiMg) and magnesium alloy AZ91 (MgAl9Zn1) has been investigated. Besides mechanical testing, light microscopic and scanning electron microscopic investigations (SEM) as well as differential scanning calorimetry have been conducted. Furthermore, corrosion behavior of the base material and X-ray radiographic images of FSW and USE-FSW joints have been examined. Additionally, the influence of different ultrasound powers and changes in the introduction side on the tensile strength and microstructure of the joints has been investigated.
Access options
Buy single article
Instant access to the full article PDF.
USD 39.95
Price excludes VAT (USA)
Tax calculation will be finalised during checkout.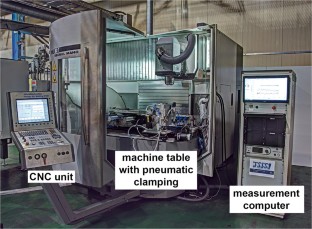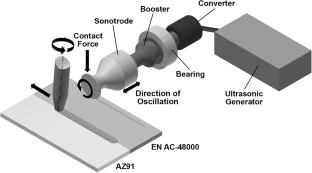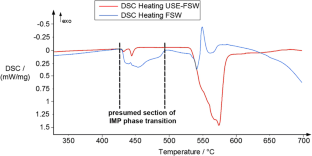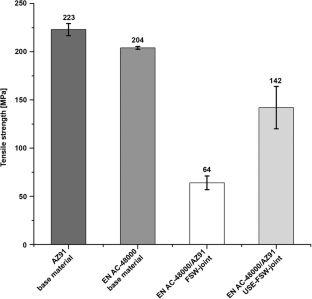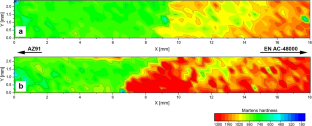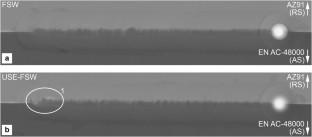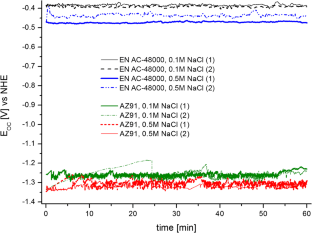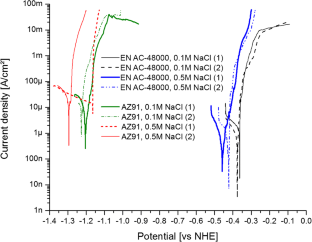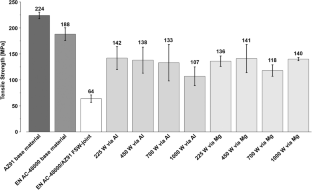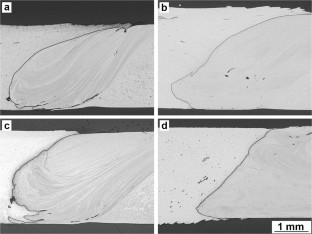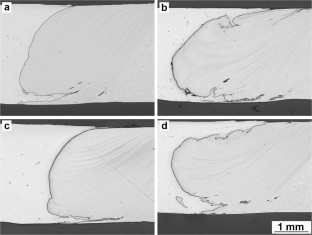 References
Jahn J, Weeber M, Boehner J, Steinhilper R (2016) Assessment strategies for composite-metal joining technologies – a review. Procedia CIRP 50:689–694. https://doi.org/10.1016/j.procir.2016.05.034

Kainer KU, von Buch F (1999) Moderne Entwicklungen von Legierungen für den Leichtbau. Mater Sci Tech-Lond 30(3):159–167. https://doi.org/10.1002/(SICI)1521-4052(199903)30:3<159:AID-MAWE159>3.0.CO;2-4

Khaled T (2005) An outsider looks at friction stir welding: FAA report #: ANM-112N-05-06, Lakewood

Dorbane A, Mansoor B, Ayoub G, Shunmugasamy VC, Imad A (2016) Mechanical, microstructural and fracture properties of dissimilar welds produced by friction stir welding of AZ31B and Al6061. Mater Sci Eng A 651:720–733. https://doi.org/10.1016/j.msea.2015.11.019

Venkateswaran P, Reynolds AP (2012) Factors affecting the properties of Friction Stir Welds between aluminum and magnesium alloys. Mater Sci Eng A 545:26–37. https://doi.org/10.1016/j.msea.2012.02.069

Liu ZL, Yang K, Ji SD (2018) Reducing intermetallic compounds of Mg/Al joint in friction stir lap welding. J Mater Eng Perform 27(11):5605–5612. https://doi.org/10.1007/s11665-018-3705-z

Firouzdor V, Kou S (2010) Al-to-Mg friction stir welding: effect of material position, travel speed, and rotation speed. Metall Mater Trans A 41(11):2914–2935. https://doi.org/10.1007/s11661-010-0340-1

Yaduwanshi DK, Bag S, Pal S (2015) Hybrid friction stir welding of similar and dissimilar materials. In: Narayanan RG, Dixit US (eds) Advances in material forming and joining. Springer India, New Delhi, pp 323–349

Joshi GR, Badheka VJ (2017) Microstructures and properties of copper to stainless steel joints by hybrid FSW. Metallogr Microstruct Anal 6(6):470–480. https://doi.org/10.1007/s13632-017-0398-x

Ahmad B, Galloway A, Toumpis A (2019) Numerical optimisation of laser assisted friction stir welding of structural steel. Sci Technol Weld Join 62:1–11. https://doi.org/10.1080/13621718.2019.1570682

Park K (2009) Development and analysis of ultrasonic assisted friction stir welding process. Dissertation, University of Michigan

Wodara J (2004) Ultraschallfügen und -trennen. Grundlagen der Fügetechnik, vol 1. DVS-Vlg, Düsseldorf

Amini S, Amiri MR (2014) Study of ultrasonic vibrations' effect on friction stir welding. Int J Adv Manuf Technol 73(1–4):127–135. https://doi.org/10.1007/s00170-014-5806-7

Liu X, Wu C, Padhy GK (2015) Characterization of plastic deformation and material flow in ultrasonic vibration enhanced friction stir welding. Scr Mater 102:95–98. https://doi.org/10.1016/j.scriptamat.2015.02.022

Liu XC, Wu CS, Padhy GK (2015) Improved weld macrosection, microstructure and mechanical properties of 2024Al-T4 butt joints in ultrasonic vibration enhanced friction stir welding. Sci Technol Weld Join 20(4):345–352. https://doi.org/10.1179/1362171815Y.0000000021

Straß B (2015) Ultraschallunterstütztes Rührreibschweißen von Al/Mg-Verbunden: Prozessanalyse, mikrostruktureller, mechanischer und korrosiver Eigenschaftsvergleich. Werkstoffkundliche Berichte, vol 36. Technische Universität Kaiserslautern, Lehrstuhl für Werkstoffkunde, Kaiserslautern

Thomä M, Wagner G, Straß B, Wolter B, Benfer S, Fürbeth W (2018) Ultrasound enhanced friction stir welding of aluminum and steel: process and properties of EN AW 6061/DC04-Joints. J Mater Sci Technol 34(1):163–172. https://doi.org/10.1016/j.jmst.2017.10.022

Liu Z, Ji S, Meng X (2018) Joining of magnesium and aluminum alloys via ultrasonic assisted friction stir welding at low temperature. Int J Adv Manuf Technol 97(9–12):4127–4136. https://doi.org/10.1007/s00170-018-2255-8

Klag O (2013) Mikrostruktur, mechanische Eigenschaften und Korrosionsverhalten rührreibgeschweißter AZ91, AZ91- und AZ91,AIMg3Mn-Verbunde, Als Ms. gedr. Werkstoffkundliche Berichte, Bd. 31. Techn. Univ., Lehrstuhl für Werkstoffkunde, Kaiserslautern

Strass B, Wagner G, Eifler D (2014) Realization of Al/Mg-hybrid-joints by ultrasound supported friction stir welding. MSF 783-786:1814–1819. https://doi.org/10.4028/www.scientific.net/MSF.783-786.1814

Yan Y, Zhang D-t, Qiu C et al (2010) Dissimilar friction stir welding between 5052 aluminum alloy and AZ31 magnesium alloy. Trans Nonferrous Metals Soc China 20:s619–s623. https://doi.org/10.1016/S1003-6326(10)60550-X

Zettler R, da Silva AAM, Rodrigues S, Blanco A, dos Santos JF (2006) Dissimilar Al to Mg alloy friction stir welds. Adv Eng Mater 8(5):415–421. https://doi.org/10.1002/adem.200600030

Morishige T, Kawaguchi A, Tsujikawa M, Hino M, Hirata T, Higashi K (2008) Dissimilar welding of Al and Mg alloys by FSW. Mater Trans 49(5):1129–1131. https://doi.org/10.2320/matertrans.MC200768

Klag O, Gröbner J, Wagner G, Schmid-Fetzer R, Eifler D (2014) Microstructural and thermodynamic investigations on friction stir welded Mg/Al-joints. IJMR 105(2):145–155. https://doi.org/10.3139/146.111003

Benfer S, Straß B, Wagner G, Fürbeth W (2016) Manufacturing and corrosion properties of ultrasound supported friction stir welded Al/Mg-hybrid joints. Surf Interface Anal 48(8):843–852. https://doi.org/10.1002/sia.5871
Acknowledgments
The investigations were supported by the DFG Priority Program 1640: "Joining by plastic deformation" which is gratefully acknowledged.
Additional information
Publisher's note
Springer Nature remains neutral with regard to jurisdictional claims in published maps and institutional affiliations.
Recommended for publication by Commission III - Resistance Welding, Solid State Welding, and Allied Joining Process
About this article
Cite this article
Gester, A., Thomä, M., Wagner, G. et al. Hybrid joints of die-casted aluminum/magnesium by ultrasound enhanced friction stir welding (USE-FSW). Weld World 63, 1173–1186 (2019). https://doi.org/10.1007/s40194-019-00767-4
Received:

Accepted:

Published:

Issue Date:

DOI: https://doi.org/10.1007/s40194-019-00767-4
Keywords