Abstract
The effects of titanium content on the weld microstructure, mechanical properties, and inclusion characteristics were investigated in the as-deposited bainitic GMA weld metals having nearly constant level of oxygen content. It was found that titanium addition enhanced the formation of acicular ferrite with the maximum proportion being obtained at ∼0.07 wt% Ti. The resultant change in weld microstructure with titanium content was well reflected in the Charpy impact toughness showing the lowest ductile-brittle transition temperature at 0.07 wt% Ti. Detailed TEM and STEM analysis preformed on weld metal inclusions demonstrated that the maximum acicular ferrite recorded in this weld is mainly attributable to the formation of manganese-depleted zone (MDZ) associating with the formation of nonmetallic inclusions dominant with Ti2O3 phase.
Access options
Buy single article
Instant access to the full article PDF.
USD 39.95
Price excludes VAT (USA)
Tax calculation will be finalised during checkout.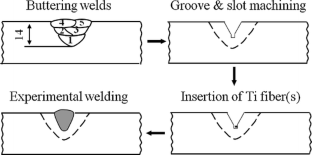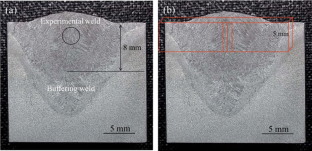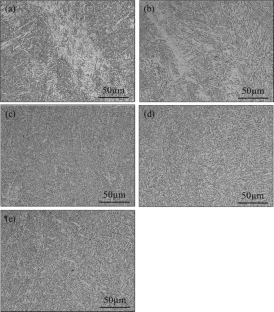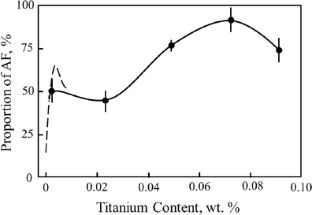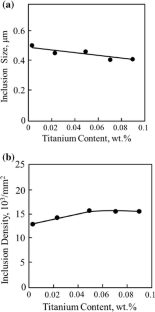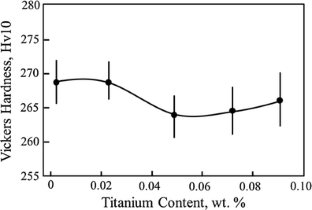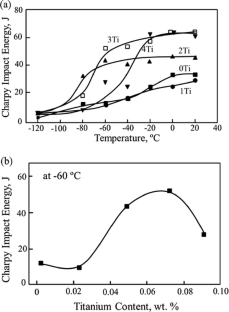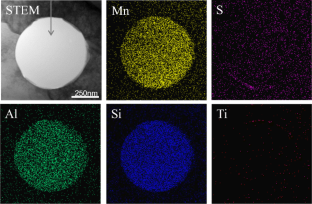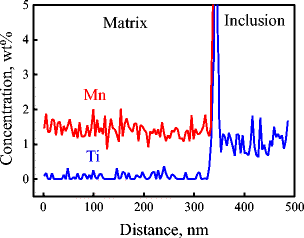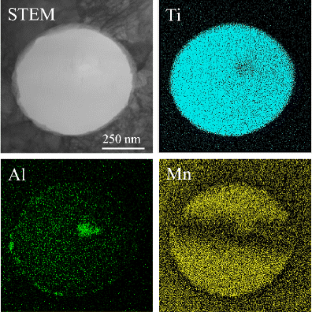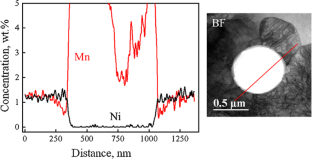 References
Sarma DS, Karasev AV, Jonsson PG (2009) On the role of non-metallic inclusions in the nucleation of acicular ferrite in steels. ISIJ Int 49(7):1063–1074

Abson DJ, Pargeter RJ (1986) Factors influencing as-deposited strength, microstructure, and toughness of manual metal arc welds suitable for C-Mn steel fabrications. Int Met Rev 31(4):141–193

Ohkida S, Horii Y (1995) Recent development in controlling the microstructure and properties of low alloy steel weld metals. ISIJ Int 35(10):1170–1182

Koseki T, Thewlis G (2005) Inclusion assisted microstructure control in C-Mn and low alloy steel welds. Mater Sci Technol 21(8):867–879

Ito Y, Nakanishi M (1976) Study on Charpy impact properties of weld metal with submerged arc welding. Sumitomo Search 15:42–61

Evans GM (1992) The effect of titanium in SMA C-Mn steel multipass deposits. Weld J 71(12):447s–454s

Evans GM (1993) The effect of titanium in manganese-containing SMA weld deposits. Weld J 72(3):123s–133s

Evans GM (1995) Microstructure and properties of ferritic steel welds containing Al and Ti. Weld J 74(8):249s–261s

Evans GM (1996) Microstructure and properties of ferritic steel welds containing Ti and B. Weld J 75(8):251s–260s

Johnson MQ, Evans GM, Edwards GR (1995) The influence of titanium additions and interpass temperature on the microstructures and mechanical properties of high strength SMA weld metals. ISIJ Int 36(10):1222–1231

Onsoien MI, Liu S, Olson DL (1996) Shielding gas oxygen equivalent in weld metal microstructure optimization. Weld J 75(7):216–224

Seo JS, Lee C, Kim HJ (2013) Influence of oxygen content on microstructure and inclusion characteristics of bainitic weld metals. ISIJ Int 53(2):279–285

Seo JS, Kim HJ, Lee C (2013) Effect of Ti addition on weld microstructure and inclusion characteristics of bainitic GMA welds. ISIJ Int 53(5):880–886

Park SH, Hong KJ, Jung SO, Shin KS (2001) Phase analysis of precipitates and inclusions in steels. Trends Metal Mater Eng 14(4):2–7 (in Korean)

Es-Souni M, Beaven PA (1990) Microanalysis of inclusion/matrix interfaces in weld metals. Surf Interface Anal 16:504–509

Kluken AO, Grong O (1989) Mechanisms of inclusion formation in Al-Ti-Si-Mn deoxidized steel weld metals. Metall Trans A 20A(8):1335–1349

Kang Y-B, Lee H-G (2010) Thermodynamic analysis of Mn-depleted zone near Ti oxide inclusions for intragranular nucleation of ferrite in steel. ISIJ Int 50(4):501–508

Babu SS (2004) The mechanism of acicular ferrite in weld deposits. Curr Opinion Solid State Mater Sci 8:267–278

Yamada T, Terasaki H, Komizo Y (2009) Relation between inclusion surface and acicular ferrite in low carbon low alloy steel weld. ISIJ Int 49(7):1059–1062

Byun J-S, Cho YW, Chung SH, Shim J-D, Lee DN (1999) Nucleation of intragranular ferrite at Ti2O3 particle in low carbon steel. Acta Meterialia 47(9):2751–2760

Byun J-S, Shim J-H, Cho YW, Lee DN (2003) Non-metallic inclusion and intragranular nucleation of ferrite. Acta Meterialia 51:1593–1606
Acknowledgments
The authors would like to thank Dr. G. M. Evans for his valuable suggestions and continuous supports for this study. This work has been financially supported by KITECH.
Additional information
Doc. IIW-2483, recommended for publication by Commission IX "Behaviour of Metals Subjected to Welding".
About this article
Cite this article
Seo, J.S., Seo, K., Kim, H.J. et al. Effect of titanium content on weld microstructure and mechanical properties of bainitic GMA welds. Weld World 58, 893–901 (2014). https://doi.org/10.1007/s40194-014-0168-1
Received:

Accepted:

Published:

Issue Date:

DOI: https://doi.org/10.1007/s40194-014-0168-1
Keywords
GMA welding

Weld metal

Microstructure

Titanium

Inclusions