Abstract
Equipment damage from stray welding current and electrical shocks to welders (personnel welding) at a mine in northern Canada led to considerable investigative work which has shown that the potential is high for serious injury, death, major equipment damage, and fire. Root cause analysis of incidents established the common failure parameter as, or equivalent to, a terminal fault to earth ground on the welding power source. This was described in the first paper on this subject. Further incident investigation found that equipment damage and work stoppages cost industry millions of dollars in repair and lost production costs. Documentation of fatalities from around the world has proven that even though welding voltages are normally well below the 100 V maximum established by mining regulators to be a "safe voltage", welders continue to die due to contact of the welding electrode with their body. Additionally, in at least one documented case in Canada, a welder died from electrocution due to an electrical system fault created by the welder's own stray welding current. Much of the work represented in this paper comes from the authors' own experience augmented by supporting research of others. This paper looks at the electrical hazards of welding including high frequency/radio frequency, stray welding current, and electrical shock occupational injuries and fatalities from the welding electrode circuit. It considers the equipment damage and loss of life through stray welding current and considers industry, regulatory, and employer response in preventing these occurrences.
This is a preview of subscription content,
to check access.
Access this article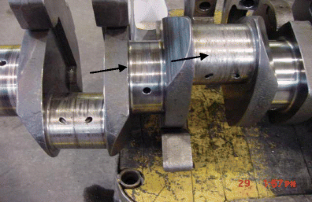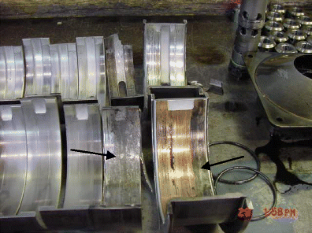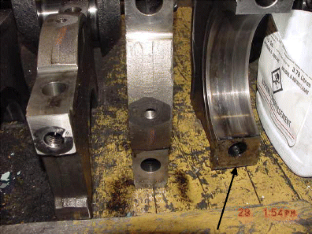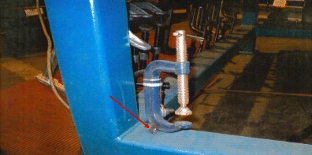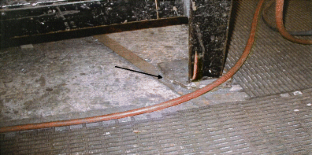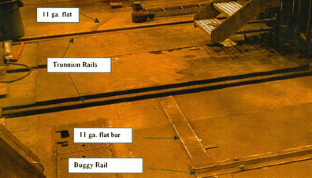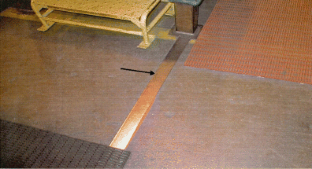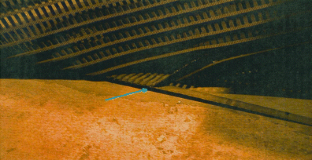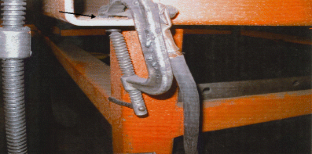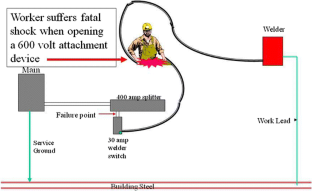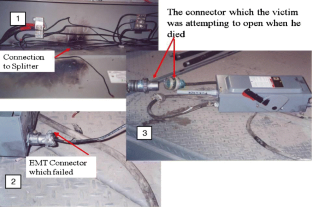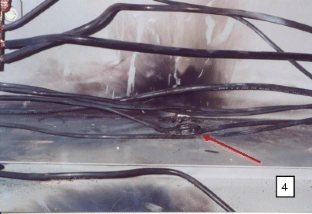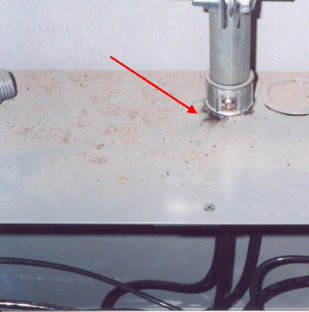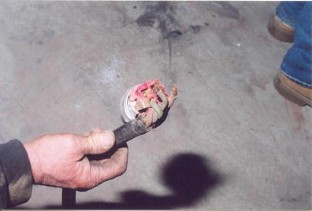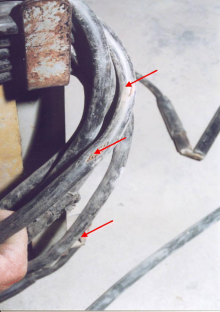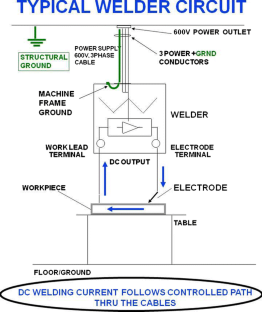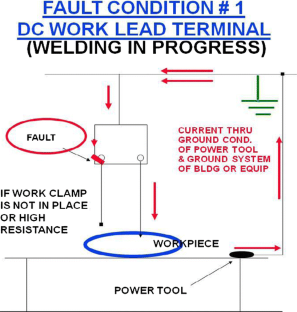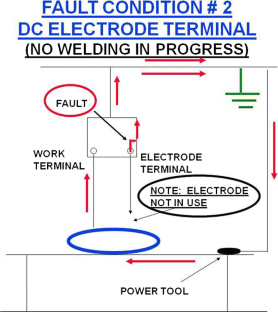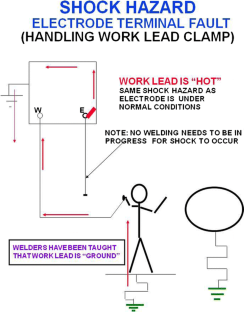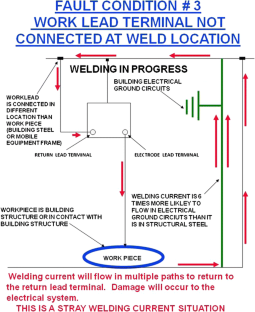 Notes
USA Mine Safety and Health Association (MSHA) report (1998) Meigs #2 Mine, Albany, OH, USA. 23 July 1998.

Interviews the author conducted during follow-up on occupational injury reports.

USA MSHA reports (see fatality charts); Verdict of Ontario Coroner Jury Mayorga fatality, 4 Aug 1994.

See charts depicting welding electrode shock fatalities.

MSHA Coal Mine Fatal Accident Investigation report: fatality #12—27 July 2011.

Welding Technology Institute of Australia, Glen Allan, email on 12 April 2012.

Telephone discussion between the author and Dr. Runion 1995.

Fault conditions: examples of what the author considers fault conditions in a welding circuit are shown later in this paper and were originally described the previous paper by Thesenvitz and Hisey. The reader should study the line drawings of typical welding circuits in this paper to better understand how this phenomenon occurs.

Welding Electrical Hazards video released by Syncrude Canada Ltd in 1994

BHP Welding Safety Bulletin March/April 2002 #20

Based on 793 Caterpillar Haul Truck engine costs from Finning Caterpillar, Edmonton, Alberta, Canada 2012

Stray current can occur whenever there is a parallel path from the arc to the welding machine. Parallel paths exist in many situations and often cannot be eliminated. Parallel paths will carry little or no current if there is a low resistance path to the welding machine, as provided by a return cable of sufficient capacity located as close as practicable to the welding activity

Ontario Occupational Health and Safety Report on Cambridge fatality, 1 November 2001.

All drawings come from original document [2], original drawings all by Thesenvitz.

Limits of human exposure to radiofrequency electromagnetic energy in the frequency range from 3 KHz to 300 GHz, commonly referred to as Safety Code 6. publications@hc-sc.gc.ca. Health Canada's radiofrequency exposure guidelines

Built-in VRDs are commonplace in Australia, most North American manufacturers supply a line of machines with built-in VRDs, but they are not in common use.

BHP Welding Safety Bulletin #21 May/June 2002, page 5, significant incident safety occurrence, electric shock from welding machine

There is an explanatory note provided in Australian Standard AS 1674.2–2007 for category B. Note that such an environment may be found where the ambient temperature is less than 32 °C and

(a)

Freedom from movement is restricted, so that an operator is forced to perform welding in a cramped position (e.g., kneeling, sitting, and lying), with physical contact with conductive parts (e.g., the work piece)

(b)

There is a high risk of accidental or unavoidable contact by the operator with conductive elements, which may or may not be in a confined space as defined in AS/NZS 2865

There is an explanatory note provided in Australian Standard AS 1674.2–2007 for category C as follows. Note that low body impedance is likely in the presence of water, moisture or heat, particularly where the ambient temperature is above 32 °C. In wet, moist, or hot locations, humidity or perspiration considerably reduces the skin resistance of human bodies and the insulating properties of personal protective equipment accessories and clothing.
References
Anderson JC, Moore JH Electrical accident reporting. Electro-Test, Inc.

D. Thesenvitz PE, Hisey D (1994) Welding electrical hazards

Dick IR (1998) An investigation into the causes and prevention of electrocution suffered as a result of operation of welding equipment. University of Adelaide, Faculty of Engineering, Adelaide, Australia

Zhang P, Cai S (1995) Study on electrocution death by low voltage. Forensic Sci Int 76(2):115–19

D. Thesenvitz PE, Hisey D (1994) Welding electrical hazards

David S IEng, MIET, FIDiagE, MICML Damage caused by the passage of electric current. http://www.vibanalysis.co.uk/technical/electric/electric.html

Smith W, Roberts J High-frequency welding. Thermatool Corporation

Lincoln Electric operator's manual Square Wave TIG 275 IM609-B May 2001

Sung-Min Park (2006) MRI safety: radiofrequency field induced heating of implanted medical devices. Thesis. 18 May 2006. Faculty of Purdue University Graduate School

Park SM, Kamondetdacha R, Amjad A, Nyenhuis JA (2005) MRI safety: RF induced heating on straight wires. IEEE Trans Magn 41(10):4197–4199
Acknowledgments
The author would like to thank the following people for their contributions in providing input and expertise but most of all for their time in reviewing all or part of this document. Without their input and expertise this document would be much less reliable:
Glen Allan, ME Prac. (Materials Welding & Joining), Manager WTIA OzWeld Technology Support Centres Network, Welding Technology Institute of Australia. Glen provided a complete review of this paper and was particularly helpful in providing the Australian view point on AC/DC >10 % ripple current vs. DC <10 % ripple current welding machines and up-to-date references to Australian standards. His added explanations and attention to details greatly improved the clarity of this paper.
Dayton Thesenvitz, PE Electrical, Lacombe, AB, Canada for general review and comments.
Darren Green, DDC Technology Ltd., Rocanville, SK, Canada for his review and input into voltage reducing devices and correcting references to the Shockstop VRD.
Additional information
Doc. IIW-2419, recommended for publication by Commission VIII "Health, Safety and Environment".
The author is the current chair for Canadian Standards Association (CSA) W117.2T/C; Canadian Advisory Council (CAC) ISO T/C44 SC9, member of the Canadian Electrical Code CSA C22.1 SC42 and Canadian delegate to International Institute of Welding (IIW) Commission VIII (Welding Health and Safety).
About this article
Cite this article
Hisey, D.A.S. Welding electrical hazards: an update. Weld World 58, 171–191 (2014). https://doi.org/10.1007/s40194-013-0103-x
Received:

Accepted:

Published:

Issue Date:

DOI: https://doi.org/10.1007/s40194-013-0103-x
Keywords