Abstract
High-frequency mechanical impact is a recent improvement method which is probably one of the most effective for treating welded assemblies. A number of experimental results relating to this process are presented in this article. These results lead to better understand the mechanisms of the process, to outline the influence of the operating parameters and to confirm the role played by the initial quality of treated welds. In addition, a process is proposed in order to numerically estimate the fatigue life improvement reached after treatment. All these results were obtained in the scope of a study whose long-term aim is to propose an approach that can be industrially applicable for fatigue design of welded assemblies treated by high-frequency mechanical impact.
Access options
Buy single article
Instant access to the full article PDF.
USD 39.95
Price excludes VAT (USA)
Tax calculation will be finalised during checkout.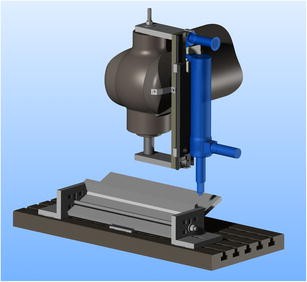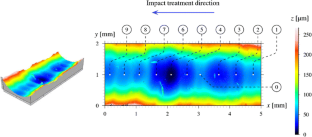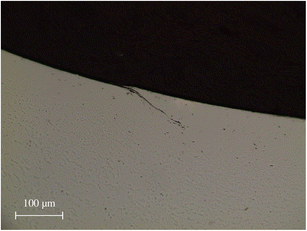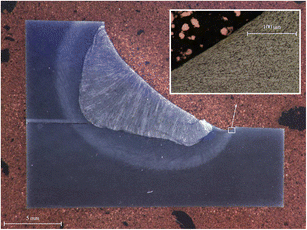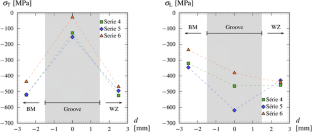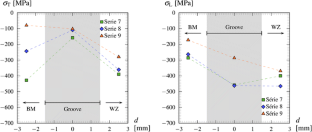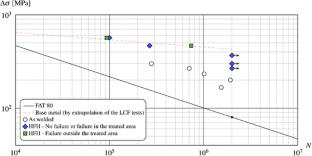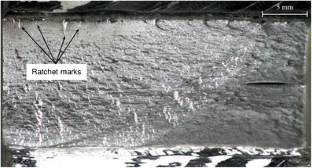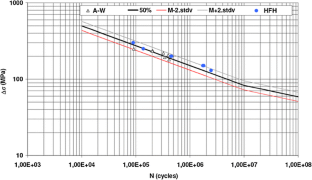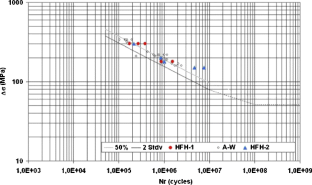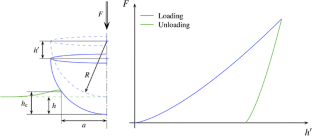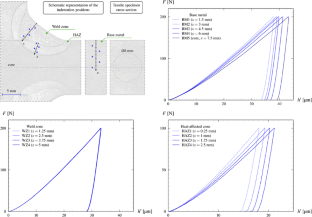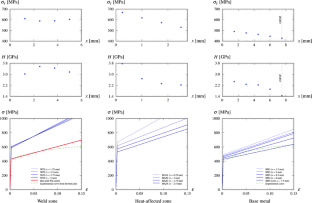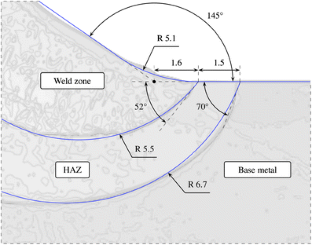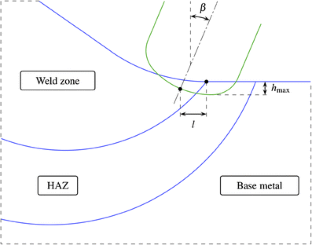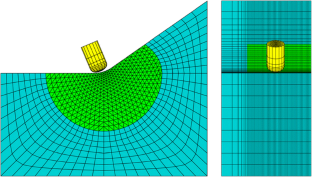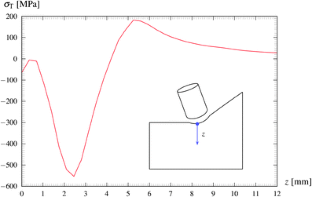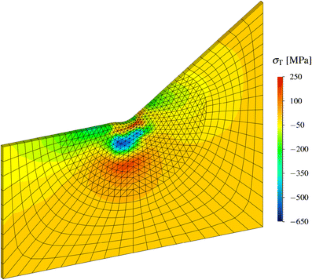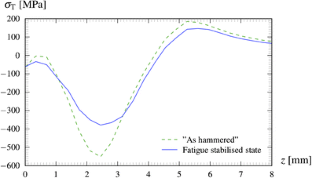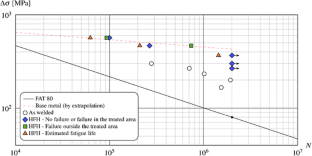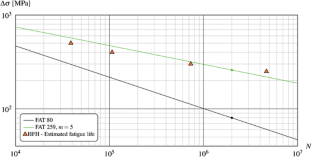 Notes
S355 equivalent steel grade dedicated to marine application.

An excessively high load will result in an excessively large indented zone and consequently an averaged result over this zone, whereas an excessively low load results in a decrease in the measurement accuracy and repeatability. This notably depends on the grain size which may be relatively significant in a heat-affected zone.
References
Haagensen PJ, Maddox SJ (2007) IIW recommendations on post weld improvement of steel and aluminium structures, International Institute of Welding (XIII-2200-07)

Maddox SJ (2003) Key developments in the fatigue design of welded constructions. Weld World 47:7–40

Statnikov ES, Trufyakov VI, Mikheev PP, Kudryavtsev YF (1996) Specification for weld toe improvement by ultrasonic impact treatment, International Institute of Welding (XIII-1617-96)

Lihavainen VM, Marquis G (2006) Fatigue life estimation of ultrasonic impact treated welds using a local strain approach. Steel Res Int 77:896–900

Roy S, Fisher JW (2005) Enhancing fatigue strength by ultrasonic impact treatment. Int J Steel Struct 5:241–252

Nitschke-Pagel T, Dilger K, Eslami H, Weich I,Ummenhofer T (2007) Residual stresses and near surface material condition of welded high strength steels after high frequency mechanical post-weld treatments, International Institute of Welding (XIII-2153-07)

Marquis G (2010) Failure modes and fatigue strength of improved HSS welds. Eng Fract Mech 77:2051–2062

Yildirim HC, Marquis GB (2012) Overview of fatigue data for high frequency mechanical impact treated welded joints. Weld World 57(7/8), in print

Statnikov ES, Vityazev V, Korolkov O (2004) Comparison of the efficiency of 27, 36 and 44 kHz UIT tools, International Institute of Welding (XIII-2005-04)

Statnikov ES, Korostel VY, Vekshin N, Marquis G (2006) Developement of esonix impact treatment techniques. International Institute of Welding (XIII-2098-06)

Bousseau M (2010) Post-treatment by UIT process of a cruciform welded joint made of DH36 steel grade (Parachèvement par le procédé UIT d'un joint soudé en croix en acier DH36), DCNS (CESMAN)

Bousseau M (2010) Post-treatment by UIT process of a butt-welded joint made of S690QL steel grade (Parachèvement par le procédé UIT de joints soudés bout à bout en acier S690QL), DCNS (CESMAN)

Chung K-H, Lee W, Kim JH, Kim C, Park SH, Kwon D, Chung K (2009) Characterization of mechanical properties by indentation tests and FE analysis—validation by application to a weld zone of DP590 steel. Int J Solids Struct 46:344–363

Collin J-M, Mauvoisin G, Pilvin P, El Abdi R (2008) Use of spherical indentation data changes to materials characterization based on a new multiple cyclic loading protocol. Mater Sci Eng 488:608–622

Le Quilliec G (2011) Application of high frequency hammer peening for the maintenance optimisation of civil engineering equipements and welded structures (Application du martelage à haute fréquence à l'optimisation de la maintenance des ouvrages et des structures soudées), PhD Thesis, École Centrale de Nantes-École Doctorale Sciences Pour l'Ingénieur Géosciences Architecture

Dang Van K, Maitournam MH (1993) Steady-state flow in classical elastoplasticity: application to repeated rolling and sliding contact. J Mech Phys Solids 41:1691–1710

Manson SS (1952) Behavior of materials under conditions of thermal stress, heat transfer symposium. University Michigan Press, Ann Arbor

Coffin LF (1954) A study of the effects of cyclic thermal stresses on a ductile metal. Trans of ASME 76:931–950

Basquin OH (1910) The exponential law of endurance tests, proceedings of the ASTM 10, American Society for Testing and Materials 625–630

Morrow J (1965) cyclic plastic strain energy and fatigue of metals, internal friction, damping and. Cyclic Plasticity, ASTM STP 378, American Society for Testing and Materials, 1965 45–87

Bäumel AJ Seeger T (1990) Materials data for cyclic loading—supplement I. Elsevier Science, Amsterdam

Meggiolaro MA, Castro JTP (2004) Statistical evaluation of strain-life fatigue crack initiation predictions. Int J Fatigue 26:463–476

Pedersen MM, Mouritsen O, Hansen MR, Andersen JG, Wenderby J (2010) Comparison of post weld treatment of high strength steel. Weld Joints Medium Cycle Fatigue, 54(7/8)
Additional information
Doc. IIW-2322, recommended for publication by Commission XIII "Fatigue of Welded Components and Structures".
About this article
Cite this article
Le Quilliec, G., Lieurade, HP., Bousseau, M. et al. Mechanics and modelling of high-frequency mechanical impact and its effect on fatigue. Weld World 57, 97–111 (2013). https://doi.org/10.1007/s40194-012-0013-3
Received:

Accepted:

Published:

Issue Date:

DOI: https://doi.org/10.1007/s40194-012-0013-3
Keywords (IIW Thesaurus)
High frequency

Mechanical stress relief

Welding

Fatigue improvement

High strength steels

Indentation

Mechanical properties