Abstract
The Philippines' coffee demand–supply gap is increasing and local value chain players are affected; however, these players have unequal capabilities to react. Using the business-model canvas, an exploratory case study of the coffee processors in the municipalities of Amadeo and Silang in Cavite Province was conducted to examine their market position amidst the changing industry landscape. The results showed that different business models have different priorities in response to the value chain shifts. Upstream players react toward being efficient in their operations, whereas downstream players work to be responsive in capturing market value. This suggests tailor-fit enabler interventions for different models. The study came up with this information from studying the business models' activities, resources, partners, and customer segments. These variables can already reveal the firm's priorities, strengths, and weaknesses. Nevertheless, further studies that determine relevant constructs or variables in analyzing businesses are recommended to segregate emerging silos of analysis for business models.
Introduction
For hundreds of years, coffee has been a significant source of income for numerous farmers and businesses across the Philippines. However, the country's coffee production saw a decline of 4.7% every year in the last 10 years. From an annual production of 96 metric tons of dried coffee cherries in 2008, this decreased to 60 metric tons in 2018. The decreasing production led local coffee processors to importation. In 2018, the country's coffee import dependency ratio (IDR) stood at 71% (PSA 2020). Presently, the country is highly dependent on imports to sustain its coffee market as local production increasingly becomes unreliable though it still plays a vital role in providing livelihood to both farmers and businesses.
Furthermore, the country's coffee sector is still beset with challenges across the different value chain nodes. Problems such as the limited stock of quality seedlings and lack of modern production techniques, the crude post-harvest processing methods, the lack of coordination among industry stakeholders, gaps in collection and distribution of research and technical knowledge, and the popularity of instant coffee resulted in low production volumes, low coffee quality, and restriction of the country's possible upgrading trajectories (DTI 2017). These trends will likely persist in the industry for a couple of years.
In a value chain, unique business models can be seen as players use innovative ways to create, capture, and deliver the value to the customers while reducing cost to remain competitive in the industry. As different factors exert pressure, chain players then generate innovative strategies in their business model (Casadesus-Masanell and Ricart 2011; Govindarajan and Trimble 2011; Aspara et al. 2013; Nauhria et al. 2018; Sushil 2018; Ferreira et al. 2020), revealing their strategic flexibility (Abbott and Banerji 2003; Sushil 2015; Miroshnychenko et al. 2019; Shalender and Yadav 2019).
How each player performs in the value chain varies as no single model emerges as the optimal choice in all situations (Mclndoe-Calder 2012; Vermeulen and Cotula 2010). Strategies may be unique; hence, it is imperative to have a firm-level evaluation of the local coffee value chain players to identify their existing competitiveness and market position and to further identify appropriate interventions tailored to the business models. Recent literature points out that business models need to change, but it is still unclear whether it is necessary to address the entire business model or only a part of it to save on resources and time (Battistella et al. 2017). The results of this study can contribute to literature on business models in the ASEAN region since data on this aspect are relatively scarce (Dy 2009) because of the "difficulty of monitoring existing business models in the agriculture sector" (Teng 2016).
Status of Coffee Production in Cavite, Philippines
Cavite is one of the three provinces in the Philippines that experienced a substantial decrease in coffee production in the last 20 years, along with the provinces of Davao de Oro and Davao del Sur (PSA 2020). The data show a consistent decrease in Cavite's land area devoted to coffee (Fig. 1). From 8800 hectares in 1997, the total area is at 8250 hectares in 2015, remaining the same until 2018. Similarly, coffee cherry production also decreased. From the same period, there was a fluctuating but similarly decreasing trend. The peak production was in 1997, during which the province produced 9719 metric tons of dried coffee cherry. From there, production has since decreased. As with the land area planted, production continued to decrease until it steadied in 2015.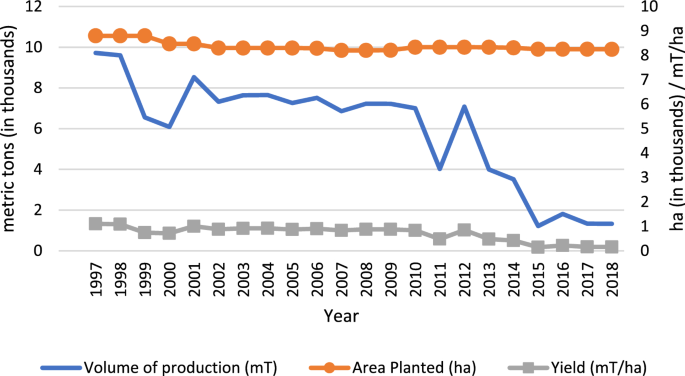 Likewise, the yield per hectare is decreasing. In the last 20 years, the highest recorded yield was 1.10 mT/ha in 1997. This value never bounced back. In 2018, the yield was at 0.16 mT/ha.
The production sector, which comprises small farmers, has already benefited from various interventions and support from different agencies as the government tries to revitalize the industry. Multinational corporations, which occupy the country's larger share of the processing, marketing, and retailing sectors, also have their financial and logistic capacity to counteract market shifts effortlessly. Other intermediaries, however, lack the support and resources to respond. Alternatively, if they can, they are constrained by their limited capabilities. There are small-scale collectors who perform the assembly function by aggregating volumes from different players for delivery and millers who dehull coffee beans to be made readily available for large corporations.
These players are also necessary in making the whole value chain functional. To upgrade the coffee industry, interventions must be customized for each value chain player to remain competitive. Hence, this study was conducted among local coffee processors in two coffee-producing municipalities, Silang and Amadeo, in Cavite, Philippines. The study selected the two municipalities because of their high albeit decreasing production of coffee.
Conceptual Framework
As the country's coffee consumption increases and its production base decreases, value chain players have to respond to ensure competitive advantage. Value chains in the context of the agri-food industry are already unique as various factors already strain them. The biological nature of production increases variability and risk, and the product's high perishability and bulkiness require a specific type of supply chain. There are also societal and consumer attitudes toward food safety, animal welfare, and environmental pressure (PCARRD 2011). Moreover, businesses, especially those closer to the producers, also have to overcome the problems of producer dispersion, diseconomies of scale, poor access to information, technology and finance, inconsistent volume and quality, lack of traceability, and management of risk (Vorley et al. 2008). Conflict of interest between the players also persists. Upstream players look for maximum prices and unlimited quantities, whereas downstream players (e.g., manufacturers, traders, retailers, and consumers) look for a low purchase price for high-quality products (FAO 2006). These factors set the environment in the value chain.
Firms in the value chain can either be responsive or be efficient. Responsive firms adapt quickly to market demand but at a higher unit cost, whereas efficient firms prioritize production at lower costs but often at the expense of market responsiveness (Randall et al. 2003; Khorasani 2018; Lu et al. 2018; Singh et al. 2019). As the value chain experiences shifts across sectors, the entire competitive landscape changes; hence, players need to have an environment-response strategy. While the value chain shows the rules within an industry, the business model on the other hand shows how each player works within the industry (Daidj 2015).
Various studies have a different perspective on business models. Chesbrough and Rosenbloom (2002) identified value proposition, market segment, value chain, cost structure, value network, and competitive strategy as a business model's critical functions. Morris et al. (2006) mentioned that the business model is synonymous with a revenue model or economic model. This is also similar to Vermeulen and Cotula's (2010) statement that "a business model is a way in which a company structures its resources, partnerships, and customer relationships" to create and capture value that enables a company to make money. Kaplan (2012) identified value creation, value delivery, and value capture as the essential elements of a business model. Mishra (2013) also described it as "a series of interdependent activities that integrate into a whole system" as it encompasses a wide range of measures, including financial and non-financial criteria. Others also suggest that a deep understanding of the buyer's needs (Teece 2018) and the position in the value chain (Rappa 2010) influence in a firm's business-model design. Osterwalder (2004) also did a comprehensive typology in defining a business model. Ritter and Lettl (2018) presented that business-model research cuts across different spectra of theories presenting wider implications of research.
The definition of the business model is not yet settled among scholars, and it primarily lies in the interest of the researchers (Zott et al. 2010; Massa et al. 2017; Khanmohammadi et al. 2019). However, they mentioned that the business-model lens is an emerging new unit of analysis, and it emphasizes a system-level approach in explaining a business. Ritter and Lettl (2018) proposed different perspectives on business-model research to have a common language for shared understanding of the concepts in which they outlined business-model activities, business-model logics, business-model archetypes, business-model elements, and business-model alignment as different research silos each having meaning in their own field. Morris et al. (2005) also proposed a model that represents a strategic framework for conceptualizing a business venture. A similar line of thought by DaSilva and Trkman (2014) uses business-model analysis to generate a firm strategy.
In this study, the underlying framework follows the thinking that the player's response to the environment is shown in their business model as it demonstrates their flexibility in strategic decisions (Porter 2001; DaSilva and Trkman 2014). This also shows their money-earning logic (Mustafa and Werthner 2011); thus, it can sufficiently explain and identify the businesses' potential source of competitive advantage (Poláková et al. 2015).
Methodology
The research follows an exploratory case study approach. This approach is widely used in business-model researches since it acquires data while considering the uniqueness of the subjects (Battistella et al. 2017; Denicolai and Previtali 2020; Nunes and Russo 2019; Urbinati et al. 2020). Similarly, this strategy was selected since the researcher was motivated to gain an in-depth understanding of the context of the models and the processes within bearing in mind that each model is unique and has different mechanisms (Morris and Wood 1991).
Twelve (12) coffee processors in Amadeo and Silang, Cavite, were selected following the recommendation of industry experts such as the key chain players, the Office of the Provincial Agriculturist, Local Government Units, and the Municipal Agriculture Office, with the criteria that these processors are large and have been regularly trading in the past years. Thirty-two key informant interviews were conducted with farmers, collectors, and processors. Participant observation was done, and document reports from and interviews with government offices were also obtained. Business names were concealed as requested by the respondents.
The analysis is composed of two parts. The first step utilized the value chain analysis in grouping the coffee processors in the study area. Starting from the recommended processors, chain tracing using snowball sampling was used to map their chain and pinpoint their position in the coffee value chain. The processors belonging to the same node were grouped. The business-model canvas (BMC) was then used to describe the operational, financial, product, and customer-related aspects of the clustered models (Urban 2018).
One of the most used tools in analyzing business models is the BMC. It has nine building blocks, that is, Key Partners, Key Activities, Value Proposition, Customer Relationship, Customer Segments, Key Resources, Channels, Cost Structure, and Revenue Streams. Based on focus, the nine building blocks were divided into four sections: (1) product, (2) customer interface, (3) infrastructure management, and (4) financial aspects (Osterwalder 2004). Furthermore, responses in the nine building blocks were also categorized based on the selected attributes shown in Table 1.
Results
Coffee Value Chain in Cavite
Functions in the coffee value chain covered the production, primary processing (i.e., conversion of coffee cherries to dried beans), secondary processing (i.e., roasting of dried coffee beans), logistics, and retailing.
The destinations of coffee produced by farmers in Amadeo and Silang are mostly local. Coffee products are absorbed by large processors such as Nestle; Commonwealth Foods, Inc.; Universal Robina Corporation (URC); Silca Coffee Roasting Company, Inc.; Gourmet Farms Inc.; or smaller ones such as Café Amadeo and Belardo Coffee Enterprise. There is also a volume absorbed by roasting companies in Batangas, Manila, Bulacan, Makati, and Pasig. Figure 2 shows the coffee value chain map in Amadeo and Silang, Cavite.
After harvesting, fresh coffee cherries are dried. The dried coffee cherries (DCC) may or may not be readily sold to buyers as farmers decide when to sell their produce since coffee has a high storability. Since prices quickly fluctuate, farmers wait and sell the coffee cherries when prices reach their peak. Farmers can store the DCC for up to a year.
The DCC then pass to either collectors or millers, whichever is more convenient to farmers. These players gather coffee beans from multiple farmers. Farmers who are more distant to millers prefer selling to collectors. In this stage, moisture content, impurities, and moldy, black, and broken beans are checked and sorted.
The sorted DCC are then dehulled by millers to produce green coffee beans (GCB). Millers are the primary converging point of the coffee produced by farmers in the community since they are the only player that can utilize the cherries. Some millers have collectors buying coffee from neighboring municipalities. As of 2017, each miller has only traded around 80 metric tons a year. The GCB are then sold to instant coffee processors or specialty coffee processors in other provinces. Other millers also venture into vertical integration, in which they roast the beans to produce their own coffee blends. Others also go further by processing their coffee blends, even starting up their own coffee shop.
Chain Position-Based Clustering
The study has interests in the processors in the value chain. These are the millers and the specialty coffee processors. The individual functions of each processor were identified, and those with similar functions were clustered together. From the data gathered, the study has differentiated four business models among processors (Table 2). The processors' relationships with other players were also explored to determine the level of integration. The relationships were then characterized and explained using Vermeulen and Cotula's (2010) level of integration (Fig. 3). Table 3 shows the business-model canvas of the businesses identified.
Assembler Millers
These are players who solely gather or "assemble" coffee from different farmers and sell them to a buyer. They have milling equipment and a warehouse to perform dehulling. They also handle the inbound logistics of their buyers as they are the ones who deliver the goods. This model cluster specializes only in trading one product, which is green coffee beans (GCB). They sell a minimum of 80,000 kg of GCB per year.
In sourcing the DCC, the miller can either buy directly from farmers or informally subcontract a collector to gather the produce from farmers. The miller's involvement includes financing and post-harvest logistics for both players. They give cash advances to collectors to assemble the cherries. After gathering enough volume, the DCC are then transferred to the milling area. In some cases, the miller picks up the cherries from the collector's warehouse. They can somehow influence the collector's operational decisions through price setting. The millers usually dictate a margin of P2.00 per kilogram to the collectors. They do not have control over the production practices of the farmers.
Vertically Integrated Millers
This model cluster still functions as an assembler miller but has integrated forward, adding roasting and selling branded roasted coffee beans in their business profile (Fig. 3b). They also now deal directly with end consumers. As with assembler millers, they also deal with collectors who help them in securing coffee cherries. Selling GCB is still a significant business operation. Two businesses were found to have extended their function to brewing, retailing, and servicing brewed coffee to end consumers. Retailing, as a new distribution channel, is established to cater the added functions.
Specialty Coffee Processors
Under this model cluster, ownership can vary as players operate as a cooperative, a corporation, or on sole proprietorship. Nonetheless, these businesses primarily perform secondary processing, which is roasting, and they focus on the distribution and branding of their coffee blends (Fig. 3c). They sell two product types: roasted coffee beans and brewed coffee. Distribution can either be wholesale or retail; some perform brewing to directly cater to end consumers, while others focus on distributing their products. Coffee shops from other places also utilize their products. This model mostly focuses on branding. The cooperative model was highlighted for the analysis.
The cooperative operates as a value chain cooperative. In other words, it performs all the functions in the coffee value chain. Though all functions are covered, most of the activities are inclined toward the chain's downstream end (e.g., roasting, marketing, branding, retailing), selling multiple products to coffee enthusiasts. This shows an approach of market specialization in customer segmentation.
Meanwhile, distribution is handled by the members who function as intermediaries. Their resources include land, warehouse, processing area, roasting equipment, and shops. Being a cooperative, they have human resources that can be mobilized to perform different functions. Also, they have gained access to support services from the Department of Agriculture (DA), Department of Trade and Industry (DTI), Local Government Units (LGU), and Cooperative Development Authority (CDA). These have provided them access to resources, whether physical assets or skills development.
Service Provider Millers
This model cluster caters to businesses that focus on secondary processing (Fig. 3d). They are considered the primary processing arm of companies that roast large volumes of coffee. They welcome spot transactions as recommended by their buyers. Only one business was seen to fall under this model cluster. This business is a trading partner of local businesses.
From the case observed, the business was an assembler miller that repositioned itself toward service orientation due to the decreasing production sector. Despite the new value proposition, its function is still the same—to reduce customer effort. The model still targets a single segment in the market, and they still maintain a close relationship with their trading partners because of previously established connections.
Discussion
The study explored the different models currently operating in the processing node of the coffee value chain in Amadeo and Silang, Cavite. The findings include four distinct models showing different concerns for competitiveness. These models are the assembler millers, vertically integrated millers, specialty coffee processors, and the service-oriented millers. Each showed different priorities, as seen in the configuration of their business model.
The assembler miller is a specialist business model primarily designed to reduce customer effort in securing green coffee beans by performing the assembly and the inbound logistics for their buyers. This function is augmented by their resources, activities, and trading partners. On the other hand, vertically integrated millers have a similar function as assembler millers but have provided a new market offering with their roasted coffee products. This way, they can dictate prices for their differentiated product for a new target market. Accordingly, they added physical assets such as roasting equipment and a retail area.
On the other hand, the cooperative model in the specialty coffee processor is somewhat different because of its extensive human resources compared with the other models. This model can perform multiple value chain functions since it has an established access to support enablers and a workforce for different functions. Meanwhile, service-oriented millers work similarly with other millers but at a higher level of integration among trading partners due to different revenue streams.
By comparison, assembler millers, vertically integrated millers, and service-oriented millers have a similar value proposition to reduce customer effort. Simultaneously, business models that perform secondary processing (vertically integrated millers and specialty coffee processors) were also observed to have added market offerings that intend to capture market share. Accordingly, the target customer also changes. Despite having similar value propositions, they still differ in other building blocks.
The business models' relationships with different chain players were mostly based on spot markets and there is no evidence of formal purchase agreements, thus showing weak integration. Trust plays a crucial role in these chain relationships, especially because the business models extend financial assistance to some players. The processors have to have confidence in their trading partners.
Moreover, the activities among all business models appeared to focus on the operations contingent of their chain function. These include, but are not limited to, assembling of goods, dehulling or roasting, marketing, and branding. Accordingly, resources only include facilities and equipment. Activities toward support services, such as human personnel management and firm infrastructure, are minimal. Only the value chain cooperative has a considerable concern toward human resource management because of their cooperative nature.
Similarly, costs incurred by these models are shown to be tied to their operations. However, financial resources are also significant for the assembler miller and vertically integrated miller since they engage in financial relationships with the upstream players to secure a supply base. Vertically integrated millers and specialty coffee processors also incur additional costs intended to capture value since they deal directly with end consumers. These models invest resources such as land, roasting equipment, and retail areas to capture value found at the lower end of the chain.
The business models were also found to utilize trading partners. They can be the farmers, collectors, or a support service provider. Collectors (that assembler millers, vertically integrated millers, and some specialty coffee processors utilize) facilitate the upstream assembly of goods. Meanwhile, partnerships with support services are used to gain access to resources as seen with the Department of Agriculture (DA) and the Department of Trade and Industry (DTI). However, only the cooperative model has benefitted from this.
The business models identified were designed for specialized functions, which are not related to processing. Those participating in the downstream end of the chain, that is, vertically integrated millers and specialty coffee processors, are inclined toward being market responsive and capturing the market value. They have their infrastructure framed to optimize downstream operations, and they mostly bear the costs in dealing with their customers to reduce customer effort. Meanwhile, those focusing on the upstream part (e.g., assembler millers and collectors) are inclined to be efficient. They tap other players to source their supply, saving their time and enabling them to attend to key activities and thus minimizing costs. Results show varying capabilities for the business models' reconfiguration.
Key Concerns for the Business Models
1.

Assembler Miller
The assembler millers' resources and revenue stream lie solely on selling green coffee beans. Accordingly, their business operations depend on the availability of coffee cherries delivered by farmers or collectors. The main concern of this model is the sourcing strategy. Assembler millers need to procure enough volume to remain operational and profitable. However, since assembler millers have a weak relationship with their suppliers, other players can easily threaten them by offering attractive prices to their suppliers. In this industry, price is the only incentive left for farmers to bounce back since farm productivity is now undependable. Hence, trust with the upstream players is the most crucial resource to remain in business. As Hou et al. (2018) mentioned, trust-based relationships is the most robust against disruptions.
2.

Vertically Integrated Miller
As with the assembler miller, this model also has a weak relationship with upstream players. However, the model's integrated activities and a more diversified revenue stream put them in a safer but occupied position as they face both production and demand dynamics. They can quickly increase DCC buying prices since they already have a market, but this integration level needs more resources. Engaging further downstream would mean investing more to cater to the different activities included. Vertically integrated millers may have to revisit the cost structure to maximize income. They should balance their attempts to reduce operational costs (cost driven) and maximize selling price (value driven). The model must have a high absorptive capacity to be strategically flexible (Miroshnychenko et al. 2019).
3.

Specialty Coffee Processor
As this model specializes in roasting coffee, specialty coffee processors reduced their production-related risks. Contrary to the vertically integrated miller, this model can focus on roasting coffee, distribution, and retailing. However, this is an area in which intense industry competition exists as other supply chains also want a share in the growing coffee consumption (Deng et al. 2020). The model needs to make their products and services attractive to consumers to be competitive. The model's main concern here is to establish a product that can capture market shares and develop a strong distribution network to supply its target markets consistently.
4.

Service Provider Miller
Unlike the other models, this model is dependent on other players looking for service providers as they focus on their primary activity. Their position is rather strategic, given that the production in Cavite is decreasing; they would just let other players buy their cherries. This model needs to maintain their relationships with the other players to ensure a stable market.
Conclusion
Despite being in the same node in the value chain, players have different business models to reposition themselves in the changing value chain landscape. Value chain players may be responsive to the market, as in the case of the specialty coffee processor model and the vertically integrated miller model, or be efficient as the assembler millers, service-oriented millers, and the vertically integrated millers (Randall et al. 2003). This is due to the strategic direction they selected, which addresses the sensitivity to growing demand or decreasing supply. This has shed light on the firm's priorities to identify interventions appropriately.
Theoretical Implications
Even with overlaps in using the business-model canvas (Verrue 2014), selecting only key constructs or parameters can already give sufficient information on how a business performs. The study focused more on the business models' activities, resources, partners, value proposition, and customer segments in setting their strategic direction. In the context of a value chain that has a growing demand–supply gap, these business-model elements (Ritter and Lettl 2018) can already explain the model's strategy (DaSilva and Trkman 2014). This study further supports Battistella et al.'s (2017) argument that, in order to make the most of the firm's resources and time, specific building blocks of the business model should be focused to be strategically agile in reconfiguring it.
Managerial Implications
Possessing a specific set of capabilities for strategic agility is needed for a firm's survival (Battistella et al. 2017). Since strategy usually is tied in response to the environment, firms should have the flexibility to change the strategic direction whenever new opportunities or threats arise (DaSilva and Trkman 2014). However, this somewhat constrains small players in the value chain because of their minimal resources. It is suggested that managers identify the environment-response strategy first and then configure and align activities, resources, partners, and value proposition to target the desired customer segments. In the context of the industry studied, these key constructs can already set the firm's strategic direction. Furthermore, it can reveal its priorities, weaknesses, and market position without fully utilizing all building blocks identified. This can save time for managers in setting their direction and, at the same time, identifying their current situation (Battistella et al. 2017). However, the firm needs to develop its adaptive capacity to widen its strategic flexibility and innovativeness (Miroshnychenko et al. 2019; Shukla et al. 2019).
In addition, government interventions for these players may be unusable when they do not match the firm's configuration of assets and processes (Chesbrough and Rosenbloom 2002). These interventions may contribute to difficulties in the strategic reconfiguration of the firms (Wirtz et al. 2010).
Limitations and Suggestions
The research also has several limitations, thus providing areas for future research. As Zott et al. (2010) mentioned, business-model analysis lies in the researcher's perspective; hence, further studies that determine relevant constructs or variables are recommended to identify the different silos of business-model analysis. Since the study explored the environment-response strategy in an agricultural value chain, the constructs identified might be different if there was another objective or value chain studied. Replicating this study to other value chains may reveal different results.
Aside from Osterwalder's (2004) typology, it may also be interesting to use other frameworks such as the works of Chesbrough and Rosenbloom (2002); Morris et al. (2005); and Pateli and Giaglis (2004).
Since an exploratory case study approach was used, results from the study are not suitable for generalization. It would be ideal to use multiple case studies or a quantitative approach with a larger sample size to provide generalizations and validate the key constructs identified. The results can then be used for theory building.
References
Abbott, A., & Banerji, K. (2003). Strategic flexibility and firm performance: the case of US based transnational corporations. Global Journal of Flexible Systems Management, 4(1/2), 1–8.

Aspara, J., Lamberg, J., Laukia, A., & Tikkanen, H. (2013). Corporate business model transfromation and inter-organizational cognition: The case of Nokia. Long Range Planning, 46(6), 459–474.

Battistella, C., De Toni, A. F., De Zan, G., & Pessot, E. (2017). Cultivating business model agility through focused capabilities: A multiple case study. Journal of Business Research, 73, 65–82. https://doi.org/10.1016/j.jbusres.2016.12.007.

Casadesus-Masanell, R., & Ricart, J. (2011). How to design a winning business model. Harvard Business Review, 89(1/2), 100–107.

Chesbrough, H., & Rosenbloom, R. (2002). The role of the business model in capturing value from innovation: Evidence from Xerox Corporation's technology spin-off companies. Industrial and Corporate Change, 11(3), 529–555.

Daidj, N. (2015). Developing strategic business models and competitive advantage in the digital sector p170. Hershey PA: Business Science Reference (an imprint of IGI Global).

DaSilva, C., & Trkman, P. (2014). Business model: What it is and what it is not. Long Range Planning, 47(6), 379–389.

Deng, W., Feng, L., Zhao, X., & Lou, Y. (2020). Effects of supply chain competition on firms' product sustainability strategy. Journal of Cleaner Production, 275(124061), 124061. https://doi.org/10.1016/j.jclepro.2020.124061.

Denicolai, S., & Previtali, P. (2020). Precision Medicine: Implications for value chains and business models in life sciences. In Technological forecasting and social change, 151(September 2019), 119767. https://doi.org/10.1016/j.techfore.2019.119767.

DTI. (2017). The Philippines in the Coffee Global Value Chain. Policy Briefs (Series 2017-10). Department of Trade and Industry.

Dy, R. (2009). Food for thought. How agribusiness is feeding the world. Philippines: University of Asia and the Pacific.

FAO. (2006). Agricultural and food marketing management. Rome: FAO.

Ferreira, G. T. C., Marcovitch, J., & de Queiroz, M. J. (2020). Understanding the constraints on success in Brazilian Amazon Production Chains. Global Journal of Flexible Systems Management, 21(Suppl 1), S95–S104.

Govindarajan, V., & Trimble, C. (2011). The CEO's role in business model reinvention. Harvard Business Review, 89(1), 108–114.

Hou, Y., Wang, X., Wu, Y. J., & He, P. (2018). How does the trust affect the topology of supply chain network and its resilience? An agent-based approach. Transportation Research Part E: Logistics and Transportation Review, 116(July), 229–241. https://doi.org/10.1016/j.tre.2018.07.001.

Kaplan, S. (2012). The business model innovation factory: How to stay relevant when the world is changing. Hoboken, NJ: Wiley.

Khanmohammadi, E., Zandieh, M., & Tayebi, T. (2019). Drawing a strategy canvas using the fuzzy best–worst method. Global Journal of Flexible Systems Management, 20(1), 57–75.

Khorasani, S. T. (2018). A robust optimization model for supply chain in agile and flexible mode based on variables of uncertainty. Global Journal of Flexible Systems Management, 19(3), 239–253.

Lu, D., Ding, Y., Asian, S., & Paul, S. K. (2018). From supply chain integration to operational performance: The moderating effect of market uncertainty. Global Journal of Flexible Systems Management, 19(Suppl 1), S3–S20.

Massa, L., Tucci, C., & Afuah, A. (2017). A critical assessment of business model research. Academy of Management Annals, 11(1), 73–104.

Mclndoe-Calder, T. (2012). Models of Agricultural Investment. Dublin 2, Ireland: The Irish Association of on-Governmental Development Organisations.

Miroshnychenko, I., Strobl, A., Matzler, K., & Massis, A. D. (2019). Absorptive capacity, strategic flexibility, and business model innovation: Empirical evidence from Italian SMEs. Journal of Business Research. https://doi.org/10.1016/j.jbusres.2020.02.015.

Mishra, A. (2013). Business model for Indian retail sector: The Cafe Coffee Day case. IIMB Management Review, 25, 160–170.

Morris, M., Schindehutte, M., & Allen, J. (2005). The entrepreneur's business model: Toward a unified perspective. Journal of Business Research, 58(6), 726–735.

Morris, M., Schindehutte, M., Richardson, J., & Allen, J. (2006). Is the business model a useful strategic concept? Conceptual theoretical, and emperical insignts. Journal of Small Business Strategy, 17, 27–50.

Morris, T., & Wood, S. (1991). Testing the survey method: Continuity and change in British industrial relations. Work, Employment & Society, 5(2), 259–282.

Mustafa, R., & Werthner, H. (2011). Business models and business strategy—Phenomenon of explicitness. International Journal of Global Business and Competitiveness, 6, 14–29.

Nauhria, Y., Kulkarni, M. S., & Pandey, S. (2018). Development of strategic value chain framework for Indian car manufacturing industry. Global Journal of Flexible Systems Management, 19(Suppl 1), S21–S40.

Nunes, M. P., & Russo, A. P. (2019). Analysis of business models innovation—A multiple case study. Innovation & Management Review, 16(1), 17–35.

Osterwalder, A. (2004). He business model ontology—A proposition in a design science approach. Institut d'Informatique et Organisation (Dissertation 173). Switzerland: University of Lausanne, Switzerland.

Pateli, A., & Giaglis, G. (2004). A research framework for analysing eBusiness models. European Journal of Information Systems, 13(4), 302–314.

PCARRD. (2011). Exploring the opportunities towards competitiveness: Supply chain improvement of selected commodities in AFNR (Phase 1). Los Banos, Laguna: PCARRD-DOST—(Book Series No. 183/2011).

Philippine Statistics Authority (2020) Agriculture, Forestry and Fisheries [Data File] Retrieved from https://openstat.psa.gov.ph/Database/Agriculture-Forestry-Fisheries

Poláková, J., Koláčková, G., & Tichá, I. (2015). Business model for Czech agribusiness. Cientia Agriculturae Bohemica, 46(3), 128–136.

Porter, M. (2001). Strategy and the Internet. Harvard Business Review, 79(3), 62–78.

Randall, T. R., Morgan, R. M., & Morton, A. R. (2003). Efficient versus responsive supply chain choice: An empirical examination of influential factors. Journal of Product Innovation Management, 20(6), 430–443.

Rappa, M. (2010). Business models on the web. Retrieved from Digital Enterprise: http://digitalenterprise.org/models/models.html. Date 20 accessed Oct 2020.

Ritter, T., & Lettl, C. (2018). The wider implications of business-model research. Long Range Planning, 51(1), 1–8. https://doi.org/10.1016/j.lrp.2017.07.005.

Shalender, K., & Yadav, R. K. (2019). Strategic flexibility, manager personality, and firm performance: The case of Indian Automobile Industry. Global Journal of Flexible Systems Management, 20(1), 77–90.

Shukla, S. K., Sushil, & Sharma, M. K. (2019). Managerial paradox toward flexibility: Emergent views using thematic analysis of literature. Global Journal of Flexible Systems Management, 20(4), 349–370.

Singh, R. K., Modgil, S., & Acharya, P. (2019). Assessment of supply chain flexibility using system dynamics modeling. Global Journal of Flexible Systems Management, 20(Suppl 1), S39–S63.

Sushil, (2015). Strategic flexibility: The evolving paradigm of strategic management. Global Journal of Flexible Systems Management, 16(2), 113–114.

Sushil, (2018). Interpretive multi-criteria valuation of flexibility initiatives on direct value chain. Benchmarking: An International Journal, 25(9), 3720–3742.

Teece, D. J. (2018). Business models and dynamic capabilities. Long Range Planning, 51(1), 40–49.

Teng, P. (2016). The enabling environment for inclusive agribusiness in Southeast Asia. Asian Journal of Agriculture and Development, 13(2), 1–20.

Urban, M. K. (2018). Airline categorisation by applying the business model canvas and clustering. Journal of Air Transport Management, 71, 175–192.

Urbinati, A. R., Sassanelli, C., Chiaroni, D., & Terzi, S. (2020). Circular business models in the European manufacturing industry: A multiple case study analysis. Journal of Cleaner Production, 274, 122964. https://doi.org/10.1016/j.jclepro.2020.122964.

Vermeulen, S., & Cotula, L. (2010). Making the most of agricultural investment: A survey of business models that provide opportunities for smallholders. London/Rome/Bern: IIED/FAO/IFAD/SDC.

Verrue, J. (2014). A critical investigation of the Osterwalder Business Model Canvas: An in-depth case study. In Belgian entrepreneurship research day, at Be-Ghent. https://doi.org/10.13140/2.1.3488.8961.

Vorley, B., Lundy, M., & James, M. (2008, April). Business models for small farmers and SME's. In Global agro-industries.

Wirtz, B. W., Schilke, O., & Ullrich, S. (2010). Strategic development of business models: Implications of the web 2.0 for creating value on the internet. Long Range Planning, 43, 272–290.

Zott, C., Amit, R., & Massa, L. (2010). The business model: Theoretical roots, recent developments and future research. Working paper No. 862. University of Navarra: IESSE Business School. Retrieved from http://www.bmcommunity.sitew.com/fs/Root/8jif5-AmitZottMassa.pdf. Accessed 28 Mar 2020.
Ethics declarations
Conflict of interest
The author declares no conflict of interest.
Informed Consent
Informed consent was obtained from all respondents involved in the study.
Additional information
Publisher's Note
Springer Nature remains neutral with regard to jurisdictional claims in published maps and institutional affiliations.
About this article
Cite this article
Tan, G.N.D. A Business-Model Approach on Strategic Flexibility of Firms in a Shifting Value Chain: The Case of Coffee Processors in Amadeo and Silang, Cavite, Philippines. Glob J Flex Syst Manag 22, 17–28 (2021). https://doi.org/10.1007/s40171-020-00255-5
Received:

Accepted:

Published:

Issue Date:
Keywords
Coffee

Business model

Strategy

Value chain