Abstract
In this paper, we examine the role of gender in community-based management of marine protected areas (MPAs) in the Central Philippines. MPAs are a common conservation and fisheries management tool in this area, but the relationship between gendered fishing practices and participatory MPA management is rarely considered. In this region, women and men's fishing practices are often socially and ecologically distinct. MPAs are found in both intertidal and subtidal areas where women and men tend to fish respectively. Based on over 500 interviews in 12 fishing communities, MPAs were largely perceived to be a management tool for men's fishing. Very few men and women reported a negative effect on their personal fishing or displacement from their fishing area. However, in two communities MPAs that had been in intertidal areas had either been moved or opened specifically to allow for gleaning. Women were less likely than men to report that the MPA had a positive effect on their fishing, but women and men recommended the MPA in equal numbers. Women and men reported attending MPA meetings, but women were less likely to describe active participation in MPA management such as decision making. This research adds to the larger body of work that considers gender and inequality to critically examine issues of power and exclusion in community-based resource management.
This is a preview of subscription content, log in to check access.
Access options
Buy single article
Instant access to the full article PDF.
US$ 39.95
Price includes VAT for USA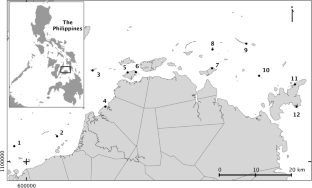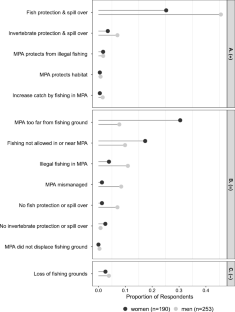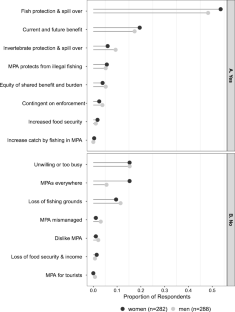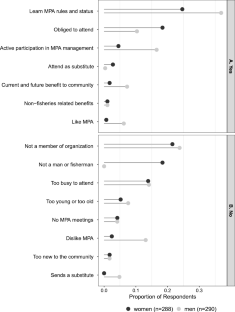 Notes
1.

We interviewed people that had fished (including gleaning) in the past year, but local definitions of fishing, and occupational definitions of fishermen often exclude gleaning and women.
References
Agarwal, B. 2010. Gender and green governance: The political economy of women's presence within and beyond community forestry. Oxford: Oxford University Press.

Agrawal, A., and C.C. Gibson. 1999. Enchantment and disenchantment: The role of Community in Natural Resource Conservation. World Development 27: 629–649.

Alcala, A.C. 1998. Community-based coastal resource management in the Philippines: A case study. Ocean and Coastal Management 38: 179–186.

Andrew, N.L., C. Béné, S.J. Hall, E.H. Allison, S. Heck, and B.D. Ratner. 2007. Diagnosis and management of small-scale fisheries in developing countries. Fish and Fisheries 8: 227–240.

Ashworth, J.S., R.F.G. Ormond, and H.T. Sturrock. 2004. Effects of reef-top gathering and fishing on invertebrate abundance across take and no-take zones. Journal of Experimental Marine Biology and Ecology 303: 221–242.

Aswani, S., and P. Weiant. 2004. Scientific evaluation in women's participatory management: Monitoring marine invertebrate refugia in the Solomon Islands. Human Organization 63: 301–319.

Baker-Médard, M. 2017. Natural resources an international journal gendering marine conservation: The politics of marine protected areas and fisheries access. Society and Natural Resources 30: 723–737.

Bates, D.M. 2010. lme4: Mixed-effects modeling with R. New York: Springer.

Benzoni, F., J.S. Ashworth, A.M. Addamo, F. Stefani, A. Mabrouk, and P. Galli. 2006. Artisanal fisheries and No-Take Zones in Nabq, Egypt: effects on molluscs and reef top benthic assemblages. Proceedings of 10th International Coral Reef Symposium, 1362–1367 Okinawa, Japan. June 28-July 2, 2004.

Braun, V., and V. Clarke. 2008. Using thematic analysis in psychology. Qualitative Research in Psychology 3: 37–41.

Christie, P., N.B. Armada, A.T. White, A.M. Gulayan, and H.H.Y. de Dios. 2006. Coastal environmental and fisheries profile of Danajon Bank, Bohol, Philippines. Cebu City: Fisheries Improved for Sustainable Harvest (FISH) Project.

Clabots, B.M. 2013. Gender dimensions of community-based management of marine protected areas in Siquijor, Philippines. Master of marine and environmnetal affairs thesis, University of Washington.

Cohen, P.J., and S.J. Foale. 2013. Sustaining small-scale fisheries with periodically harvested marine reserves. Marine Policy 37: 278–287.

D'Agnes, H., J. Castro, L. D'Agnes, and R. Montebon. 2005. Gender issues within the population-environment nexus in Philippines coastal areas. Coastal Management 33: 447–458.

Darling, E.S. 2014. Assessing the effect of marine reserves on household food security in Kenyan coral reef fishing communities. PLoS One 9: e113614.

Di Ciommo, R.C., and A. Schiavetti. 2012. Women participation in the management of a marine protected area in Brazil. Ocean and Coastal Management 62: 15–23.

Eder, J.F. 2005. Coastal resource management and social differences in Philippine fishing communities. Human Ecology 33: 147–169.

Fabinyi, M. 2012. Fishing for fairness: Poverty, morality and marine resource regulation in the Philippines, Asia-Pacific Environment Monograph 7. Canberra: ANU E Press.

Fröcklin, S., M. de la Torre-Castro, L. Lindström, and N.S. Jiddawi. 2013. Fish traders as key actors in fisheries: Gender and adaptive management. Ambio 42: 951–962.

Fröcklin, S., M. De La Torre-Castro, E. Håkansson, A. Carlsson, M. Magnusson, and N.S. Jiddawi. 2014. Towards improved management of tropical invertebrate fisheries: Including time series and gender, ed Sebastian C. A. Ferse. PLoS One: 42:e91161. https://doi.org/10.1371/journal.pone.0091161.

Gelman, A., and J. Hill. 2009. Data analysis using regression and multilevel/hierarchical models. Cambridge: Cambridge University Press.

Ghuman, S.J., H.J. Lee, and H.L. Smith. 2006. Measurement of women's autonomy according to women and their husbands: Results from five Asian countries. Social Science Research 35: 1–28.

Guieb, E.R. (2008) Community, marine rights, and sea tenure: A political ecology of marine conservation in two Bohol villages in central Philippines. Dissertation Abstracts International Section A: Humanities and Social Sciences 71, 629.

Halpern, B.S., and R.R. Warner. 2002. Marine reserves have rapid and lasting effects. Ecology Letters 5: 361–366.

Hilborn, R. 2004. When can marine reserves improve fisheries management? Ocean and Coastal Management 47: 197–205.

Hockey, P.A.R., and A.L. Bosman. 1986. Man as an intertidal predator in Transkei: Disturbance, community convergence and Management of a Natural Food Resource. Oikos 46: 3–14.

Israel-Sobritchea, C. 1994. Gender roles and economic change in a fishing community in Central Visayas. In Fishers of the Visayas: Visayas maritime anthropological studies I: 1991–1993, ed. I. Ushijima and C.N. Zayas, 279–303. Quezon City: College of Social Sciences and Philosophy, University of the Philippines.

Jameson, S.C., M.H. Tupper, and J.M. Ridley. 2002. The three screen doors: Can marine "protected" areas be effective? Marine Pollution Bulletin 44: 1177–1183.

Kleiber, D., L.M. Harris, and A.C.J. Vincent. 2014. Improving fisheries estimates by including women's catch in the Central Philippines. Canadian Journal of Fisheries and Aquatic Sciences 71: 1–9.

Kleiber, D., L.M. Harris, and A.C.J. Vincent. 2015. Gender and small-scale fisheries: A case for counting women and beyond. Fish and Fisheries 16: 547–562.

Kleiber, D., K. Frangoudes, H.T. Snyder, A. Choudhury, S.M. Cole, K. Soejima, C. Pita, A. Santos, C. McDougall, H. Petrics, and M. Porter. 2017. Promoting gender equity and equality through the small-scale fisheries guidelines: Experiences from multiple case studies. In The Small- Scale Fisheries Guidelines Global Implementation, ed. N. Jentoft, S. Chuenpagdee, R. Barragán-Paladines, M.J., and Franz, vol. Vol. 14, 737–759. Cham: Springer.

Lowry, K., A.T. White, and C. Courtney. 2005. National and local agency roles in integrated coastal management in the Philippines. Ocean and Coastal Management 48: 314–335.

Martin-Smith, K., M.A. Samoilys, J.J. Meeuwig, and A.C.J. Vincent. 2004. Collaborative development of management options for an artisanal fishery for seahorses in the central Philippines. Ocean and Coastal Management 47: 165–193.

McConney, P., and A.T. Charles. 2010. Managing small-scale fisheries: Moving toward people-centered perspectives. In Handbook of Marine Fisheries Conservation and Management, ed. R.Q. Grafton, R. Hilborn, D. Squires, M. Tait, and M.J. Williams, 532–545. Oxford: Oxford University Press.

Overå, R. 1993. Wives and traders: Women's careers in Ghanaian canoe fisheries. MAST Maritime Anthropological Studies 6: 110–135.

Pajaro, M.G., M.E. Mulrennan, J. Alder, and A.C.J.J. Vincent. 2010. Developing MPA effectiveness indicators: Comparison within and across stakeholder groups and communities. Coastal Management 38: 122–143.

Pomeroy, R.S., L. Garces, M. Pido, and G. Silvestre. 2010. Ecosystem-based fisheries management in small-scale tropical marine fisheries: Emerging models of governance arrangements in the Philippines. Marine Policy 34: 298–308.

R Development Core Team 2013 R: A Language and Environment for Statistical Computing. Vienna: R Foundation for Statistical Computing.

Rajagopalan, R. 2008. Marine protected areas in India. Chennai: International collective in support of fishworkers.

Resurreccion, B.P., and R. Elmhirst. 2008. Gender and natural resource management: Livelihoods, mobility and interventions. VA: Earthscan, London & Sterling.

Revollo-Fernández, D., A. Aguilar-Ibarra, F. Micheli, and A. Sáenz-Arroyo. 2015. Exploring the role of gender in common-pool resource extraction: Evidence from laboratory and field experiments in fisheries. Applied Economics Letters: 1–9.

Russ, G.R., and A.C. Alcala. 1999. Management histories of Sumilon and Apo Marine Reserves, Philippines, and their influence on national marine resource policy. Coral Reefs 18: 307–319.

Schwab, K., E.B. Eide, S. Zahidi, Y. Bekhouche, P. Padilla Ugarte, J. Camus, and P. Massoudi Samandari. 2014. The Global Gender Gap Report 2014, (Vol. http://rep). Geneva: World Economic Forum (WEF).

Selgrath, J.C., D. Kleiber, and K.P. O'Donnell. 2014. Understanding tradeoffs in fishers decision making: Catch, distance, and safety influence where fishers fish. In Enhancing Stewardship in Small-Scale Fisheries: Practices and Perspectives, CERMES Technical Report No. 73, Barbados, ed. P. McConney, R. Medeiros, and M. Pena. Cave Hill Campus: Too Big To Ignore (TBTI) and Centre for Resource Management and Environmental Studies, The University of the West Indies.

Selgrath, J.C., S. Gregel, and A.C.J. Vincent. 2018. Shifting gears: Diversification, intensification, and effort increases in small-scale fisheries (1950-2010). PLoS One 13: e0190232.

Siar, S.V. 2003. Knowledge, gender, and resources in small-scale fishing: The case of Honda Bay, Palawan, Philippines. Environmental Management 31: 569–580.

Smith, S.L. 2012. Toward inclusive co-management: Factors influencing stakeholder participation. Coastal Management 40: 327–337.

Sultana, P., and S. Abeyasekera. 2008. Effectiveness of participatory planning for community management of fisheries in Bangladesh. Journal of Environmental Management 86: 201–213.

Tekanene, M. 2006. The women fish traders of Tarawa, Kiribati. In Global Symposium on Gender and Fisheries: Seventh Asian Fisheries Forum, 1–2 December 2004, Penang, Malaysia, ed. P.-S. Choo, S.J. Hall, and M.J. Williams, 115–120. Penang: WorldFish Center.

Thorburn, C. 2000. Changing customary marine resource management practice and institutions: The case of Sasi Lola in the Kei Islands, Indonesia. World Development 28: 1461–1479.

Tindall, C., and K. Holvoet. 2008. From the Lake to the plate: Assessing gender vulnerabilities throughout the fisheries chain. Development 51: 205–211.

Turgo, N.N. 2014. Redefining and experiencing masculinity in a Philippine fishing community. Philippine Sociological Review 62: 7–38.

Walker, B.L.E., and M.A. Robinson. 2009. Economic development, marine protected areas and gendered access to fishing resources in a Polynesian lagoon. Gender, Place and Culture 16: 467–484.

Weeks, R., G.R. Russ, A.C. Alcala, and A.T. White. 2010. Effectiveness of marine protected areas in the Philippines for biodiversity conservation. Conservation Biology 24: 531–540.

Wood, L.J., L. Fish, J. Laughren, and D. Pauly. 2008. Assessing progress towards global marine protection targets: Shortfalls in information and action. Oryx 42: 340–351.

Yasué, M., L. Kaufman, and A.C.J. Vincent. 2010. Assessing ecological changes in and around marine reserves using community perceptions and biological surveys. Aquatic Conservation: Marine and Freshwater Ecosystems 20: 407–418.

Yater, L.R. 1982. The fisherman's family: Economic roles of women and children. In Small scale fisheries of San Miguel Bay, Philippines: Social aspects of production and marketing, ICLARM Tech. Rep. No. 9, ed. C. Bailey, 42–50. Manila: International Center for Living Aquatic Resources Management.

Zuur, A.F., E.N. Ieno, N. Walker, A.A. Saveliev, and G.M. Smith. 2009. Mixed effects models and extensions in ecology with R. New York: Springer New York.
Funding
D.K. received funding for this project from the World Wildlife Fund, The University of British Columbia Liu Institute, and the International Federation of University Women. This project also benefited from support by Guylian Chocolates Belgium and an anonymous donor through their partnerships for marine conservation with Project Seahorse.
Ethics declarations
Conflicts of interest
On behalf of all authors, the corresponding author states that there is no conflict of interest.
Additional information
This paper belongs to Topical Collection (En)Gendering Change in Small-scale Fisheries and Fishing Communities in a Globalized World
About this article
Cite this article
Kleiber, D., Harris, L. & Vincent, A.C.J. Gender and marine protected areas: a case study of Danajon Bank, Philippines. Maritime Studies 17, 163–175 (2018). https://doi.org/10.1007/s40152-018-0107-7
Received:

Accepted:

Published:

Issue Date:
Keywords
Gender

Philippines

Marine protected areas

Small-scale fisheries

Community-based management