Abstract
Over the past several decades, global economic relations within the fisheries sector have intensified creating a "global fish-food economy". Until recently, relatively little attention has been paid to the gendered spatial relations underlying this system and the differential way globalization shapes men and women fish workers' livelihood options. This paper integrates insights from feminist commodity chain analysis and livelihood analysis to analyze household-level economic data and gendered patterns of labor among three fisherfolk communities in Trivandrum District, Kerala, India. The objective is to investigate the diverse impacts of globalization within fisheries on women and men in local fishing communities. Different gender divisions of labor across the three communities studied inform very different livelihood strategies in response to economic transformations. Thus, globalization in the fisheries plays out differently for men and women in different fishing communities as a result of different configurations of gender, work, culture, identity, and economy and the different ways households and communities are connected to fish economies at different scales. Identifying these differences offers a means by which we might broaden our theoretical understanding of the gendered nature of globalization in resource-based economies.
Access options
Buy single article
Instant access to the full article PDF.
USD 39.95
Price includes VAT (USA)
Tax calculation will be finalised during checkout.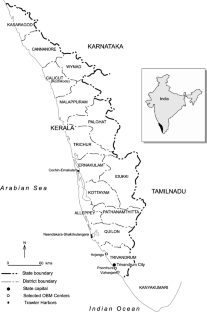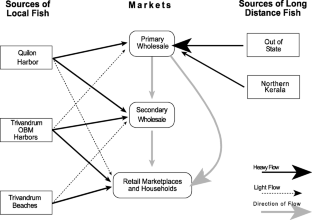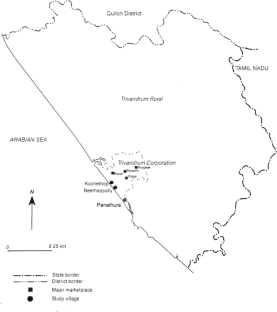 Notes
1.

In other parts of Kerala where there are modern harbors landing prawn for export, women are employed in seafood processing (peeling for freezing). They work in factory settings typically supervised by men and may or may not be from fisherfolk communities (see Aleyamma 1995).

2.

Historically, Panathura was inhabited by both Muslims and Hindus; however, over the past two to three decades, most of the Muslim households have moved inland. By the time we first surveyed the village in 2005, there were only about 5 Muslim families (households) living in the village. Informants report that only Hindu men in the village engaged in fish harvesting. Muslim men in the village worked as fish vendors.

3.

Trivandrum was the capital of the erstwhile State of Travancore, which existed from 1729 until 1949. After Independence, its territory was rearranged and merged with other Malayalam speaking districts, and the territory was renamed Kerala in 1956.

4.

The exception is wives of shopkeepers. Male shopkeepers also manage household expenses, but in nearly every other household we surveyed, women reported managing funds, and men reported turning over their incomes to either their wives or mothers.

5.

Coir is also produced in factories, and there is a factory nearby to Panathura that employs women from a different caste community (Ezhava). However, in Panathura, it is a home-based industry.

6.

In Panathura, beach seines and the large canoes that are used to launch them are owned in a share system in which 30–35 people (men and women) own shares. This system has evolved as a way to ensure labor, which has become in short supply with Gulf migration and young men seeking alternative employment to fishing.

7.

In 1999, we interviewed one woman who worked in fish drying. She mentioned there were a couple of others who dry fish. No one reported this activity in our 2005 household survey.
References
Agnew, John A. 1987. Place and politics: the geographical mediation of state and society. London: Unwin Hyman.

Aleyamma, V. 1995. Document I: The seafood processing industry and the conditions of migrant women processing workers. In Women in Fisheries Series, No. 1: Public hearing on the struggles of women workers in the fish processing industry in India, June 23–24, ed. Samudra Dossier. Chennai: International Collective in Support of Fishworkers.

Allison, Edward H., and Frank Ellis. 2001. The livelihoods approach and management of small-scale fisheries. Marine Policy 25: 377–388.

Bair, Jennifer (ed.) 2009. Frontiers of commodity chain research. Palo Alto, CA: Standford University Press.

Barndt, Deborah. 2002. Tangled routes: women, work, and globalization on the tomato trail. Rowman and Littlefield.

Challies, E.R.T., and W.E. Murray. 2011. The interaction of global value chains and rural livelihoods: the case of smallholder raspberry growers in Chile. Journal of Agrarian Change 11 (2): 29–59.

Corbridge, Stuart. 1986. Capitalist world development: a critique of radical development geography. Totowa: Rowman & Littlefield.

Dunaway, Wilma A. 2001. The double register of history: situating the forgotten women and her household in capitalist commodity chains. Journal of World-Systems Research 7 (1): 2–29.

Dunaway, Wilma A. (ed) 2014. Gendered commodity chains: seeing women's work and households in global production. Palo Alto, CA: Stanford University Press.

Ellis, Frank. 2000. Rural livelihoods and diversity in developing countries. Oxford: Oxford University Press.

Friedland, William H. 2004. Agrifood globalization and commodity systems. International Journal of Sociology of Agriculture and Food 12: 5–16.

Hapke, Holly M. 2001a. Petty traders, gender and economic transformation in an Indian fishery. Econ Geogr 77 (3): 225–249.

Hapke, Holly M. 2001b. Gender, work and household survival in a South Indian fishery. Professional Geographer 53 (3): 313–331.

Hapke, Holly M. and Devan Ayyankeril. 2018. Gulf migration and changing patterns of gender identities in a South Indian Muslim community. In Gender, work, and migration: agency in gendered labour settings, eds. Megha Amrith and Nina Sahraoui. London and New York: Routledge.

Jarosz, Lucy. 1996. Working in the global food system: a focus for international comparative analysis. Progress in Human Geography 20 (1): 41–55.

Kurien, John. 1984. The marketing of marine fish inside Kerala State: a preliminary study. Trivandrum: Centre for Development Studies.

Kurien, John. 1994. Kerala's marine fisheries development experience. In Kerala's economy: performance, problems, prospects, ed. B.A. Prakash, 195–214. New Delhi: Sage Publications.

Marcus, George E., and Michael M.J. Fischer. 1986. Anthropology as cultural critique. Chicago: University of Chicago Press.

Marine Fisheries Census. 2005. Marine Fisheries Census, Part III – Kerala. New Delhi: Government of India, Ministry of Agriculture and Cochin: Central Marine Fisheries Research Institute.

Massey, Doreen. 1984. Spatial divisions of labour: social structures and the geography of production. Macmillan.

Murray, Colin. 2001. Livelihoods research: some conceptual and methodological issues. CPRC Background Paper No. 5. Manchester: Chronic Poverty Research Centre.

O'Laughlin, Bridget. 1996. Through a divided glass: dualism, class and the agrarian question in Mozambique. J Peasant Stud 23 (4): 1–39.

Programme for Community Organization (PCO) and South Indian Federation of Fishermen Societies (SIFFS). 1991. Motorisation of fishing units: benefits and burdens: summary report. Trivandrum.

Ram, Kalpana. 1991. Mukkuvar women: gender, hegemony and capitalist transformation in a South Indian fishing community. New Delhi: Zed Books, Limited.

Ramamurthy, Priti. 2000. The cotton commodity chain, women, work and agency in India and Japan: the case for feminist agro-food systems research. World Dev 28 (3): 351–379.

Salagrama, V. 2006. Livelihoods in fisheries: what can we do? Discussion paper for FAO-UNTRS. Accessed on-line at: http://www.onefish.org/servlet/CDSServlet?status=ND0yNDM3MzMmY3RuX2luZm9fdmlld19zaXplPWN0bl9pbmZvX3ZpZXdfZnVsbCY2PWVuJjMzPSomMzc9a29z. November 2008.

Scoones, Ian. 2009. Livelihoods perspectives and rural development. J Peasant Stud 36 (1): 171–196.

Sturgeon, Timothy J. 2009. From commodity chains to value chains: interdisciplinary theory building in an age of globalization. In Frontiers of commodity chain research, ed. Jennifer Bair, 110–135. Palo Alto, CA: Stanford University Press.
Acknowledgements
Support for this research was provided by the U.S. National Science Foundation, a Fulbright-Hays Faculty Research Abroad fellowship, the Association of American Geographers Anne U. White Fund, Syracuse University, and East Carolina University. All findings, conclusions, and/or recommendations are those of the authors alone and do not reflect the view of the National Science Foundation or U.S. Department of Education. We would like to thank the editors and reviewers for their comments and suggestions.
Ethics declarations
Conflict of interest
The authors declare that they have no conflict of interest.
Additional information
This paper belongs to Topical Collection (En)Gendering Change in Small-scale Fisheries and Fishing Communities in a Globalized World
About this article
Cite this article
Hapke, H.M., Ayyankeril, D. Gendered livelihoods in the global fish-food economy: a comparative study of three fisherfolk communities in Kerala, India. Maritime Studies 17, 133–143 (2018). https://doi.org/10.1007/s40152-018-0105-9
Received:

Accepted:

Published:

Issue Date:
Keywords
Gender

Globalization

Commodity chains

Livelihoods

Fish markets

India