Abstract
Purpose of Review
Despite its widespread use, oral baclofen requires a critical review of the pharmacology to determine potential precision medicine applications to improve medication administration. Discussing the dose→exposure→response relationship of oral baclofen allows a conceptual framework in which designing clinical trials would become more successful. This paper seeks to examine some of the areas where variability in exposures can exist and lead to undesired clinical responses.
Recent Findings
Several factors are at play to implement precision medicine with oral baclofen in the pediatric patient with cerebral palsy. Variations in intestinal absorption, oral baclofen clearance, pharmacogenomic variants, and distribution of this medication into the cerebrospinal fluid cause differences in the amount of baclofen available at the GABA-B receptor site, causing a clinical response.
Summary
Oral baclofen has significant variability in disposition and clinical response. Research to determine the causes for this variability and controlling for these factors would allow improvement in clinical outcomes.
This is a preview of subscription content, log in to check access.
Access options
Buy single article
Instant access to the full article PDF.
US$ 39.95
Price includes VAT for USA
Subscribe to journal
Immediate online access to all issues from 2019. Subscription will auto renew annually.
US$ 99
This is the net price. Taxes to be calculated in checkout.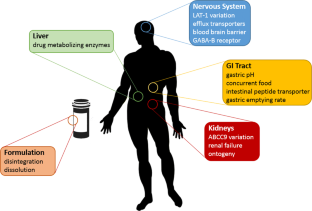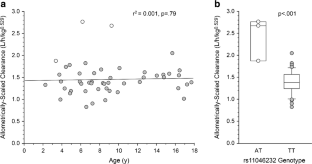 References
Papers of particular interest, published recently, have been highlighted as: • Of importance •• Of major importance
1.

Vadivelu S, Stratton A, Pierce W. Pediatric tone management. Phys Med Rehabil Clin N Am. 2015;26(1):69–78.

2.

Gianino JM, York MM, Paice JA, Shott S. Quality of life: effect of reduced spasticity from intrathecal baclofen. J Neurosci Nurs. 1998;30(1):47–54.

3.

Froestl W. Chemistry and pharmacology of GABA B receptor ligands. Adv Pharmacol. 2010;58:1054–3589.

4.

• Wuis EW, Dirks MJ, Termond EF, Vree TB, Van der Kleijn E. Plasma and urinary excretion kinetics of oral baclofen in healthy subjects. Eur J Clin Pharmacol. 1989;37(2):181–4 This study evaluated the pharmacokinetics of high-dose oral baclofen in healthy adult individuals. This small study showed the role of renal clearance without any apparent renal tubular reabsorption.

5.

Shellenberger MK, Groves L, Shah J, Novack GD. A controlled pharmacokinetic evaluation of tizanidine and baclofen at steady state. Drug Metab Dispos. 1999;27(2):201–4.

6.

Deon LL, Gaebler-Spira D. Assessment and treatment of movement disorders in children with cerebral palsy. Orthop Clin North Am. 2010;41(4):507–17.

7.

Baclofen [package insert]. Piramal Enterprises Limited, McKesson Packaging Services, Concord, NC; April 2014.

8.

•• He Y, Brunstrom-Hernandez JE, Thio LL, Lackey S, Gaebler-Spira D, Kuroda MM, et al. Population pharmacokinetics of oral baclofen in pediatric patients with cerebral palsy. The Journal of pediatrics. 2014;164(5):1181–8.e8 This article is an open-labeled ascending dose titration study of more than 50 pediatric patients who were receiving oral baclofen. This study established the population pharmacokinetics in cerebral palsy.

9.

• Milla PJ, Jackson AD. A controlled trial of baclofen in children with cerebral palsy. The Journal of international medical research. 1977;5(6):398–404 This double-blind crossover study was one of the initial studies to examine baclofen in a specific population of pediatric patients. Primary outcomes of this study demonstrated improvements in spasticity and decreased "scissoring" with minimal side effects that decreased with dose reduction.

10.

•• McLaughlin MJ, He Y, Brunstrom-Hernandez J, Thio LL, Carleton BC, Ross CJD, et al. Pharmacogenomic variability of oral baclofen clearance and clinical response in children with cerebral palsy. PM & R. 2017;10:235–43 This study was an add-on pharmacogenomic study to the He et al. study. By incorporating pharmacogenomic factors in evaluating drug disposition and response, improvements in dosing with better clinical outcomes are possible.

11.

Quality Standards Subcommittee of the American Academy of N, the Practice Committee of the Child Neurology S, Delgado MR, Hirtz D, Aisen M, Ashwal S, et al. Practice parameter: pharmacologic treatment of spasticity in children and adolescents with cerebral palsy (an evidence-based review): report of the Quality Standards Subcommittee of the American Academy of Neurology and the Practice Committee of the Child Neurology Society. Neurology. 2010;74(4):336–43.

12.

Scheinberg A, Hall K, Lam LT, O'Flaherty S. Oral baclofen in children with cerebral palsy: a double-blind cross-over pilot study. J Paediatr Child Health. 2006;42(11):715–20.

13.

Cercos-Fortea T, Polache A, Nacher A, Cejudo-Ferragud E, Casabo VG, Merino M. Influence of leucine on intestinal baclofen absorption as a model compound of neutral alpha-aminoacids. Biopharm Drug Dispos. 1995;16(7):563–77.

14.

Peterson GM, McLean S, Millingen KS. Food does not affect the bioavailability of baclofen. Med J Aust. 1985;142(13):689–90.

15.

He Y, Brunstrom-Hernandez JE, Thio LL, Lackey S, Gaebler-Spira D, Kuroda MM, et al. Population pharmacokinetics of oral baclofen in pediatric patients with cerebral palsy. J Pediatr. 2014;164(5):1181–8 e8.

16.

Del Giudice E, Staiano A, Capano G, Romano A, Florimonte L, Miele E, et al. Gastrointestinal manifestations in children with cerebral palsy. Brain Dev. 1999;21(5):307–11.

17.

Deguchi Y, Inabe K, Tomiyasu K, Nozawa K, Yamada S, Kimura R. Study on brain interstitial fluid distribution and blood-brain barrier transport of baclofen in rats by microdialysis. Pharm Res. 1995;12(12):1838–44.

18.

van Bree JB, Audus KL, Borchardt RT. Carrier-mediated transport of baclofen across monolayers of bovine brain endothelial cells in primary culture. Pharm Res. 1988;5(6):369–71.

19.

Faigle JW, Keberle H. The chemistry and kinetics of Lioresal. Postgrad Med J. 1972;48(Suppl 5):9–13.
Ethics declarations
Conflict of Interest
Matthew McLaughlin reports grants from NICHD T32 HD069038 during the conduct of the study. Susan Abdel-Rahman and J. Steven Leeder declare no conflicts of interest relevant to this manuscript.
Human and Animal Rights and Informed Consent
This article does not contain any studies with human or animal subjects performed by any of the authors.
Additional information
Publisher's Note
Springer Nature remains neutral with regard to jurisdictional claims in published maps and institutional affiliations.
This article is part of the Topical Collection on Pediatric Rehabilitation Medicine
About this article
Cite this article
McLaughlin, M.J., Abdel-Rahman, S. & Leeder, J.S. Examining the Role of Precision Medicine with Oral Baclofen in Pediatric Patients with Cerebral Palsy. Curr Phys Med Rehabil Rep 7, 40–45 (2019). https://doi.org/10.1007/s40141-019-0212-6
Keywords
Cerebral palsy

Baclofen

Precision medicine

Rehabilitation

Pharmacogenetics

Pediatrics