Abstract
Purpose of Review
To assess findings of selected articles investigating the effects of wheelchair configuration, back selection, and cushion selection for the active manual wheelchair user with spinal cord injury.
Recent Findings
Manual wheelchair configuration, cushion selection, and backrest setup have far reaching impacts on the user's health and functional ability. Pressure ulcers, orthopedic deformities, and upper extremity pain may by avoided with a thoughtfully prescribed manual wheelchair and custom configuration.
Summary
A properly configured wheelchair may prevent the development of secondary consequences of spinal cord injury, reduce overall medical costs, improve quality of life, and increase participation for manual wheelchair users living with spinal cord injury.
Access options
Buy single article
Instant access to the full article PDF.
USD 39.95
Price excludes VAT (USA)
Tax calculation will be finalised during checkout.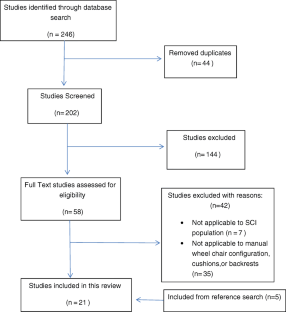 References
Papers of particular interest, published recently, have been highlighted as: • Of importance •• Of major Importance
National Spinal Cord Injury Statistical Center. Facts and figures at a glance. Birmingham: University of Alabama at Birmingham; 2018.

De Groot S, Post M, Bongers-Janssen H, Bloemen-Vrencken J, van der Woude L. Is manual wheelchair satisfaction related to active lifestyle and participation in people with a spinal cord injury? Spinal Cord. 2010;49(4):560–5.

• Yang Y, Koontz A, Yeh S, Chang J. Effect of backrest height on wheelchair propulsion biomechanics for level and uphill conditions. Arch Phys Med Rehabil. 2012;93(4):654–9. Backrest height impacts manual wheelchair propulsion biomechanics. A properly selected backrest height will not only provide adequate postural support, but can also decrease risk of upper extremity pathology secondary to overuse.

Hastings J, Fanucchi E, Burns S. Wheelchair configuration and postural alignment in persons with spinal cord injury. Arch Phys Med Rehabil. 2003;84(4):528–34.

Park U, Jang S. The influence of backrest inclination on buttock pressure. Ann Rehabil Med. 2011;35(6):897–906.

Maurer CL, Sprigle S. Effect of seat inclination on seated pressures of individuals with spinal cord injury. Phys Ther. 2004;84(3):255–61.

•• Medola FO, Elui VM, Santana Cda S, Fortulan CA. Aspects of manual wheelchair configuration affecting mobility: a review. J Phys Ther Sci. 2014;26(2):313–8. Manual wheelchair configuration and design impacts the user's every day mobility. This article investigates many aspects of manual wheelchair configuration and how that translates into the user's independence with mobility and functional skills.

Hasara Krey C, Calhoun C. Utilizing research in wheelchair and seating selection and configuration for children with injury/ dysfunction of the spinal cord. Spinal Cord. 2004;27(sup1):S29–37.

Veeger D, van der Woude L, Rozendal R. The effect of rear wheel camber in manual wheelchair propulsion. J Rehabil Res Dev. 1989;26(2):37–46.

Vander Wiel J, Harris B, Jackson C, Reece N. Exploring the relationship of rolling resistance and misalignment angle in wheelchair rear wheels. RESNA/NCART 2016 conference. 2016.

Levy A, Kopplin K, Gefen A. An air-cell-based cushion for pressure ulcer protection remarkably reduces tissue stresses in the seated buttocks with respect to foams: finite element studies. J Tissue Viability. 2014;23(1):13–23.

Hsu TW, Yang SY, Liu JT, Pan CT, Yang YS. The effect of cushion properties on skin temperature and humidity at the body-support interface. Assist Technol. 2016:1–8.

Aissaoui R, Boucher C, Bourbonnais D, Lacoste M, Dansereau J. Effect of seat cushion on dynamic stability in sitting during a reaching task in wheelchair users with paraplegia. Arch Phys Med Rehabil. 2001 Feb;82(2):274–81.

Wu G, Bogie K. Effects of conventional and alternating cushion weight-shifting in persons with spinal cord injury. J Rehabil Res Dev. 2014;51(8):1265–76.

•• Crane B, Wininger M, Call E. Orthotic-style off-loading wheelchair seat cushion reduces Interface pressure under ischial tuberosities and sacrococcygeal regions. Arch Phys Med Rehabil. 2016 Nov;97(11):1872–9. This study indicates that the peak pressure under the ischial tuberosities and the percent of total pressure distributed under the ischial tuberosities and sacrum was significantly lower with an off-loading style foam cushion versus an air-cell based cushion.

•• Call E, Hetzel T, McLean C, Burton JN, Oberg C. Off loading wheelchair cushion provides best case reduction in tissue deformation as indicated by MRI. J Tissue Viability. 2017 Aug;26(3):172–9. This study indicates that there is increased tissue deformation under the ischial tuberosities while seated on an air-cell based cushion, as compared to an off-loading style foam cushion. This suggests higher tissue strain while seated on the air-cell based cushion.

• Brienza D, Vallely J, Karg P, Akins J, Gefen A. An MRI investigation of the effects of user anatomy and wheelchair cushion type on tissue deformation. J Tissue Viability. 2018 Feb;27(1):42–53. Wheelchair cushion type and individual user anatomy impact tissue deformation as measured using MRI technology. This article highlights the importance of individualized cushion selection.

Crytzer T, Hong E, Dicianno B, Pearlman J, Schmeler M, Cooper R. Identifying characteristic back shapes from anatomical scans of wheelchair users to improve seating design. Med Eng Phys. 2016;38(9):999–1007.

Hong E, Dicianno B, Pearlman J, Cooper R, Cooper R. Comfort and stability of wheelchair backrests according to the TAWC (tool for assessing wheelchair discomfort). Disabil Rehabil. 2014;11(3):223–7.

May L, Butt C, Kolbinson K, Minor L, Tulloch K. Wheelchair back-support options: functional outcomes for persons with recent spinal cord injury. Arch Phys Med Rehabil. 2004;85(7):1146–50.

Boninger ML, Saur T, Trefler E, Hobson DA, Burdett R, Cooper RA. Postural changes with aging in tetraplegia: effects on life satisfaction and pain. Arch Phys Med Rehabil. 1998;79(12):1577–81.

• Yoo I. The effects of backrest thickness on the shoulder muscle load during wheelchair propulsion. J Phys Ther Sci. 2015;27(6):1767–9. Use of a lumbar pad of appropriate thickness may result in more effective coordination of shoulder muscles, which may play a role in reducing upper extremity overuse injury.

Janssen-Potten YJ, Seelen HA, Drukker J, Huson T, Drost MR. The effect of seat tilting on pelvic position, balance control, and compensatory postural muscle use in paraplegic subjects. Arch Phys Med Rehabil. 2001;82(10):1393–402.

Black JM, Edsberg LE, Baharestani MM, Langemo D, Goldberg M, McNichol L, et al. National Pressure Ulcer Advisory Panel. Pressure ulcers: avoidable or unavoidable? Results of the national pressure ulcer advisory panel consensus conference. Ostomy Wound Manage. 2011;57(2):24–37.

Ukita A, Nishimura S, Kishigami H, Hatta T. Backrest shape affects head-neck alignment and seated pressure. J Healthc Eng. 2015;6(2):179–92.

Preservation of upper limb function following spinal cord injury: a clinical practice guideline for health-care professionals. J Spinal Cord Med 2005;28(5):434–470.

Rehabilitation Engineering & Assistive Technology Society of North America. RESNA position on the application of ultralight manual wheelchairs. Arlington; 2012.
Ethics declarations
Conflict of Interest
The authors declare that they have no competing interests.
Human and Animal Rights and Informed Consent
This article does not contain any studies with human or animal subjects performed by any of the authors.
Additional information
This article is part of the Topical Collection on Spinal Cord Injury Rehabilitation
About this article
Cite this article
Budai, M., Farrell, E. & Michael, E. Manual Wheelchair Configuration and Seating Considerations in the Spinal Cord Injury Population. Curr Phys Med Rehabil Rep 6, 204–211 (2018). https://doi.org/10.1007/s40141-018-0195-8
Published:

Issue Date:

DOI: https://doi.org/10.1007/s40141-018-0195-8
Keywords
Wheelchair configuration

Spinal cord injury

Manual wheelchair

Seating and positioning

Wheelchair set-up