Abstract
Recent Findings
Each year 40,000 people are diagnosed with primary brain tumors. Malignant gliomas account for more than 50% of them and are universally fatal despite aggressive surgery and combined chemoradiotherapy. Identification of novel therapeutic targets has been challenging. New areas of interest are now focusing on exploiting special metabolic adaptations these tumors have developed in response to the stress caused by their rapid growth rate, exceeding their vascular supply.
Purpose of Review
This article is an attempt to review a controversial strategy of modulating tumor biology by understanding their metabolic characteristics, how they differ from normal healthy cells, and implementing therapies that include nutritional interventions.
Summary
Although fasting as part of the management of brain malignancies is controversial and may be contrary to popular opinion, developing supportive evidence in targeting their special metabolic profile is promising and fascinating.
Access options
Buy single article
Instant access to the full article PDF.
US$ 39.95
Tax calculation will be finalised during checkout.
Subscribe to journal
Immediate online access to all issues from 2019. Subscription will auto renew annually.
US$ 79
Tax calculation will be finalised during checkout.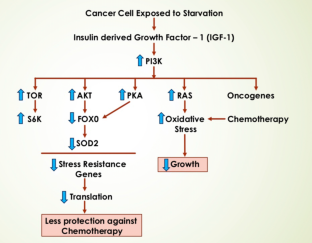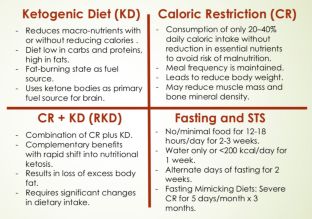 References
Recently published papers of particular interest have been highlighted as: • Of importance •• Of major importance
1.

Olar A, Aldape KD. Using the molecular classification of glioblastoma to inform personalized treatment. J Pathol. 2014;232(2):165–77. https://doi.org/10.1002/path.4282.

2.

Muggeri A, Vago M, Pérez S, Rubio M, González C, Magariños C, et al. A randomized, open-label, two-way crossover, single-dose bioequivalence study of temozolomide 200 mg/m(2) (Dralitem(®) vs Temodal(®) capsules) in patients with primary tumors of the central Nervous system under fasting conditions. Drugs R&D. 2017;17(3):427–34. https://doi.org/10.1007/s40268-017-0199-3.

3.

Ballesta A, Zhou Q, Zhang X, Lv H, Gallo JM. Multiscale design of cell-type-specific pharmacokinetic/pharmacodynamic models for personalized medicine: application to temozolomide in brain tumors. CPT. 2014;3:e112. https://doi.org/10.1038/psp.2014.9.

4.

Stupp R, Hegi ME, Mason WP, van den Bent MJ, Taphoorn MJ, Janzer RC, et al. Effects of radiotherapy with concomitant and adjuvant temozolomide versus radiotherapy alone on survival in glioblastoma in a randomised phase III study: 5-year analysis of the EORTC-NCIC trial. Lancet Oncol. 2009;10(5):459–66. https://doi.org/10.1016/s1470-2045(09)70025-7.

5.

• Laviano A, Rossi Fanelli F. Toxicity in chemotherapy–when less is more. N Engl J Med. 2012;366(24):2319–20. https://doi.org/10.1056/nejmcibr1202395. This comment explains how chemotherapy-induced oxidative stress shrinks the tumor volume and also negatively impacts normal cells; however, if you induce short-term fasting before or after chemotherapy, the fasting state results in a protective differential stress resistance in normal cells that is not seen in cancer cells.

6.

Raffaghello L, Lee C, Safdie FM, Wei M, Madia F, Bianchi G, et al. Starvation-dependent differential stress resistance protects normal but not cancer cells against high-dose chemotherapy. Proc Natl Acad Sci USA. 2008;105(24):8215–20. https://doi.org/10.1073/pnas.0708100105.

7.

Safdie F, Brandhorst S, Wei M, Wang W, Lee C, Hwang S, et al. Fasting enhances the response of glioma to chemo- and radiotherapy. PLoS ONE. 2012;7(9):e44603. https://doi.org/10.1371/journal.pone.0044603.

8.

Lee C, Safdie FM, Raffaghello L, Wei M, Madia F, Parrella E, et al. Reduced levels of IGF-I mediate differential protection of normal and cancer cells in response to fasting and improve chemotherapeutic index. Can Res. 2010;70(4):1564–72. https://doi.org/10.1158/0008-5472.can-09-3228.

9.

Vander Heiden MG, Cantley LC, Thompson CB. Understanding the Warburg effect: the metabolic requirements of cell proliferation. Science (New York, NY). 2009;324(5930):1029–33. https://doi.org/10.1126/science.1160809.

10.

•• Strickland M, Stoll EA. Metabolic reprogramming in glioma. Front Cell Dev Biol. 2017;5:43. https://doi.org/10.3389/fcell.2017.00043. This article is a complete review of glioma tumor cells' metabolism, from their shift into aerobic glycolysis to provide energy, regardless of the availability of oxygen, to other various genetic and mitochondrial defects.

11.

Woolf EC, Scheck AC. The ketogenic diet for the treatment of malignant glioma. J Lipid Res. 2015;56(1):5–10. https://doi.org/10.1194/jlr.R046797.

12.

Woolf EC, Curley KL, Liu Q, Turner GH, Charlton JA, Preul MC, et al. The ketogenic diet alters the hypoxic response and affects expression of proteins associated with angiogenesis, invasive potential and vascular permeability in a mouse glioma model. PLoS ONE. 2015;10(6):e0130357. https://doi.org/10.1371/journal.pone.0130357.

13.

Woolf EC, Syed N, Scheck AC. Tumor metabolism, the ketogenic diet and β-hydroxybutyrate: novel approaches to adjuvant brain tumor therapy. Front Mol Neurosci. 2016;9:122. https://doi.org/10.3389/fnmol.2016.00122.

14.

Rous P. The influence of diet on transplanted and spontaneous mouse tumors. J Exp Med. 1914;20(5):433–51.

15.

Paoli A, Rubini A, Volek JS, Grimaldi KA. Beyond weight loss: a review of the therapeutic uses of very-low-carbohydrate (ketogenic) diets. Eur J Clin Nutr. 2013;67(8):789–96. https://doi.org/10.1038/ejcn.2013.116.

16.

Branco A, Ferreira A, Simões R, Novais S, Zehowski C, Cope E, et al. Ketogenic diets: from cancer to mitochondrial diseases and beyond. Eur J Clin Investig. 2016;46(3):285–98.

17.

Lee C, Raffaghello L, Brandhorst S, Safdie FM, Bianchi G, Martin-Montalvo A, et al. Fasting cycles retard growth of tumors and sensitize a range of cancer cell types to chemotherapy. Sci Transl Med. 2013;4(124):124ra27. https://doi.org/10.1126/scitranslmed.3003293.

18.

Eslami S, Barzgari Z, Saliani N, Saeedi N, Barzegari A. Annual fasting; the early calories restriction for cancer prevention. BioImpacts. 2012;2(4):213–5. https://doi.org/10.5681/bi.2012.028.

19.

Nogueira LM, Lavigne JA, Chandramouli GV, Lui H, Barrett JC, Hursting SD. Dose-dependent effects of calorie restriction on gene expression, metabolism, and tumor progression are partially mediated by insulin-like growth factor-1. Cancer Med. 2012;1(2):275–88. https://doi.org/10.1002/cam4.23.

20.

Fontana L, Partridge L. Promoting health and longevity through diet: from model organisms to humans. Cell. 2015;161(1):106–18. https://doi.org/10.1016/j.cell.2015.02.020.

21.

Longo V. The longevity diet: discover the new science behind stem cell activation and regeneration to slow aging, fight disease and optimize weight. Penguin. 2018.

22.

• Longo VD, Mattson MP. Fasting: molecular mechanisms and clinical applications. Cell Metab. 2014;19(2):181–92. https://doi.org/10.1016/j.cmet.2013.12.008. This manuscript reviews multiple experiments in animals, and reports on humans, to describe the effects of fasting on different metabolic health parameters and aging.

23.

de Groot S, Vreeswijk MPG, Welters MJP, Gravesteijn G, Boei JJWA, Jochems A, et al. The effects of short-term fasting on tolerance to (neo) adjuvant chemotherapy in HER2-negative breast cancer patients: a randomized pilot study. BMC Cancer. 2015;15:652. https://doi.org/10.1186/s12885-015-1663-5.

24.

Dorff TB, Groshen S, Garcia A, Shah M, Tsao-Wei D, Pham H, et al. Safety and feasibility of fasting in combination with platinum-based chemotherapy. BMC Cancer. 2016;16(1):360. https://doi.org/10.1186/s12885-016-2370-6.

25.

Mathews EH, Liebenberg L. Short-term starvation for cancer control in humans. Exp Gerontol. 2013;48(11):1293. https://doi.org/10.1016/j.exger.2013.08.008.

26.

Marsh J, Mukherjee P, Seyfried TN. Drug/diet synergy for managing malignant astrocytoma in mice: 2-deoxy-d-glucose and the restricted ketogenic diet. Nutr Metab. 2008;5:33. https://doi.org/10.1186/1743-7075-5-33.

27.

Poff AM, Ari C, Seyfried TN, D'Agostino DP. The ketogenic diet and hyperbaric oxygen therapy prolong survival in mice with systemic metastatic cancer. PLoS ONE. 2013;8(6):e65522. https://doi.org/10.1371/journal.pone.0065522.

28.

Nebeling LC, Miraldi F, Shurin SB, Lerner E. Effects of a ketogenic diet on tumor metabolism and nutritional status in pediatric oncology patients: two case reports. J Am Coll Nutr. 1995;14(2):202–8.

29.

Schwartz K, Chang HT, Nikolai M, Pernicone J, Rhee S, Olson K, et al. Treatment of glioma patients with ketogenic diets: report of two cases treated with an IRB-approved energy-restricted ketogenic diet protocol and review of the literature. Cancer Metab. 2015;3:3. https://doi.org/10.1186/s40170-015-0129-1.

30.

Zuccoli G, Marcello N, Pisanello A, Servadei F, Vaccaro S, Mukherjee P, et al. Metabolic management of glioblastoma multiforme using standard therapy together with a restricted ketogenic diet: case report. Nutr Metab. 2010;7:33. https://doi.org/10.1186/1743-7075-7-33.

31.

Rieger J, Bahr O, Maurer GD, Hattingen E, Franz K, Brucker D, et al. ERGO: a pilot study of ketogenic diet in recurrent glioblastoma. Int J Oncol. 2014;44(6):1843–52. https://doi.org/10.3892/ijo.2014.2382.

32.

Strowd RE, Cervenka MC, Henry BJ, Kossoff EH, Hartman AL, Blakeley JO. Glycemic modulation in neuro-oncology: experience and future directions using a modified Atkins diet for high-grade brain tumors. Neuro-Oncol Pract. 2015;2(3):127–36. https://doi.org/10.1093/nop/npv010.
Ethics declarations
Conflict of interest
Carla Venegas-Borsellino, Sonikpreet, and Neal Bhutiani declare that they have no conflict of interest.
Human and Animal Rights and Informed Consent
This article does not contain any studies with human or animal subjects performed by any of the authors.
Additional information
This article is part of the Topical collection on Nutrition, Metabolism, and Surgery.
About this article
Cite this article
Venegas-Borsellino, C., Sonikpreet & Bhutiani, N. Fasting and its Therapeutic Impact in Brain Tumors. Curr Surg Rep 6, 12 (2018). https://doi.org/10.1007/s40137-018-0208-7
Keywords
Glioblastoma

Brain cancer

Fasting

Ketogenic diet

Caloric restriction

Differential stress resistance